I, like many Queenslanders, experienced a very different Australia Day long weekend than I had anticipated. Mother Nature certainly dished out some harsh weather at the weekend that's for sure! I hope you and your families came out relatively unscathed. I myself couldn't believe the intensity of the wind! I felt like Dorothy in Wizard of Oz, I swear my house was going to fly up up and away.
The severe storms that rolled across Queensland unfortunately forced me to cancel my prearranged Sunday trip to Caloundra. I was so excited to spend some quality time with my Dad, Step-Mum and younger brother at their Caloundra holiday unit, however come Sunday 7am my father had phoned expressing he didn't want me driving in the rough weather conditions. I was like 'Dad it'll be fine' then he replied "Hmm well no darling, it's not fine! We just had a tornado whirl by". Still not fully awoken from my nights slumber, I peered out my bedroom window to the torrential rain falling horizontally, street gutters gushing like waterfalls and flying debris. It was then that I realised that perhaps my Dad was right, I wasn't going anywhere. It was really unfortunate too, for I had made my family an appetizing Chorizo, bacon and egg pie. On top of all that, Mr B was away on a bucks weekend so I was stuck at home alone to eat pie and watch movies i.e. watch movies and get fat.
Wanting to create the perfect chorizo, bacon and egg pie I conducted a little Miss Foodie experiment in the kitchen. Was it the open pie or closed pie that was most appealing? Is it puff pastry or filo pastry that makes the most crunch? With this in mind I made 4 mini chorizo bacon and egg pie's – 2 open and 2 closed, 2 filo and 2 puff. I knew pretty much straight away that my muffin tray volume was too small (or my eggs were too big) for when I cracked my egg over the chorizo and bacon filling nestled in pastry it overflowed. Not discouraged I soldiered on and into my preheated oven my mini chorizo, bacon and egg pies went. All my mini pies worked out well and they certainly tasted a treat. Even though working with the filo pastry is fiddlier it without a doubt delivered the most crunch and visual appeal.
After conducting my Miss Foodie experiment, I came to the conclusion that one large pie using filo pastry was the ideal choice for my chorizo, bacon and egg pie. The actual construction of the chorizo, bacon and egg pie was easier this way and when sliced you get the full visual effect of the whole eggs nestled between the pastries sheets. It tasted best straight from the oven but it did have its charm being eaten cold too.
Not the healthiest meal in the world because of its buttery layers of filo pastry and flavoursome combination of bacon and chorizo, this pie is still a real delight regardless.
Chorizo, Bacon and Egg Pie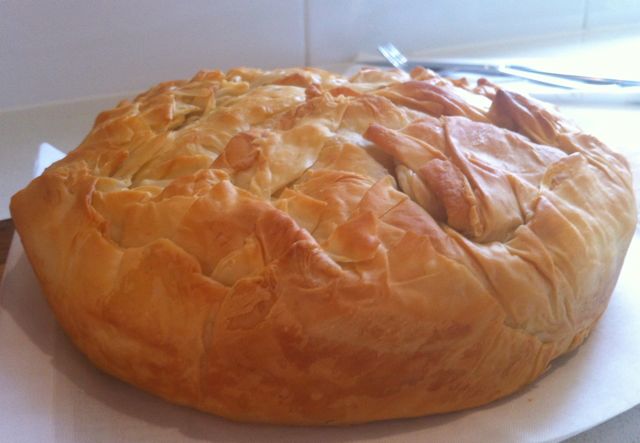 Ingredients
1 leek, white part only, washed and thinly sliced
1 organic chorizo sausage, sliced 1cm thick
5 organic/free range bacon rashes
¼ tasty cheese
Salt and pepper to taste
5-7 free range eggs
1 packet filo pastry
200g butter melted
Method
Preheat oven to 180 degrees C
Sauté bacon, chorizo and leek in a pan over medium heat. Set aside to cool slightly.
Grease your selected pie dish and layer with buttered filo pastry. *See tip below*
Spoon half your bacon, leek and chorizo mixture and half your cheese into the base of your prepared pie dish. Break 2-4 eggs over the mixture. Season with salt and pepper. Repeat this step.
Pierce 1 or 2 egg yolks only and allow to spread around the pie.
Fold over any filo pastry that's hanging over and seal the top with another sheet of buttered filo pastry. Brush the top of your pie with butter. Cut a couple of slits in the top of the pie. Don't be concerned if it looks a bit messy, once it's cooked it will look flaky and divine!
Cook for approximately 30-40 minutes or until the pie has risen and can be tapped without it collapsing.
Let it settle for a few minutes, cut and enjoy!!
*Filo Pastry Tips*
Let filo thaw at room temperature for a good 30 minutes before using.
Filo pastry dries out and cracks very quickly when it comes in contact with air. To prevent this from occurring, cover the filo with non-stick baking paper, then a damp tea towel. This will prevent the filo drying out.
Place filo, 1 sheet at a time, on a clean work surface and brush with melted butter between layers. This ensures a flaky result.