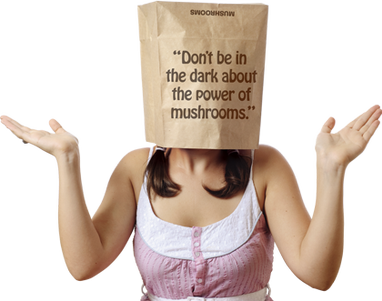 It's July, which means it's… MUSHROOM MANIA time!
So what is Mushroom Mania all about I hear you ask? Mushroom Mania is a month-long (July) celebration of mushrooms, proudly brought to you by the Australian Mushroom Growers Association.
Essentially, Mushroom Mania is about the connection with thousands of food service venues throughout Australia to encourage them to put inspirational mushroom dishes on their menu.
To help spread the Mushroom Mania lurrrve, myself and 13 other Australian food bloggers will review some of these venues and share our stories; and I have to say, I couldn't be mushroomed next to a better looking troop! Mushroom Mania bloggers here.
I'm really excited and honoured to be a part of Mushroom Mania this year for I genuinely adore eating and cooking with mushrooms.
Mushrooms are without doubt one of nature's best super-foods. If I can educate just a few people about the health benefits and earthy goodness that is mushrooms, then my goal here is achieved.
You too can join in the Mushroom Mania fun by sharing your own mushroom dining out experiences during July. There's 40 x $100 restaurant vouchers up for grabs, so join in and have some fun and help us spread the word on the Power of Mushrooms. Full competition details released July 1  #musroommania @powerofmushrooms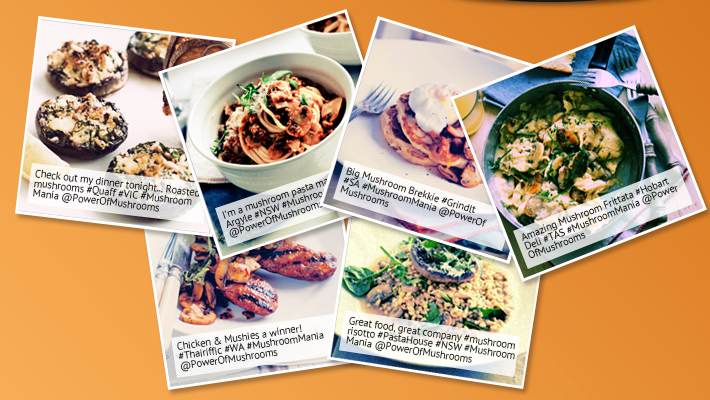 Miss Foodie's Mushroom Mania restaurant reviews 2013
Power of Mushrooms
More mushrooms, less salt
So what is it that makes mushrooms so appetizing? It's the natural glutamates in mushrooms that give them their deep flavour.
Glutamate is an amino acid found in all foods with protein. Glutamate is also produced by the body, with high levels in the muscles and the brain.
Essential nutrients in mushrooms
Mushrooms in fact have more protein than most vegetables and a carbohydrate content similar to zucchini and tomatoes. Cholesterol-free and with virtually no fat, the mushroom is a very low kilojoule food.
Vitamin D
Vitamin D has been linked to a number of benefits beyond healthy bones and the prevention of rickets and osteoporosis, such as a decreased risk of heart disease, type 2 diabetes, hypertension and colorectal cancer.
In November 2010 the Institute of Medicine in the US raised the daily requirement levels for vitamin D. The recommended levels are expected to rise in Australia too when the RDIs are next reviewed.
Mushrooms too, are a source of vitamin D. It is quite natural for ergocalciferol (vitamin D2) to be found in mushrooms.
The mineral in mushrooms
There are many minerals found in mushrooms that are essential for a healthy body. The most abundant minerals in mushrooms are potassium, phosphorus, copper and selenium. There are lesser amounts of magnesium, iron and zinc.
Mushrooms and antioxidants
For a long time, scientists have appreciated the antioxidant effect of fresh produce such as vegetables and fruit. Eating plenty of high anti-oxidant foods seems to protect you from future disease. The body also makes antioxidants.
Antioxidants are natural compounds in food that help neutralise the free radicals produced by the body. Free radicals are also quite natural, although they tend to cause damage to all parts of the body over time, hence speeding up the ageing process. For example, free radicals can damage the DNA found in the nuclei of body cells. When DNA becomes damaged, then antioxidants within the body work to correct the damage before it becomes a cancerous cell.
Mushrooms are one of the highest antioxidant foods on the market so it's good sense that mushrooms should be regularly featured on your healthy eating menu.
Mushrooms helping the waistline
Most of us find it all too easy to gain weight. An increase in body weight only happens when people eat more kilojoules than they burn each day through physical activity. So, to lose any excess body fat they have to eat fewer kilojoules than they burn.
Foods with a low energy density like fruits, vegetables and mushrooms have the ability to fill people up, avoiding an over-consumption of food.
Mushrooms Cancer and immune function
For a long time, scientists have promoted fruits and vegetables to help reduce the risk of heart disease, stroke and some cancers.
It is not surprising that mushrooms have been found to play their part in lowering cancer risk, even though they are neither fruit nor vegetable. Research shows that mushroom extracts reduced breast cancer growth (Chen 2006). "Eating 100 grams, or even less, of mushrooms per day could have an effect on preventing new breast cancers", said lead researcher Dr Shiuan Chen.
There is no doubt that the mushroom is a food that punches well above its weight!! You can read more about the Power of Mushrooms here.