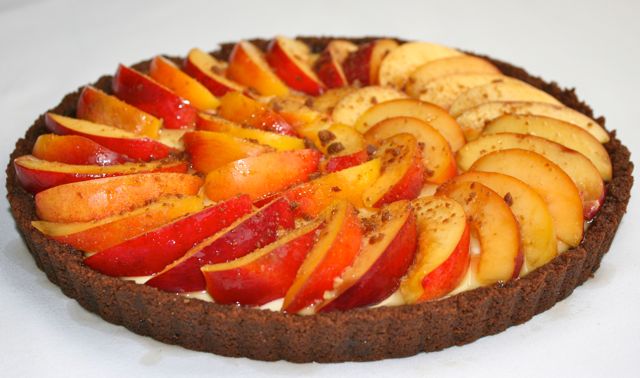 If someone asked you today what your favourite summer fruit was, what would your answer?
Without hesitation, I would always reply with either mangoes or watermelon.
However, a few weeks ago I squelched into the most indulgently sweet and juiciest yellow nectarine of my life!! If you had of asked me what my favourite summer fruit was that day, I would have replied without deferment "The nectarine! The nectarine! Oh me oh my, the nectarine!" A little over the top perhaps, but guys it was honestly that delectable.
Do you notice what's in the word Nectarine? Nectar: "A sweet sugary liquid secreted by flowers of various plants". It's been labelled the nectar of the gods and now I see why.
Since my momentous nectarine-day, I've had many blissful moments since. I knew my post this week had to feature this stunning stone fruit; the question was how?
I originally thought of a nectarine tarte tatin but I craved something cooler, plus I didn't want to take away from the freshness of the nectarine. Spotting a peach tart in a magazine and looking through a few recipes and blogs, I came across a ginger biscuit crumb base. Ahhh the decision was made – Nectarine Tart with a Ginger Nut biscuit base.
You can make the base and filling a day ahead if you like and top the nectarine slices the following day. The only difficulty I had with my recipe was the choice of jam to use. I needed to brush warm jam over the nectarines and I all that I could find was apricot or berry varieties and they didn't fancy me. I bought Buderim Ginger marmalade too, but after tasting it I knew it was going to be too much tart for my tart. I ended up using Byron Bay honey in the end and to be honest I think it wrecked it; my friends liked it though. After a couple of nectarine tart glaze discussions, the suggestion of reducing peach nectar was thought up. I think this would work much better hence I've included it in my recipe below. Now as I said I used honey on mine so I'm not exactly sure how this peach nectar will taste but I'm sure it would work wonderfully. Do you have any suggestions?
Nectarine Tart with Ginger Nut biscuit base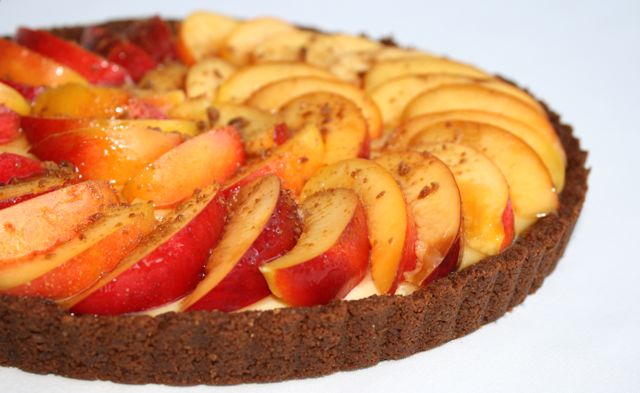 Ingredients
Base
36 Ginger Nut biscuits
6 tblsp unsalted butter, melted
Filling
250g mascarpone cheese (room temperature)
3/4 cup cream cheese (room temperature)
1/3 cup sour cream
1/4 cup sugar
Grated rind of 1 lemon
Small grate of fresh ginger (optional)
1 tsp vanilla extract
Topping
5-6 fresh nectarines, halved, pitted, cut into thin slices
1/4 cup peach nectar, reduced gently in a pot
Ginger Nut biscuit crumbs
Method
To make your nummy nummy Ginger Nut biscuit tart shell
Preheat oven to 180C.
In a food processer, finely grind Ginger Nut biscuits. Carefully add melted butter and combine until mixture is moist and coming together.
Transfer biscuit crumb mix to a 25cm tart pan (with removable bottom). Carefully press mixture over bottom and up sides of tart pan. Place tart pan on a baking tray. Bake until colour darkens, about 9 minutes. Allow to cool entirely.
To make the filling
In a food processer carefully mix mascarpone cheese, cream cheese, sour cream, sugar, grated lemon rind, ginger if you're using and vanilla extract until smooth. Spread filling into cooled Ginger Nut crust. Cover loosely and put in the fridge overnight or for a few hours so filling sets.
Decorating the top
With care, arrange your nectarine slices on top of your filling. Brush with warmed peach nectar. Sprinkle with Ginger Nut biscuit crumbles. Refrigerate until ready to use.