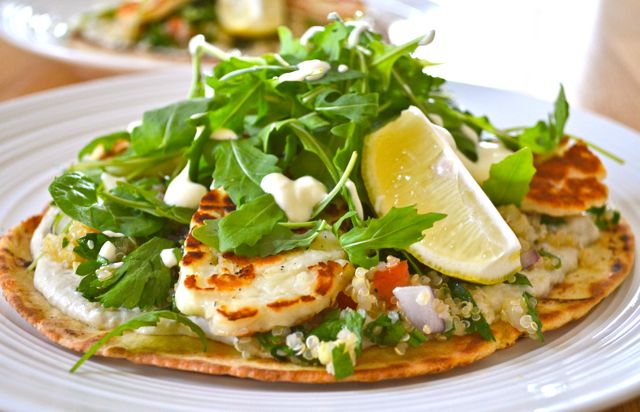 Dining at The Crosstown Eating House a few weeks ago, I had the joy of eating one of the most satisfying vegetarian dishes to date.
Open Haloumi Kebab was the meal and from the very first mouthful I was in love. My foodie-love was so strong that sitting right there and then I planned to replicate the same Haloumi Kebab at home.
First I needed the right bread; I opted for Greek Yiros. I always use Yiros when making Authentic Greek Kebabs so it seemed only right to stick with what I knew worked best. Yiros BBQ/grill's really well and they have an almost denser feel – they're stronger too. Be careful not to over grill the Greek Yiros as it becomes tuff and difficult to cut when eating.
Next I needed to craft the Levantine dish, baba ganoush and a Quinoa Tabouli. Baba ganoush is very simple and has much the same process as hummus; you're basically replacing chickpeas with eggplant. Chargrilling the eggplant as I did is highly recommended as it delivers a smoky goodness that shouldn't be ignored.
Quinoa Tabouli is of course much the same as regular tabouli except here you're replacing buckwheat with Quinoa. I loved this version of Tabouli – heck I'm just obsessed with Quinoa really. I ate it for lunch the next day with some baby spinach and it went down a treat. Another super-cool thing you can do with your Quinoa Tabouli is add 1 grated apple, 2 tblsp whole egg mayonnaise and a splash of apple cider vinegar – wallah! You've created one of the best coleslaws in the whole entire world! You have my word it's true.
Frying the tabouli and assembling the kebab is all that is left now and thank-goodness too! By this point you just want to inhale the scrumptious flavours.
B and I enjoyed my Haloumi Kebab with a glass of Coriole Prosecco for lunch on Sunday and it was near perfection. You'll certainly find me in the kitchen creating this kebab for years and years to come.
 Open Haloumi Kebab

Ingredients
2 x Greek Yiros
1/2 cup Baba ghanoush or thereabouts, to spread
1/2 cup Quinoa tabouli or thereabouts
Rocket , a couple of handfuls
Haloumi, 8 slices, cut into 1cm slices and fried (good quality)
Lemon wedges to serve
Yoghurt dressing, to drizzle (1/4 cup Greek yoghurt, grated garlic clove, squeeze of lemon)
Quinoa Tabouli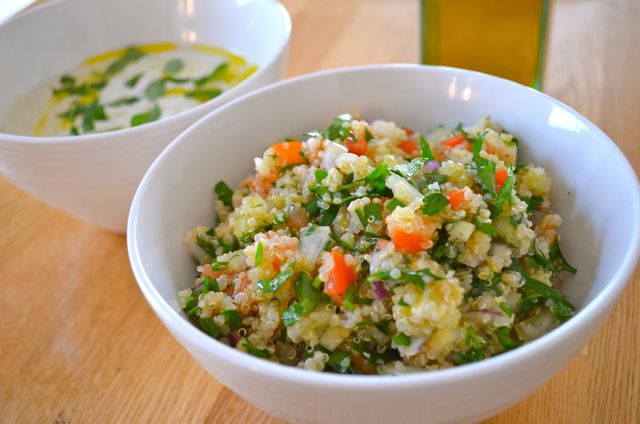 Ingredients
2 cups water
Juice of 1 lemon
1 cup quinoa
1/3 cup extra virgin olive oil
3 medium ripe tomatoes, seeds removed
Parsley, large bunch, coarsely chopped
1 red onion, chopped
Salt, to taste
Method
Place water and quinoa into a small saucepan and bring to boil. Reduce heat to a simmer, cover and cook for 10 to 15 minutes or until water has been absorbed.
Finely chop tomatoes, parsley and red onion, transfer to a medium sized bowl. Add lemon juice and extra virgin olive oil to mixture. Stir in slightly cooled, cooked quinoa and salt. Mix well, cover and refrigerated.
The longer you leave the tabouli the better the flavours blend themselves.
Baba Ghanoush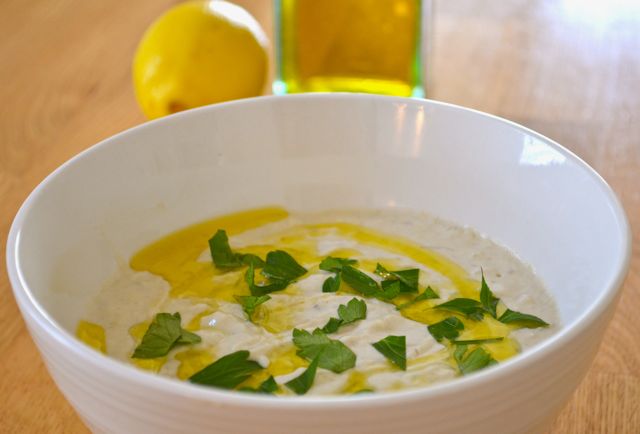 Ingredients
1 large eggplant or 3-4 small eggplants
1/2 cup plain Greek yoghurt
Lemon juice, generous squeeze
2 tblsp tahini
1-2 garlic cloves, crushed
1/4 tsp sea salt
Method
Chopped fresh parsley and extra virgin olive oil, to serve
Heat a BBQ or hotplate on high then reduce heat to low. Cook eggplants whole, turning occasionally for 30-40 minutes or until browned all over and tender. Transfer to a plate. Cover with foil and allow to stand for 10 minutes.
Remove and discard skin from eggplant. Roughly chop flesh. Cool completely.
Place eggplant flesh, yoghurt, lemon juice, tahini, garlic and salt into a food processor. Transfer to bowl and serve with chopped parsley and a drizzle of extra virgin olive oil.
Putting Your Open Haloumi Kebab Together
Putting it all together
Grill Yiros on a BBQ grill or hotplate until warmed through. Be careful not to overcook.
Spread Baba ghanoush lavishly on grilled Yiros. Spoon a few tblsps of Quinoa tabouli over the baba ghanoush, gently position fried haloumi on top. Place a handful of rocket neatly in the middle and lightly drizzle yoghurt dressing. Serve with lemon wedge.