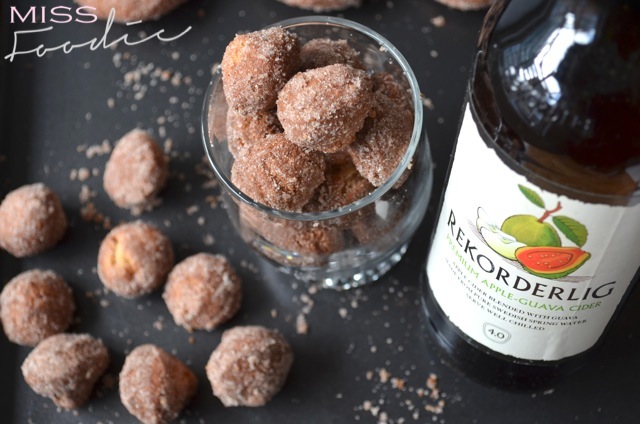 Autumn and its fresh, cool weather and splendid blue skies have been beckoning me to create a comforting homemade dish of late. But why Apple Cider Doughnuts you ask?
Setting aside the obvious – the temptation of a hot, sugary doughnut delicately spiced with nutmeg and cinnamon – admittedly, this cooking feat wouldn't normally come to mind.
However, I was asked to report for Miss Foodie duty when Rekorderlig contacted me to see if I would be interested in using their Apple Guava Cider in a recipe. Hesitant at first, after a quick Pinterest search I found many tempting ideas for my apple cider experiment, but it was the cider doughnuts that won my heart.
The recipe below does give you the option to enjoy gluten free Rekorderlig Apple Guava Cider Doughnuts – I cooked mine using gluten free flour and almond milk and as you can see they certainly worked out. However, I do believe that using normal flour and cow's milk would make them even more light and fluffy.
I'm not sure how soon I'll make these again; buying hot doughnuts is so much easier and a lot cleaner, but I'm glad I did because I believe you should give everything a go once. Pondering what Rekorderlig recipe I can tackle next, any suggestions?
Rekorderlig Apple Guava Cider Doughnuts
Makes about 18 doughnuts plus 18 doughnut holes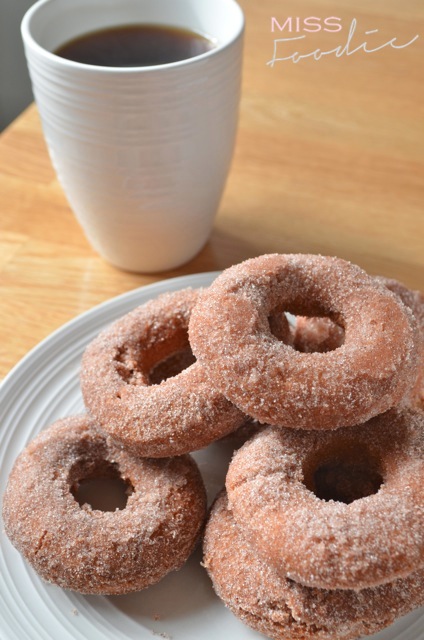 Ingredients
1 cup Rekorderlig Apple cider
3 ½ cups all-purpose flour or GF flour, plus approx. extra ¾ cup for work surface
2 tsp baking powder
1 tsp baking soda
½ tsp ground nutmeg
½ tsp sea salt
1/2 tsp ground cinnamon
4 tbsp butter, room temperature
1 cup caster sugar
2 free range eggs
½ cup Buttermilk (Alternative: add 1 tsp white vinegar to regular milk / Almond milk and let stand for 10 mins)
Oil for frying
Cinnamon-sugar
1 cup granulated sugar
1 ½ tbsp cinnamon
You will also need
Baking Paper
Candy thermometer
Electric Mixer
2 x baking trays
Method
In a saucepan over medium-low heat, gently reduce the apple guava cider to about ¼ cup, should take about 20 to 30 minutes. Set aside to cool.
Combine flour, baking powder, baking soda, cinnamon, salt and nutmeg in a large bowl. Set aside.
Using an electric mixer at medium speed, beat the butter and caster sugar until the mixture is smooth. Add the eggs one at a time, and continue to beat until the eggs are completely combined. Use a spatula to scrape down the sides of the bowl occasionally. Reduce the speed to low and gradually add the reduced apple guava cider and the buttermilk, mixing until just combined. Add the flour mixture and continue to mix just until the dough comes together. Use more flour if the dough is still wet.
Line 1 of your baking trays with baking paper and sprinkle very generously with flour. Turn the dough onto the baking paper lined tray and sprinkle the top with more flour (this is very important, you will thank this flour later) top with another sheet of baking paper. Flatten the dough with your hands until it is about 1cm thick, using a rolling pin to finish.
Transfer the rolled out dough to the freezer for 30 minutes, or until firm. Remove the dough from the freezer. Using a 7-8cm circle cutter for the outside doughnut shape and a 2-2.5cm circle cutter for the inside doughnut shapes, make up your doughnuts. Place the cut doughnuts and doughnut holes onto the second baking tray lined with baking paper. Using the dough scraps, bring together and flatten again cutting out more doughnuts and holes.
Cover and refrigerate the doughnuts for 30 minutes OR overnight if wanting to fry the next day.
Make your cinnamon sugar topping by mixing the two together.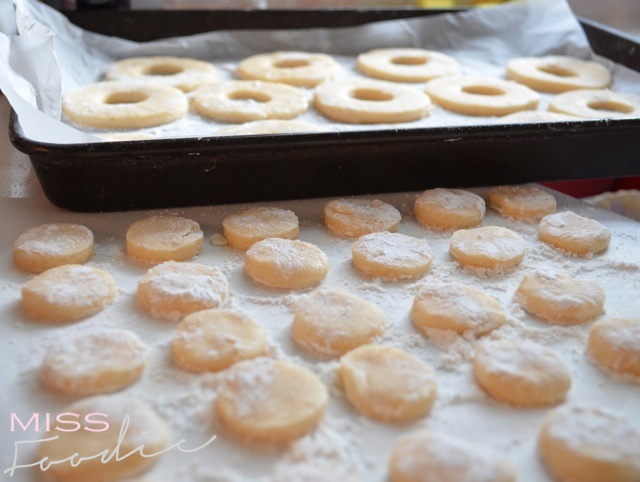 Frying
Add enough oil to a deep-sided pot. Attach a candy thermometer to the side and heat over medium heat until the oil reaches 175°C. Have a plate thickly lined with paper towels ready. Have your cinnamon sugar spread out on a tray, ready for coating the doughnuts.
Carefully add a 2-3 doughnuts to the oil and fry until golden brown, about 60 seconds. Turn the doughnuts over and fry until the other side is golden, about 30 to 60 seconds.
Remove fried doughnuts and drain on paper towels. Roll the warm doughnuts with cinnamon sugar and serve immediately.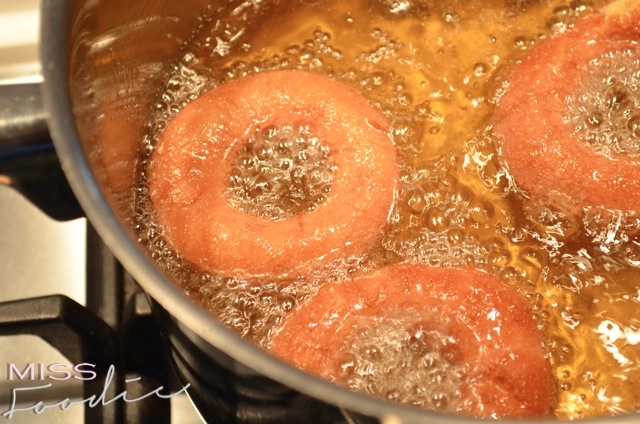 Remove fried doughnuts and drain on paper towels. Roll the warm doughnuts with cinnamon sugar and serve immediately.