"We did it!" I exclaimed excitedly to my partner, whirling around our newly refurbished home with unrestrained glee. After 12 months of renovations we have finally seen all our hard work, sweat and tears come to fruition. I am so proud of what we've accomplished, the house looks bloody fantastic (yes… if I DO say so myself). Granted we've had some very trying moments along the way with our stress levels soaring into the stratosphere on a couple of occasions! But you know what? If B and I can go through a 12 month house reno without killing each other, we can get through anything! Bring on 2013 – it's going to be so perfect…. Weekends to ourselves again, decorating our new space, relaxing moments, Sunday drives…. aahhh I can picture it now.
After my exuberant display of twirling limbs, I calmed down long enough to realise that I was a) utterly exhausted and b) absolutely famished! As such, I decided on an easy Sunday dinner to celebrate our momentous occasion using the local Mooloolaba whiting fillets I purchased from the fish monger earlier that morning.
Feeling like a (somewhat) guilty pleasure I decided to make a hearty feed of fish and chips. For my fish and chips I could have gone 1 of 3 ways: battered fish and chips, crumbed fish and chips or the healthy option, grilled fish and chips. I decided on somewhere between honestly healthy and downright naughty on the food spectrum and opted for 'Super Crunchy Oven fish and chips'.
All great fish and chip love affairs deserve a generous helping of Tartar sauce and I made a lazy version to dip my Mooloolaba whiting and chip morsels into. Coupled with a good wedge of lemon, a crisp green salad and a few icy cold beers, my lovely Sunday dinner was just what the appetite ordered!
Super Crunchy Oven Fish and Chips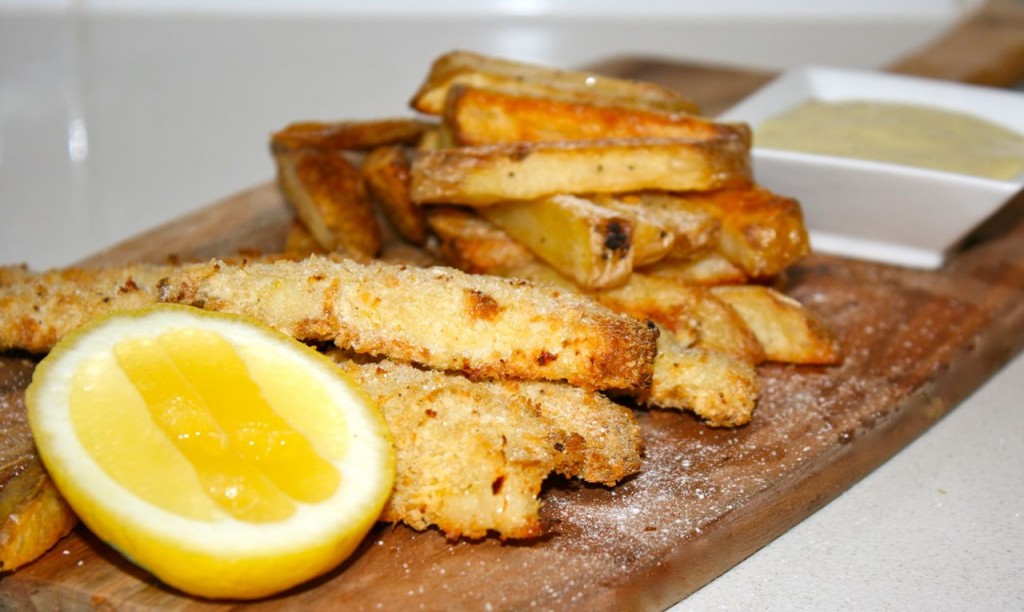 Ingredients
Crumbed Fish
12 whiting fillets
½ cup flour
2 eggs
2 tblsp milk
1-2 cups Panko crumbs
Zest of 1 lemon
Salt and pepper to taste
1-2 tblsp dried parsley
Lemon wedge to serve
Oven Chips
4 large potatoes (depending on how hungry you are, go approx 1-2 potatoes per person)
1/4 cup olive oil
Salt, pepper and dried oregano to taste
Lazy Tartar Sauce
¼ cup whole egg mayonnaise
Squeeze of lemon
Salt and pepper to taste
1-2 tblsp Sandwich pickles
Method
Preheat oven to 200°C.
Sit an oven rack over an oven tray, spray with Canola oil.
Place flour on a plate and season with a little salt and pepper. Place Panko crumbs on a plate and season with salt, pepper, lemon rind and dried parsley. Whisk eggs and milk together in a shallow dish.
Dip fish into flour, then egg mixture and finally the breadcrumbs. Place on prepared oven rack. Refrigerate until required.
Cut potatoes into wedges or chips. Drizzle olive oil, salt, pepper and dried oregano on an oven tray. Add potatoes and coat with oil mixture.
Bake for 45 minutes in preheated oven adding crumbed fish after 15mins. Bake until crunchy and golden.
Serve with a wedge of lemon, a side of Lazy Tartar Sauce, a green leafy salad and an icy cold beer.