A delicious Thai inspired Wednesday Girls Dinner from our Lovely Alyssa tonight. You will soon discover that a lot of our Wednesday Girls Dinner 's are Asian inspired; the flavours are simply too irresistible to go by.  Alyssa's Wednesday Girls Dinner Menu: Entree: Tangy Thai Chicken Salad. Main: The most delicious Asian marinated Baked Salmon. Dessert: What better way to finish off dinner than with Honey-roasted pears with caramel and pecan sauce. YUM!
Tangy Thai Chicken Salad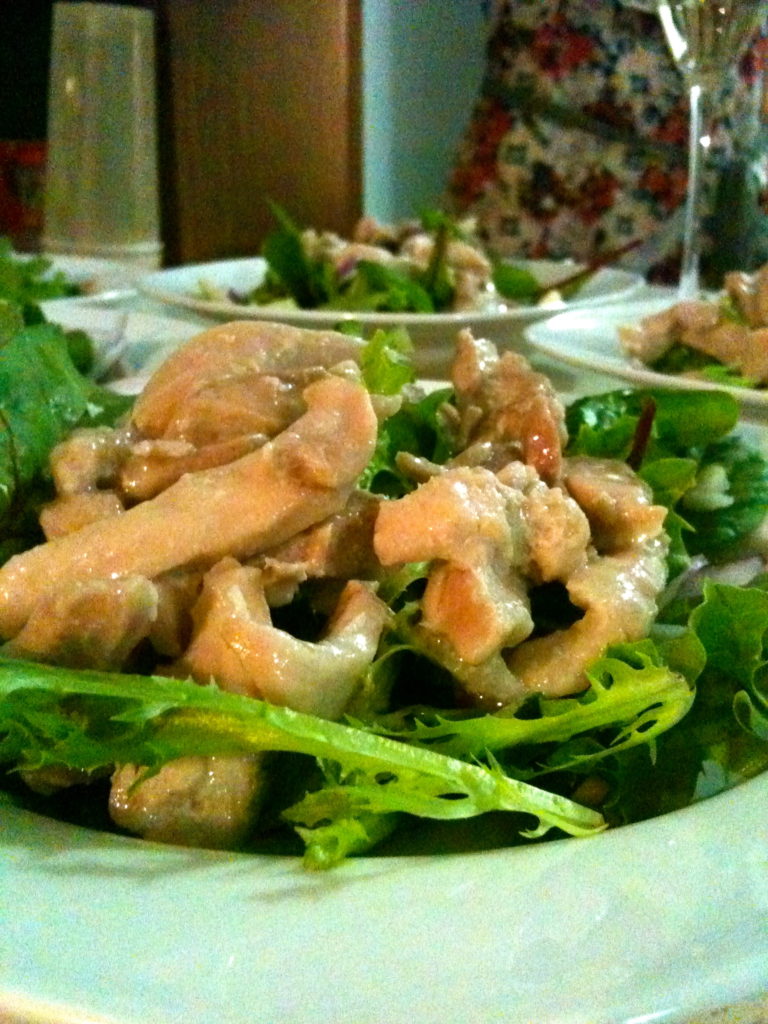 Ingredients
1/4 cup (60ml) light coconut milk
2 tbs fish sauce
2 tbs grated palm sugar*
500g chicken thigh fillets, trimmed
2 tsp sweet chilli sauce
1 tbs lime juice
4 kaffir lime leaves*, centre vein removed, finely sliced
150g baby Asian salad leaves
1/3 cup canned water chestnuts*, sliced
1 red onion, finely sliced
2 spring onions, finely sliced on the diagonal
1 tsp finely chopped galangal*
1 red chilli, seeds removed, finely sliced
1/3 cup each mint and coriander leaves, plus extra to garnish
50g roasted peanuts, roughly chopped
Method
In a large saucepan, stir together coconut milk, fish sauce and palm sugar over low heat until sugar dissolves, then bring to the boil. Add chicken, cover and simmer over low heat for 10 minutes or until cooked. Remove from heat and let chicken cool. Remove chicken and reserve liquid.
For the dressing, add chilli sauce, lime juice and kaffir lime to poaching liquid. Stir to combine. Shred chicken and mix in a bowl with salad leaves, water chestnuts, onions, galangal, chilli and herbs. Divide between plates, garnish with peanuts and extra herbs. Drizzle with dressing.
Note – No chilli was used in this recipe.
delicious. – February 2004, Page 149 (Recipe by L Bell, Clayfield, Queensland (Reader))
Asian-marinated Baked Salmon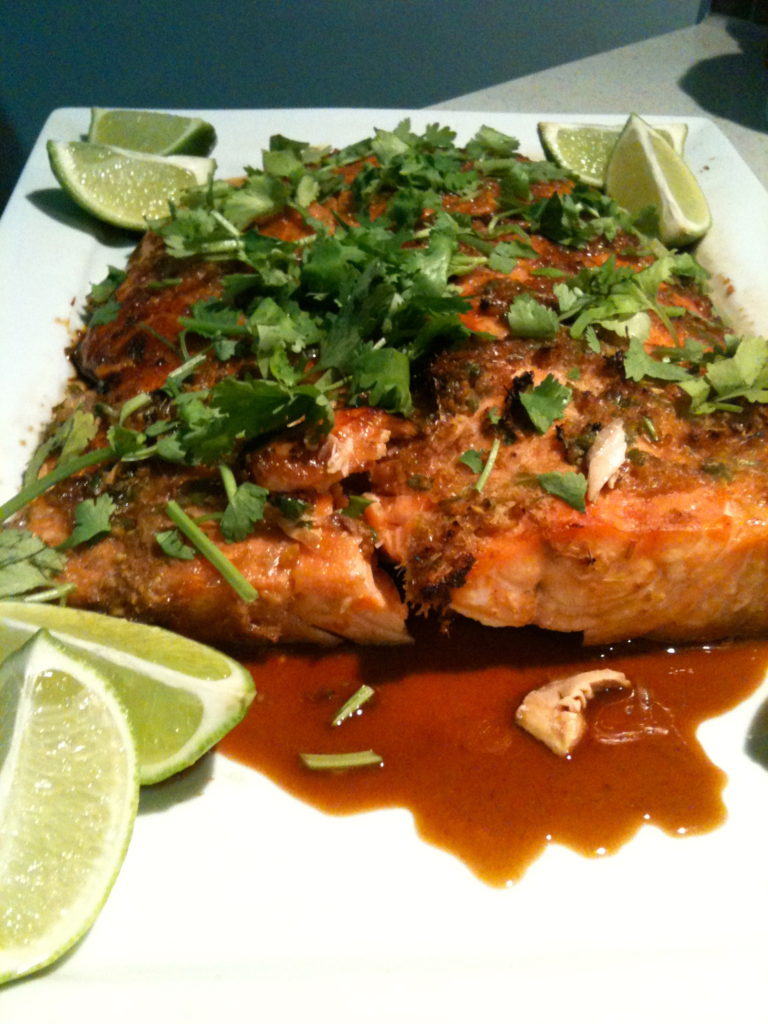 Ingredients
2 lemongrass stems (pale part only), chopped
1/2 cup (125ml) dark soy sauce
1/2 bunch coriander, leaves thinly sliced, stalks finely chopped
2cm piece ginger, finely grated
4 garlic cloves, finely grated
1kg piece skinless salmon fillet, pin-boned
1/3 cup (115g) honey, warmed
4 spring onions, finely shredded
2 limes, halved
Method
Mixed pea salad (we used fresh peas, snow peas and pea shoots), to serve
Using a mortar and pestle, bash the lemongrass until fragrant. Stir in the soy sauce, coriander stalks, ginger and garlic. Place the fish in a glass dish, then spread all over with the marinade. Cover and marinate in the fridge for 1 hour.
Preheat the oven to 200°C and line a large tray with baking paper. Place the salmon on the tray, then brush with the honey. Bake in the oven for 10 minutes or until the fish is just cooked but still a little pink in the centre.
Carefully transfer the fish to a board or serving platter, sprinkle with spring onion and coriander leaves, then serve warm or at room temperature with lime to squeeze, and salad.
A lovely side dish to go with this absolutely knock out fish of a dish is wilted pok choi with crushed peanuts.
From delicious. – November 2008, Page 92
Recipe by Valli Little
Honey-roasted pears with caramel & pecan sauce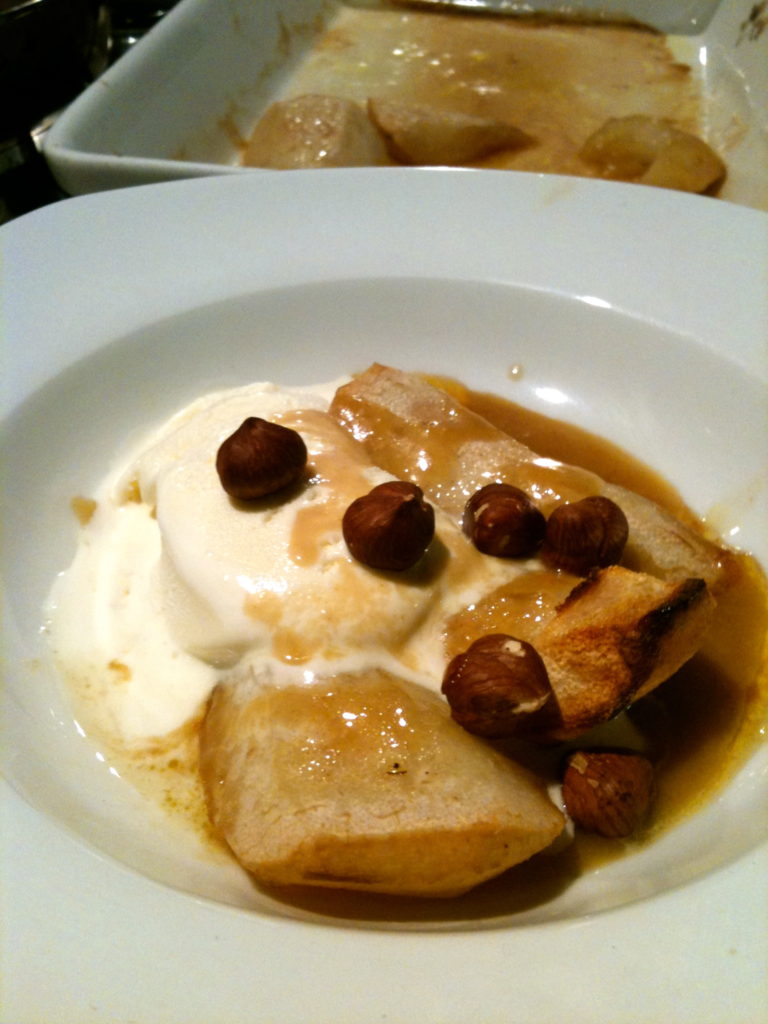 Ingredients
(serves 6)
6 firm pears, peeled, quartered, cored
30g butter
2 tbs honey
1/2 tsp ground cinnamon
45g (1/3 cup) pecans
185ml (3/4 cup) thickened cream
60g (1/3 cup, lightly packed) brown sugar
Thick cream, to serve
Method
Preheat oven to 180°C. Arrange the pear, in a single layer, in a medium flameproof roasting pan. Place the butter, honey and cinnamon in a small saucepan over medium heat and stir until the butter melts. Pour over the pear and turn to coat. Roast in oven, turning once, for 20-25 minutes or until the pear is tender and light golden.
Meanwhile, spread the pecans over a baking tray. Bake in oven for 5 minutes or until toasted. Coarsely chop.
Transfer the pear to a bowl and cover with foil to keep warm. Add the cream and sugar to the roasting pan. Place the pan over low heat and stir until the sugar dissolves and the mixture is well combined. Simmer, stirring often, for 8 minutes or until the sauce thickens.
Pour the caramel sauce over the pear and sprinkle with the pecans. Serve immediately with the cream.
Good Taste – July 2008, Page 86
Recipe by Alison Roberts