It was the lovely Sarah's turn for Wednesday Girls Dinners this week and what a great night it was! As busy as we all get and as tired as we can sometimes be, we all manage to get together for a catch up. Food really does bring friends together.
Easy Tart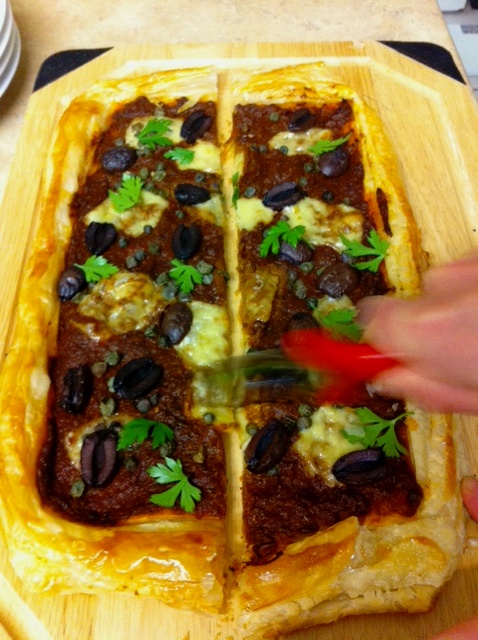 The beauty of puff pastry is you can practically top it with anything! This is a very easy recipe and one you can whip up when those unexpected guests drop in.
Ingredients
375g block frozen puff pastry, thawed
100g good quality pesto
8 anchovy fillets in oil, halved lengthways
2 tbs black olives, pitted
2 bocconcini, sliced
2 tbs olive oil
1 egg, lightly beaten
Handful of basil leaves
Method
Prehead the oven to 220°C. Lightly oil a large non-stick baking tray.
Roll the pastry into a 20cm x 30cm rectangle and lay out on the tray. Score a border 2cm in from the edges of the pastry. This will allow the border to rise and crisp while the middle stays flat.
Spread the pesto over the inner section of the tart and crisscross the anchovies over the top. Scatter over the capers and olives, then top with the bocconcini.
Season, then drizzle over the oil and brush the pastry border with the beaten egg.
Bake in the oven for 10-15 minutes until the border rises and is golden brown. Remove from the oven and sprinkle over the basil leaves.
September 2011 issue Delicious magazine
Middle Eastern Lamb Salad w/ Eggplant & Tomato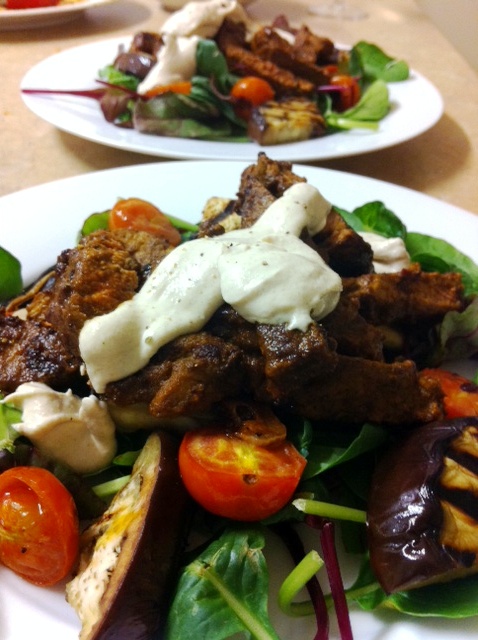 Ingredients
Serves 4-6
250g punnet vine-ripened cherry tomatoes
3 thyme sprigs
1 garlic clove, finely sliced
2 tbs olive oil, plus extra to brush
2 eggplants, cut into 1cm-thick slices
2 tbs tahini*
1/4 cup (70g) thick Greek-style yoghurt
1 tsp ground cumin
1 tbs lemon juice Rocket leaves, to serve
Marinated lamb
1/4 cup sweet paprika
1 1/2 tbs ground cumin
1 1/2 tbs finely chopped thyme leaves
3 tbs ground turmeric
1/2 tsp chilli flakes
1/2 tsp smoked paprika (pimenton)
1/4 tsp ground cinnamon
Pinch of freshly ground nutmeg
2 large garlic cloves, finely chopped
1/2 cup (125ml) extra virgin olive oil
4 x 150g lamb back straps, trimmed
Method
For the marinated lamb, place all the ingredients except the lamb in a bowl and mix well to combine. Add the lamb and rub the marinade into the meat. Cover and refrigerate for 2 hours or overnight.
Preheat the oven to 100°C.
Halve tomatoes and place cut-side up on a foil-lined baking tray. Sprinkle over the thyme, garlic and
2 tbs oil. Season and cook for 40 minutes or until tender.
Preheat a chargrill pan to medium-high.
Brush eggplant with oil and grill for 2-3 minutes each side until tender.
Meanwhile, whisk together tahini, yoghurt and 2 tbs warm water until smooth. Stir in cumin and lemon juice and season with sea salt. Set aside.
Bring lamb to room temperature, then brush with oil and grill for 3-4 minutes each side until charred, but still pink inside. Rest, loosely covered with foil, for 5 minutes, then cut into 1cm-thick slices.
Place lamb, rocket, eggplant and tomato on a platter and serve with tahini dressing.
*Tahini is a sesame seed paste from supermarkets and health food shops.
September issue Delicious magazine – Belinda Jeffery's
Lemon curd tart with berries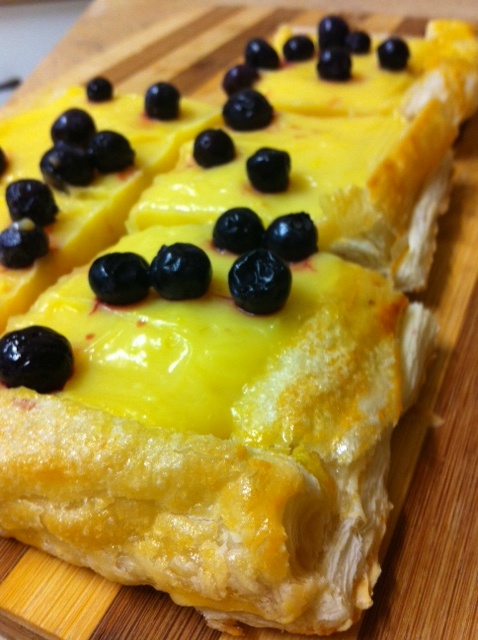 Ingredients
1 tbs finely grated lemon zest, plus 3/4 cup (185ml) lemon juice
1/2 cup (110g) caster sugar, plus extra to sprinkle
1 tbs cornflour
2 eggs, lightly beaten, plus 3 extra egg yolks
50g unsalted butter, finally chopped
375g block frozen puff pastry, thawed
Blueberries, blackberries and crème fraiche (optional) to serve
Method
Preheat the oven to 180°C. Line a baking tray with baking paper.
Place the lemon zest and juice, sugar, cornflour, beaten eggs and 2 egg yolks in a saucepan over medium heat. Cook, whisking constantly, for 10 minutes or until smooth and thick. Remove from the heat and whisk in the butter. Leave to cool.
Meanwhile, lightly flour a work surface and roll out the pastry to a 24cm x 34cm rectangle. Trim a 2cm strip from each side of the pastry sheet, reserving the strips.
Brush the pastry sheet and strips with the remaining egg yolk. Arrange strips around the edge of the pastry sheet, trimming the edges to form a neat frame. Prick pastry sheet with a fork and sprinkle lightly with sugar. Transfer to the lined tray and bake for 15-20 minutes until golden.
Leave to cool, then press down the centre of the pastry and fill the shell with the lemon curd. Serve topped with berries and crème fraich, if desired.