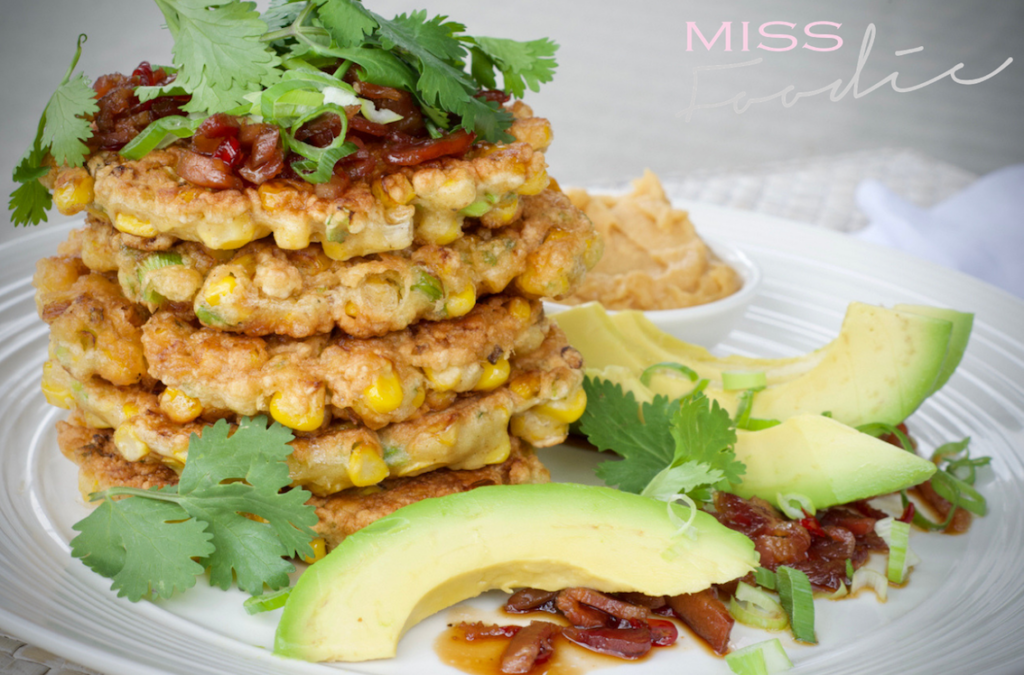 I'm here to tempt you with Corn Fritters, Bacon, Chilli Caramel and a side of Miso Almond Butter this weekend.
I love sweet, crunchy, deep-fried Corn Fritters and admittedly, I do get a bit sulky if served a lesser counterpart corn pancake instead. Recently I discovered the secret to the illustrious crunch – uncooked corn on the cob; I always precooked the corn (amateur).
This Matt Preston recipe is hands down the best Corn Fritters batch to date. Don't throw away your leftover Miso Almond Butter either; we conveniently froze ours for later use. Try a dollop on hot, steamed corn or add an asian touch to your next chargrilled T-Bone. Rip in guys, it's a winner!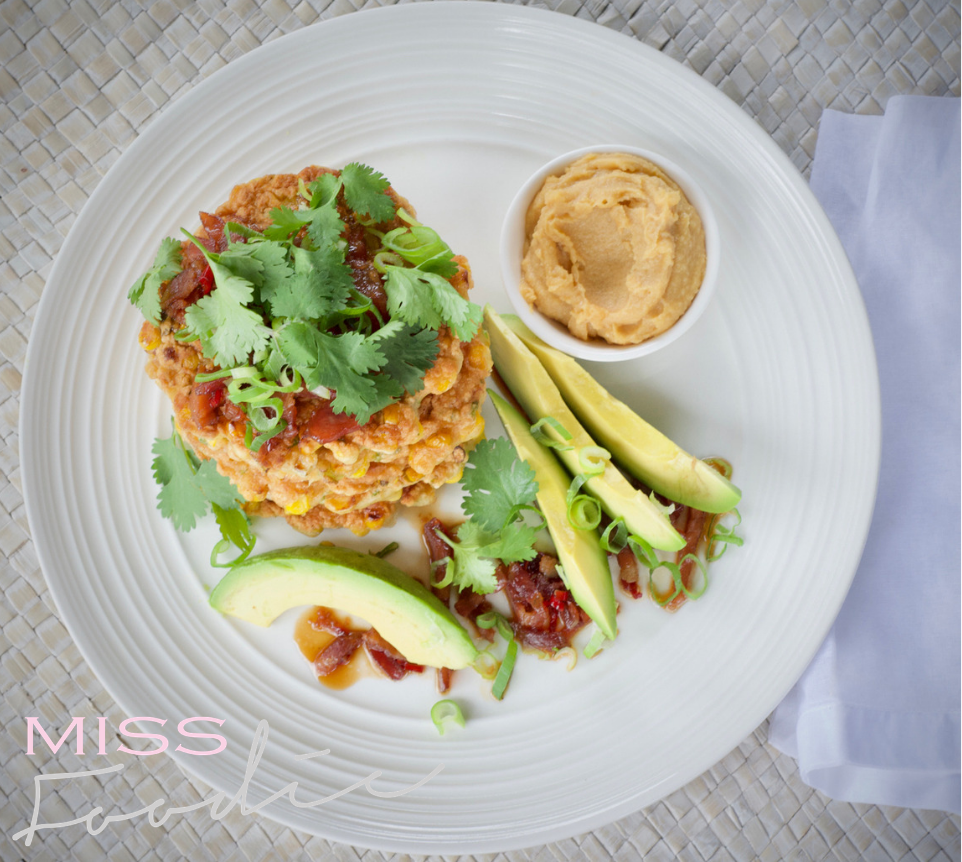 MISO CORN FRITTERS
Ingredients
1½ tbs rice wine vinegar
1 tbs caster sugar
100g blanched almonds, toasted
¼ cup (80g) white (shiro) miso paste
100g unsalted butter, softened
150g palm sugar, finely grated
6 long red chillies (seeds removed – optional), thinly sliced
6 thinly sliced streaky bacon rashers
4 corn cobs, kernels removed
125g plain flour
1 tsp baking powder
1 tsp ground cumin
4 long green shallots, white parts chopped, green parts shredded
1 bunch coriander, stems thinly sliced, leaves picked
3 eggs, lightly beaten
1 lightly beaten eggwhite
Sunflower oil, to shallow-fry
Avocado wedges, to serve
Method
To make the almond miso, place 1 tbs vinegar and caster sugar in a saucepan over medium heat and cook, stirring, until sugar dissolves. Stand to cool slightly, then place vinegar mixture, almonds, miso and butter in a blender and whiz until well combined. Transfer to a bowl and set aside.

To make the bacon chilli caramel, place palm sugar and 100ml water in a small saucepan and bring to the boil. Reduce to a simmer and cook, without stirring, for 5 minutes or until reduced slightly. Stir through chilli and remaining 2 tsp vinegar, and cook, stirring occasionally, for 6-8 minutes or until thickened slightly. Remove from heat. Place bacon in a large frypan over high heat. When hot, cook for 1-2 minutes each side or until golden. Transfer to chopping board, chop and stir through caramel.

To make the fritters, combine corn kernels, flour, baking powder, cumin, chopped shallot, coriander stems, beaten whole eggs, 2 tsp salt flakes and a pinch of freshly ground black pepper in a bowl. Fold through eggwhite. Heat 1cm oil in a non-stick frypan over medium heat. In batches, place ⅓ cup batter in pan. Spread slightly and cook for 3 minutes each side or until cooked through.

Serve fritters with bacon chilli caramel, almond miso, avocado, coriander leaves and shredded shallot.