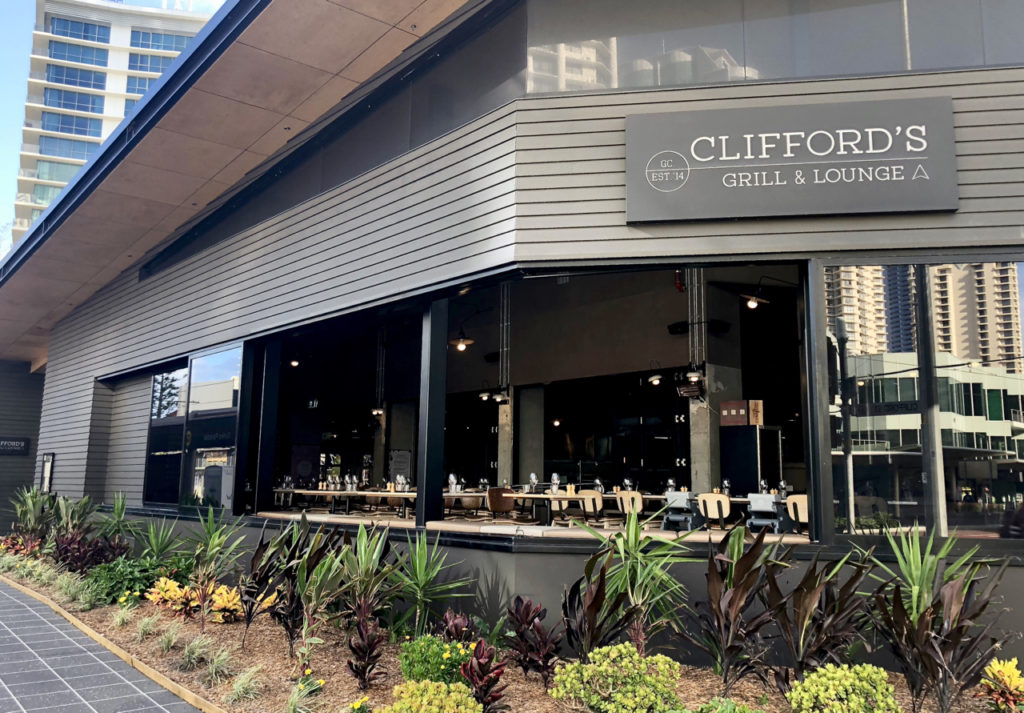 Seizing the opportunity to sneak away for a mini-cation, the family and I spent last weekend sampling the delights on offer at IHG's very first upscale, global hotel brand, voco Gold Coast.
With three dining options at voco Gold Coast to choose from (Waves, Social House), Clifford's Grill & Lounge was our first calling.
Warmly ushered to our table, we were seated next to the large bifold windows looking out at the bustling tourist streets of Surfers Paradise. Offering plenty of natural light and a cool ocean breeze, it didn't take long to relax into the weekend.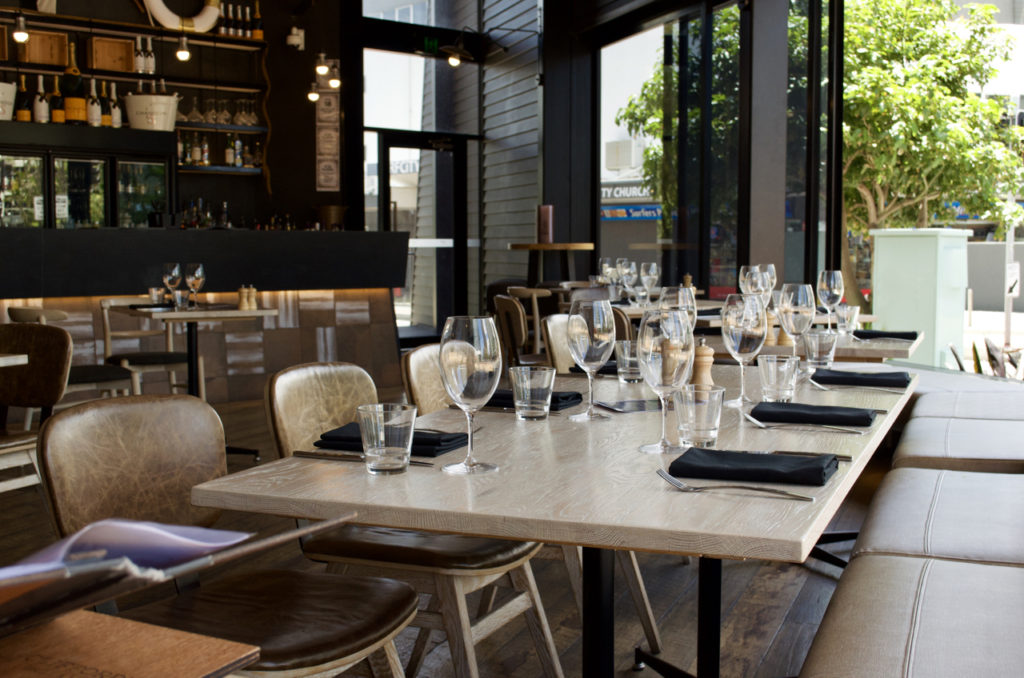 The drinks menu included a great selection of wine and staples you would expect from a bar. Waiting patiently for my chosen Rose, I took a moment to admire the decor of dark timber floors, leather furnishings, polished concrete and matte black accents.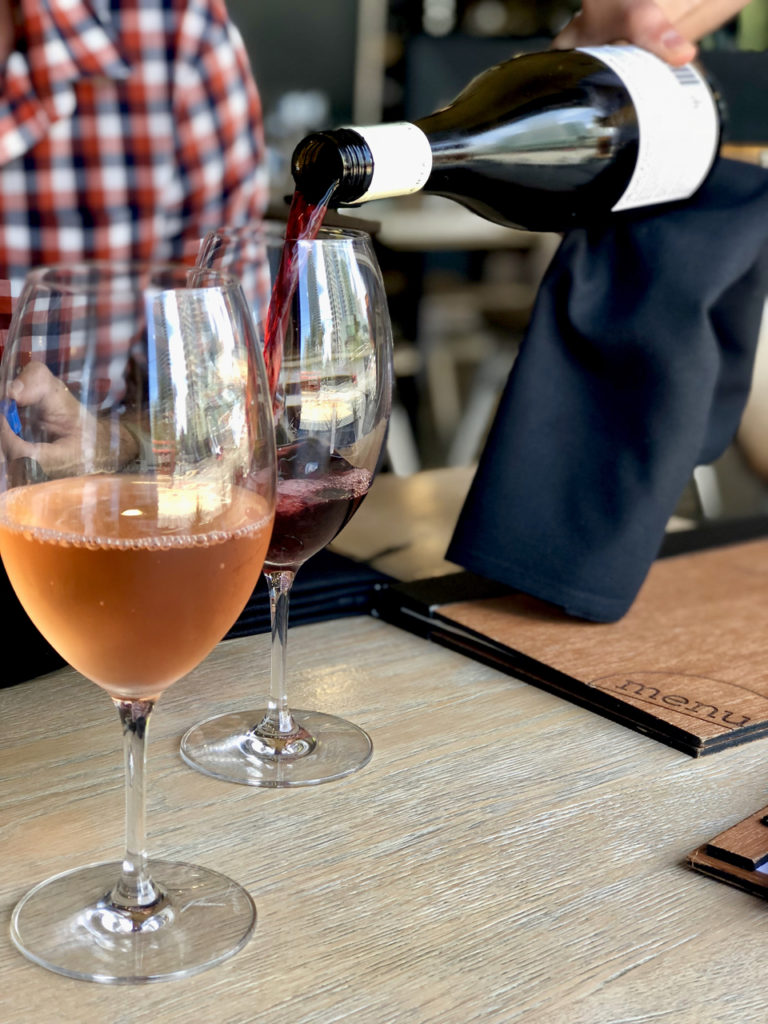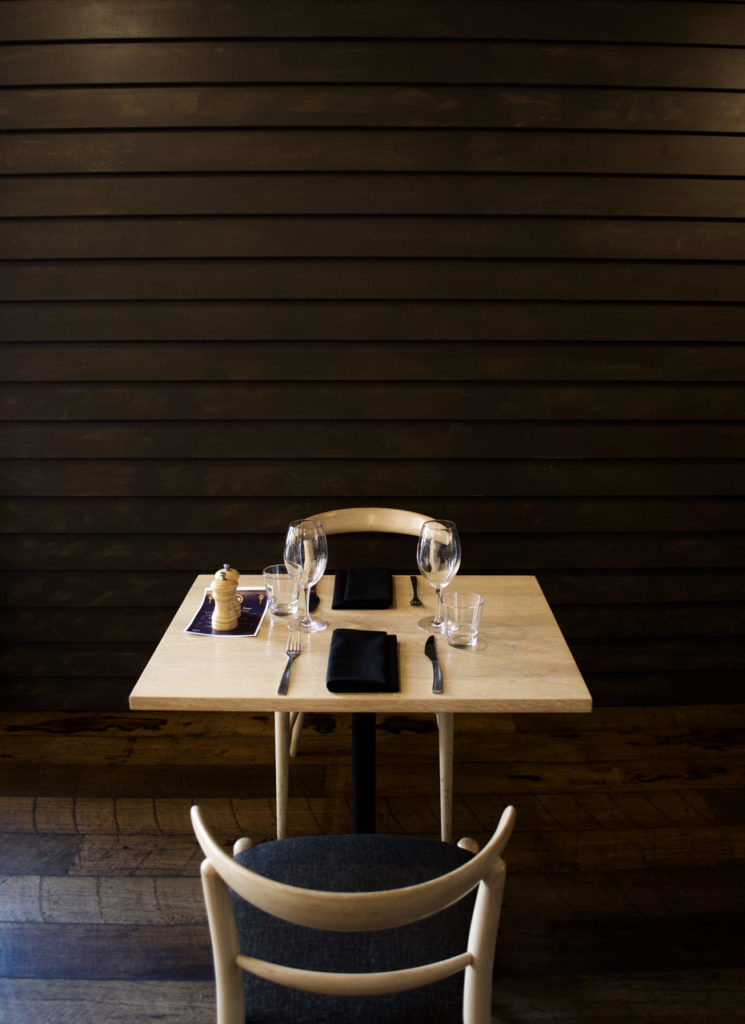 Clifford's Grill & Lounge menu is a paleo's paradise, and had another couple joined us I would have relished in all its meaty glory!
A couple of share platters that sparked my attention: Slow Cooked Lamb Shoulder, Whole Grilled Snapper and the pièce de résistance, the Tomahawk Black Angus Rib Eye, which I later eyed off at a neighbouring table as we were leaving. Honestly, I could have slipped over my own drooling tongue.
Showcasing Clifford's Asian inspired menu, we started with the Seared Rare Wagyu Beef sliced thin with crispy garlic, scallions and a side of infused organic soya. A wonderful combination executed well.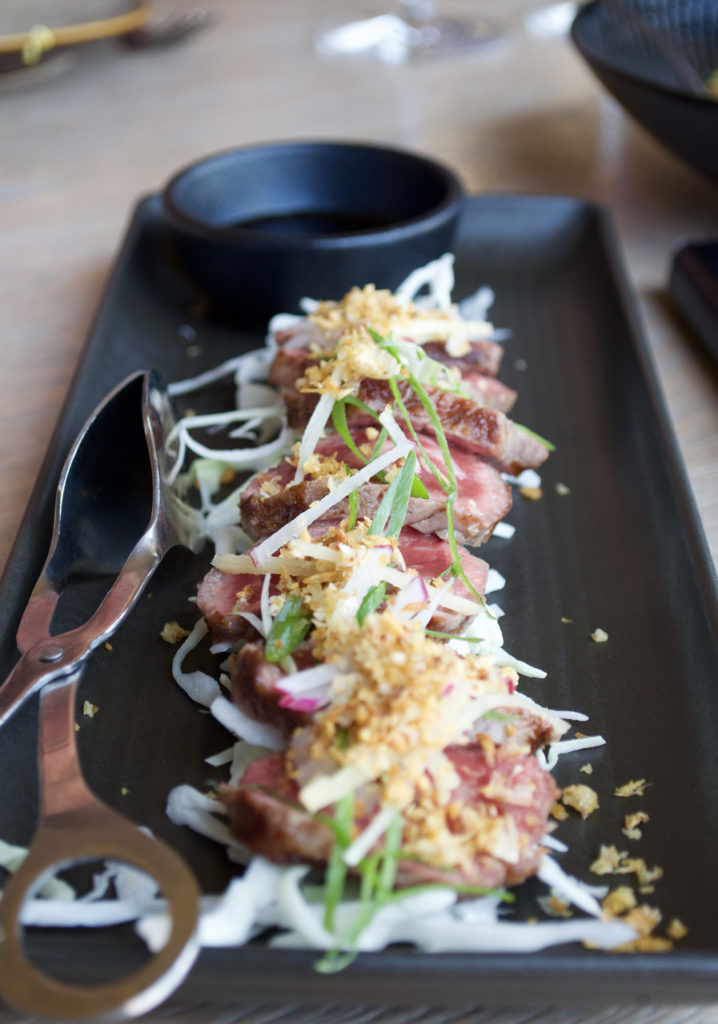 Sautéed Local Tiger Prawns with house-made gnocchi (who can say no!?). The gnocchi pillows were fluffy, silky and light, and were at home in the creamy baby spinach and gorgonzola sauce.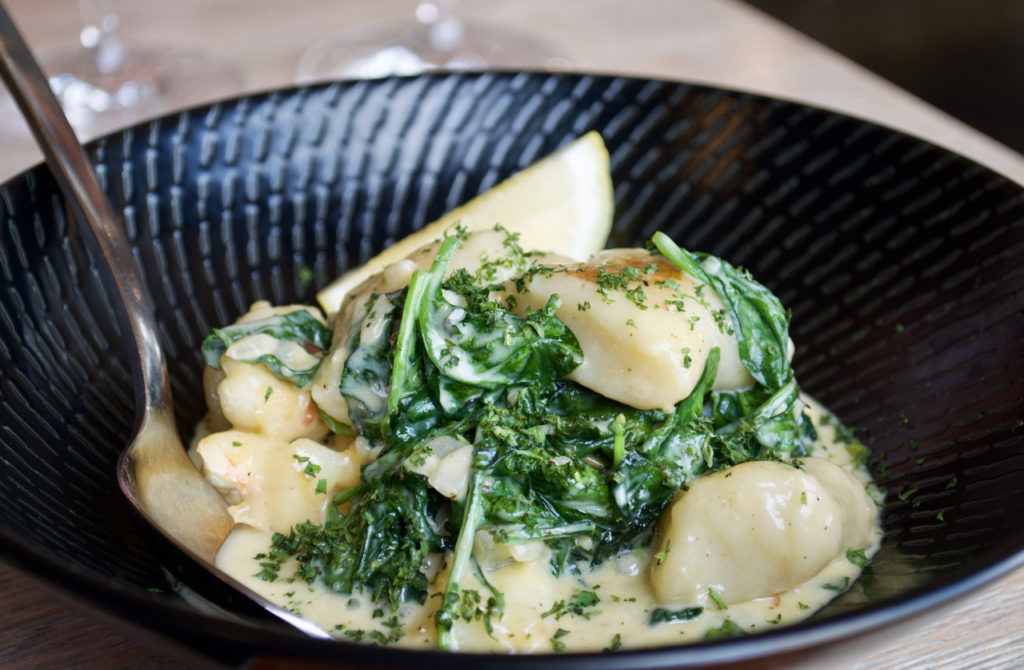 The Seared, Mooloolaba Yellowfin Tuna served with wilted fennel (or julienned apple in our case) rocket salad and yoghurt dressing was just as Yellowfin tuna should be – rare, fresh and clean with simple accompaniments.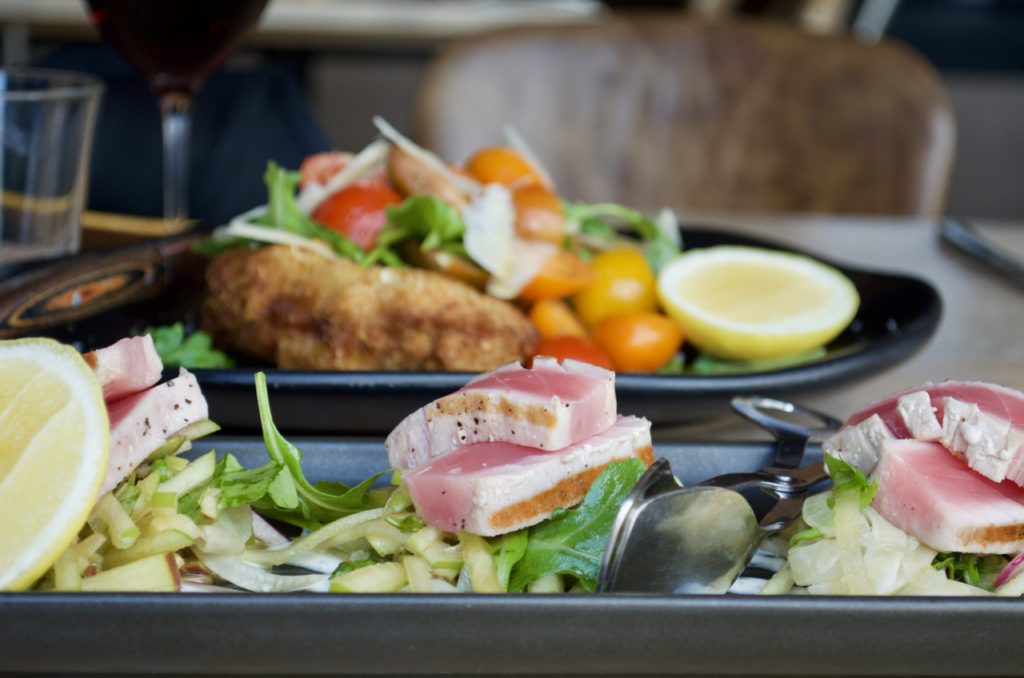 At hubby's request, we then tucked in to the Veal Milanese. The Italian inspired dish was topped with the most delectably sweet, juicy and colourful heirloom tomatoes, shaved Donnybrook aged parmesan and a dressed salad. The veal was succulent and juicy and I call bluff to anyone who says no to gnawing on this bone in public!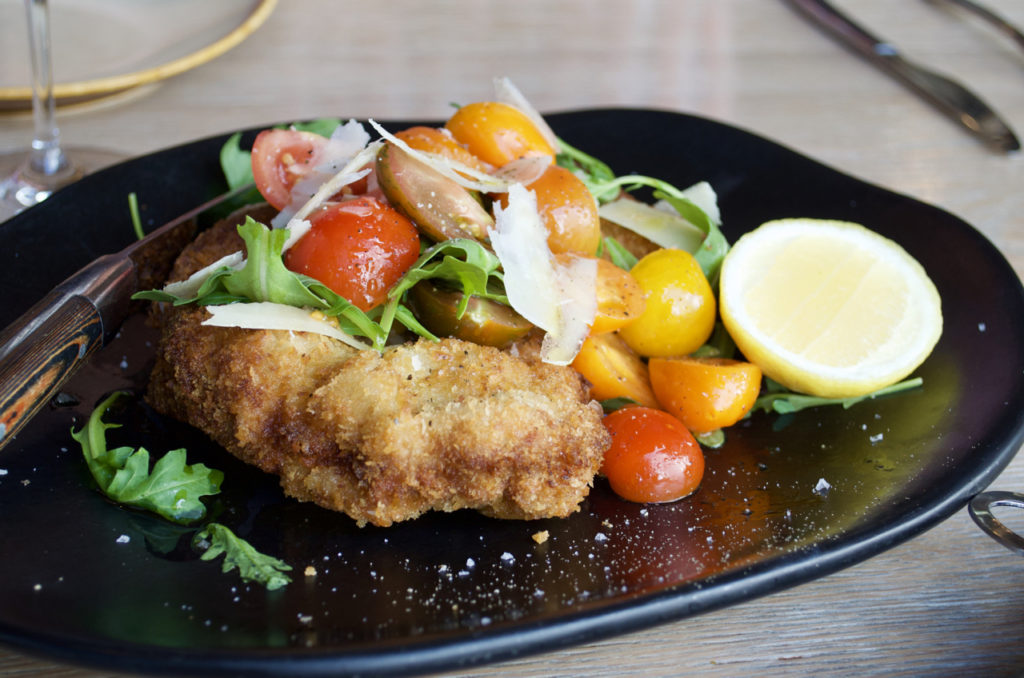 We didn't need dessert after our over-indulgent spread, but Clifford's Signature Bombe Alaska with its crunchy macadamia, vanilla bean ice-cream, salted caramel sauce AND buttered popcorn cried out to be tasted. They say it serves two, but even this was a mean feat for the three of us.
At Voco Gold Coast's Clifford's Grill & Lounge, you can rest assured your menu is locally sourced thanks to Executive Chef, Daniel Smith who prides himself on this ethos. A grill house by the sea with a relaxed, inner city feel, I give it a thumbs up.
With our food coma intensifying by the minute, it was time to check-in. Welcomed by an Angel (sorry couldn't resist, that was her name), who, like voco Gold Coast promises, swiftly and simply checked us in. To make guests feel extra special, a baked honey and lavender treat made in-house using voco Gold Coast's very own honey is offered. Yep, voco has their own honey which is harvested from their rooftop and bottled by their resident bee keeper. Angel goes on to say they get a whopping 32kg of honey (from memory) a week from their generous and happy bees.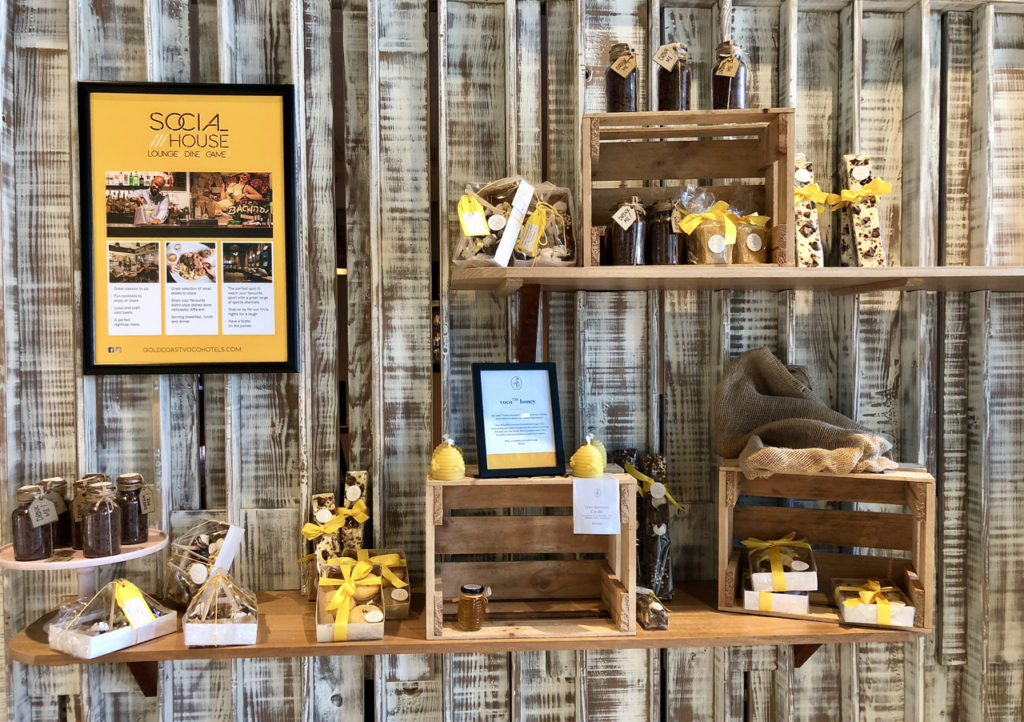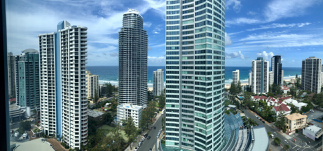 Once the Watermark Hotel, voco Gold Coast has done a fantastic job in transforming the place like it's brand-spanking-new – and the cleanliness, on point. Our king bed ocean view room was spacious for a hotel (ideal with a porta-cot) and the sweeping views are just that.
Wanting to dine at Social House for dinner and listen to live music, our 2 year old had other plans, and it was early to bed for her. Room bound, we ordered a pizza from voco room service and watched a Premier movie on the big screen TV in our pj's – equally, if not better these days.
After a comfy nights' rest (beds and pillows are AMAZING) we had the buffet breakfast at voco Gold Coast 's Wave restaurant. I love a good buffet breakfast, and this didn't disappoint. From Asian-inspired noodles, miso soup and a personal chef to prepare your favourite omelette combination. To sweet pastries, pancakes, bircher and fresh fruit. Throw in a platter of cold meats and salads, it's a medley of flavours with enough choice to suit any palate.
Thanks for the awesome night away voco Gold Coast, my little fam bam loved it. The staff, the food, the oh so cute touches of decor around every corner made for a special night away. Now where can I get me some of those pillows…..?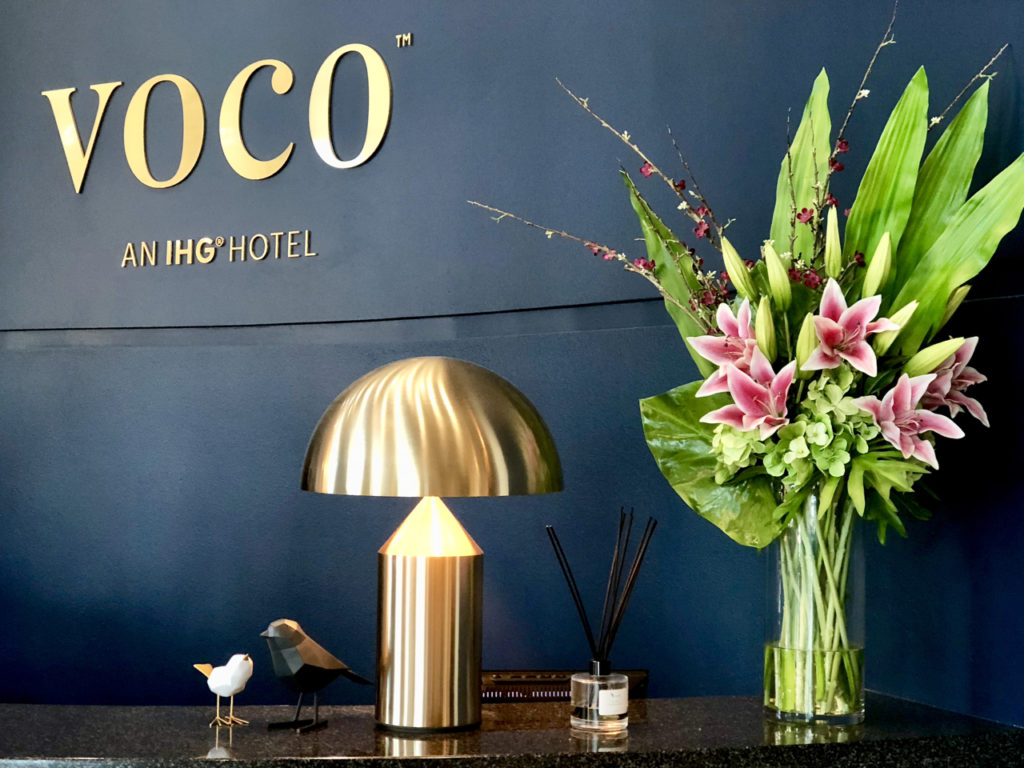 Disclosure: Miss Foodie was a guest of Voco Gold Coast.