It's Ekka time and I was fortunate enough to be selected to participate in the exclusive Brisbane foodie's tour of Ekka 2012!
The wonderful team at The Royal National Agricultural (RNA) and Industrial Association of Queensland selected a small group of Brisbane food bloggers and Twitterati to come along and relish the flavours of the Ekka, and relish Foxed Glove, BrisDevoured, Miss Morag, OMGemma, iateBrisbane, Monkeylicious, MelKettle and I did…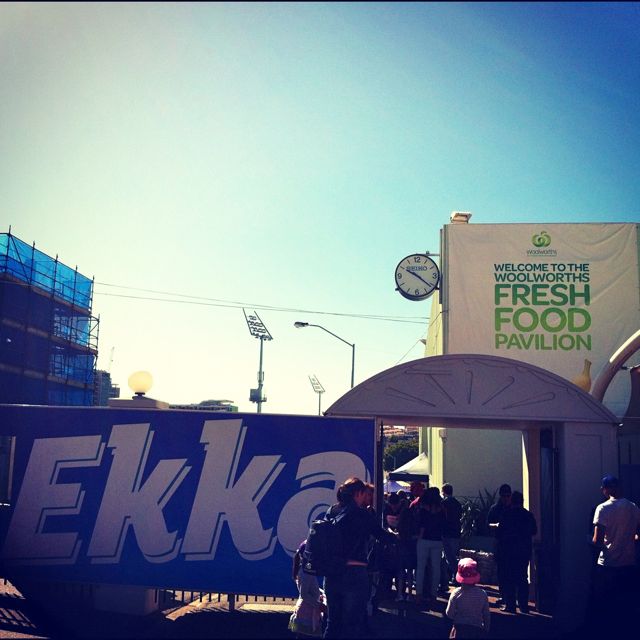 First stop Dalton's Craft Beer and Bistro. Tucked away in a peaceful nook of the Woolworths Fresh Food Pavilion, Dalton's Craft Beer and Bistro has a tasty selection of food, craft beers and other beverages. The presence of a craft beer stall is an Ekka first this year.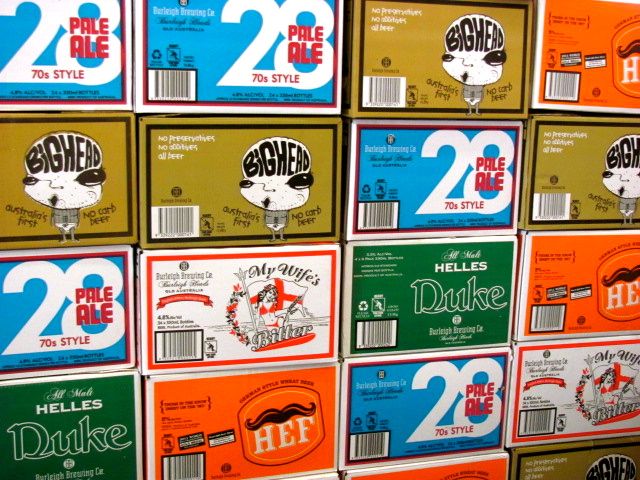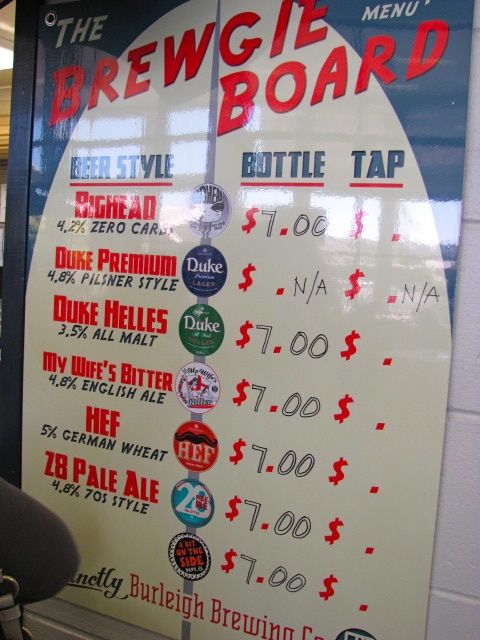 Like me you can sample Burleigh Brewing Co. beer and feast on a Giant Pork and Fennel sausage roll with Dalton's signature tomato jam. Other dishes on the menu include red wine braised beef cheek with yellow polenta and parmesan reggiano, Moroccan Lamb and rice and twice baked soufflé of Maffra Chedder Cheese and herbs.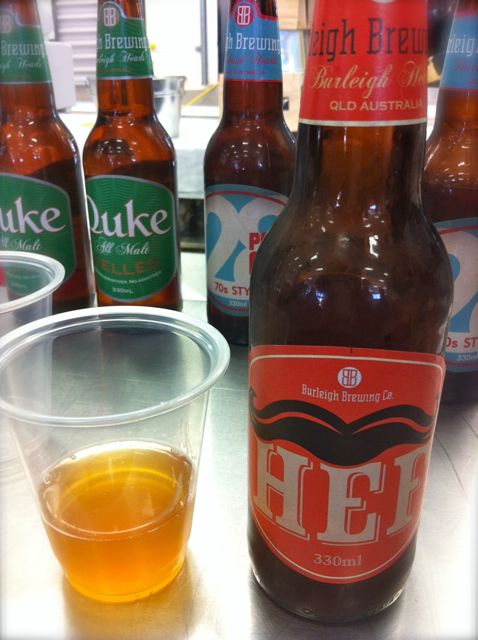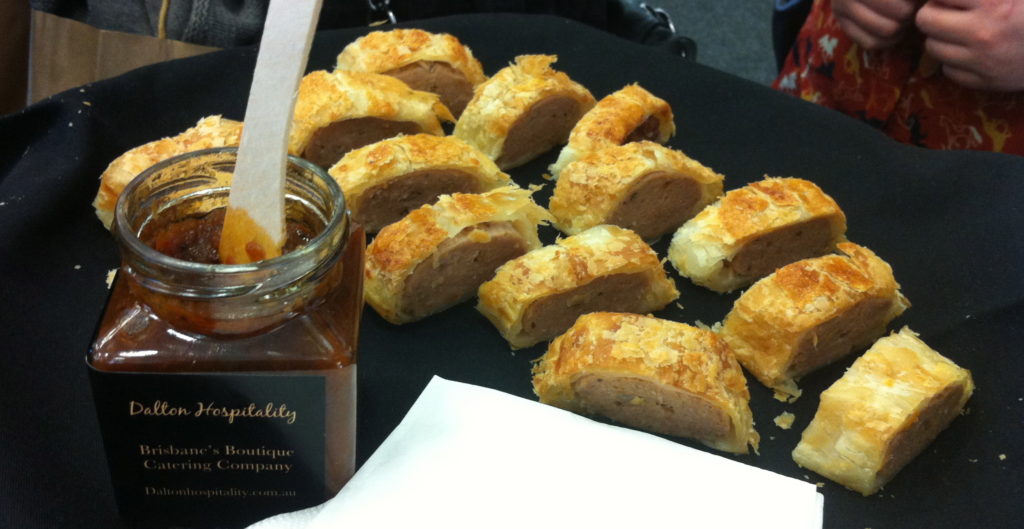 Inside Woolworths Fresh Food Pavilion you will find stalls and stalls of delicious local food and wine. Check out the colour of these Camarosa strawberries! I was lucky enough to feast on one and I have to tell you, it might well have been the biggest, juiciest strawberry I've ever tasted – dipped in white chocolate – heaven!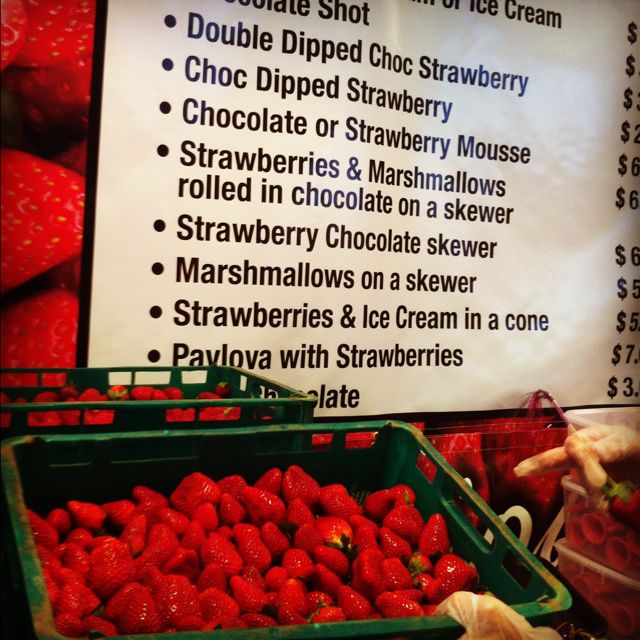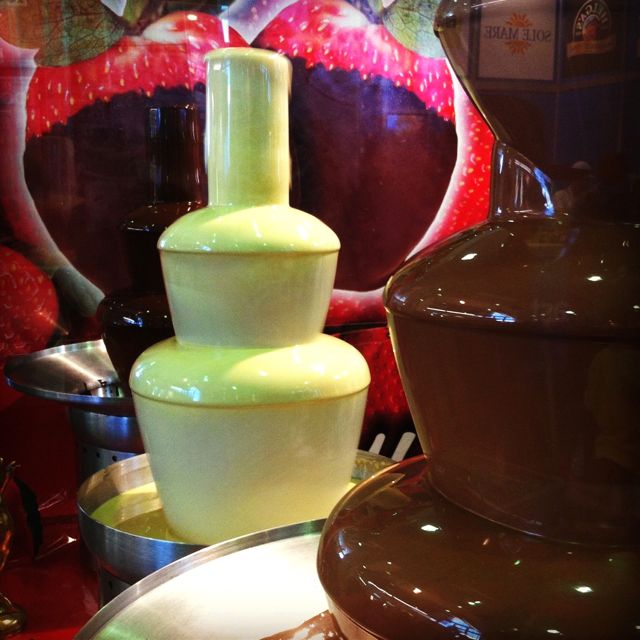 There's lots of wine tasting too. I had a lovely chat with the guys and girls at O'Reilly's Canungra Valley Vinyards stand and I must admit I absolutely love their Silky Oak Liqueur Muscat – White and fruity with hints of lychees and jasmine; yum I could go some right now.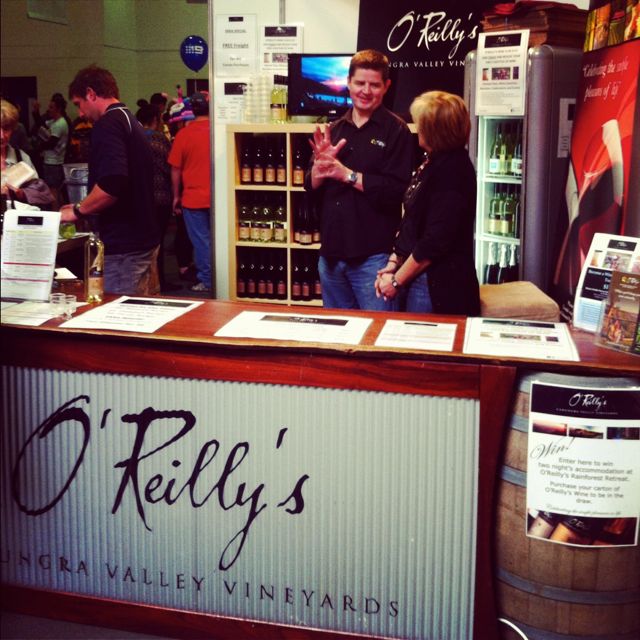 Families looking to save money at this years Ekka can find cheap eats inside Woolworths Fresh Food Pavilion. For only $2 you can grab yourself a $2 Coon toasted sandwich or 2 Golden Crumpets.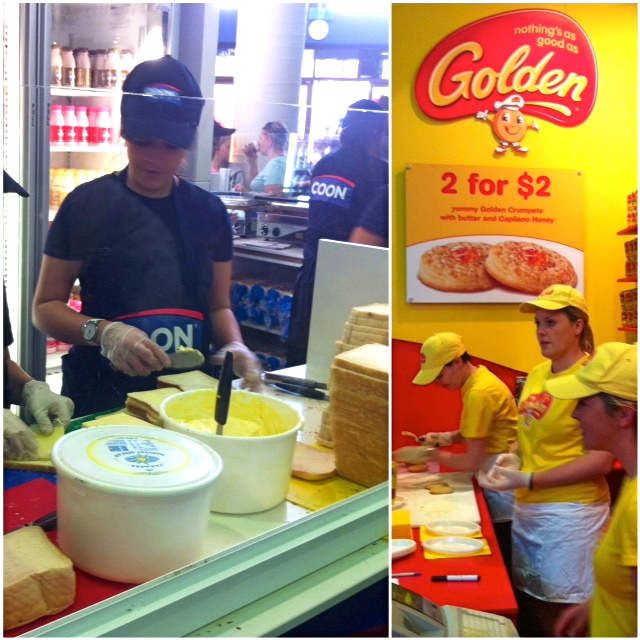 Next on the Brisbane Foodies Tour of the Ekka we feasted on fresh Coffin Bay Oysters and King Prawns. Our oysters were shucked to order and were so fresh we found a living sea creature inside one – now that's what I call fresh people!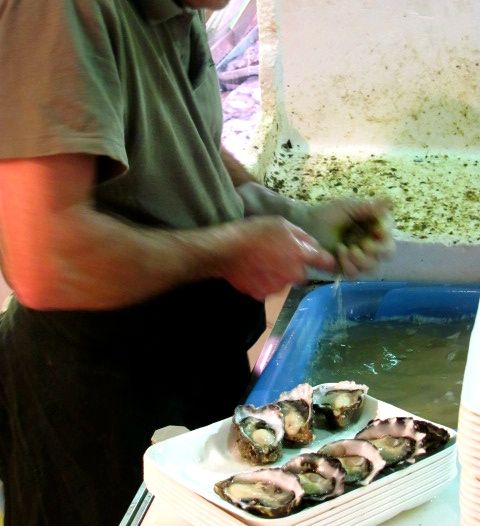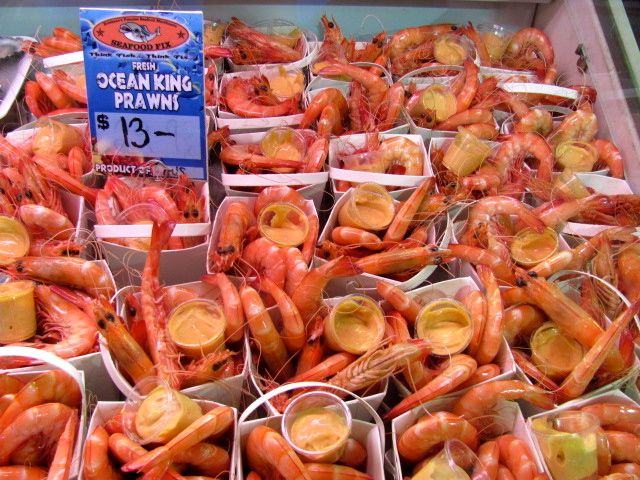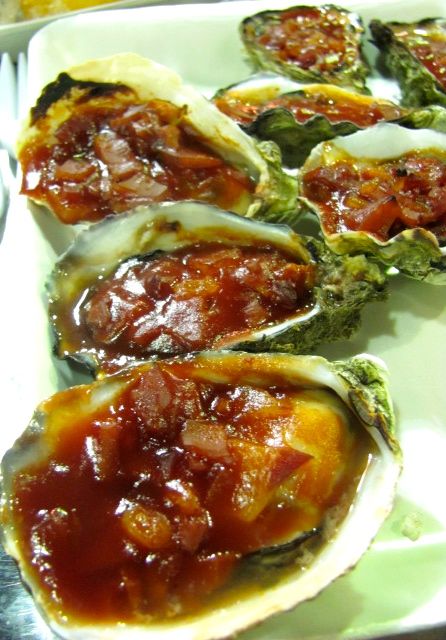 There are loads of cooking demonstrations taking place around the Ekka – and with a guest list like below, you'll be sure to see some amazing talent on any given day. You can find out 
What's on here
.
Adam Herbet – Cove Bar & Dining, Southbank
Bryant Wells – Tukka Restaurant, West End
David Manz – Platform 9 Bar, Ipswich
Dominique Rizzo – Pure Food Cooking
Felix Halter – V-Zug
Javier Codina – Moda Restaurant
Justin Russell – The Radish
Mark Newman – Citron Modern Asian Restaurant
Matt Kirkegaard – Good Beers
Mitch Kmiecik – The Boathouse Floating Restaurant, Noosaville
Phil Dudman and Julie Ray – garden2kitchen
Sam Walters – Restaurant Rapide and Ashton and Old
Scott MacDougal – The Boat Shed, Cotton Tree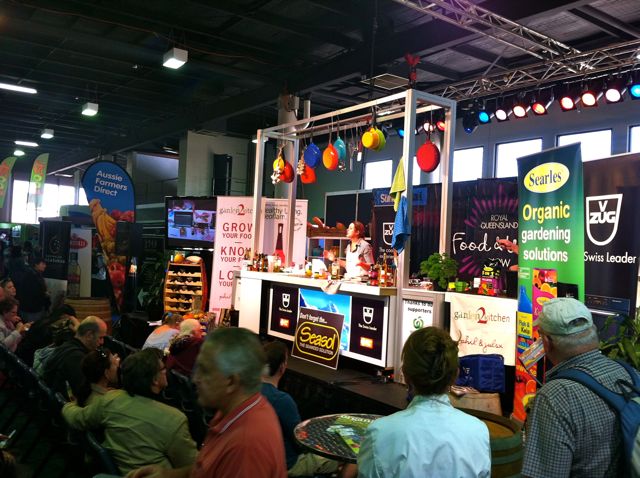 Now to the really good stuff – steak!  The Royal Queensland Steakhouse Restaurant has a succulent menu of medal winning meats and cheeses. You can feast on freshly shucked oysters, bite into gold medal winning steaks and you can choose from a fantastic selection of sides and deserts.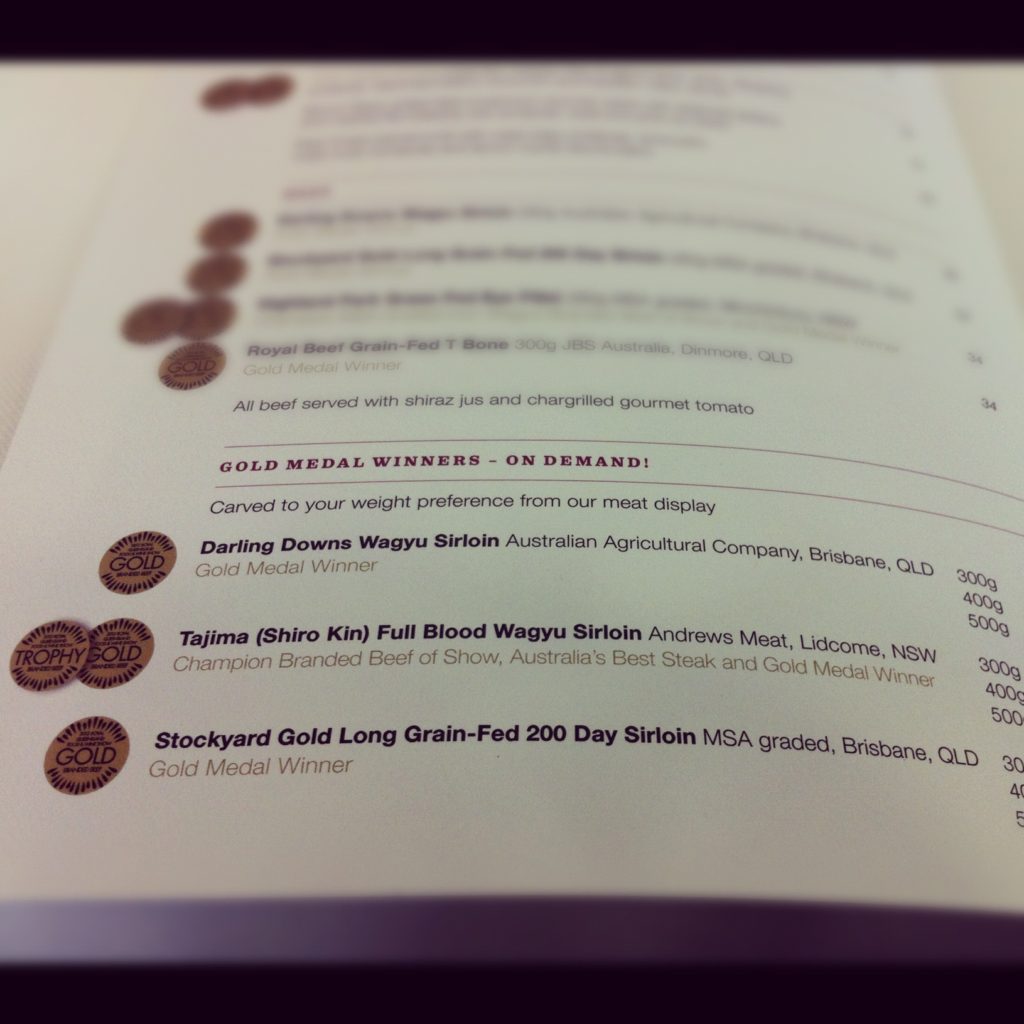 Gobbling on Australia's Best Steak and Gold Medal Winner the Tajima Full Blood Wagyu Sirloin was a delightful luxury. As this variety is shipped straight to Japan, Australian's can only sample this award winning steak at this years Ekka. The steak mind you did cost $63, the 500g version is a whopping $105! Lucky I didn't have to use my wallet today. The Tajima Full Blood Wagyu Sirloin's marble score is so high that the steak has to be cooked medium and not medium-rare. This is because the fat needs to cook enough so its flavours marry into the meat.
Having attended this years Branded Beef Awards you can take my word for it that it is indeed a real treat to have the entire RQFWS medal winning steaks on the one menu.
I HIGHLY recommend reserving a table for lunch or dinner so you can sample an Australian medal winning steak too. For bookings phone 3253 9210 or email steakhouse@ekka.com.au.
Any normal person would think I was incapable of eating more – alas you would be mistaken! Next an impressive cheese board containing King Island Discovery Ash Brie, King Island Roaring Forties Blue, Mil El Parmesan and Southcape Gouda. These varieties were so nice – if I had to pick a favourite it would be the Blue, it was so pungent, salty and sharp.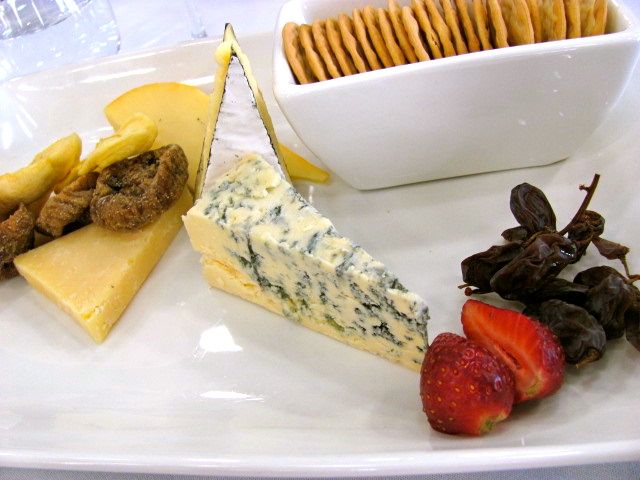 We were all treated to an official Ekka Cocktail. With a mix of Bundy 5 Rum, soda, strawberries, lime and mint, this certainly  was a light refreshing beverage.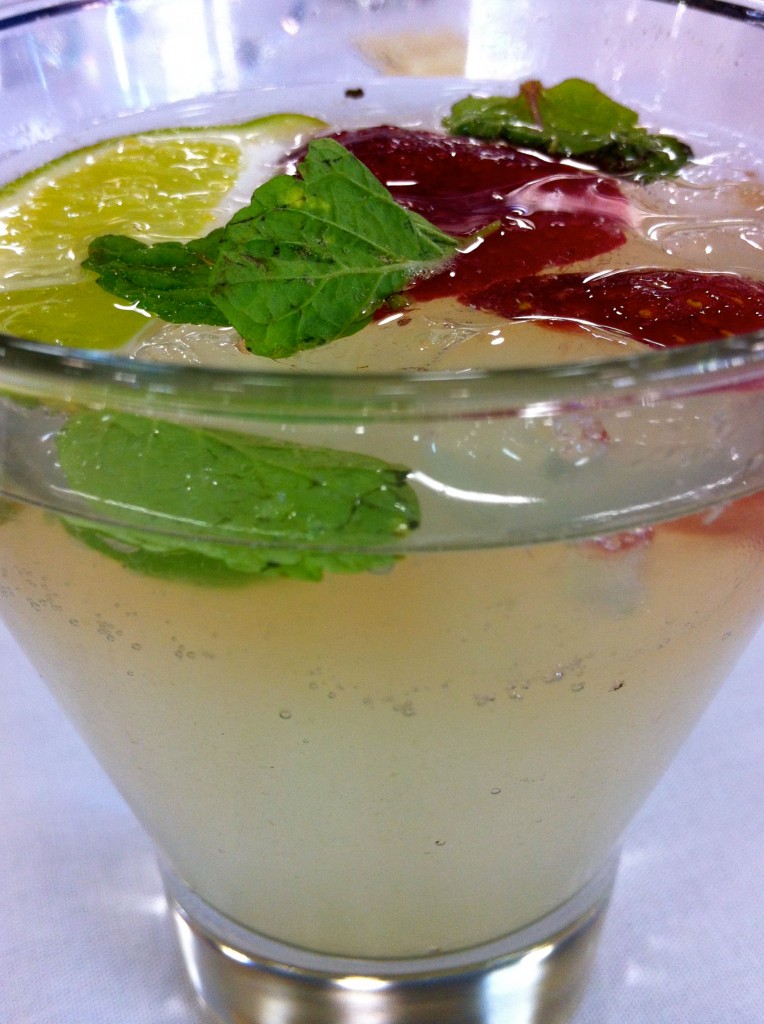 Fresh lemonade need I say more…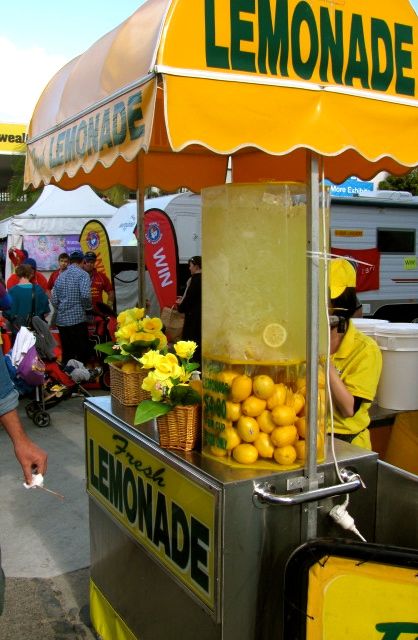 Now where would the Ekka be without the Strawberry Sundae. The Ekka Strawberry Sundae is delicious from top to bottom – from the crunchy wafer cone to the creamy vanilla ice-cream, juicy chopped strawberries, yummo gourmet ice-cream, swirls of fresh cream and topped off with a tasty fresh Queensland strawberry.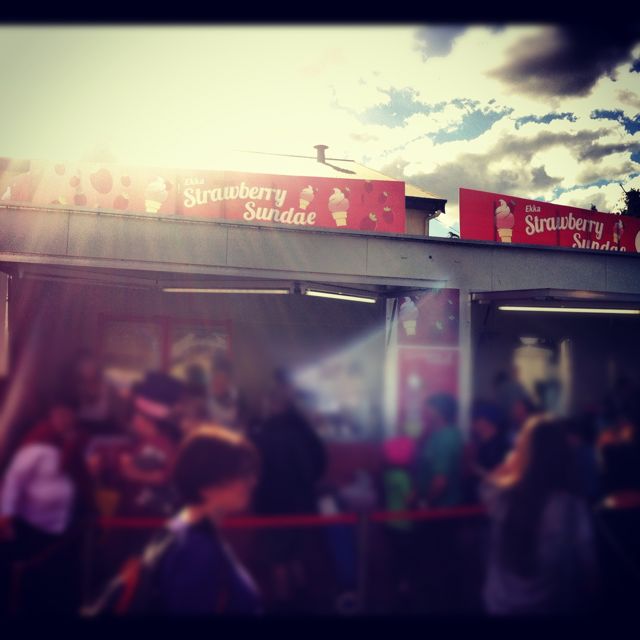 This year the iconic Ekka Strawberry Sundae is brought to us by LICK Ice Cream. LICK Ice Cream is a Brisbane based manufacturer of gourmet ice cream and sorbet, another local supplier supported by the Ekka, don't you just love it!
On average more than 145,000 sundaes are sold each year with profits helping fund research to find cures and save lives. 145,000 sundaes breaks down to a whopping 18,250L ice cream, 750L cream, 9 tonnes strawberries! And with 2800 volunteers helping out, the Strawberry Sundae indeed shows the true spirit of the Ekka.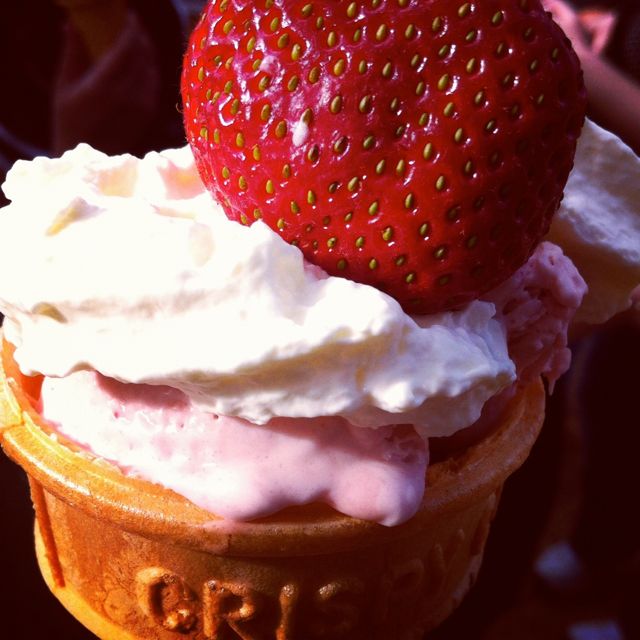 I had a great time at the Ekka and although I didn't visit the animals or venture on any roller coasters, I did however happily and successfully relish my way through the Ekka – and for a foodie, that's way more fun!
Whether it's the thrill of rides, showbag treats (yes they still have the Burtie Beetle Bag) or food and wine you're after, you will undoubtedly find magic at the Ekka.