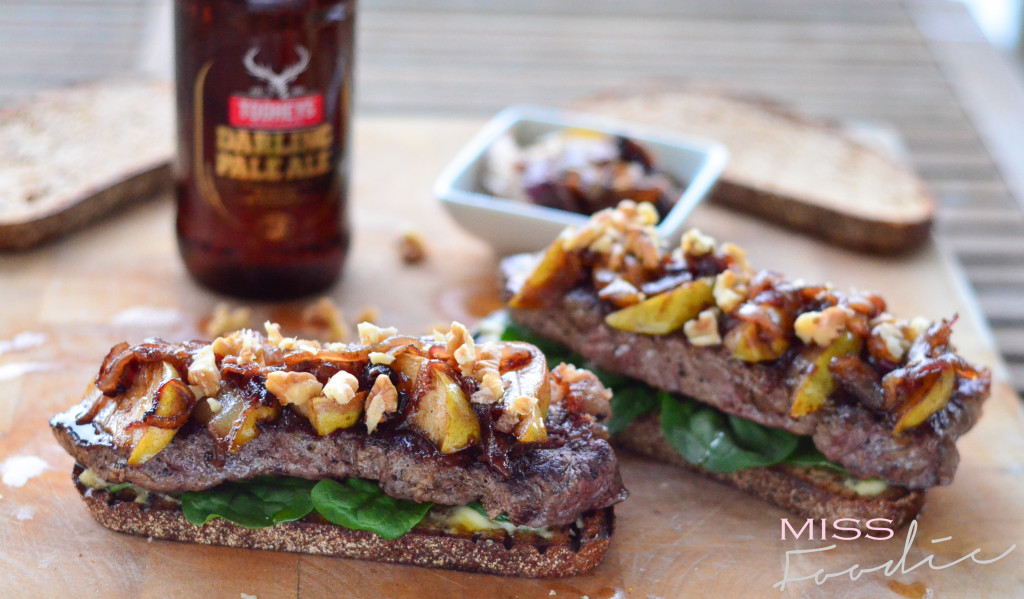 Impressive Steak Sandwich isn't it!? Believe it or not, this mouth-watering recipe comes straight from the new Tooheys Cooking Handbook which is chock-full of honest Australian food.
Inspired by the Tooheys Brothers' have-a-go spirit, this book isn't about perfecting complicated meals, but rather getting in there and giving cooking a go – fantastic for men who are a bit nervous in the kitchen. Fingers crossed, this might see B in the kitchen cooking something for me one of these days! Cookbook under his pillow too subtle?
Comprising of 80 down-to-earth and hearty recipes, the Tooheys Cooking Handbook is perfect for any dad, brother, husband; in my case fiancé, featuring a range of Australian favourites, along with Asian, Mexican and Italian-inspired dishes. Father's Day reminder this Sunday 6th September – six pack of beer plus the Tooheys Cooking Handbook – ahh the perfect gift.
Grazing through the pages the meat pie and peri peri prawns tickled my tongue, but when the Gourmet Steak Sandwich presented itself, it was love at first sight! Caramelised onion and pear with blue cheese and walnuts – HELLO! Now I've had my fair share of steak sandwich 's, but this friends is a stand-out winner. You could have this flavour explosion on a fine-dining menu!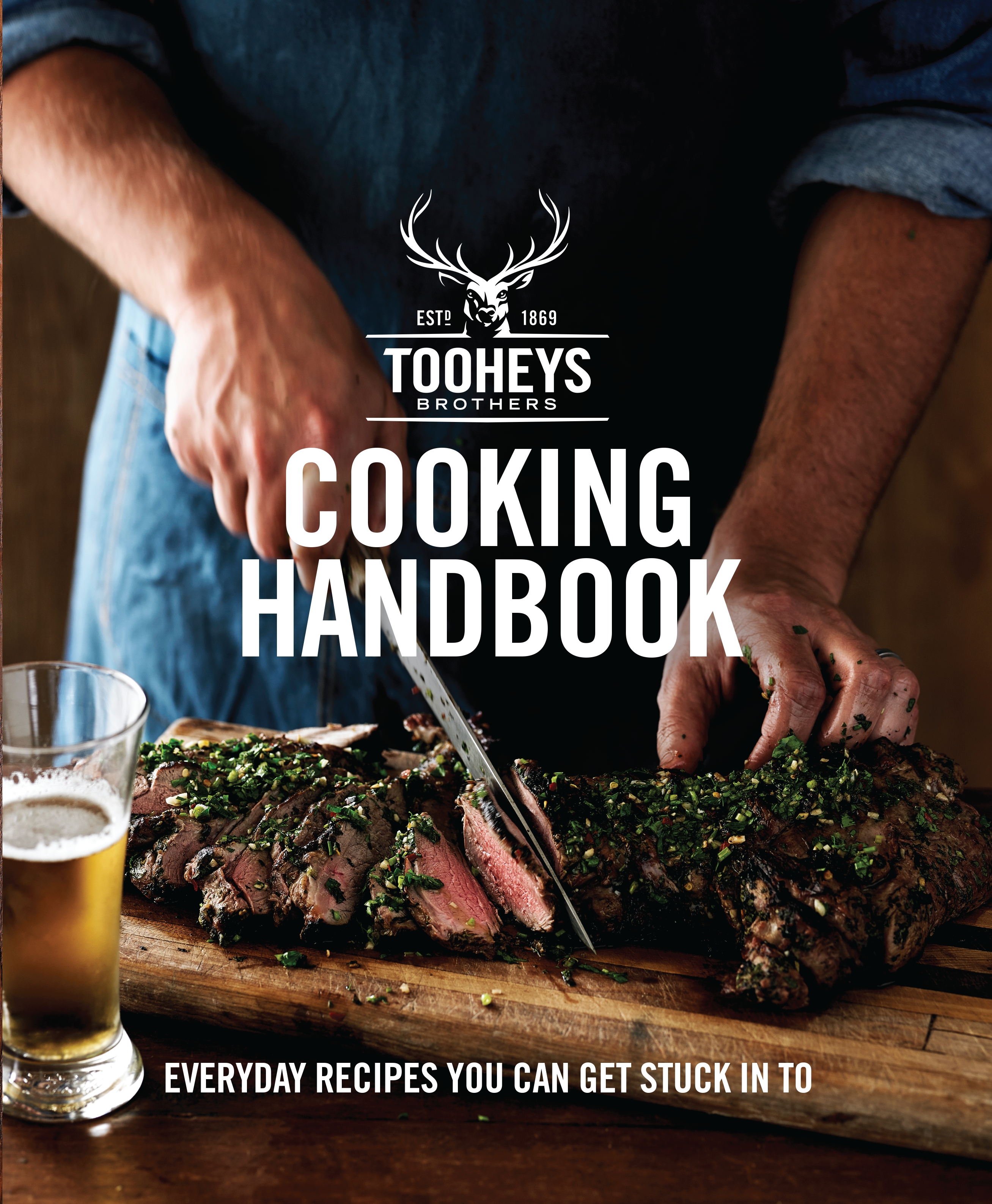 As well as everyday recipes and tempting photography, the Tooheys Cooking Handbook includes beer matching ideas, helpful information and a chance to discover the history behind one of Australia's favourite beers.
The Tooheys Cooking Handbook was a gift from Tooheys, all opinions are that of my own.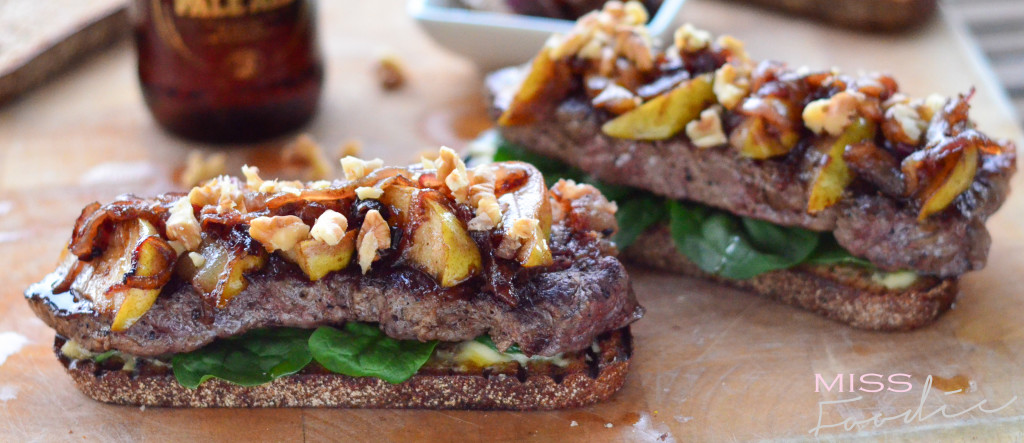 Gourmet Steak Sandwich
2015-09-02 06:51:21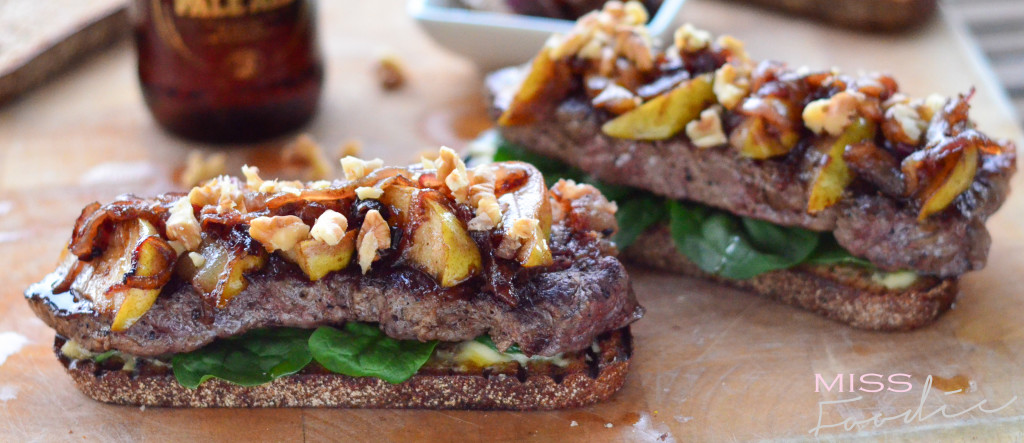 This gourmet steak sandwich is taken to the next level with caramalised onion and pear, walnuts and blue cheese.
Ingredients
4 x 150g porterhouse steaks
8 thick slices of crusty bread
2 tablespoons olive oil
50g blue cheese
50g baby spinach
2 tablespoons chopped walnuts
CARAMELISED ONION AND PEARS
50g butter
2 red onions, thinly sliced
2 tablespoons brown sugar
2 tablespoons balsamic vinegar
3 small pars, cored and cut into thin wedges
Instructions
To cook the caramelised onions and pears, melt the butter in a large frying pan over medium heat. Add the onion and cook, stirring occasionally for 10 minutes, until very soft. Sprinkle the sugar over, drizzle with balsamic and cook for another 2-3 minutes, until caramelised. Push to one side of the pan, add the pears and cook for 2-3 minutes until golden. Take off the heat.
Preheat a barbecue grill plate over medium-high heat. Brush the steak and bread with oil. Cook the steak on the grill for 2-3 minutes each side, for rare, or until cooked to your liking. Cook the bread on the grill for 1 minute each side, until lightly toasted.
Spread the blue cheese over 4 bread slices. Top with spinach leaves and steadk. Spoon the caramelised onion and pears over and scatter with walnuts. Serve topped with remaining bread.
Notes
Tooheys Tips
Blue cheese isn't to everyone's taste, so if you don't like it, just replace with cream cheese or any other cheese you like.
MissFoodie http://missfoodie.com.au/
steak sandwich