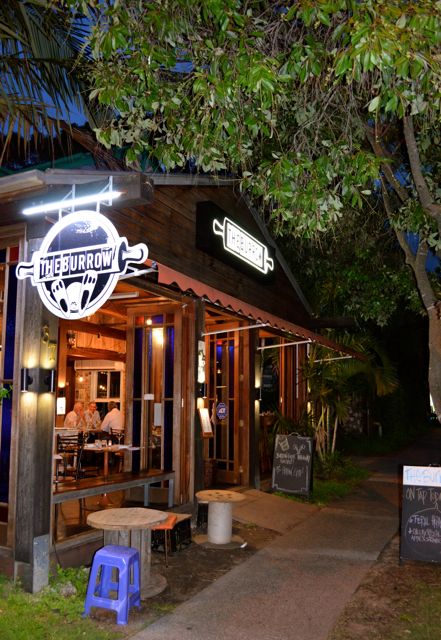 Being an Amici Primo (Friend of Primo) is just way too much fun. The Primo family and I got together last week and enjoyed a charming evening, sipping beautiful wines and savouring in scrumptious Burrow pizzas.
We kicked off our special Primo evening with an aromatic glass of Primo Secco NV. Joe Grilli, Primo Estate owner and innovator of superb wines, has always been a fan of the Italian Prosecco – and who could blame the man! This fresh and aromatic sparkling is made from a blend of Colombard, Chardonnay and Sauvignon Blanc grapes. Delicate on the bubbles, with a refreshingly crisp yet savoury finish this Venetian classic scores 10 out of 10 from me.
Did you know that like Champagne, Prosecco is an Italian wine region and unless Prosecco is from the Prosecco region it's not technically allowed to be called Prosecco. So what did the smart Mr Grilli do? He called his Primo Secco – cute isn't it?
Did you also know, that unlike Champagne which matures inside the bottle, Prosecco matures inside a tank – quite interesting indeed.
To accompany our Primo Secco, our palates where treated to a tastings-board of ruby red Heirloom Tomatoes. What better way to fancy-up a tomato than by poaching it in Vodka then stuffing it with the gorgeousness that is goats' cheese. Together with our Heirloom Tomatoes we were served 'Archimedes' – Prosciutto, artichoke puree, smoked tomatoes, taleggio and walnut salsa verde. Both served on crunchy crostini, these were the first of our starters and already I had died and gone to heaven.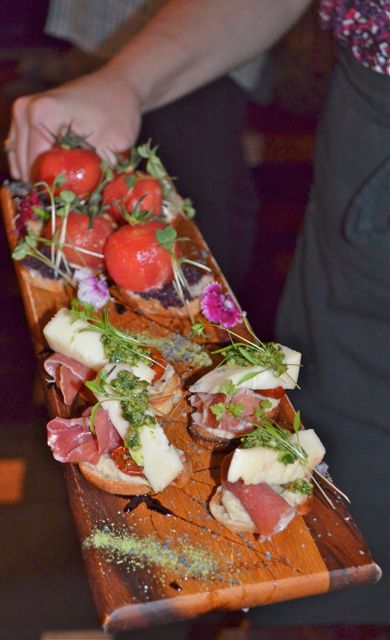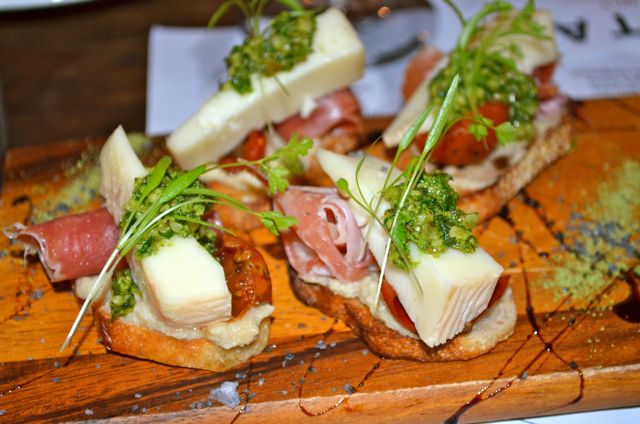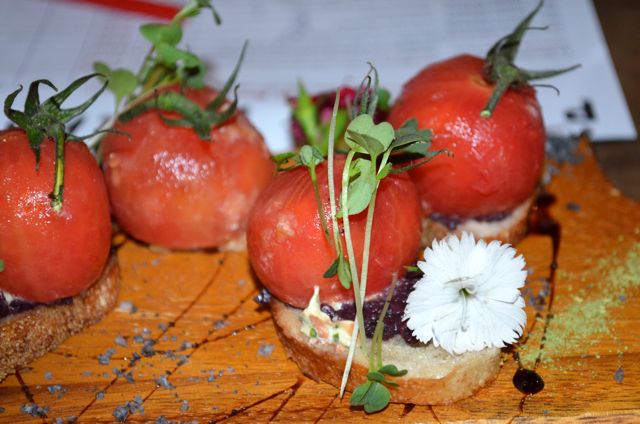 Our next drop La Biondina Colombard, was served alongside my favourite food on earth – Freshly shucked oysters. A Meyer lemon granita and dulce jalapeno verjus dressed our oysters and the combination gave my taste buds a tang-bang and I loved every second of it.
Additional to our freshly shucked oysters was a smoked swordfish, watermelon and fetta salad with rocket and orange vinaigrette on crostini. Spoilt rotten wasn't I? Smoked fish of any kind makes me happy. I've watched that many food documentaries that whenever I see the age long process of smoking fish it makes me want a piece of land with my very own smoker – and why not throw a trout stream in for good measure too.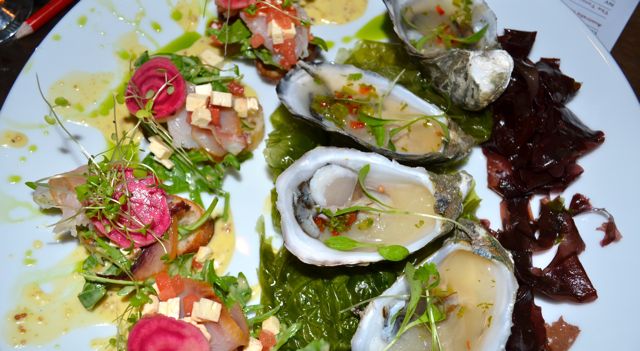 A chilled glass of 2012 Merlesco Merlot was next on our Primo e Pizza menu and Joe Grilli was kind enough to share his Italian family secret. "Fresh, young, unoaked reds are best enjoyed lightly chilled and perfect for sharing with friends on a warm summer evening, Merlesco is a deliciously uncomplicated 'little Merlot'." I couldn't have put it better myself Joe. It's quite odd that I say that too for I'm not a fan of the old Merlot blend. This however was more than just a Merlot; this was Merlesco Merlot and it was a true honour to drink.
Then came time for the all-important vote; the survival of the fittest. The crowd goes wild as The 2011 Primo & Co The Tuscan and its McLaren Vale twin, 2011 Primo Estate Il Briccone were poured. Who would take out this year's winning vote the Amici Primo's pondered? Both stand-out wines, both Shiraz Sangiovese blends, both made by Primo Estate winemaker Joe Grilli but from opposite corners of the globe. Who do you think took out the winning Brisbane vote? (Well maybe it wasn't as dramatic as that; but you know me.)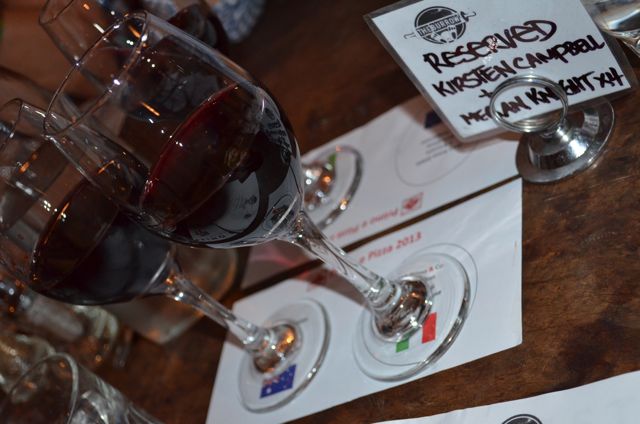 "Italian made and bottled, Australian inspired"
VS
"Rich Shiraz Meet the Savoury Finish of Sangiovese. Il Briccone means 'The Rogue' and with this blend of Aussie Shiraz and Italy's Sangiovese grape varietal, winemaker Joe Grilli aims to combine everything he loves about Australian wine in an Italian style blend."
I voted for the Australian Tuscan which took out the win for Brisbane. I found The Tuscan more full-bodied which is everything I love and look for in a Shiraz blend. The other results in case you were interested – Melbourne: il Briccone 27 vs The Tuscan 19. Sydney: The Tuscan 59 vs il Briccone 50.
To complement our reds we were served pan fried marinated olives and warm ciabatta plus 4 styles of The Burrow Pizzas: Bloody Margherita, Everyday I'm Trufflin, Diana Ross, Life Aquatic – Great names hey!? You really can't beat wood fired pizza can you? The smokiness of the base is second to none. The toppings on each of The Burrow pizzas had their own delicious charm but I'd have to say the classic Bloody Margherita was my favourite.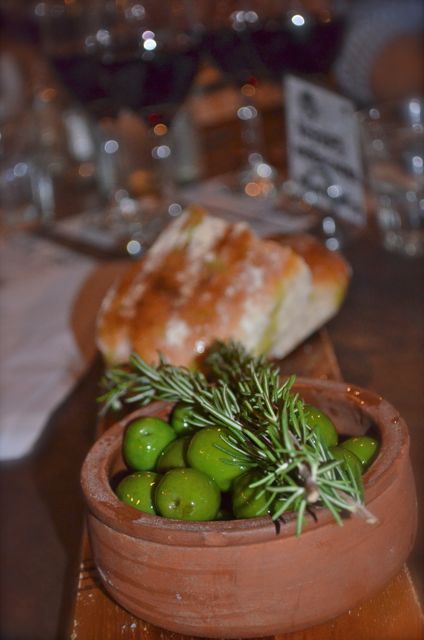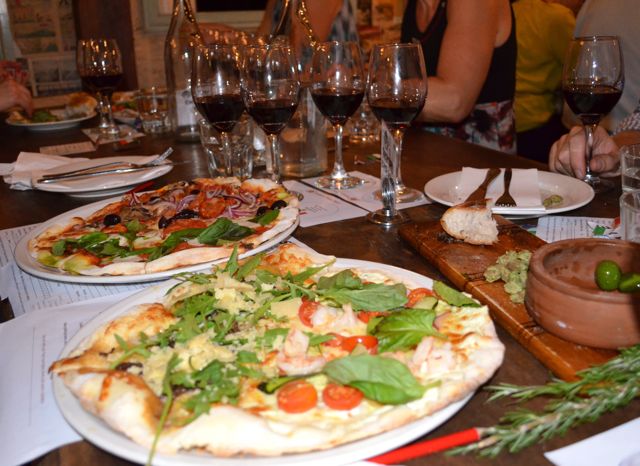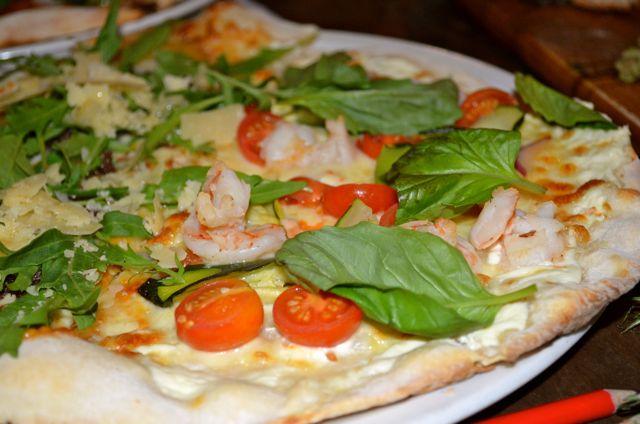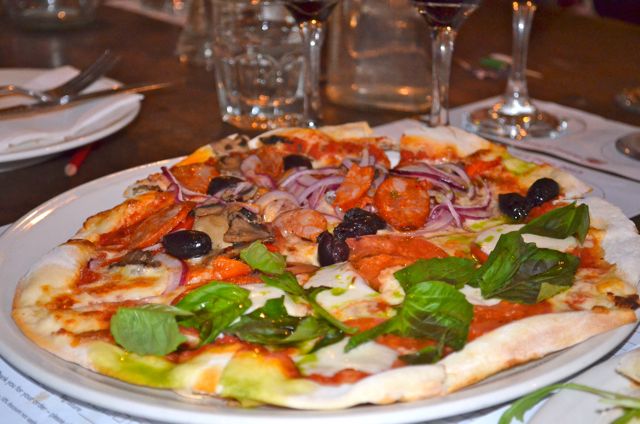 Primo e Pizza has been running for 3 years and travels to every capital city. To be an Amici Primo you simply have to join their mailing list. This isn't any old mailing list either, not only will you stay in touch with the Primo family and their Primo vineyard but there are yummy family recipes too. If you don't want to miss the next Brisbane Primo e Pizza night; and for a bit of McLaren Vale in every email, I urge you to sign up to Primo too.
If you get the chance to visit the McLaren Vale be sure to pop your head into Primo Estate's cellar door and sample their full range; you won't be sorry. Say hi to Joe and Richard for me if you do?
Cheers from Assistant General Manager at Primo Estate, Richard van Ruth and Miss Foodie