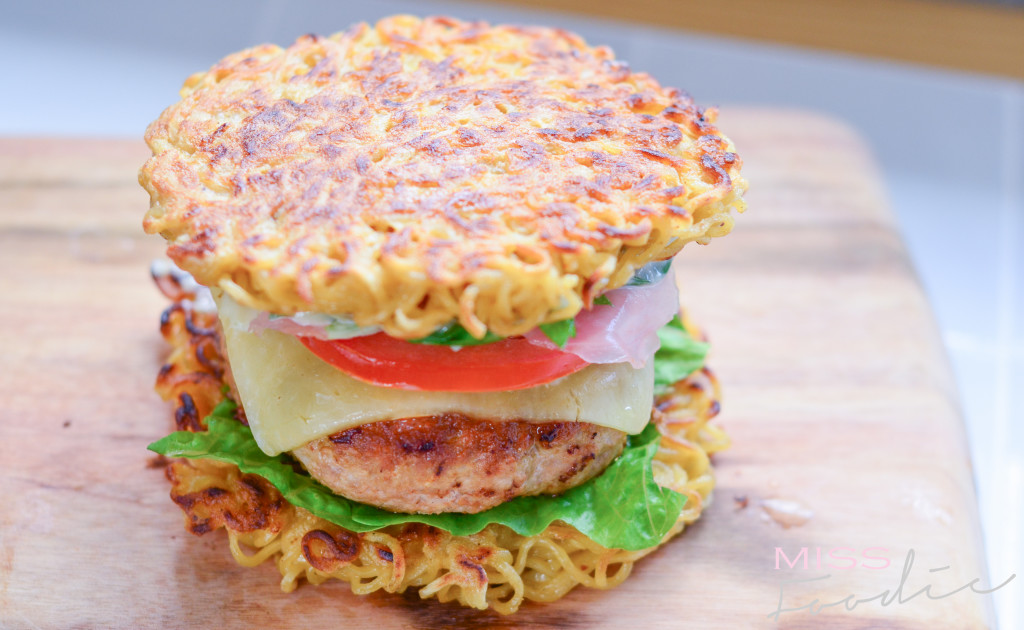 Seduced by Ramen Burger images for far too long; it was only a matter of time before I caved and devoured one for myself. With my long weekend consumed by wedding planning and bridesmaid dress shopping, the kitchen proved an ideal escape for Ramen Burger fun.
Originally created by Ramen obsessed blogger, Keizo Shimamoto, the official Ramen Burger is quite simply a ground beef patty sandwiched between two specialty formed buns made from cooked ramen noodles, accompanied by Keizo Shimamoto's special shoyu glaze and fresh vegetables.

Rooky Ramen Burger creator over here, opted for a pork patty; this may or may not have been the best move. My Ramen Burger lacked a little something-something, but given the robust flavours of a traditional beef patty, would be easily fixed. Homemade Kewpi wasabi mayonnaise, BBQ sauce and fresh trimmings of tomato, cheese, lettuce and fresh shallots, finished my weekend treat off perfectly.
Voted one of "The 17 Most Influential Burgers of All Time" by Time Magazine, the Ramen Burger is a must do for any burger enthusiast.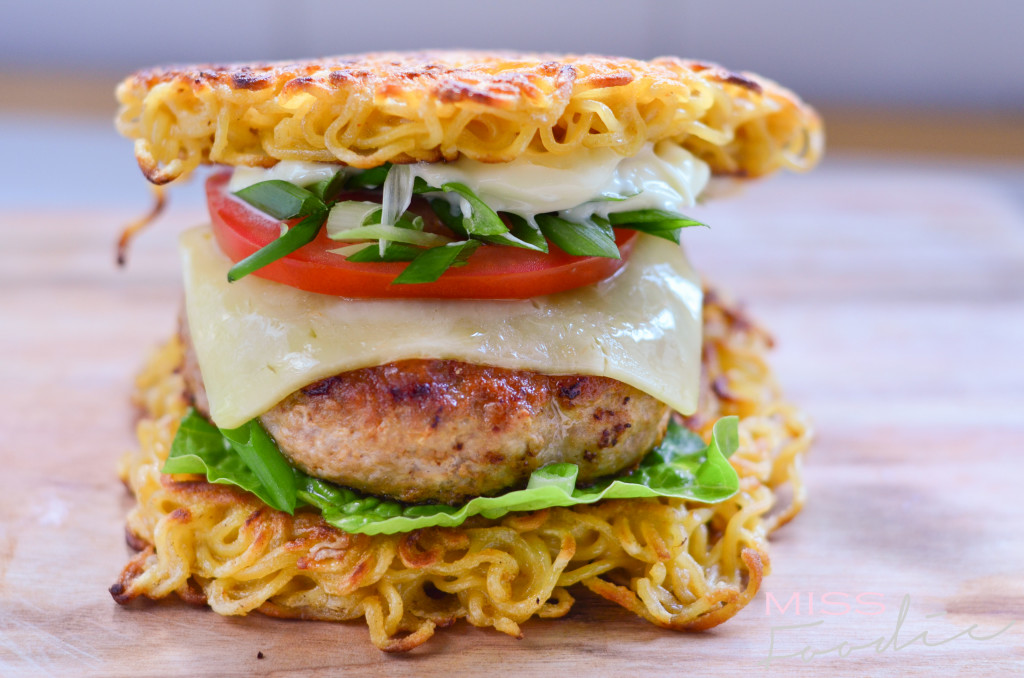 Ramen Burger
2015-06-09 19:59:12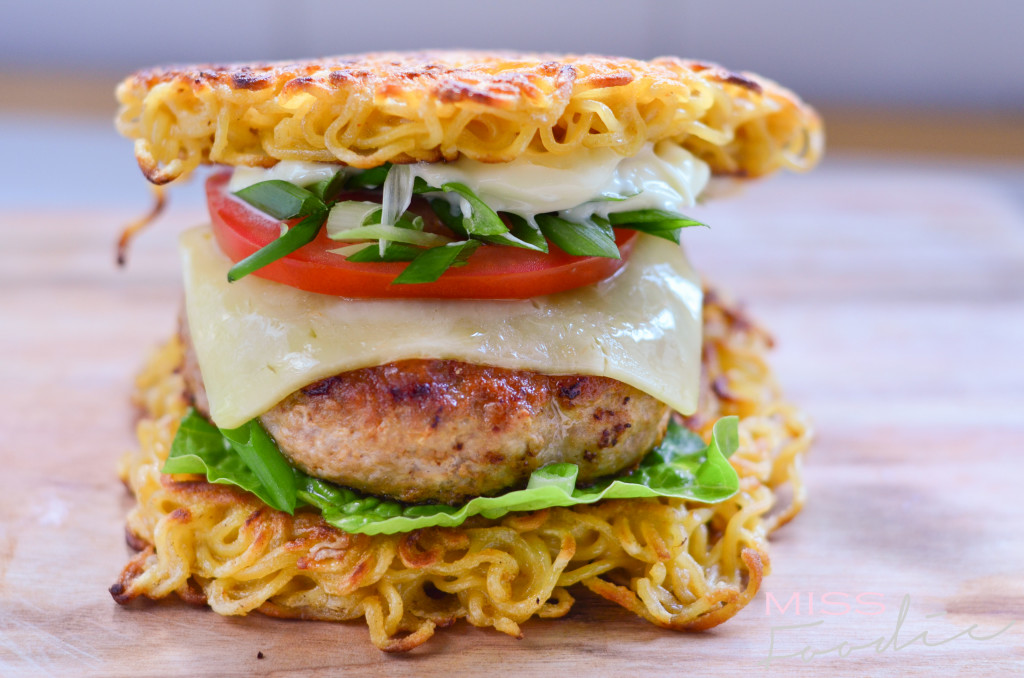 Voted one of "The 17 Most Influential Burgers of All Time" by Time Magazine, the Ramen Burger is a must do for any burger enthusiast.
Ingredients
2 packets instant ramen noodles (1 packet per burger)
2 eggs
Salt and pepper
250g ground beef mince
1 tablespoon soy sauce
1 teaspoon sesame oil
2cm ginger, grated
2 garlic cloves, grated
3 tablespoons of Olive OIl
2 cheese slices
1 tomato, sliced
Lettuce
Pickled ginger, optional
Kewpi wasabi mayonnaise (mix 1 tablespoon wasabi into 1/4 cup Kewpi mayonnaise)
BBQ sauce
Instructions
Bring a pot of water to a boil; add ramen noodles. Stir occasionally for approximately 3 minutes. Drain. Allow noodles to cool slightly.
Beat 2 eggs in a bowl; season with salt and pepper. Stir noodles into eggs until evenly coated. Divide noodles into 4 burger-size ramekins or bowls. Place a sheet of plastic wrap directly over noodles and stack another bowl on top to flatten noodles. Refrigerate for 15 minutes.
Mix beef, soy sauce, garlic, ginger and sesame oil in a bowl. Divide beef mixture in half and shape into patties.
Heat 1 tablespoon olive oil in a large pan over medium-high heat. Invert each ramen bowl and carefully tap out the ramen, being careful to maintain bun shape.
Fry each ramen bun until golden brown, approximately 3-5 minutes each side. Transfer buns to a large plate. Cover with foil to keep warm.
Heat extra olive oil in the same pan over medium heat. Cook beef patties until they are cooked, approximately 3 to 5 minute each side. Arrange a slice of cheese over each burger patty and continue to cook until slightly melted, approximately 1 minute.
Spread kewpi wasabi mayonnaise over one side of 2 ramen buns, top with a lettuce leaf, burger patty and cheese, 2 slices of tomato, spring onion and pickled ginger if you are using. Spread BBQ sauce over the remaining ramen buns and place on top of your now completed Ramen Burger.
Adapted from Official Ramen Burger
MissFoodie http://missfoodie.com.au/