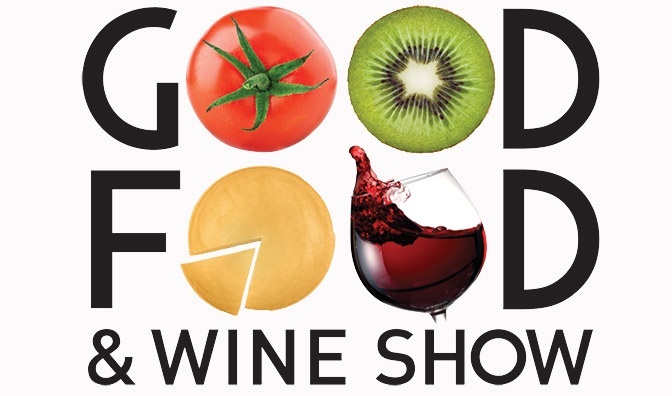 Now in its ninth year, the Brisbane Good Food and Wine Show will dig back to its origins and deliver a 2013 Show that's all about local produce, good value, heaps of inclusions, freebies, samples and a chance to meet the makers directly.
Mark the date in your calendar and get ready for a tasty day out when the 2013 Good Food and Wine Show is plucked from fresh, organic soil and served crisp in Brisbane from November 8 – 10 2013.
Whether you love to cook or just want to be inspired by something new, the Show will provide a one-stop opportunity to gather recipe ideas, try local produce, pick the brains of producers and discover new kitchen tools, all while supporting many of Queensland's local farms and manufacturers.
You'll find excitement, indulgence, entertainment, education and more throughout this year's Show features, many of which are included in the ticket price:
ADMIRE

 Celebrity Theatre (included in ticket price! Simply reserve a place) –  This year, celebrity chefs will include Miguel Maestre, Maggie Beer, Matt Moran and Matt Golinksi.

IMMERSE 

Riedel Wine Theatre (included in ticket price! Just buy a $3 wine tasting glass)

INDULGE

 Cheese Alley (included in ticket price!)

INTERACT

 The Chopping Block (included in ticket price!) – See the celebrity chefs in action.

ENJOY

 A Journey through Coffee with Nespresso (included in ticket price!) – A masterclass that takes participants on a unique and sensorial journey in a fun and interactive session.

CONNECT 

Dymocks Books Signings (included in ticket price!)  – meet your favourite celeb chef and have them sign your cookbook.
ENGAGE Riedel A+ Wine Bar

 –

savour the best Australian wines with a panel of wine experts.
CREATE Fisher & Paykel YUM Kitchen – Much loved cooking schools Grass Tree Kitchen, Spirit House & Sauce will host an unforgettable hands-on cooking experience. Then sit-down, relax and enjoy your dish with wines matched from Barossa Valley premium wine makers Grant Burge.
LEARN Lyndey Milan's Cheese Masterclass – Experience delicious cheese and wine combinations while learning about the unique characters and complexities of cheese.
EXPLORE Lifestyle FOOD Chef's Table – Designed for lovers of food, specialty wines and a desire to learn from some of the world's best chefs. Enjoy three courses created by your favourite chef, each paired with matching wine.

WIN A GOOD FOOD AND WINE SHOW DOUBLE PASS
PLUS
MALENY CUISINE GOURMET BOX
Over $70 value
To celebrate this year's Brisbane Good Food and Wine Show I'm offering 3 readers a chance to WIN a DOUBLE PASS to the show PLUS a GOURMET BOX from Maleny Cuisine on the Sunshine Coast.
Valued at over $70, each prize pack includes 2 adult tickets plus a Maleny Cuisine Gourmet Box containing three yummy new chutneys – Apple Fig and Ginger Chutney, Spicy Tomato Relish and Mango Apple and Pumpkin Chutney.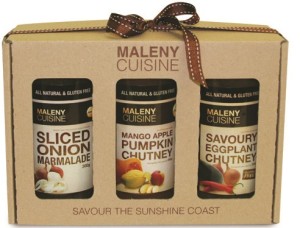 TO ENTER
Simply tell me in 25 words or less "Why local produce is important to our community or to you?" and LIKE Miss Foodie on Facebook.
Earn extra entries by following Miss Foodie on Twitter, Pinterest and Instagram and by sharing.
GOOD LUCK 🙂
Entries close 9pm Sunday 3rd November
This prize is thanks to Brisbane Good Food and Wine Show 2014