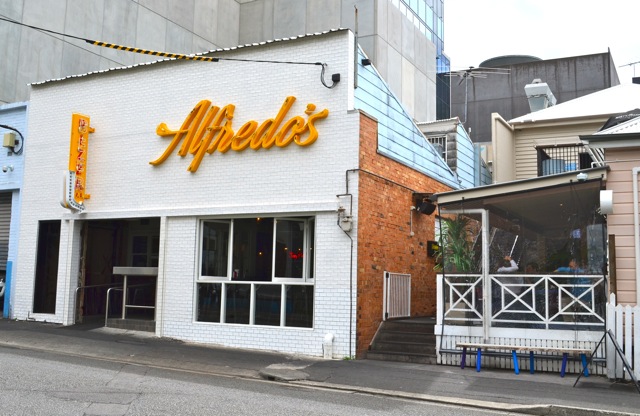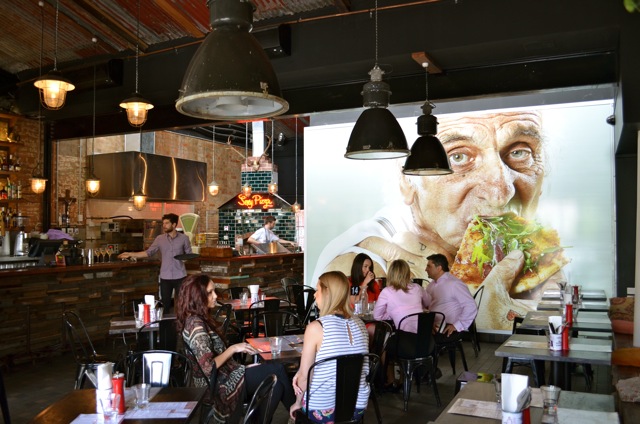 Alfredos Pizzeria have released their new Mid-Summer menu with new sexy pizzas' and pastas on offer whilst still keeping a few old favourites on board.
Sitting with my two girlfriends for a bite to eat and a chinwag, we perused the Italian Pizzeria menu in awe of the indulgent choices before us.
All fans of the holy Arancini ball and mushrooms we decided on the Wood Baked Portobello Mushrooms with grilled feta, lemon zest and thyme ($9.50 [GF]) and the Arancini of pumpkin, Italian fontina cheese and basil pesto ($12.50). 
I cook baked Portobello mushrooms at home so I know how easy it is to make, but the fact Alfredos Pizzeria bake their mushrooms in the wood fired oven makes all the difference. The Portobello mushrooms were juicy, fragrant and a lovely starter. The Arancini I thought were a little bland but overall I did enjoy them; their gooey centre and side of whipped aioli made it near impossible not to.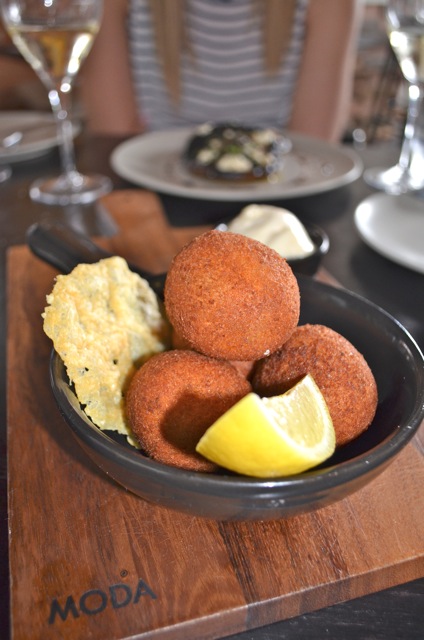 Over our glass of Wither Hills Sauvignon Blanc, the girls and I finally came to an agreement on our shared mains. Norm's Knockout Gnocchi wasn't to be missed and an easy first choice. Pizza was not this easily agreed upon and we discussed the merits of the Jon Bonham's Seattle Special (Wood Roasted Salmon, Capers, Crème Fraiche, Watercress and Lemon $23.90) and the Sweet Home Alabama (Popcorn Chicken, Alfredos BBQ Sauce, Crispy Pancetta and Garlic Mayo $23.90) numerous times before finally settling on The Ziggy Stardust ($22.90) and the Pork Sugar Sex Magic ($22.90) pizza's.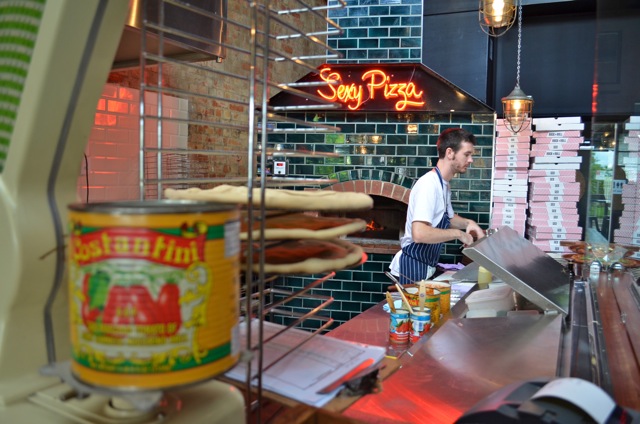 So let me start with the Gnocchi….. This bowl of divine goodness from heaven certainly is not for the faint hearted; you have to be a serious lover of food to enjoy its indulgent richness. Upon second mouthful I said "I don't think I can eat anymore, it's so rich" but who was I kidding and more I did spoon.  The gnocchi itself was soft and pillow like and melted in your mouth but it was the blend of Truffle cream, silky shitake and other varieties of mushrooms that tipped it over the edge. I adored this meal.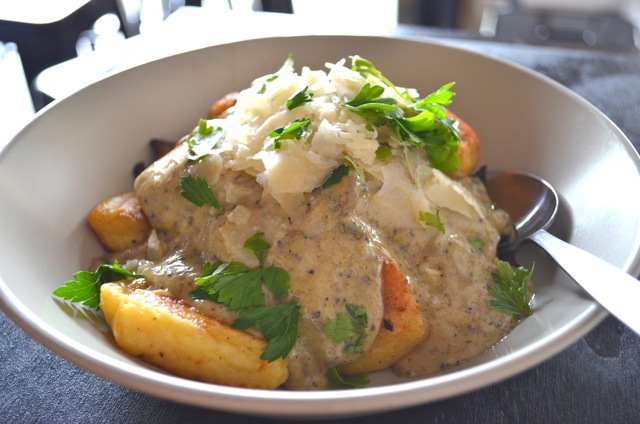 Perhaps it was that my eyes were too big for my belly in the entrée department, but I thought the pizzas we ordered were a little too much for me. I quite liked the bases which were thin and crispy, as the first time I dined at Alfredos Pizzeria, I felt the dough was not cooked enough.  The Ziggy Stardust was my preferred pizza as the mix of pumpkin, balsamic onion, crispy sage, crumbled Goats Feta and Basil Pesto was sweet but not too indulgent.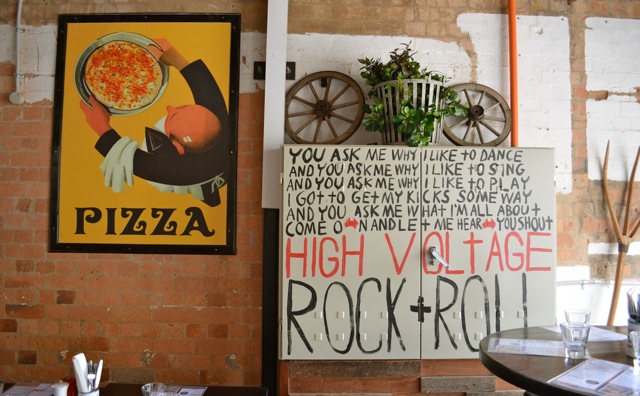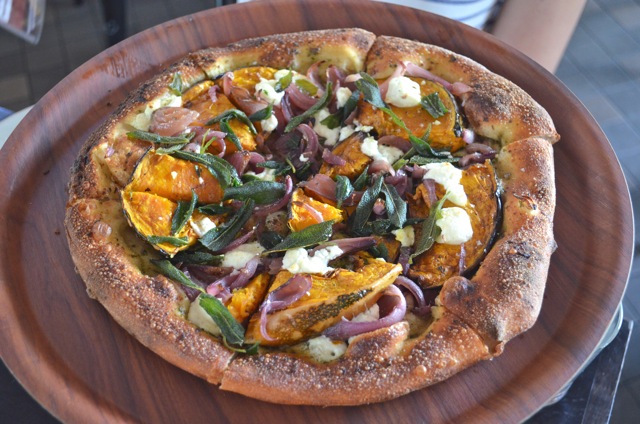 My companion's however favoured The Pork Sugar Sex Magic pizza; they relished in the sweetness of the roasted pork, caramelised onion and honey roasted pear combination. It seems they weren't the only ones to share these thoughts, for the two tables beside us ordered the same.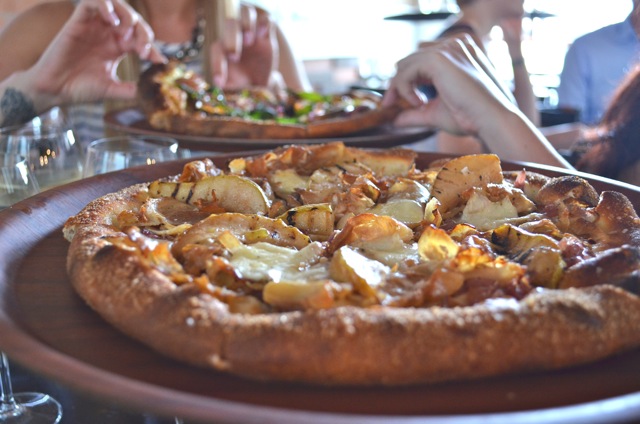 'There's always room for dessert!' On this occasion, however, there was not. But I ordered something anyway so I could give you a proper snippet of Alfredos Pizzeria's $14.50 dessert menu. We skipped quickly past the Nutella Cheesecake and Nectarine Ricotta Dessert Pizza for I am a softy for anything Banoffee. Gooey rich caramel and sweet slices of Banana rested on a perfect biscuit base. Finished with whipped cream and a drizzled with chocolate I believe I made an impeccable choice.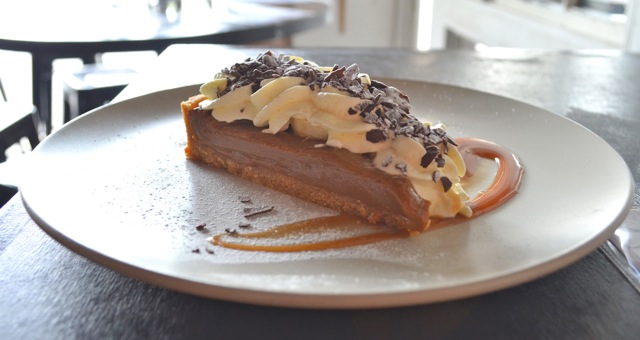 Alfredos Pizzeria is funky and original and the huge backlit shrine of Alfredo himself cheekily gobbling pizza adds a certain je ne sais quoi to the whole experience. Pizzas are served on stands which allow for plates and vino to sit comfortably at your table. I very much love the Indie music that plays and the industrial lights, exposed corrugated iron ceilings and washed brick walls enhance this trendy space.
Like Alfredos Pizzeria's counterparts, Alfred & Constance, Chester Street Kitchen and Limes Hotel, their approach feels the same. Personally, I wouldn't dine at these venues with my partner only, but rather as a group of friends looking to have a good yarn over a few drinks and a wholesome feed in a fun and social atmosphere.
You have to give it to the A&C team; every venture they undertake just seems to work. The marketing and PR team that labor behind the scenes have certainly hit their Brisbane, social target market through their efficacious campaigns, social media strategies and out of the box thinking.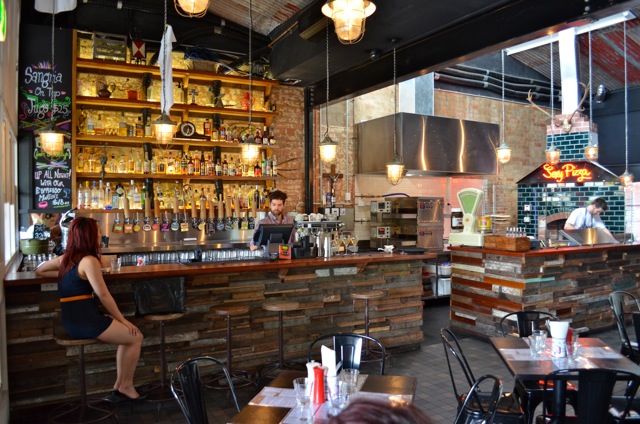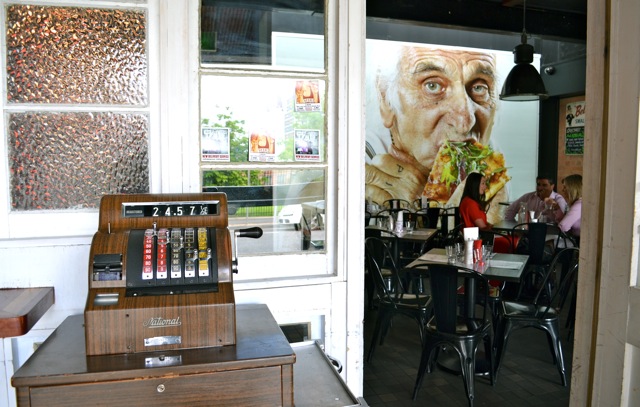 Alfredos Pizzeria
39 Alfred Street, Brisbane, Australia
Phone (07) 3251 6555
Miss Foodie dined as a guest of  Alfredos Pizzeria