There's only a week or so before winter officially greets us which means it's soup season!  My throat is starting to tickle and it's super cold in my Queenslander home so soup season has already kicked off for me. Stephanie Alexander's Pumpkin, Coconut and Seafood Soup inspired tonight's meal. My best friend had kindly prepared this pumpkin soup version for me once before and I later saw the recipe again in my Stephanie Alexander's Kitchen Garden Companion cookbook.
Normally I'm not the biggest fan of pumpkin soup, however this Asian inspired version packs a wonderful flavour punch. The sweetness of the seafood combined with the coconut milk is delicious! My friends personal touch to the meal… simmering the seafood with a kaffir lime leaf adds another beautiful layer to the dish and I always do the kaffir lime leaf version now too. The fact this pumpkin soup is easy to cook is always a big bonus, but it's a little more than that, there's a bit of fancy in every mouthful. If you want to bulk out the meal you could add a potato.
Asian Pumpkin Soup w Seafood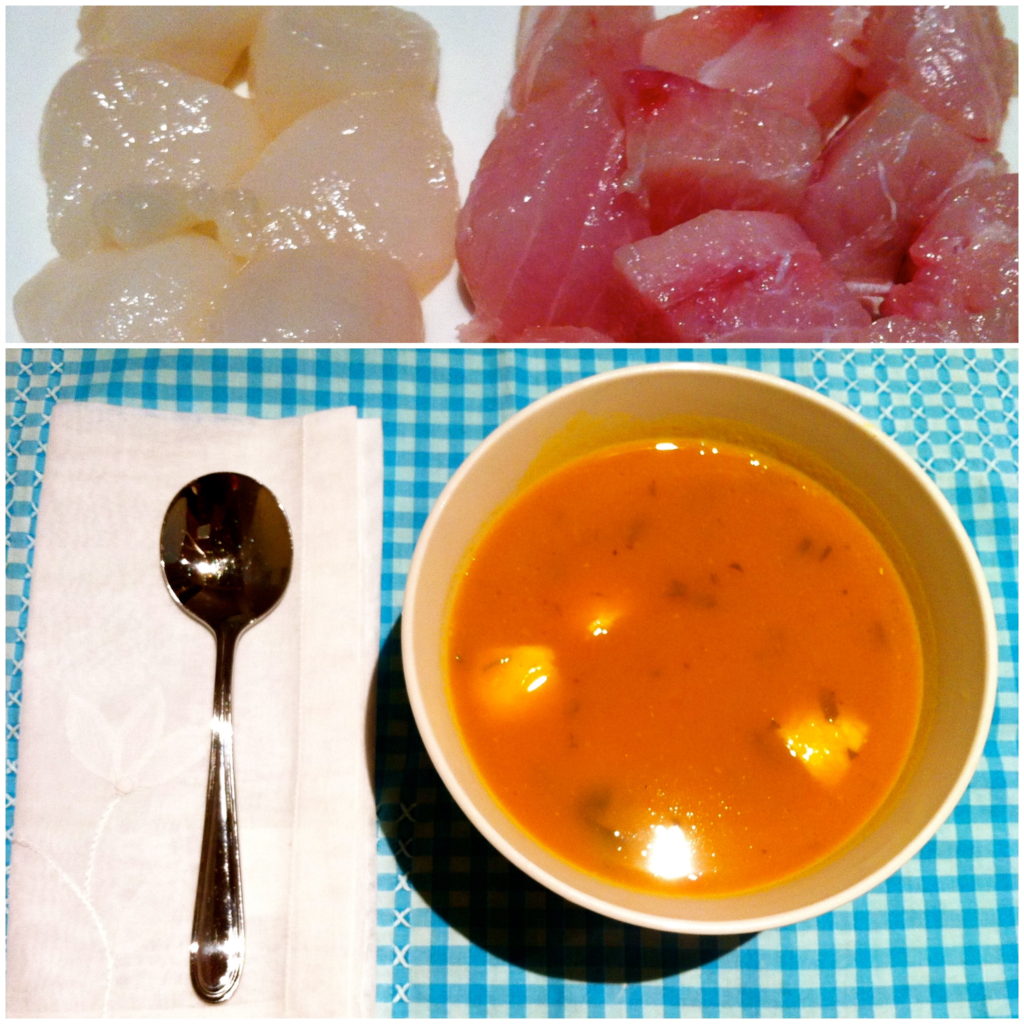 Ingredients
500g peeled and seeded pumpkin, cut into cubes
1 tblsp olive oil
1 onion finely chopped
1 long red or green chilli, seeded and chopped
2 tsp shrimp paste
3 cups water
2 tsp fish sauce
200ml coconut milk
2 kaffir lime leaves
*8 scallops and or 1 x 400g thick fillet of firm fresh fish (barramundi or swordfish)
2cm piece ginger, very finely chopped or grated
¼ cup roughly chopped coriander
*Please only use fresh seafood for this meal.
Method
Steam your pumpkin until tender.
Heat oil in a large soup pot over medium heat and sauté onion for 5 minutes, add garlic and chill and sauté for a further 5 minutes or until all is softened. Stir in shrimp paste and add pumpkin, water and fish sauce. Bring to a simmer and cook for 5 minutes.
Transfer soup in two batches to a blender and cover with a tea towel as hot liquid can sometimes make the lid pop off spraying hot liquid that could burn. Alternatively you could use a hand wand blender, again being careful not to splatter hot liquid. Rinse out your pot and return soup to pan and add coconut milk. Bring to a simmer over medium heat and taste for salt and pungency, then adjust with more salt or fish sauce if desired. Set aside.
In another saucepan bring some water to a simmer adding 2 kaffir lime leaves. Gently place your fish and scallop pieces in the water and cook for approx. 5-8 minutes or until cooked through.
Reheat soup and stir in ginger and coriander. Divide fish and scallops to individual bowls and ladle over your hot soup. Serve pumpkin soup immediately.