Truffle Oil is a much loved pantry favourite of mine. This decadent oil is not a cooking oil but rather a finishing oil used to enhance foods after preparation. Having received a bottle for my birthday in July of last year, I have thoroughly enjoyed a good drizzle over my scrambled eggs on just about every Saturday morning since. I also love truffle oil drizzled over mashed potato, atop mushroom pizza, mushroom ravioli, or any pasta for that matter.
Here's an interesting fact about truffle – it's more expensive in weight than gold itself, it's actually the most expensive food in the world! European white truffles can sell for a crazy $3,600 a pound; no wonder organised crime in the truffle trade is on the increase. If you want to learn more about the world of truffle, here's an interesting 60 Minutes story: Truffles the most expensive food in the world.
A 250ml bottle of white truffle oil prices for around $20-$30; I have the Simon Johnson's brand which I've definitely enjoyed! In saying that, I haven't owned another variety so if you use another brand please let me know, I'd be interested in sampling some others.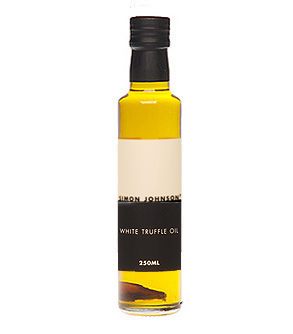 Recipe time. Have a look at this adorable looking dish. I've gazed at Philip Johnson's Asparagus, egg yolk ravioli, truffle oil and parmesan recipe for years and said I must make this one day. That day finally arrived and gee it was tasty-fun. Serve with toasted fresh bread for breakfast or as a light dinner or lunch accompanied by a nicely grilled piece of fish. Delicate hands are the key when constructing the ravioli. It is a finicky task and I admit, as careful as I was, I still managed to break 2 yolks. This meal won't be the same without truffle oil so treat yourself to a bottle today and I promise you won't be disappointed.
Asparagus, egg yolk ravioli, truffle oil & parmesan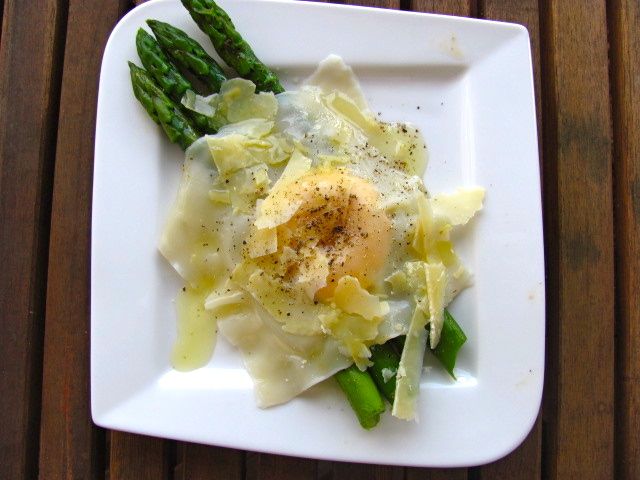 Ingredients
1 x 250g packet square wonton wrappers
1-2 tbs cornflour
6 eggs
30 asparagus spears, trimmed
A knob of best-quality unsalted butter
Salt/freshly ground black pepper
Shaved best-quality parmesan
Truffle oil
Method
To make the egg yolk ravioli, lay six wonton wrappers on a clean dry surface. Mix the cornflour with a little cold water to form a smooth paste. Using a pastry brush, brush the outer edges of each wrapper with the cornflour mixture.
Gently separate the eggs, being careful not to break the yolk. Sit a yolk in the centre of each wonton wrapper. Place another wrapper over the top and firmly press the edges down to seal, taking great care to avoid breaking the yolk. Repeat with the remaining eggs. Refrigerate the ravioli on baking paper dusted with cornflour until required.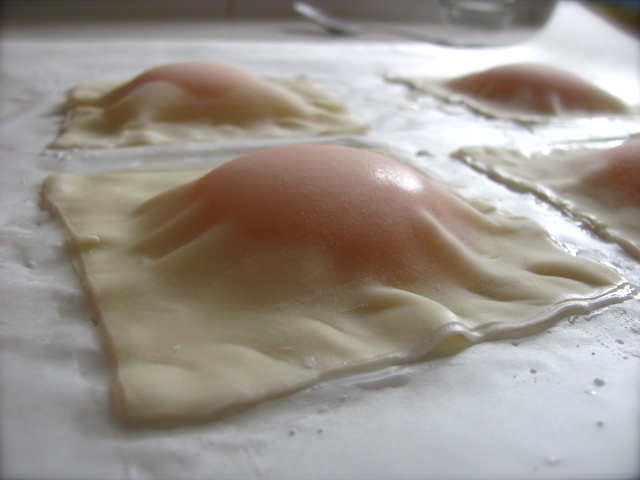 Bring a large saucepan of salted water to the boil and briefly blanch the asparagus. Drain, put the asparagus in a bowl, add the butter and season with salt and black pepper. Keep warm.
In another large saucepan of boiling salted water, cook the ravioli for a maximum of 3 minutes. Remove with a slotted spoon and rest on a plate.
To serve, divide the asparagus among serving plates. Rest the ravioli on top of the asparagus, with some shaved parmesan alongside. Drizzle with truffle oil and finish with a good grind of black pepper.