"Food From Many Greek Kitchens" by Tessa Kiro's is a beautiful cookbook filled with deliciously mesmerizing photos of Greek food, people, culture and landscapes. Always dreaming of a Greek Island holiday (who isn't), I love how this cookbook whisks me off to this far away land without having to fork out the airfare.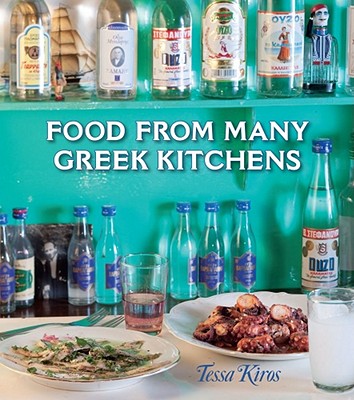 The first dish I recreated from Tessa Kiro's cookbook was her infamous Greek Kebab; or Kabab as it's customarily known. There's not a lot to creating this meal which doesn't bother me, if anything it's a bonus. It's the flavour sensation and the juiciness that is meat, tomato, lemon and tzatziki that makes it so superbly moreish. Don't be concerned that this juiciness drips down your arm either, it's quite frankly unavoidable, and you simply just have to eat quicker.
This Kebab is perfect for a nice homely lunch or dinner and is also a huge crowd pleaser at BBQ picnics. I invested in metal skewers which I highly recommend you do as it not only saves you time soaking bamboo skewers, but it also stops your hands getting too close to the flame when turning your meat and tomato.
Traditionally lamb was the only meat evident in a Kebab; due to the wonders of food evolution however, we now see everything from beef, pork, chicken, seafood and even tofu being used, so go crazy kids.
As any Greek dish would have it, garlic breath is pretty much unavoidable. A little tip to help with this is to have fresh parsley on the platter; by eating a few sprigs it seems to counteract the problem, apparently it's the high levels of chlorophyll that does it. But if you're all eating it no one notices anyway right…..? Enjoy!
Authentic Greek Kebab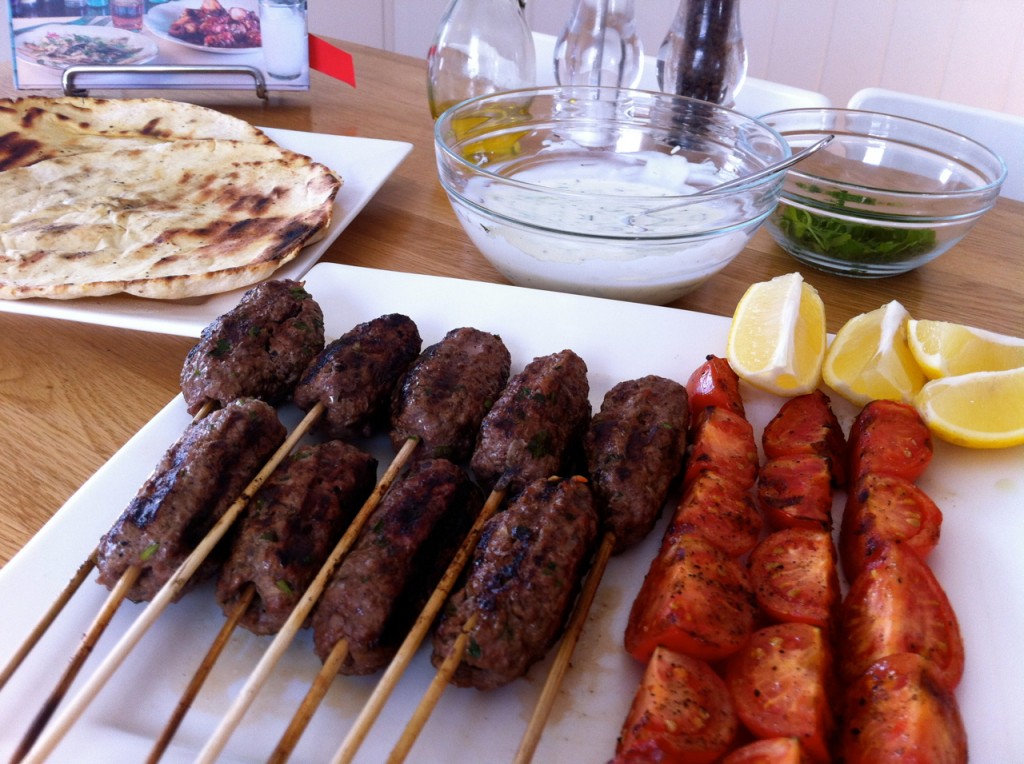 Ingredients
250g finely ground lamb
250g finely ground beef
1 small red onion, grated
2 tblsp coarsely chopped Italian parsley
1/2 tsp dried oregano
Salt
3 medium-large tomatoes, quartered
Olive oil, for brushing
Freshly ground black pepper
8 pita breads
1 small red onion, sliced, for serving
A couple of handfuls of chopped Italian parsley, for serving
Tzatziki (recipe below), for serving
Lemon quarters, for serving
Directions
Put the lamb, beef, grated onion, chopped parsley and oregano in a bowl and add 3/4 to 1 teaspoon salt. Knead together thoroughly. Divide into 8 balls. Firmly press each ball compactly around a skewer in a long sausage shape about 15cm long. Thread 4 tomato quarters on each of the remaining skewers, making sure you pierce through the skin so that they hold well.
Preheat a grill or BBQ to high and brush it lightly with olive oil. Grill the meat kebabs until cooked and nice crusty parts have formed on the outside. You want them to be nice and moist so be careful not to overcook. Brush the tomatoes with a little olive oil, scatter lightly with salt and pepper and grill them at the same time. Brush the pita very lightly with olive oil on both sides and put on the grill to warm up.
You can either leave as is on skewers or remove the meat and tomatoes and serve decoratively on a platter.
To assemble, simply place 1 pita on your plate and top with a meat kebab, a couple of pieces of tomato, some onion slices, a good amount of parsley, a nice dab of tzatziki and a squeeze of lemon juice. Add salt to taste. Roll up the pita quite tightly. Tuck the bottom in and leave the top third of the pita out. Eat. Move onto your second one.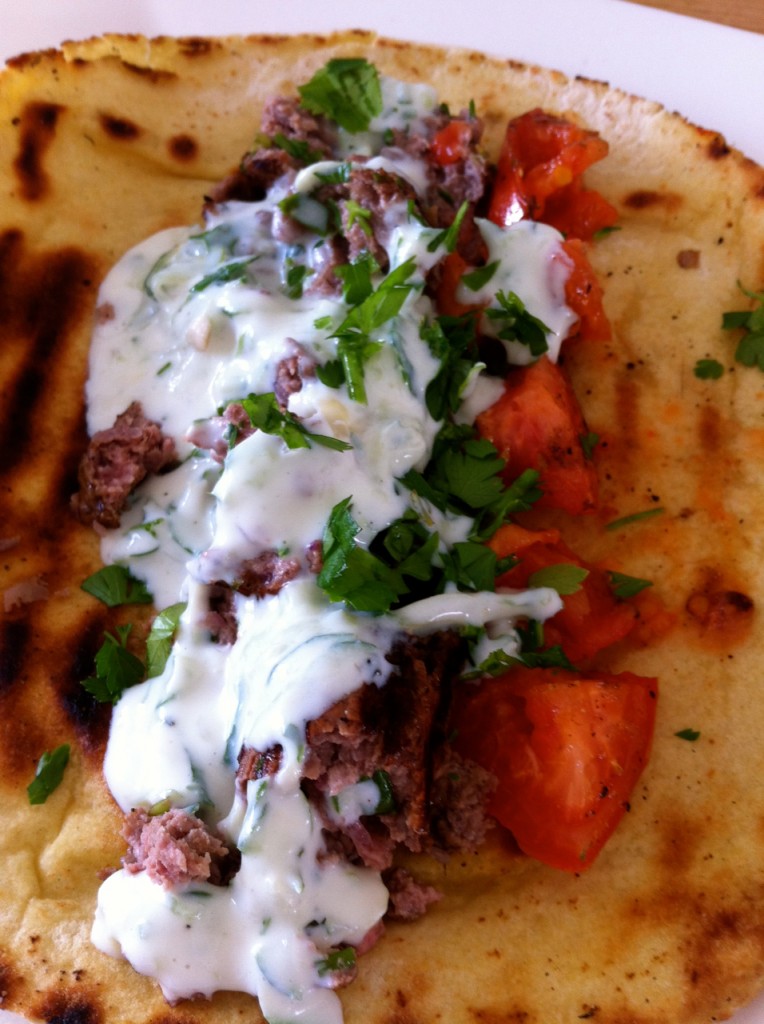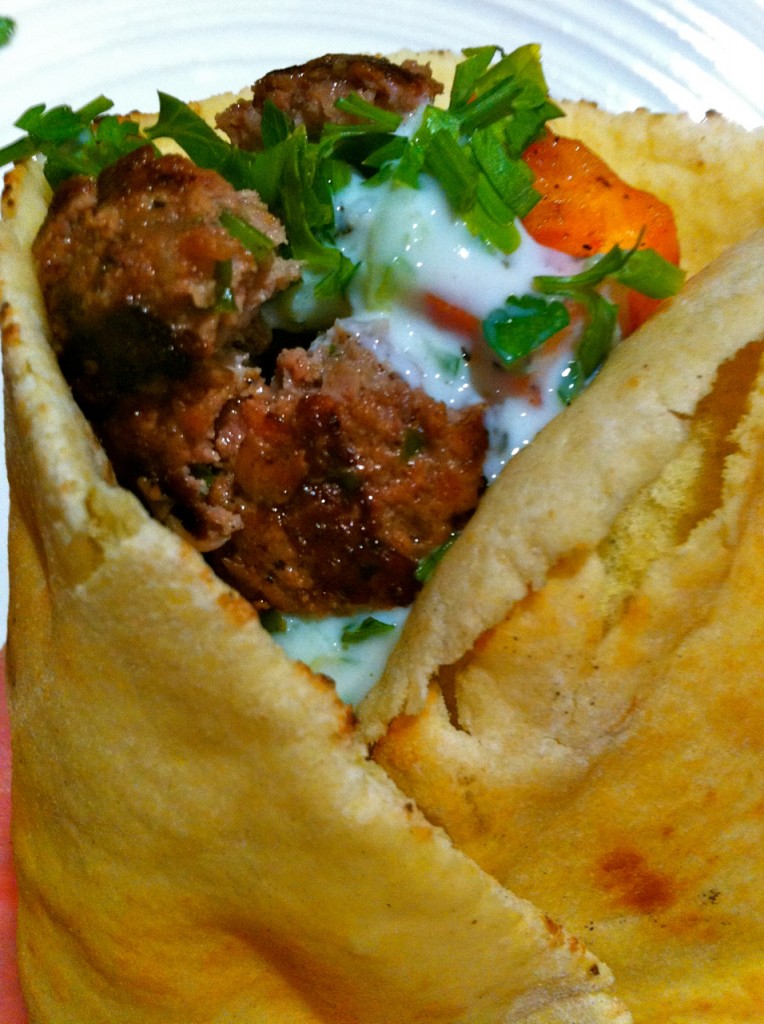 Tzatziki
Ingredients
2 garlic cloves
1 tblsp olive oil
1 small cucumber
1 tsp salt
250g tub Greek yoghurt
1 ½ tblsp chopped mint
Freshly ground black pepper
Directions
Using the flat of your knife, crush the garlic with a pinch of salt into a paste. Put into a small bowl with the oil, and leave to marinate while you prepare the rest.
Trim the cucumber and peel it. Grate the cucumber into a sieve. Scatter with the salt and leave it for 30 minutes or so to drain, turning it over a couple of times and even pressing it down with your hands to get rid of excess moisture.
Put the yoghurt into a bowl for serving. Add the garlic and oil, the mint and a couple of grinds of black pepper. Fold the cucumber through and taste for salt. This can be stored in the fridge, covered, for a couple of days. Don't be concerned if it lets off a little water, just stir it through and it will be fine to go again.