Too many eggs plus leftover roast potatoes from last nights roast lamb, no wonder quiche came to mind tonight. My fridge is never without sundried tomatoes or cheese, and my freezer never without bacon, so wollah my basic quiche received an instant facelift. I didn't make the puff pastry, but honestly who gets the time to do that midweek? Certainly not me. I used frozen reduced fat puff pastry and it worked fine, more importantly it tasted fine too. If you need to use up some leftover bits and bobs consider a quiche next time, I did and it worked out great, plus I had a tasty lunch the next day too – bonus!
You could cook this a day in advance and take it along to a picnic brunch or lunch, your friends will love you for it! Wait a minute isn't it Mothers Day this weekend! Go on make your own specialty quiche, whip up a nice salad, go to the market and buy some nice olives, meat and cheeses, pick up a nice bottle of of wine and bam you've got yourself a Mothers Day Picnic.
Bacon, Sundried Tomato & Leftover Roast Potato Quiche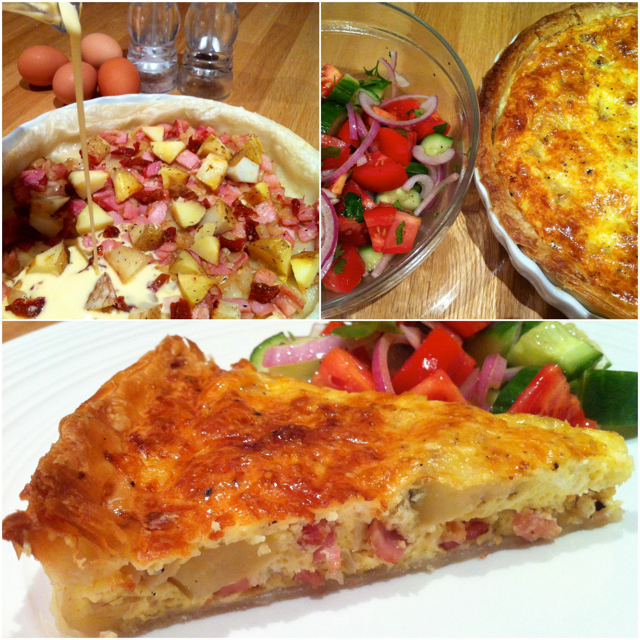 Ingredients
2 tsp olive oil
1 onion, finely chopped
100g rindless bacon, in short, thin strips
6 eggs
1/4 cup cream
1/4 cup milk
1/4 cup  shredded parmesan
1/4 cup shredded cheddar cheese
Salt and Pepper to taste.
Method
Heat oil in a frying pan over medium heat. Add onion and bacon. Cook 5 or so minutes or until soft. Drain on a paper towel.
Preheat oven to 190°C. Place a tray in the oven. Line a tart/quiche pan with thawed puff pastry and top with baking paper. Cover base with rice (this is called blind baking, you need to do this to precook the pasty a little bit). Bake on the hot tray for 10 minutes then remove paper and rice.
Spread over the bacon and onion mix, sliced sundried tomatoes and baked potato (you can have fun here, put whatever you want in your quiche! Perhaps you could try olives, sundried tomato and feta, leek and spinach, there's really plenty of options). Whisk your eggs, cream and milk together. Pour over the filling. Sprinkle over the parmesan and cheddar cheese. Bake 30 minutes and serve with salad.