One of the things I really miss about being a kid is the fact you can eat whatever you want when you want and you don't have to worry about putting on the kg's. As much as I love my potato's, especially mashed potatoes, it's one of the dishes I really try to limit. I found this recipe in the October 2006 Good Taste magazine, they replaced mashed potato with cannellini beans. I think it's a perfect end of the week dish too – I know my fridge looks pretty bare come Thursday, so the trusty canned beans in the pantry and my Balsamic dressing certainly came in handy here. Cannellini Bean Mash will never replace a creamy mashed potato but it certainly comes close!
Balsamic Steak with Cannellini Bean Mash & Salsa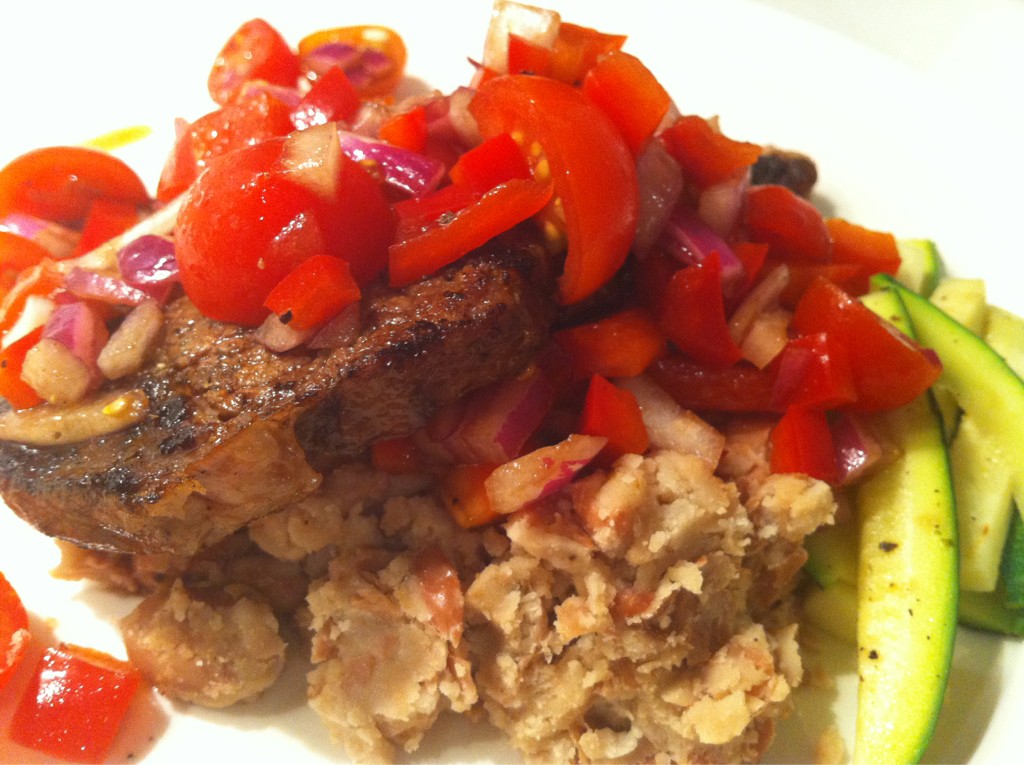 Ingredients
(Serves 4)
4 (about 150g each) beef fillet steaks
3 1/2 tbs balsamic vinegar
1 x 250g punnet grape tomatoes, halved
1/2 red capsicum, deseeded, coarsely chopped
1/2 small red onion, coarsely chopped
Olive oil spray
1 tsp olive oil
2 garlic cloves, crushed
2 x 400g cans cannellini beans, rinsed, drained (I used borlotti beans on this occasion because that's all I had)
60ml (1/4 cup) fresh lemon juice
2 tbs coarsely chopped fresh continental parsley
Steamed green beans, to serve
Method
Place the beef in a shallow glass or ceramic dish. Add 3 tbs of the vinegar and turn to coat. Cover with plastic wrap and place in the fridge for 30 minutes to marinate.
Combine the tomato, capsicum, onion and remaining vinegar in a medium bowl. Taste and season with salt and pepper.
Preheat a chargrill pan on high. Lightly spray the beef with oil spray. Add to the pan and cook for 2-3 minutes each side for medium or until cooked to your liking.
Transfer to a plate and cover with foil. Set aside for 5 minutes to rest.
Meanwhile, heat the oil in a medium saucepan over medium heat. Add the garlic and cook, stirring, for 1 minute or until aromatic. Add the cannellini beans and cook, stirring and mashing with a fork, for 2-3 minutes or until coarsely mashed and heated through. Add the lemon juice and stir to combine. Taste and season with pepper. Add the parsley and stir to combine – Cannellini bean mash complete!
Spoon the cannellini bean mash mixture among serving plates. Top with steak and spoon over the tomato mixture. Serve with steamed green beans.
Good Taste – October 2006 Recipe by Chrissy Freer – Steak witth Cannellini Bean Mash