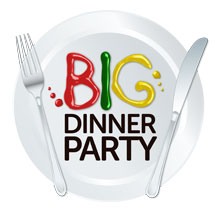 Want to be Miss Foodie for a day? During the month of March why don't you….
You can help raise vital funds for people living with Multiple Sclerosis (MS) by hosting your own Big Dinner Party.
By hosting your own Big Dinner Party in the month of March you can help change the lives of the 23,000+ Australians living with this often debilitating disease.
Your Dinner Party could be a three course meal, a BBQ, organising some takeaway, or simply cocktails and canapés.
Whatever you chose to do REGISTER NOW at www.bigdinnerparty.com.au  You can be a part of the fun as we aim to raise $100,000 for MS.