After reaching Queensland's highest level of acclaim in fine dining, restaurateur Cameron Murchison (Formerly of Esquire) is going solo with his new venture, The Bounty Restaurant & Bar.
Set to open December 3, The Bounty will be the reward patient Paddington locals have been waiting for, tucked away in leafy Rosalie Village and serving modern Australian fare.
With a keen eye on Australia's progressive hospitality landscape, Murchison isn't afraid to leave behind the high-end cuisine Esquire was known for, choosing to steer The Bounty in a more casual and down-to-earth direction.
"Fine dining can be intimidating for some people. We want to provide an environment that is easy to access and encourages diners to come back again and again," he said.
The restaurateur has called Rosalie home for over five years and saw the suburb as the natural choice for the new venue.
"Rosalie is really focused on the locals. It has a strong community feel and that's the beauty of the area," he said.
"I wanted a name that described the venue as a destination – the word 'bounty' has connotations of both Rosalie and our menu being hidden treasures that locals and visitors will want to seek out."
Chef Emlyn Thorrington whose repertoire includes Stokehouse Melbourne, Libertine, Peasant, Cabiria, and more recently Spring will take the reigns in the kitchen.
Thorrington is looking forward to the change of pace and wants to assure locals that despite the pair's portfolios, The Bounty is nothing to be intimidated by.
"We will provide the locals with a welcoming vibe and an approachable menu – great food doesn't have to be too serious or expensive" he said.
The Bounty's modern Australian kitchen will be open for coffee, breakfast and lunch seven days a week, serving dinner Tuesday through Sunday. The bar component will stock a range of craft beers, spirits and Australian and International wines.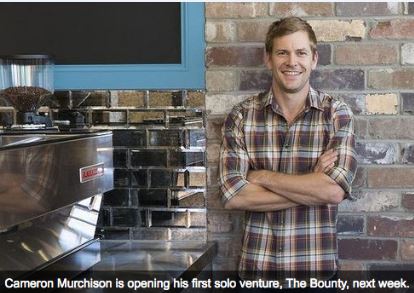 For further information contact:
Eugene Went
Liquidity Marketing and Communications
(E): eugene@liquiditymarketing.com.au
(P): 0439 679 939