It was October 12, 1810 and Bavaria's Prince Ludwig invited the Munich township along to his wedding to new wife, Princess Therese. The 40,000 strong crowds of supporters who celebrated with the new King and Queen turned into an annual event known as Oktoberfest!
In its fifth year, and the 202nd anniversary of the original Oktoberfest in Munich, the Brisbane Oktoberfest is currently running and there are plenty of German festivities taking place around my city.
Sadly unable to attend this year's fun Oktoberfest festivities of beer, sausage eating, singing and dancing, I thought I would bring a bit of Oktoberfest into my kitchen!
Searching for a traditional Bratwurst sausage I discovered that the newly opened Maestro Meats butcher shop in Annerley make their own Bratwurst sausages.  Using a 100 year old Swedish family Bratwurst recipe, new owners Ross and John have been trained using traditional Swedish techniques.
Maestro Meats meat is of high quality but without the super expensive price tag. John and I got to chatting and he informed me that their beef is sourced from Warwick, their lamb from Tasmania and all their pork is Bangalow pork (my favourite!). They've also purchased a smokehouse so there's some really tasty treats to try – I've only sampled the smoked chicken breast so far and I really enjoyed it – their smoked cheese kranksky is next!
Before heading out Maestro Meats door I queried whether simmering the Bratwurst in beer was the best method for cooking. I had read somewhere that it was, but after learning that 'brat' means pan-fry or roast in German and 'wurst' means sausage I knew pan-frying was clearly the best technique.
Now that I had my traditional, preservative and gluten free Bratwurst sausages on hand all I needed now was sauerkraut, mustard and a good German beer. Getting my hands on all of these traditional German ingredients I could have easily made a hearty mashed potato to go with them; but no, my appetite had other ideas. I'd seen quite a number of café's and burger shops offering Oktoberfest inspired burgers and I thought why not make a Miss Foodie Bratwurst Burger.
With a generous spread of aioli on the base of my fresh bun, I continued to layer lettuce, tomato, Edam cheese and Bratwurst sausage, finishing off with a good helping of sauerkraut and Thomy mustard. My epically good-looking burger was done and I couldn't wait to wrap my lips around its goodness. Once I finally sat down and took my first bite I was immediately whisked off to the food stalls of Oktoberfest – mission accomplished! My burger certainly wouldn't have been so delicious had it not been for Maestro Meats Bratwurst – it was soooo amazing!
If you also can't make it to an Oktoberfest this year, how about making this almighty delicious Bratwurst Burger – it's not exactly the same, but I'm sure you'll love it all the same.
Bratwurst Burger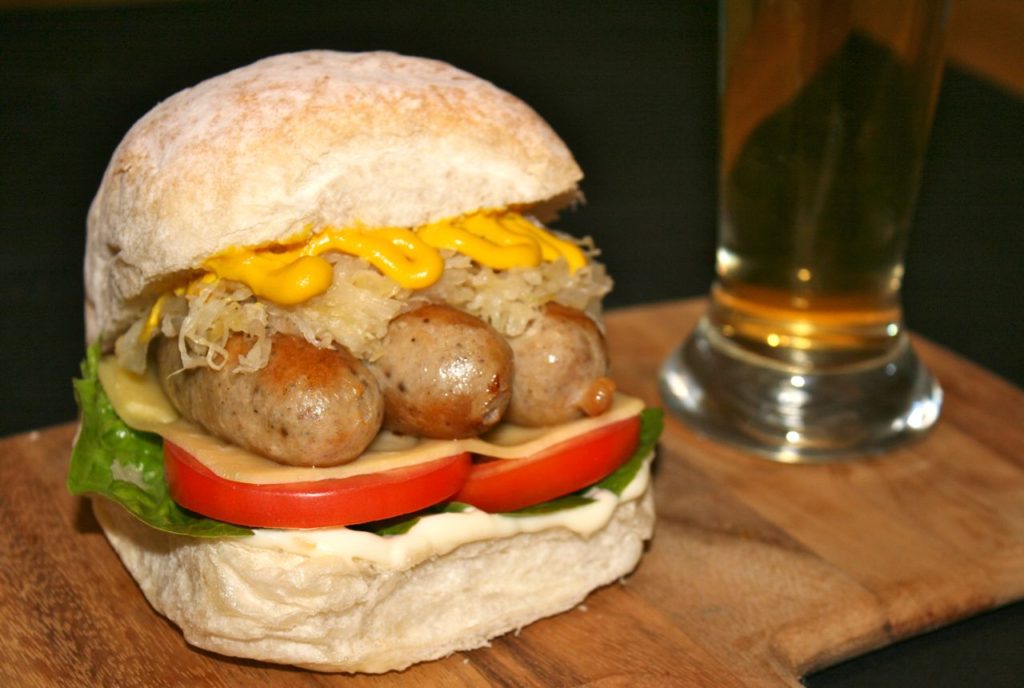 Ingredients
Traditional good quality Bratwurst sausages
Fresh bread rolls
Aioli
Baby cos lettuce
Tomato, sliced
Edam cheese, slices
Sauerkraut
Thomy mustard
Method
Fry your Bratwurst sausage in a little olive oil over medium to low heat until cooked. Drain on paper towel.
Spread the base of your fresh roll with aioli. Lay a couple of baby cos leaves down and top neatly with sliced tomato and Edam.
Cut your Bratwurst sausage in half and lay 1-1 ½ sausages on top of Edam. Carefully pile a generous amount of Sauerkraut on top and drizzle with Thomy mustard.
Crack open your ice cold German beer and enjoy your Bratwurst Burger.