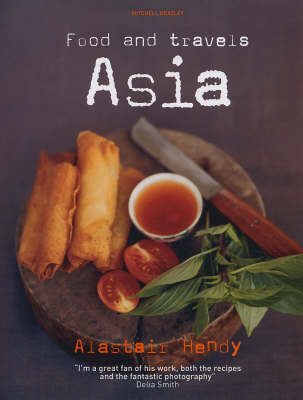 Mum bought the Food and Travels Asia cookbook by Alastair Hendy for my birthday. This book is by far the best Asian Cookbook I have ever laid my eyes upon. The talent of Alastair Hendy blows my mind on each and every page I turn. The photography is exquisite, the recipes are so traditionally spot on – it's brilliant! I highly recommend this book if you're a fan of Asian food.
Every time I go out for Vietnamese (and that's a lot) I always order the Turmeric Fish if it's on the menu; I love the combination of fish and peanuts and the added freshness of lettuce and rice noodles is wonderful. Have you tried Tumeric Fish before?
Cha Ca La Vong Noodles (Turmeric Fish)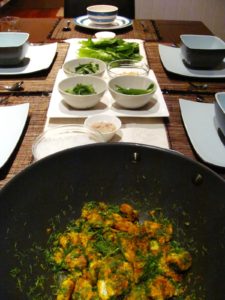 Ingredients
3 cloves garlic
4cm piece fresh galangal or ginger peeled
4cm fresh turmeric root or 2 tsp ground turmeric
500g firm white fish fillet (conger eel, monkfish, pollac, whiting) skinned and cut into chunks
2 tsp fish sauce
salt and black petter
pinch of ground chilli
1/2 tsp caster sugar
vegetable oil
2 very big bunches of dill, roughly choppedTo serve
4 spring onions, each sliced into 4
300g vermicelli noodles, cooked, drained and rinsed, according to the packets instructions
4 tbsp lightly crushed toasted peanuts
Nuoc cham (see recipe below)
handful each of mint and basil leaves
Method
Pound together the garlic, galangal or ginger and turmeric to make a paste – or crush and finely grate, then mix together. Toss the fish with the fish sauce, a touch of salt, some pepper, the chilli and sugar, then toss through the paste, until the fish is evenly coated and leave, covered and refrigerated, for a good 2 hours or overnight.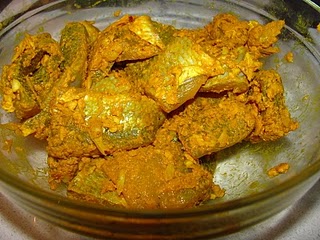 Heat a heavy frying pan – something cast-iron is just the job – until smoking hot, then pour in about 2 tbsp oil. Pile in the fish. Allow to sizzle and splutter for about 2 minutes before turning the pieces over, then fry for a further minute. Add about 3 tbsp water, bubble up, then chuck all the dill on top and fold through – it should wilt but not go completely floppy. Ideally, you want to take the hot pan to the table (sit it on a thick mat) and let everyone take want they want, when they want. The remaining ingredients should all have been piled into bowls and set out on the table.
Lay a piece of lettuce on your plate, top with all the scrumptious-ness that lays before you. Roll it up and dip in Nuoc cham sauce and stuff it in your mouth and let the flavours take you to a sunny beach in Vietnam. Repeat this process until everything is gone!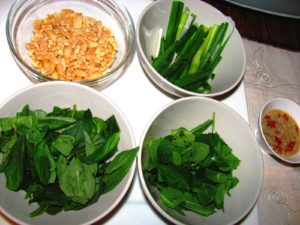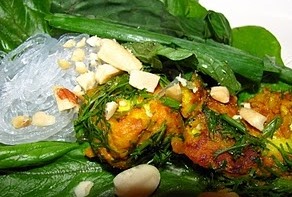 Nuoc cham
This is the classing dipping sauce you get on any Vietnamese table. Alaistair Henry says you can change it to suite; add grated ginger, shredded carrot or white radish, use all the lime juice and no vinegar; go more pungently Vietnamese and beat in a tsp of toasted shrimp paste; and for a milder sauce, stir in 2 tbsp water or coconut water – ideal for the dipping sauce to rice-paper-rolls (another HUGE favourite of mine) Makes an excellent fat free salad dressing too!
Ingredients
2 cloves garlic
2 yellow or red birdseye chillies, sliced
1 tbsp caster sugar
2 tbsp lime juice
3 tbsp fish sauce (nuac mam)
3 tbsp rice vinegar (or any soft vinegar, I've used brown vinegar before and apple cider vinegar too, both were fine)
Mix together all the ingredients and stir until the sugar has fully dissolved; I normally put it into a small old jar; keep your caper jars there perfect size, then leave to stand for about 30 minutes.