Haven't cookbooks changed over the years?
I believe the demise of the books will never eventuate, foodies will always insist on having beautiful cookbooks in their kitchen, why? Because they're works of art that's why, besides, what will people give us as gifts?
As a nation we're fixated on beautiful things, it's all about image, don't think those marketing gurus don't know about it either! Compare the 1968 Margaret Fulton Cookbook with very minimal food photography to, well any cookbook published in the last 5 years; pictures galore. I'm not saying I don't like it, that's certainly not it, my point is how much they've changed. Did you know Margaret Fulton has an iphone application… Yep you heard right, I just downloaded it from her website: www.margaretfulton.com.au
So on the topic of cookbooks, I thought I'd share a couple of my more favourite cookbooks in the kitchen.
#1. e'cco 2 – Philip Johnson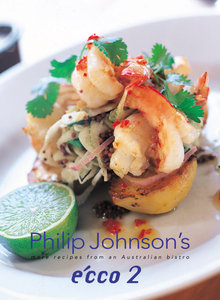 Philip Johnson owns a modern bistro called e'cco. Opened in 1995, e'cco is set in an historic tea warehouse in Brisbane's CBD. e'cco 2 is my favourite cookbook, not just because it was my first 'real' cookbook, but more so because of it's perfect and simple flavours. The recipes aren't difficult and the ingredients obtainable. e'cco 2 comprises mainly of starters and desserts. Pressed duck and potato terrine with bitter greens, and onion jam and seared scallops with Tuscan bread salad. Caramelised rum bananas with toasted banana bread, Apple Pecan and Pine nut Torte and Campari sorbet just to name a few. Sadly this cookbook isn't for sale anymore, all that were, are now sold – no wonder! Thank goodness I have one.
#2 Food and Travels Asia – Alastair Hendy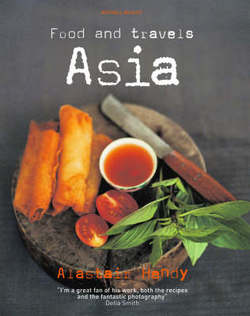 If you don't know already, Miss Foodie's favourite cuisine is Vietnamese. So on my birthday last year when I received this cookbook from my mother I almost cried. Why would you cry over a book, well this book is honestly stunning!!! If you want an honest representation on Asian food then 'Food and travels Asia' is the cookbook for you. Hendy's photography is outstanding and the recipes authentic. He has a knack of painting the perfect picture; how the food is served, how the locals eat and on what occasion. The book is divided into countries India, Laos, Vietnam, Cambodia, Malaysia, Singapore, Bali, you get the gist. I made Turmeric Fish from the book in one of my Wednesday Girls Dinners. To put it simply, if you love Asian food then get this book!
#3 Saraban – Greg and Lucy Malouf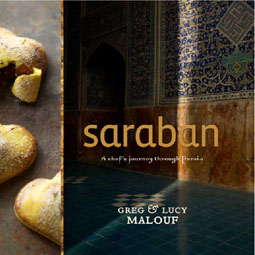 I was given this exquisite cookbook for my 30th birthday back in July this year. Saraban was inspired by Greg and Lucy's trip to Iran in 2010. The ex-husband and wife team travelled there and discovered the secrets of Persian cuisine. The photography and story telling within these pages are so beautiful, it's almost like you can smell the spices on that very hot sunny day. I've made a few recipes out of this book already. My favourite so far is Roasted Leg of Lamb with pumpkin, red onion and sultanas. You serve it with rice and natural yoghurt. I love it because, the taste is obviously out of this world, but also because it's nice to have an alternate to the traditional roast veg and gravy we all know and love.
#4 Marie Claire's Comfort Food
I like this book because the recipes are really simple but certainly don't lack in flavour. Comfort food is such a wonderful cuisine. During winter you can't go passed roasting and hearty soups. I also love the imagery here too. The ingredients are very local and never difficult to find.