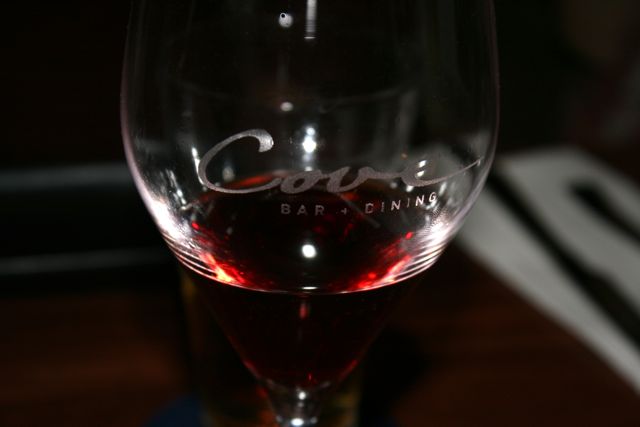 Friends and I ventured out for a midweek celebratory dinner for a close friend's birthday at River Quay's Cove Bar + Dining Restaurant.
Right on the Goodwill Bridge end of the Brisbane River, Southbank's River Quay district is one of Brisbane's new premier dining precincts established after the 2011 floods.
Cove is one of four dining establishments, all offering a range of cuisines to suit all tastes and budgets. My first impression of Cove was openness. Cove's eclectic bar area is the stand out here, with funky drawers being transformed to a screen of shelves holding an array of liquor and wine. A few high tables and stools line the front of the bar and alongside the Southbank pathway. To the right of Cove's bar you will find a more sit down type scene with a few traditional tables; which in our case worked for us well.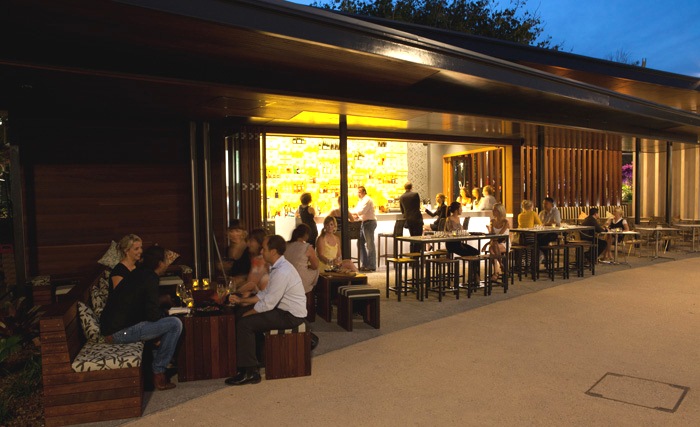 Having such a large group of people I was surprised at Cove's ability and kindness to accommodate us all… there were 14 of us! They pushed a few tables together alongside the rear of the long black and white striped lounge. We were quite comfortable and not at all cramped as I expected we may be.
My first impression viewing the menu was indeed positive, I did feel however the cost of the 'individual' main meals were quite pricey. You see for a $36-$39 main I would picture myself in a sophisticated and special dining setting; the plainness of Cove leads me to think that perhaps their price should reflect this. In saying that, everyone thoroughly enjoyed their meal and so too did I, even though it was a $36 Nasi Goreng, but more on that soon.
The staff at Cove were very kind, they could have perhaps been a little more attentive with drinks and so forth, but not so bad that I would complain.
The true highlight about Cove and its sister River Quay restaurant counterparts, is the position and view – I love it! With the city lights reflecting on the Brisbane River the outlook is quite special. Positioned at the quiet end of Southbank there isn't the distraction of passing crowds (yet); but isn't it the crowded and bustling atmosphere that draws us to tapas dining in the first place?
From the 'To Share' menu my end of the table enjoyed Salt & Sugar Cured Venison ($20). The accompanied Pomegranate, Blueberries and Freeze Dried Cherry went sweetly and harmoniously with the Venison and this coupled with the creamy Goats Curd and Black Cherry Jim Beam Vinaigrette made this dish a knock out for me. To be honest I was surprised just how tasty it was. I definitely recommend trying this one out if you visit as I adored it; it was a shame I had to share it.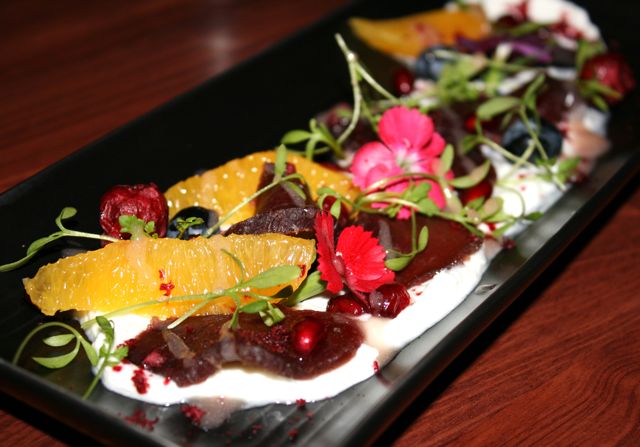 We also shared the Black Bean Duck Spring Rolls ($17). They were a good size, nice and hot, crunchy, flavoursome and I appreciated the Orange Ginger Sauce. It was a nice change to the traditional soy sauce.
Now to the $36 King Prawn Nasi Goreng. Scanning through the menu my eyes kept darting back to the Nasi Goreng but I just couldn't justify paying $36 for rice, heck I've not long returned from Thailand where I paid $3 for chicken sate and fried rice! I expressed my interest in the dish to the young French waitress and she advised that the soft egg in the dish is cooked for 1 hour at a very precise 62 degrees. With this cooking method you would think the egg yolk was solid, but no, this was not the case. The egg yolk was perfect and it drizzled magically over the rice and chicken. The rice in this Nasi Goreng was a a a mazingly delicioius. It had a crunch that was created from the stickiness of the Asian sauces. With the finishing touches of Fried Shallot and Cucumber Salsa this meal was an all-around winner for me. Oh I nearly forgot…. the King Prawns! They were extremely fresh and very King indeed. Was it worth $36, hmmm perhaps not. Was it worth getting, oh yes, very much so!!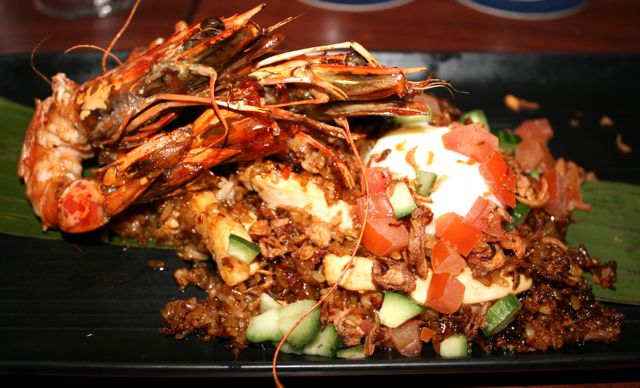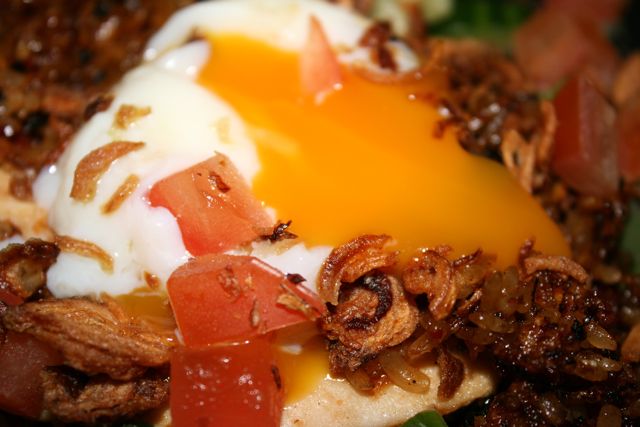 Other friends at the table enjoyed Rum & Cola Pork Belly,
Whipped Cepe Polenta, Carrot & Mandarin Compote $20/$34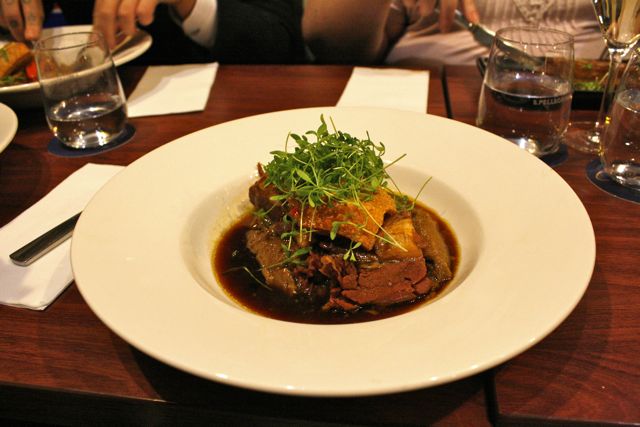 Pasture Raised Duck Cassoulet, Haricot Beans, Pork Sausage,
Pearl Onion, Crusty Bread - $34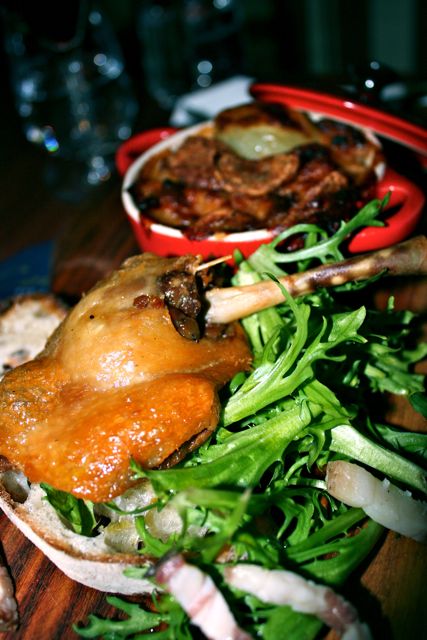 A special treat for the birthday girl… Caramelized Milk Brulee,
Cornflake Crumble, Strawberry & Shiraz Gelato - $14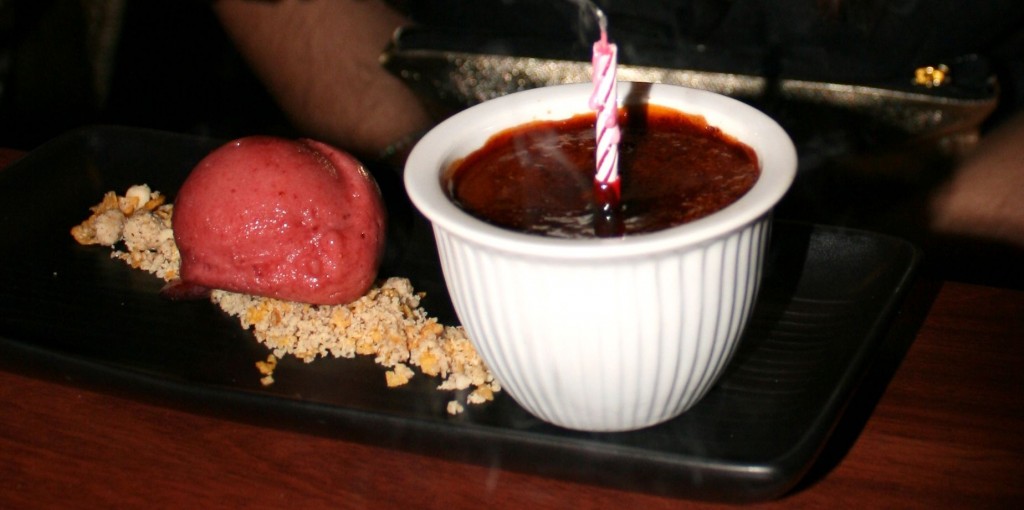 Cove have lunch specials daily from 12-2.30 where you can choose a light option and a main meal from the lunch menu and enjoy it with a selected glass of either red or white wine for only $36.
If you're looking for a romantic restaurant for you and your partner to enjoy an anniversary, perhaps I wouldn't recommend Cove due to its more casual dining atmosphere. If you want to round up a group of girlfriends or mates to nibble on some tasty tapas in an open air setting, then this may be the place for you.
Cove, Popolo, Stokehouse and The Jetty are the 4 restaurants completing the River Quay Restaurant precinct. Having dined at Popolo, Cove and nibbled at Stokehouse, I have to say I've definitely fallen in love with this little nook of Brisbane. With Queensland's weather warming up ever so nicely, I think now is a perfect time to book yourself a table.
Website: http://www.covebardining.com.au/