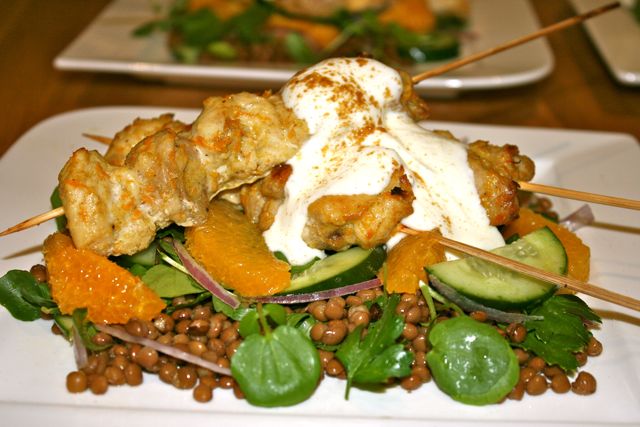 My pantry is never without chickpeas, lentils, three-bean mix, cannellini beans butter beans; you name it! All part of the legumes family these versatile beans have a variety of health benefits including protein, low glycaemic (GI), minerals and vitamins. Legumes are also extremely high in fibre and are suitable for people with celiac disease or gluten sensitivity.
These are all fantastic benefits but thankfully I love them most because of taste and convenience. Now that Spring has indeed set in, I no longer crave warm lunches; cold salads are back folks. This makes packing my work lunch so much easier! It's simply a matter of opening a can of chickpeas, throwing them into a container accompanied by diced tomato, spring onions, cucumber and if I have some, marinated artichokes too. It really satisfies my appetite and I love that it's so good for me too.
Lentils are also wonderful. Throughout winter I used them regularly in a bacon, leek and lentil soup. Lentils mashed with sweet potato and sautéed onion, dried cumin and coriander make the most delicious patties! On today's occasion I've used them in an orange and lentil salad topped with cumin spiced Chicken skewers. I came across this recipe on the Taste website some time ago and have had it on my 'cooking to do list' for about 12 months now. The imagery sold me straight away and the combination of citrus, chicken, lentils and fresh herbs got my palate jumping with glee.
Cumin-spiced Chicken Skewers with Orange and Lentil Salad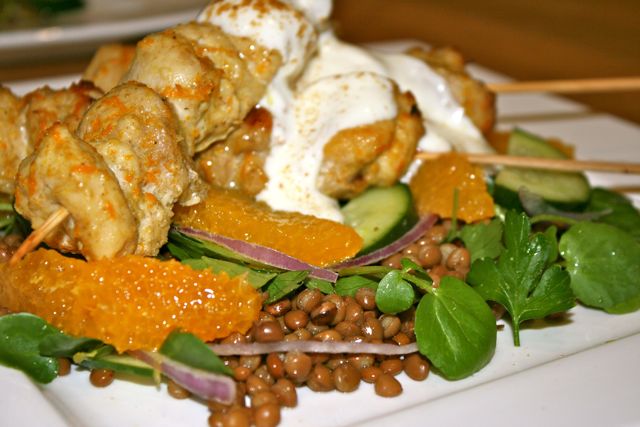 Ingredients
2 tbsp ground cumin
3 garlic cloves, crushed
4 tbsp olive oil
Chilli to taste
2 oranges, rind finely grated, segmented
500g each of chicken breast and thigh fillets, fat trimmed, cut into 3cm pieces
2 x 400g cans brown lentils, rinsed, drained
1/2 cup firmly packed fresh continental parsley leaves
½ cup firmly packed fresh watercress
1 small red onion, halved, thinly sliced
2 Lebanese cucumbers, trimmed, halved lengthways, thinly sliced
Method
In a glass bowl mix together cumin, crushed garlic, olive oil, chilli and orange rind. Add the diced chicken pieces and season generously with freshly ground sea salt and black pepper. Toss to coat chicken thoroughly. Thread approximately 4 pieces of chicken onto each skewer.
Preheat grill on medium-high. Line a baking tray with foil. Place the skewers on prepared tray. Cook under grill for 3-4 minutes each side or until the chicken is cooked through.
Combine the orange segments, lentils, parsley, chives, onion and cucumber in a bowl. Season with salt and pepper and a drizzle of olive oil. Divide among serving plates and top with skewers and a generous dollop of natural yoghurt and a sprinkle of cumin.