The house is quiet, I'm on my second cup of coffee and the rain is making music on my roof. It's time to sit down and reflect on the memorable experiences I've had recently during my time in Adelaide, South Australia for the Eat Drink Blog 2012 Conference (EDB2012).
There are so many emotions and ideas running through my head that I'm finding it difficult to pinpoint where exactly to begin my culinary story. Perhaps I should simply start at the beginning…
I'd finally zipped my suitcase for the fifth and final time – if I've forgotten something so be it, it's off to Brisbane airport I go. I had butterflies of excitement and nervousness. I still hadn't gotten around to the idea that I was flying to Adelaide for the EDB2012. I hadn't even been to a conference with my Monday-Friday office (paying) job, let alone a conference at all, and here I am jet-setting solo to South Australia for a food bloggers conference – all thanks to Miss Foodie.
Arriving in Adelaide on Friday at 3pm, I was taken back by how quiet the city centre seemed to be. I also quickly discovered why Adelaide is indeed the 'City of Churches'. They line the streets and every Church I passed whisked me away to thoughts of an Adelaide township around the times of horse and carriage, top hats and big dresses. With a population of 1.2M Adelaide has nearly half the population of my hometown Brisbane. What it lacks in hustle and bustle it certainly makes up for by way of Rosemary! Rosemary grows happily in nearly every garden bed in the city's centre and I love them for it.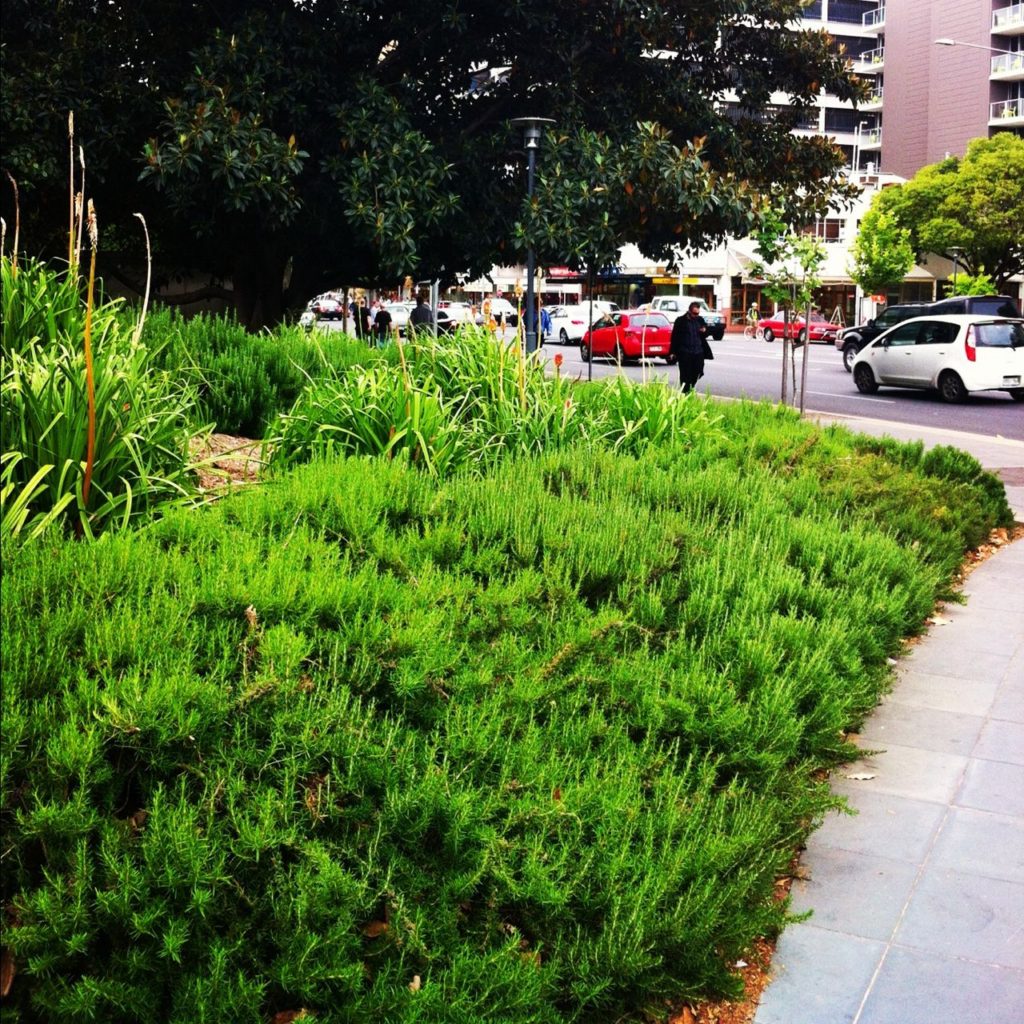 After checking in to what would be my room for next 2 nights at the Crown Plaza Adelaide (highly recommended) I met with Claire from Claire K Creations. Having first made acquaintance on the flight over we agreed to venture out and discover 'The City of Churches' together.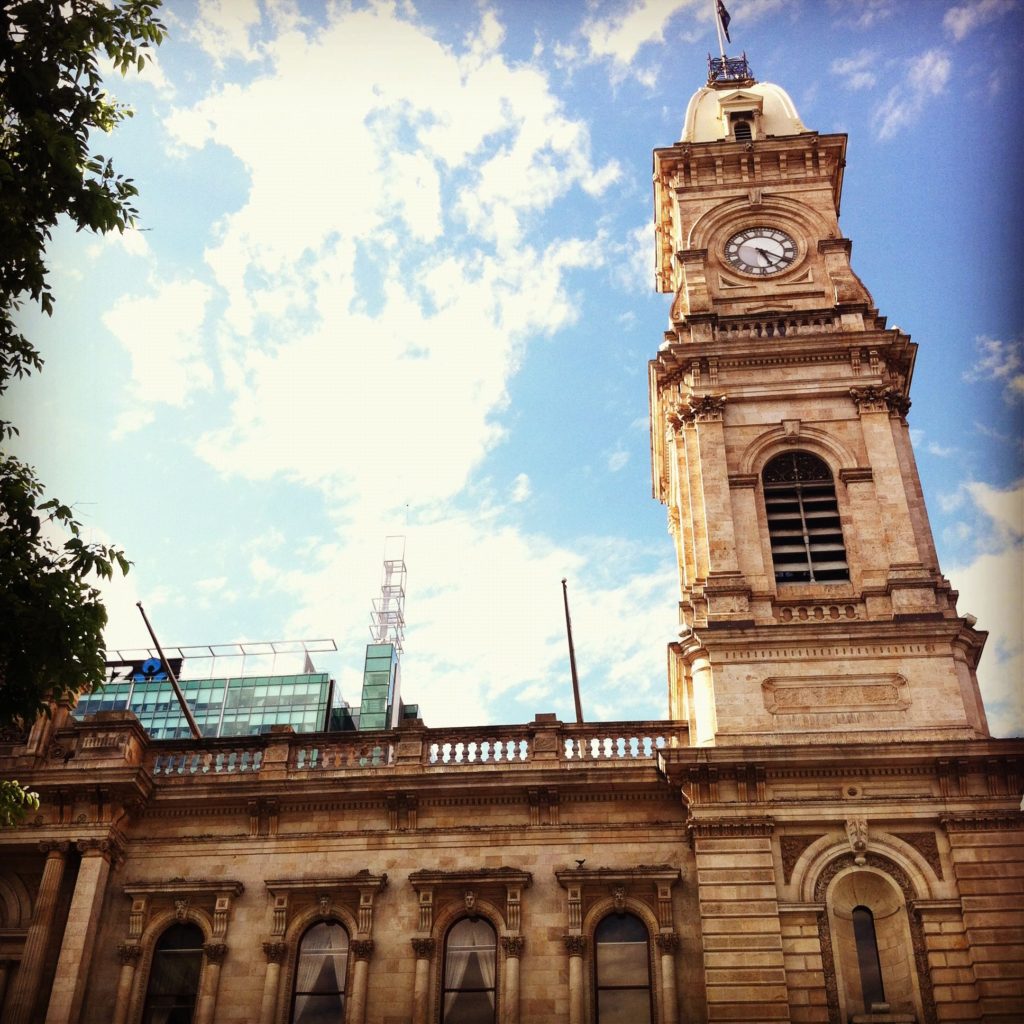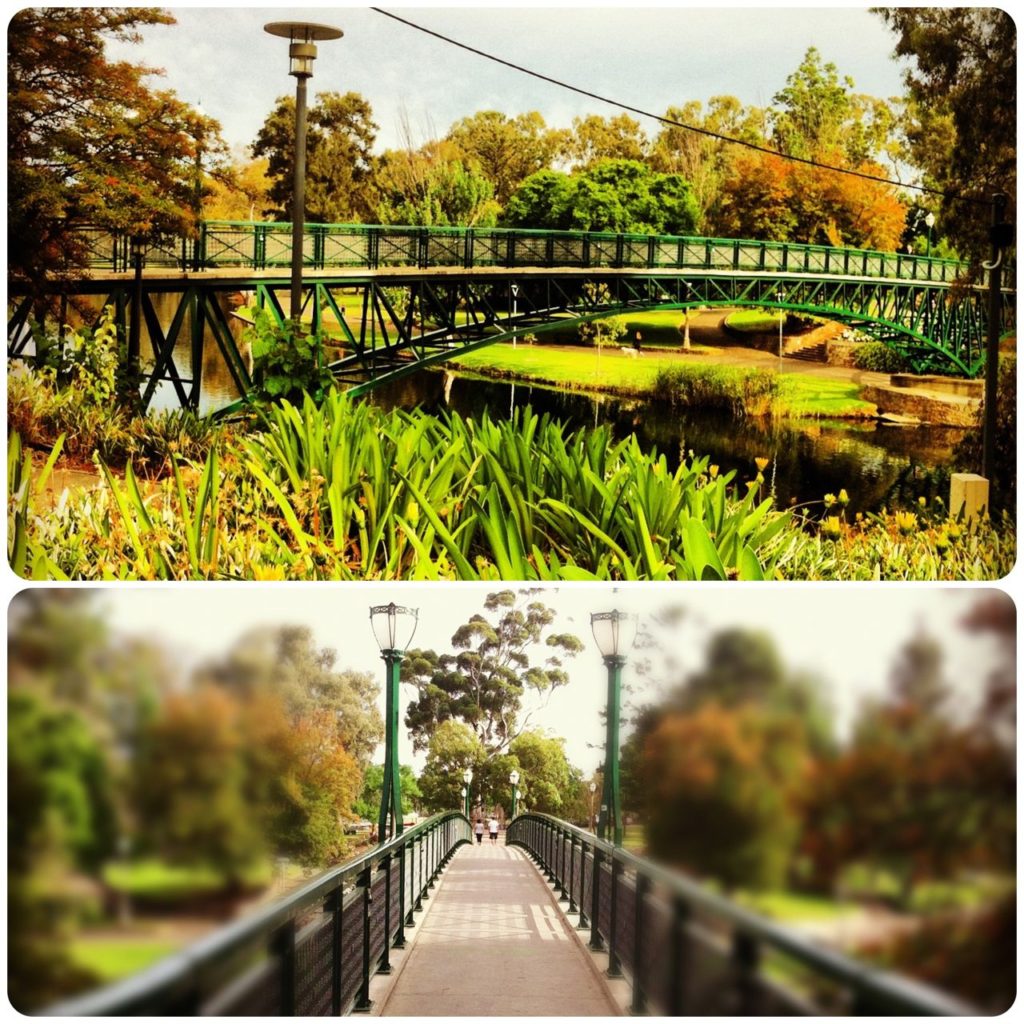 It was the Adelaide Mall and Haigh's Chocolate store that enticed our sweet tooths first. Amongst the glistening chocolate varieties a sweet peppermint crème called at me and I ate it without delay. This was merely the beginning of what lay ahead in the days to come.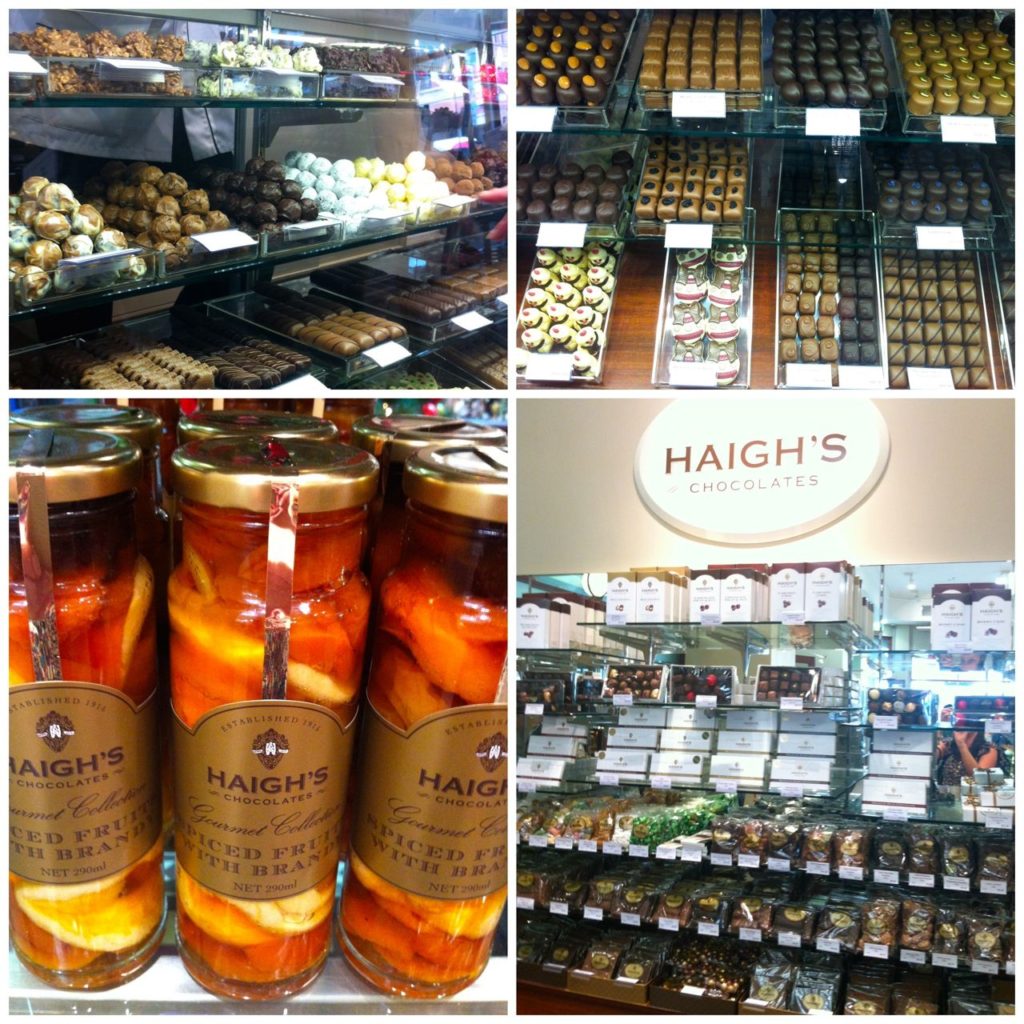 Saturday morning had arrived; the first day of EDB2012. At the China Town entrance of the Adelaide Central Market I pressed the elevator lift button to level 1. As soon as the electronic doors opened the sound of 80+ food bloggers from across the country hit me. Walking through the doors my eyes darted from face to face and there was nothing but smiles to greet me back.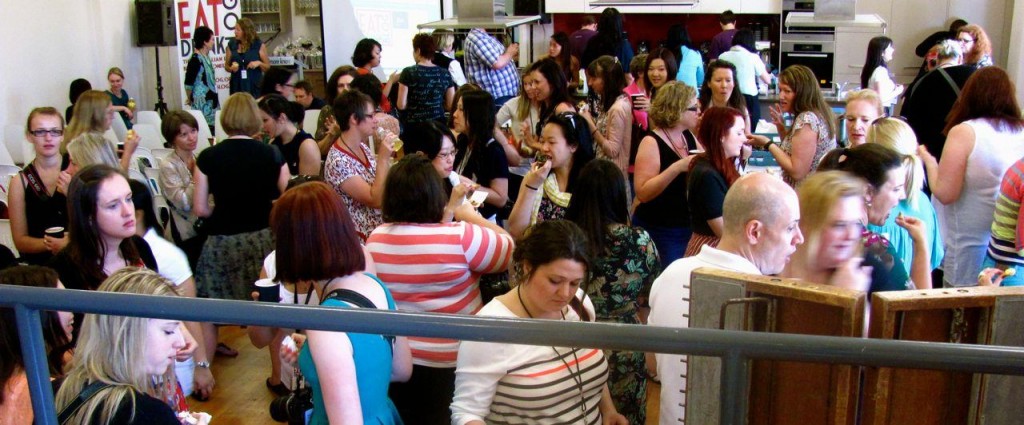 Once the introductions and formalities were complete it was time to hit the Adelaide Central Market for a guided culinary tour.
The rain has started up again and as I sip my last drop of coffee I ponder whether to delve into the love I have for this fresh, organic, local produce-driven market, but I fear my story would just be too long. So upon reflection I will discuss this beautiful nook of South Australia in another, more detailed post.
Here's a sneak peek for you though…..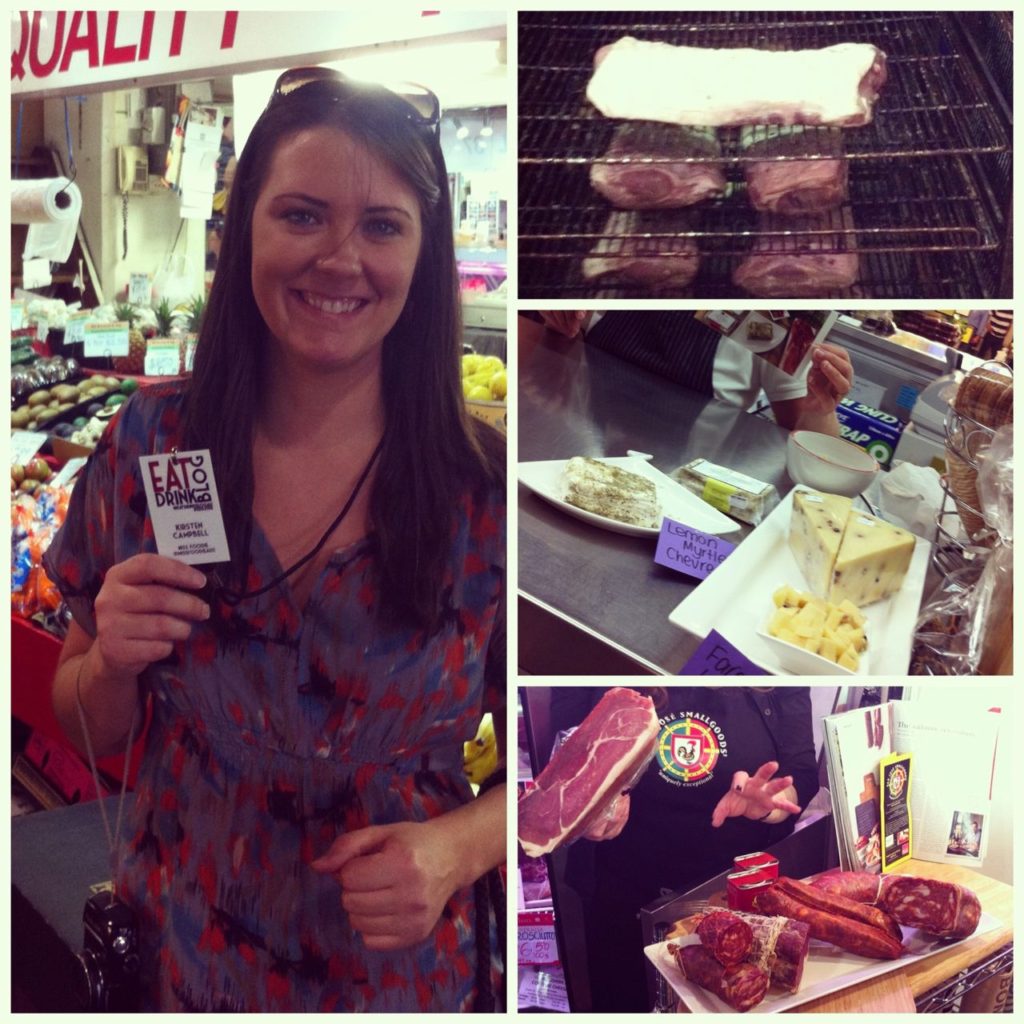 Our guided Adelaide Central Market tour wrapped up at midday and it was time to either venture off to the McLaren Vale or Barossa for a wine tour or stay back and participate in the Food Writing Workshop. As the successful blogger I aspire to be I opted for the Food Writing Workshop in which I paid $100 prior to be a part of.
With 2 hours to kill before the workshop began, fellow bloggers Claire (Claire K Creations), Tania (My Kitchen Stories), Lizzie (Strayed from the Table), Sheryl Lee (One Bite More), Sandra ($120 Food Challenge) and I explored more of the Adelaide Central Market. (Again, more on that later).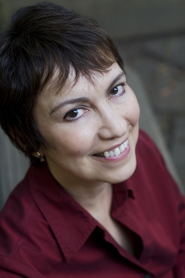 With our tummies filled and our palates adorned, it was back to the conference room for our Writing Workshop with internationally renowned writing coach, freelance editor, author, and speaker Dianne Jacob. (Read about my workshop experience here)
5pm rolled around and it was time that I raced back to my hotel, for at 7pm I was to join the EDB2012 delegates for a night under the stars.
Hilton Adelaide's rooftop area was our venue for the night and what a beautiful night it was. The sun was an hour or so off setting and the sprinkling of rain that greeted us earlier had settled. I walked through the doors and the sound of 80+ food bloggers chatting warmed my soul again. With a glass of Chapel Hill Verdelho in one hand and Lamb on the spit slider in the other, it was time to engage in more foodie conversation.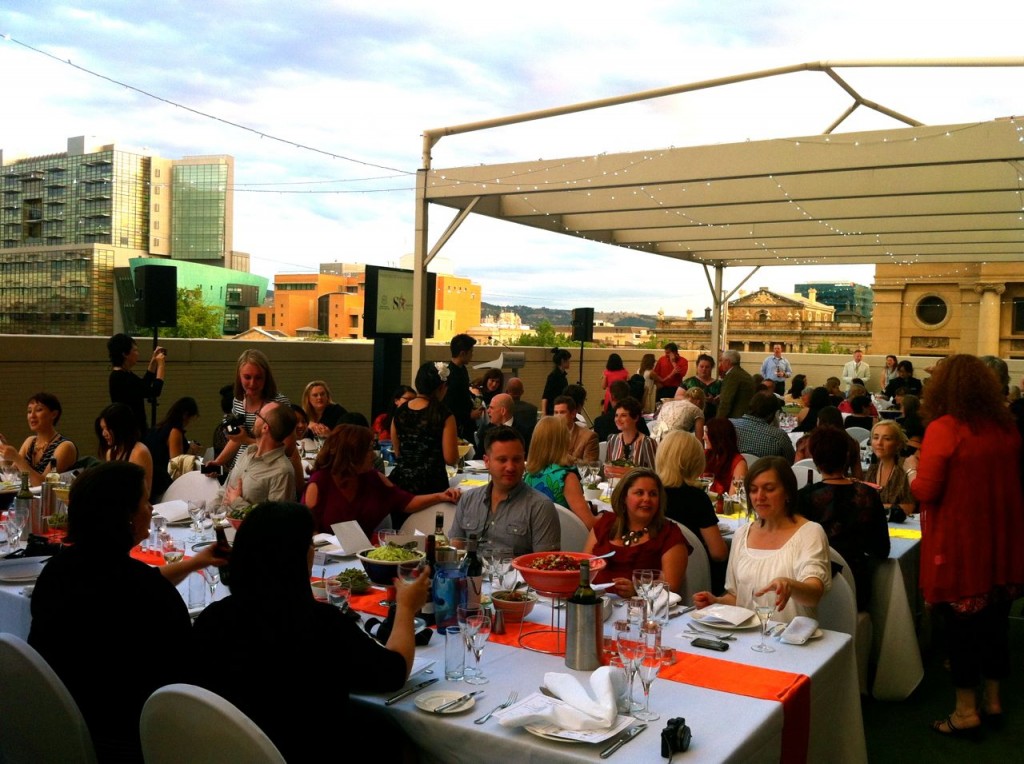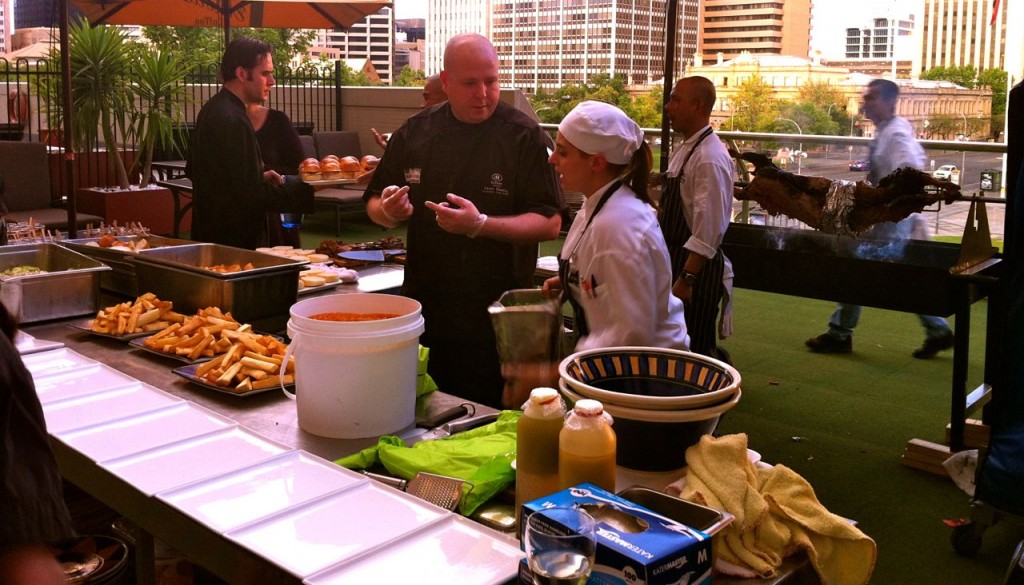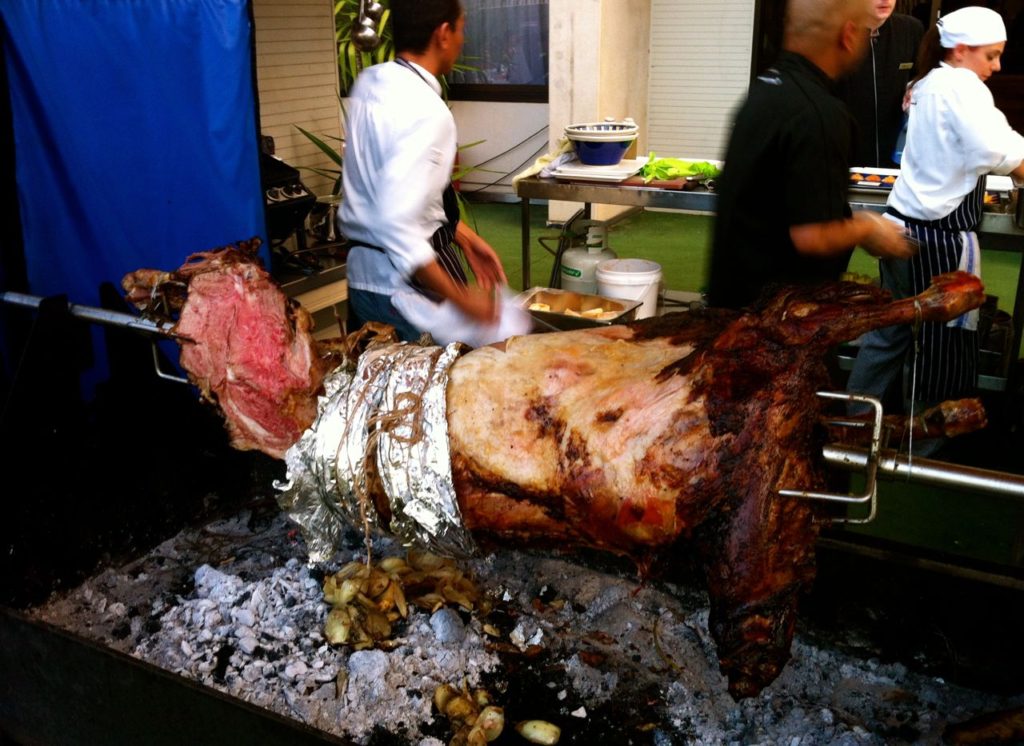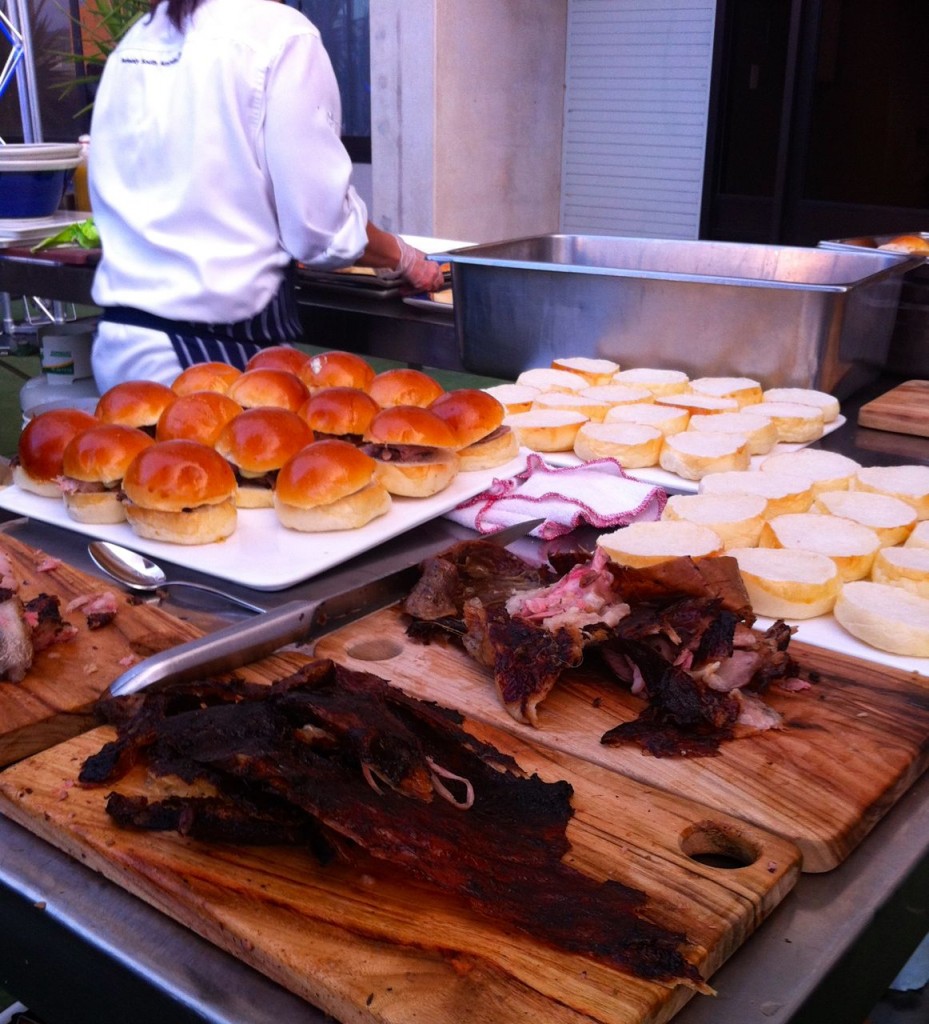 Sitting down to dinner under the fairy lights and azure hued sky I was seated beside Claire (Claire K Creations) and Emma (More than Churches) while Tania (My Kitchen Stories), Charlie (Hotly Spiced) and Sara (For the love of Champagne) sat opposite. What's so inspiring about coming to an event such as this are the people, the conversations and the common grounds you share. Like my Aunty Kathy always says, "I've never met a foodie I didn't like". And she's so right because although I didn't get the chance to talk to everyone, I had the most wonderful time with those that I did.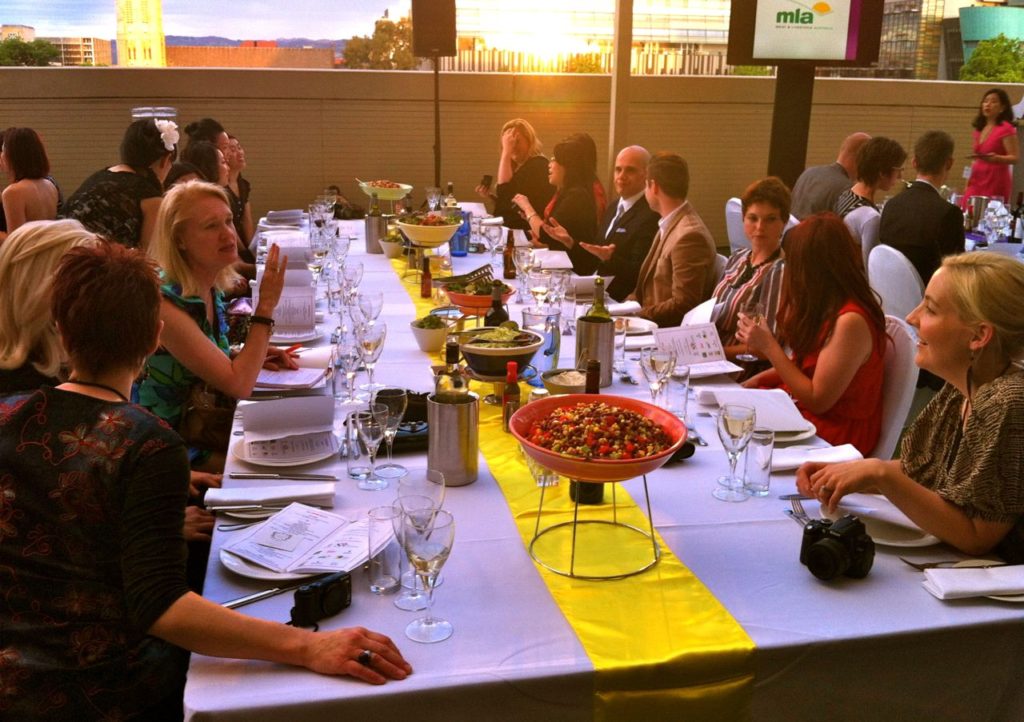 Next on the night's agenda were speeches and competition announcements. Whilst this took place we were served a Mexican smorgasbord of delights. Hilton's Executive Chef Dennis Leslie was the creator behind the Mexican themed night and when asked why he chose a fiesta menu he simply replied 'I just love Mexican food'.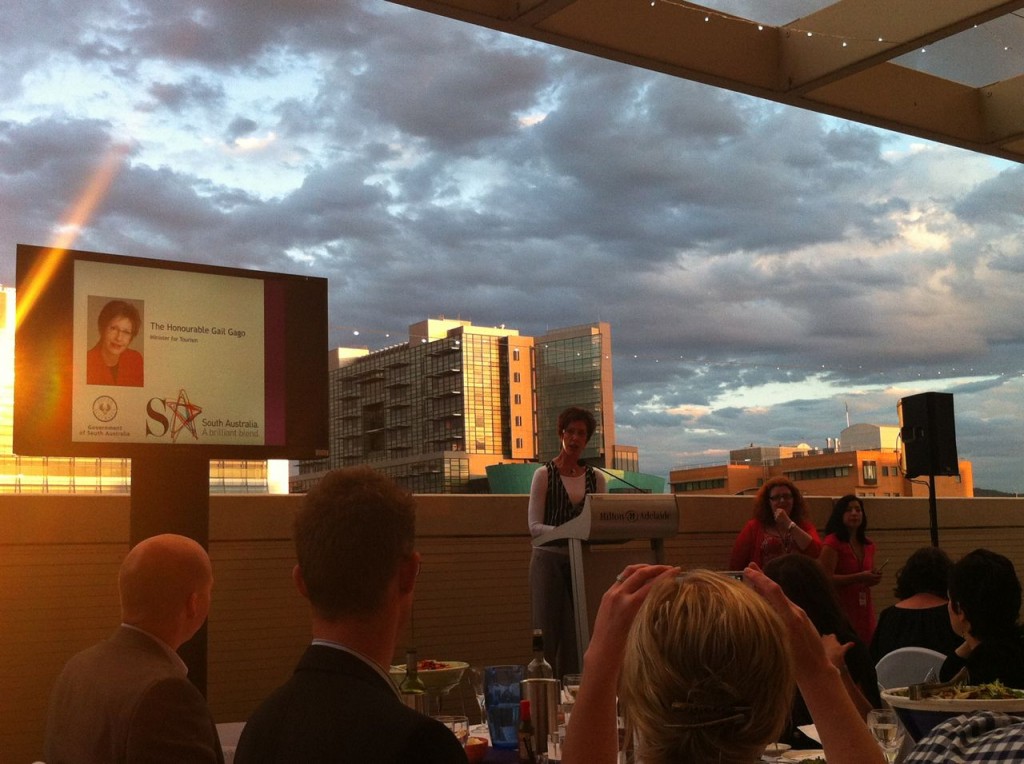 All the dishes were bright, fresh and full of colour. The chicken and meats (especially the smoked BBQ ribs) were rich, succulent and full of spicy Mexican flavours. The fresh corn off the cob looked as though it was literally plucked from a corn field that very afternoon.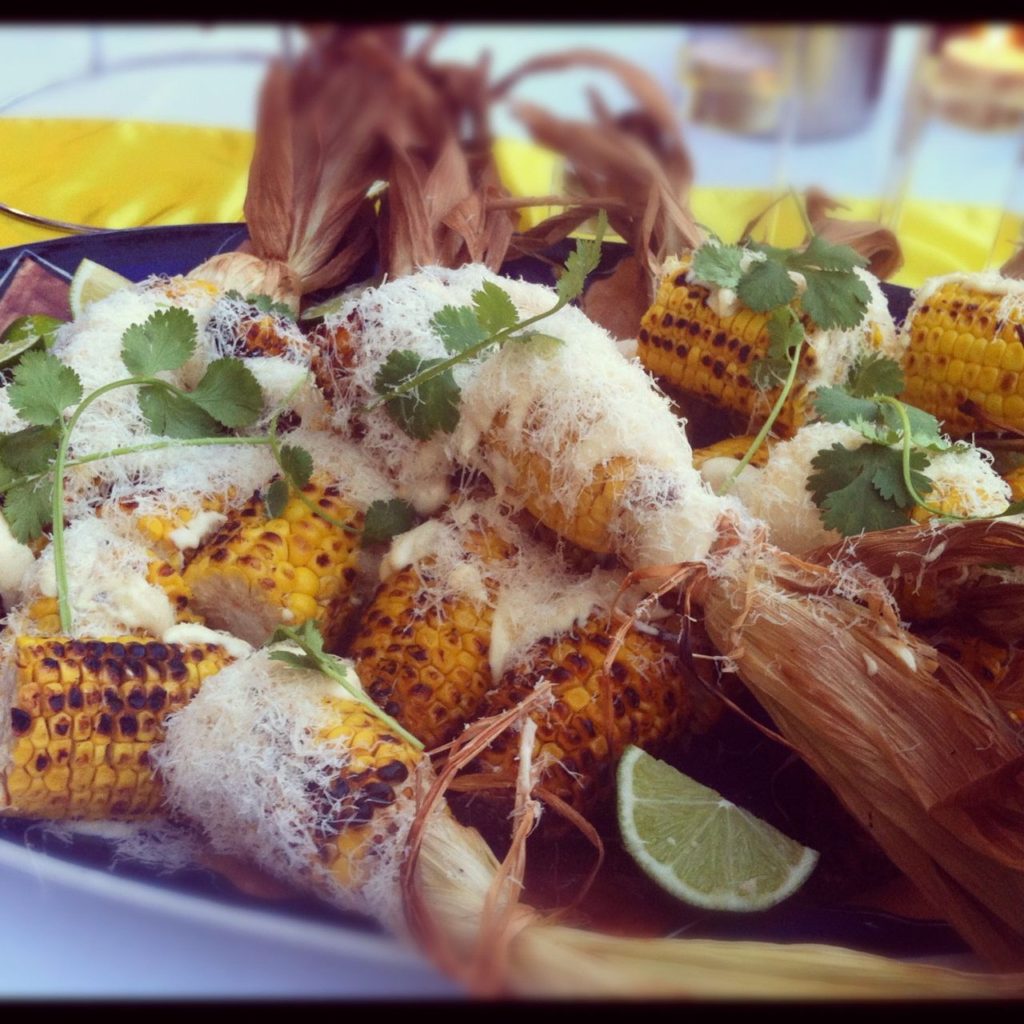 With vino flowing plentiful so too did the conversations and by this point most of us had moved about, mingling and chatting with our sponsors and speakers.
Alas all nights must come to an end and it was back to my hotel to retire.
Want to read more about day 2?  Eat Drink Blog 2012 – My epiphany Part 2