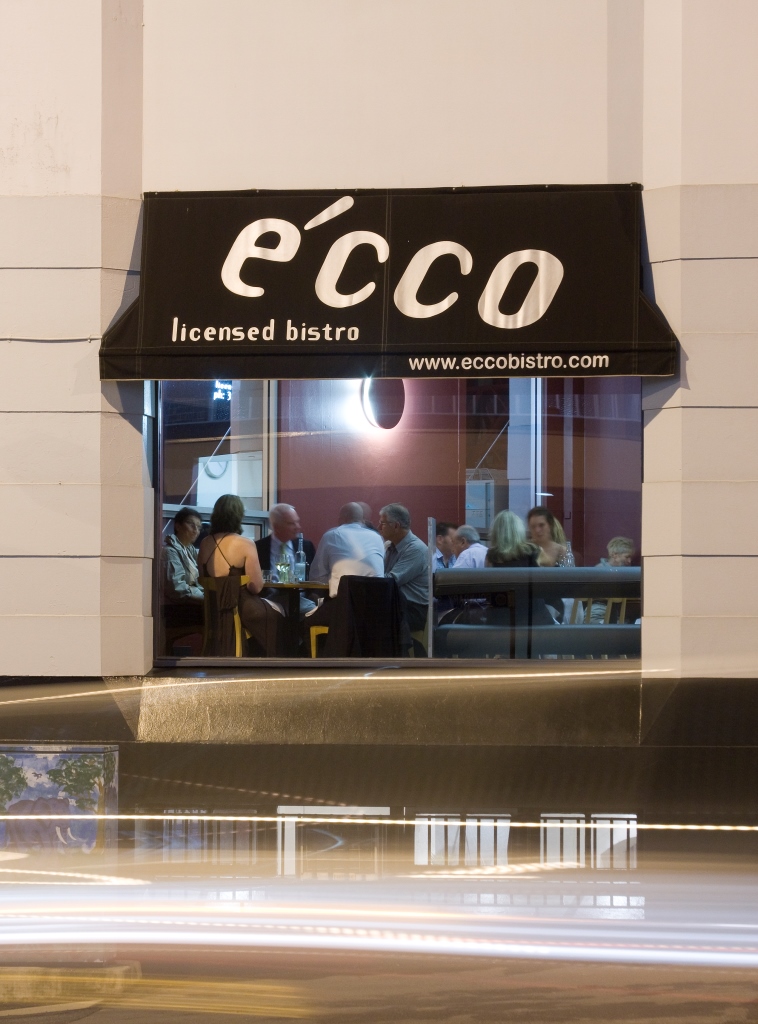 The last time I walked through the doors of Ecco Bistro was back in 2005. I was a few semesters into my journalism degree and being a passionate foodie I was eager to pursue a career in food-writing.
Even back then Philip Johnson was a favourite chef of mine. Knowing this, my family had organised a special birthday treat for me to attend the cooking demonstration 'Taste the Tweed…by Philip Johnson' at the then, very new Salt Kingscliff.
Following the cooking demonstration, I built the courage (with much reassurance from my Dad) to walk up and ask Philip to sign my newly purchased Ecco cookbook 'e'cco 2'. Philip was so kind to me which made it comfortable talking to him. I asked questions about the behind the scene jobs that exist when creating a cookbook such as his. You see I was trying to find out which direction I should be moving towards and what university major would be best to get there. After our informative chat, Philip bestowed upon me the privileged opportunity to come into Ecco every Tuesday to see how his weekly piece for the Courier Mail came together. Philip also encouraged me to enter a Gourmet Traveller writing competition. You have no idea how special all this felt to the 24 year-old me at the time; I know for a fact I wouldn't be where I am now if it wasn't for the kindness and generosity Philip showed me back then – Philip you helped guide the path I am walking right now and I thank you.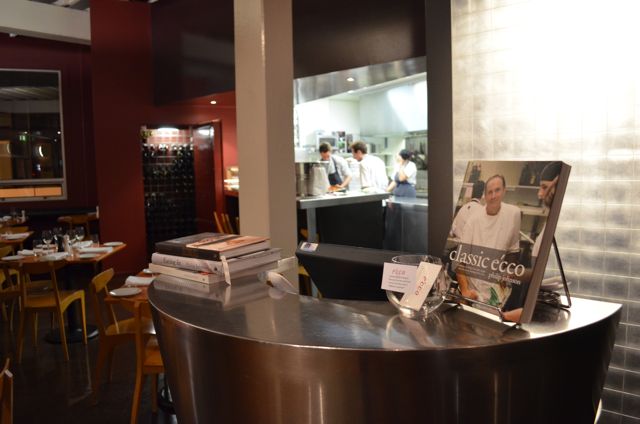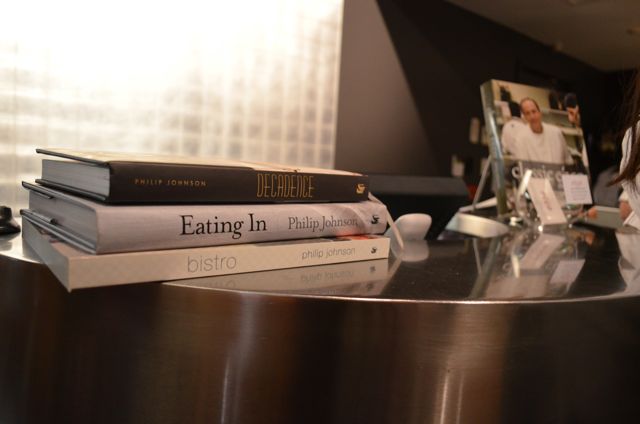 Back to the current day, I was filled with nervous excitement as I walked down Boundary Street to Ecco Bistro once again. Opening the timber framed glass doors was Ecco owner himself Philip Johnson, chef Paul McGivern and Lucid Media director Damian Condon. With a ridiculously huge smile on my face, the four of us chatted until the rest of the guests arrived.
Subsequent to our talk it was evident from the get-go was how much Philip's staff admire and respect him. Paul worked with Philip back in 1994 at Continental Café and 1995-1998 at Ecco Bistro before travelling abroad to Italy and taking-on his own chef accolades. Returning back to Brisbane years later, Philip called Paul to see if he was interested in coming back to the Ecco Bistro kitchen. Paul's easy affirmation only reiterates the admiration people have for Philip. The hospitality industry as we all know suffers from very high staff turn-around, Ecco on the other hand not so much. In fact a lot of the Ecco team have been working there for years. I guess the reason I feel the need to tell you all this is because it's no coincidence that Ecco has stood the test of time. It's the open-book foundations that Ecco stands upon, it's the genuine lasting relationships that are built and the dedicated hard working individuals that band together behind the scenes that make Ecco Bistro one of Brisbane's oldest and prominent restaurants today – 18 years old to be exact – Happy Birthday!!
From what I've seen, Ecco's interior hasn't changed much over the years; it has a classic sophisticated ambiance that makes you feel special walking inside whilst relaxed at the same time (why would you change that). A venue's use of lighting is one of the most crucial elements to the space and Ecco evidently understand that. I love their eclipse-style wall lights around the edge of the room, which glow peacefully against the warm red walls. This coupled with the radiance of dispersed light reflecting off the exposed white beams and ceiling rafters makes Ecco's interior difficult to fault.
If you haven't yet already, I strongly urge booking a dining experience at Ecco Bistro! Everyone must experience this level of finesse.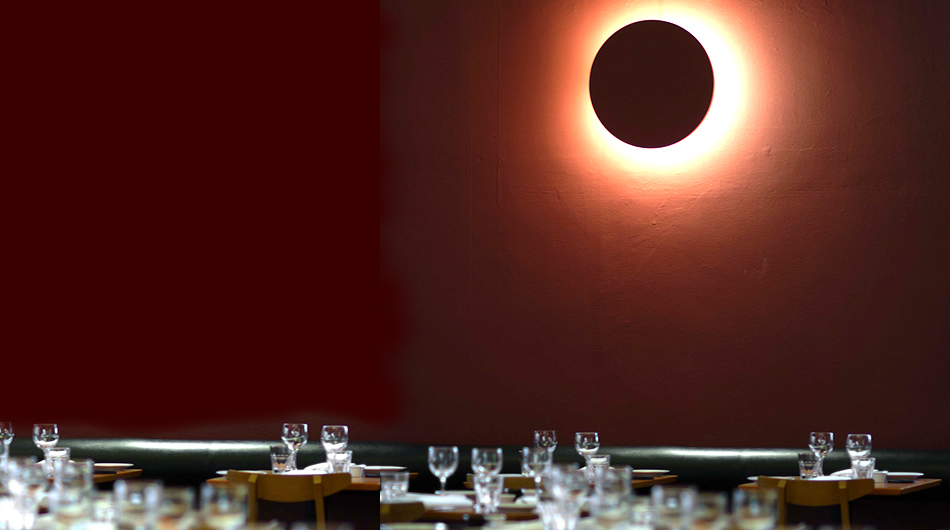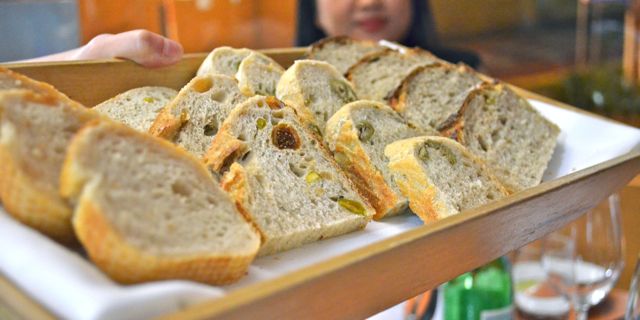 My choice off Ecco's 'Celebrating the start' menu started with 'Steamed mussels with saffron, chilli coriander and ginger'. I know it sounds like I'm biased because I've not faulted Ecco yet – but it's not my fault, they are just-simply that worthy. The broth in which my steamed mussels bathed in was magnificent; their Asian flavours robust but oh-so sophisticated and sweet at the same time (and not too spicy for weak little me). Greeted with a bowl of mussels I always choose to extract the sweet ocean meat from all the shells before digging in; I don't have the patience to eat them one by one.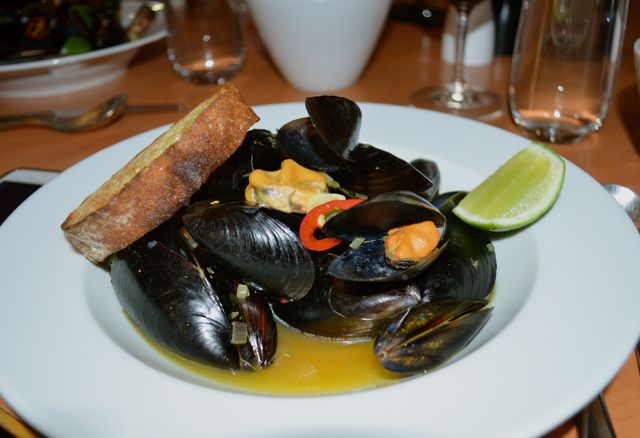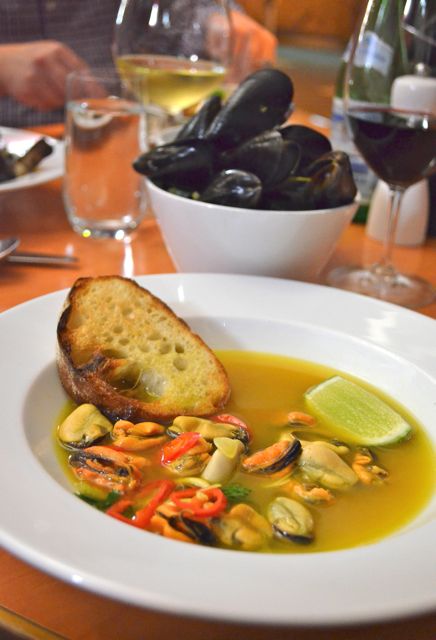 I've always been a huge fan of duck however the last few years I've avoided it due to the constant disappointment from venues. Perusing my Ecco menu I knew if I was going to enjoy duck again it would be here, and boy was I right! My 'Slow Cooked duck, red cabbage bacon and hazelnuts' was sweet, gamey and juicy and I loved every bit of it.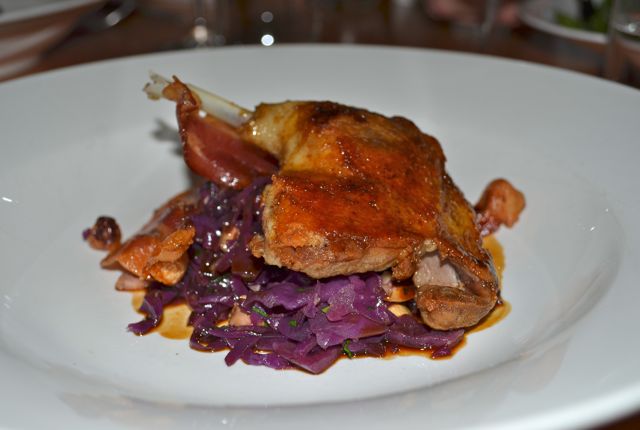 For dessert my eyes darted between the 'Citrus Tart with mascarpone', 'Panettone pudding with blueberries and creme fresh' but it was the 'Banana Tarte Tartan with rum and raisin ice cream' that took my heart. I will definitely try mastering a banana tarte tartan at home, it was so sweet and luscious; mastering a rum and raisin ice cream of this standard on the other hand, near impossible (A+ with that one guys, yum yum!).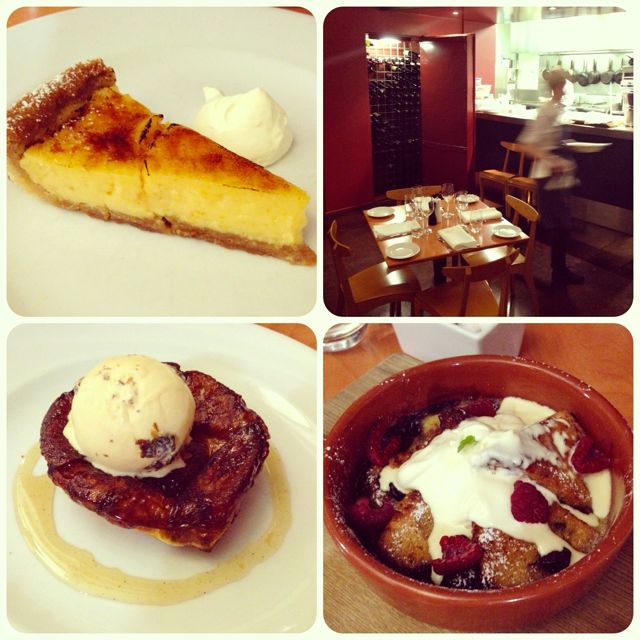 Damien Condon, owner Lucid Media; Lani Pauli Community Manager at Yelp; Clare from Clare K Creations and Simon Holt, Managing Editor Brisbane Times chose the below for dinner – I tried most of the meals and would have been happy eating everyone of these dishes. (Lovely dinner company I might add).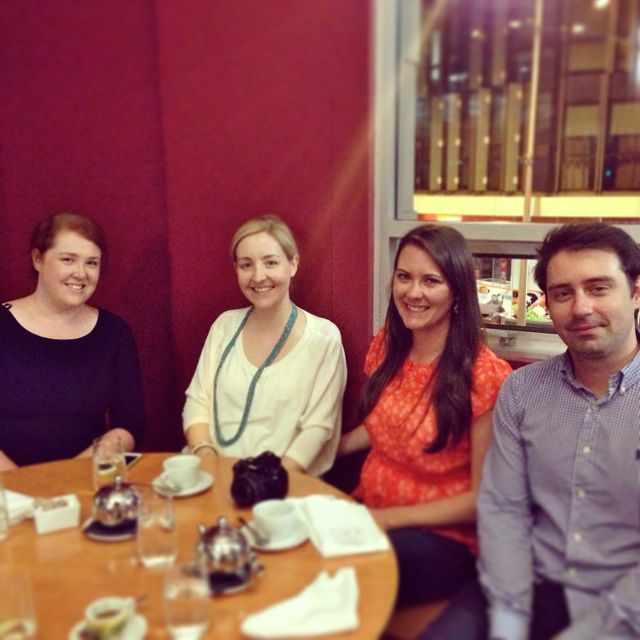 Potato gnocchi, gorgonzola, spinach & pine nuts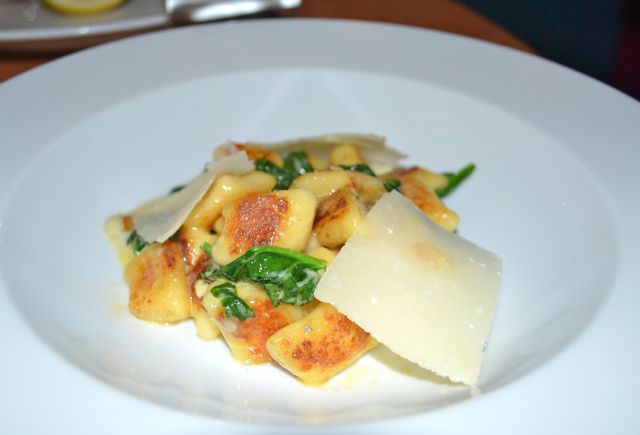 Field mushrooms, olive toast, rocket, parmesan, truffle oil and lemon

Shared Sides: Rocket, pear and parmesan salad, balsamic vinaigrette +
Green & butter beans with mustard cream and ricotta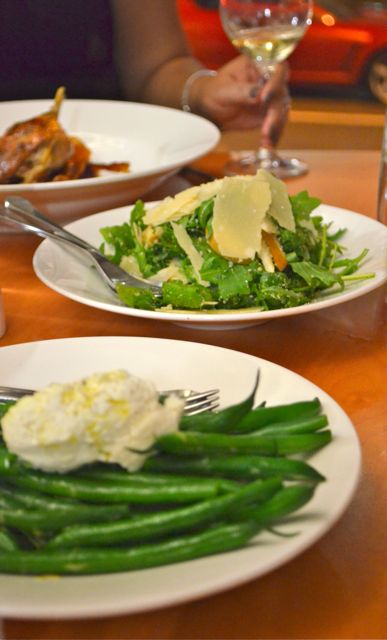 Roast pork belly Parmesan potatoes, braised witlof and grilled apple.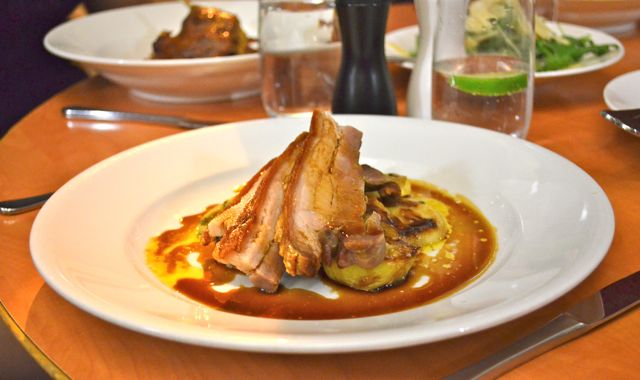 Seared salmon, risotto of spinach, peas and crisp prosciutto.

Eye fillet of beef, soft polenta, garlic confit and radicchio.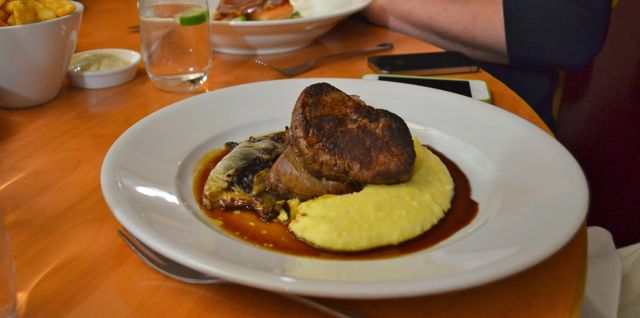 If I've managed to hold your attention to this point, I hope I've passed-on a small piece of my Ecco Bistro love. There's not much more I can say other than to treat yourself to a relaxed but superior form of dining at Ecco Bistro soon.
Celebrating 18 years menu runs from August 6-10 2013 – Looking forward to the next delightful 18 years 🙂