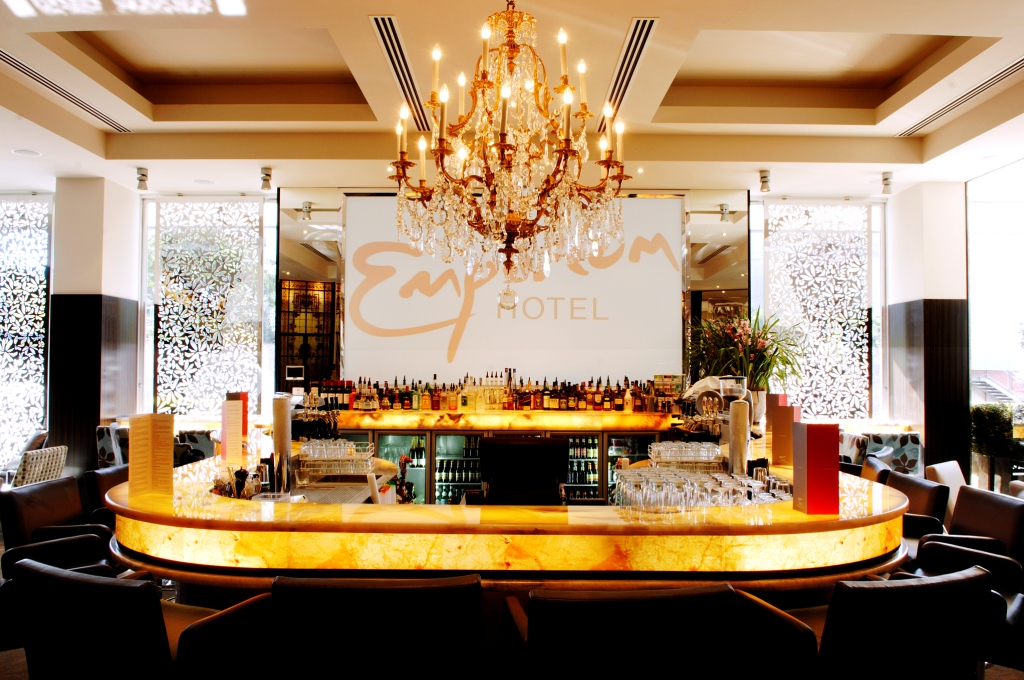 The Emporium Hotel and I go way back – over the last five years I've enjoyed not one but two birthday parties in their Cocktail Bar, stayed in their 5 star luxury hotel room and this Saturday just gone, a few friends and I got together for Cocktails and Tapas.
The moment you meander through to the Emporium reception area, the bronze overlay of glass printed frangipani walls, backlit with rich-red LED lights raid the visual senses immediately! From here Emporium staff whisk you away with their warm and welcoming hospitality, making you feel comfortable and somewhat of a celebrity.
Keeping on the ground floor you will find the Emporium Cocktail Bar; the perfect spot to enjoy a casual drink, birthday or special event. The grand onyx featured bar is extravagantly lit by an historic German chandelier (originally from a European castle).
Another stunning feature of the Emporium Cocktail Bar is the exquisite stained glass wall which was originally a Parisian shop front crafted more than 100 years ago. The piece was then shipped to Buenos Aires where it was used as a mansion window, before being flown to Australia by an antique dealer where it caught the eye of the Emporium Hotel. This kind of attention to specialist detail is why I believe Emporium Hotel has won HM Awards Best Boutique Hotel in Australia for the last five consecutive years.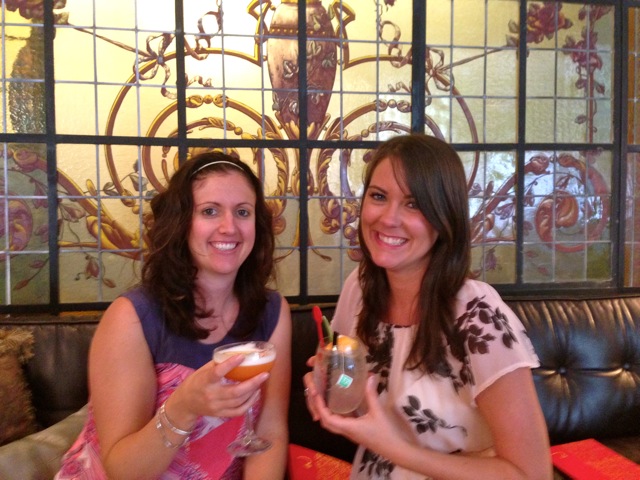 To welcome in the warmer weather (and tropic storms) the Emporium Hotel have released their new Summer Cocktail and Tapas menu. The Summer Cocktail menu still includes their signature concoction – Passionfruit Chi Chi, plus the introduction of a specialty Gin Tonica menu. Gin is embraced by a number of key botanicals and to emphasis these natural flavours of the gin, Emporium have reintroduced them as raw components along with a lighter style tonic (fever tree).
My favourite cocktail of the day was the Sencha Siesta from the Gin Tonica menu. Here they used Beefeater 24 Gin whose exotic botanicals include a rare Japanese Sencha tea and aromatic Chinese green tea, this coupled with Emporium's raw components of fresh lemongrass, grapefruit zest and T2 Green tea makes this a modest yet special cocktail and one that's oh so refreshing.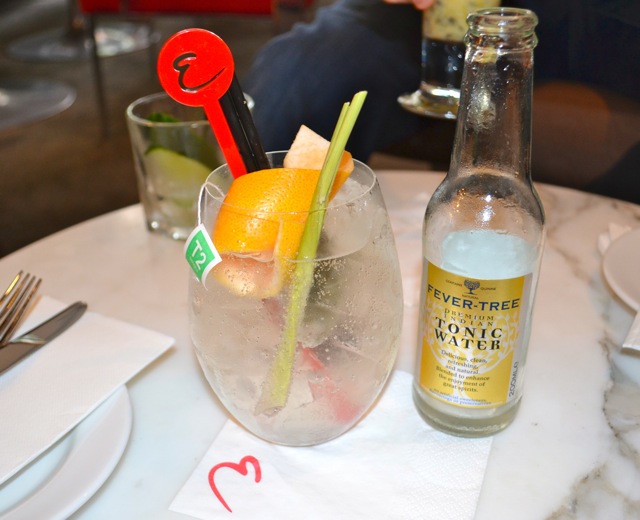 Another specialty of the Emporium Cocktail is the inclusion of their house made syrups. These are essentially comprised of water, sugar, and the underlying subject (e.g. fresh Lemongrass). To produce their syrup they add boiling water to sugar and the selected raw ingredient. They also produce an in-house ginger soda following a similar process, except that it's pressurised with CO2 to become a layering foam.
Taking it another step further again, Emporium infuse a number of spirits with natural fruits, nuts and spices.  This is a relatively straight forward process – they add the ingredients to the spirit base and wait for the flavours to be imparted – often this process can take several months.
Passionfruit Chi Chi – Absolut Vodka, house coconut, pineapple, passionfruit, cream $18
Pavlova Martini – 42 Below Kiwi Vodka, Licor 43 vanilla, lemon, passionfruit, strawberry, egg white $18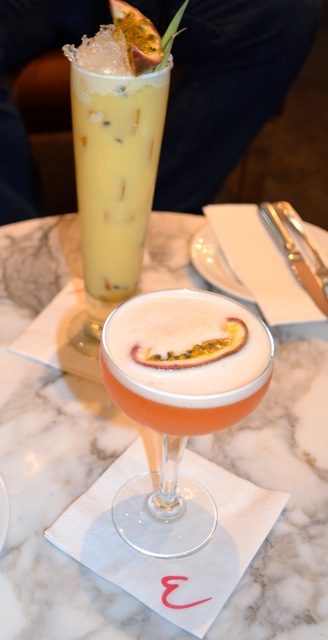 Montenegro Times – Beefeater Gin, Amaro Montenegro, Napoleon Mandarine, pineapple, passionfruit, mandarin, lemon $18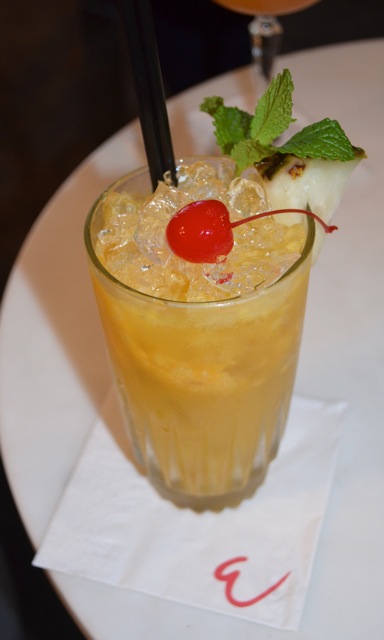 Nutty Irishman – Jameson Irish Whiskey, Lairds Applejack, fresh granny smith, pistachio, lime, celery bitters $18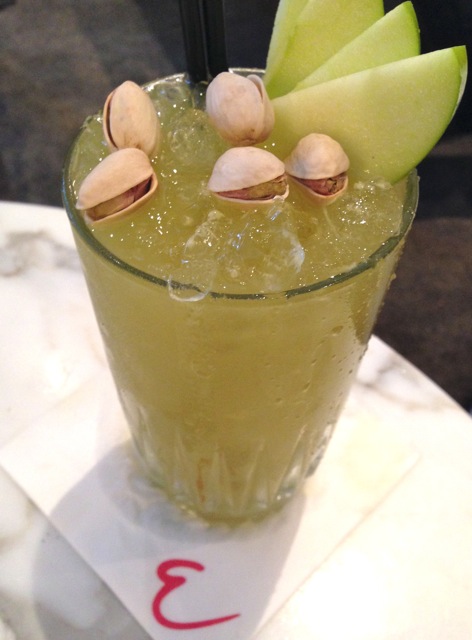 Of course drinking this many cocktails one needed food and by that I mean Tapas! All of Emporium Hotel's tapas items were presented elegantly on black slate and timber designed plates.
Stand out items were the Emporium Cheese plate comprising of local and imported cheeses $22 and their House Made 'Polpette' (meatballs) with a rich Napoli Sauce $14
The Charcuterie Sharing Plate fit with 3 Cured Meats, toasted Ciabatta (with pistachios!) and Cornichons (gherkins) was fresh, meaty and delightful ($22).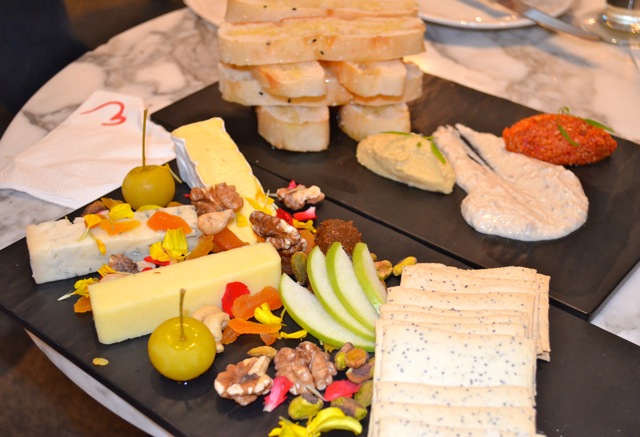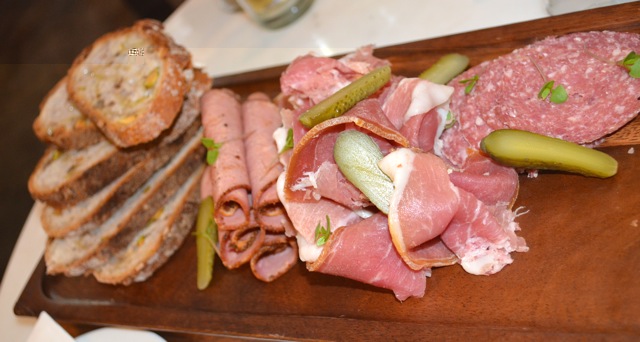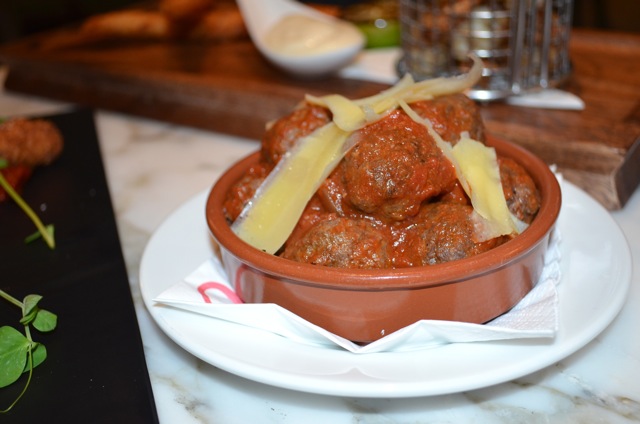 I've never met an individual who doesn't love Haloumi, especially pan fried Haloumi with butter and freshly squeezed lemon ($12)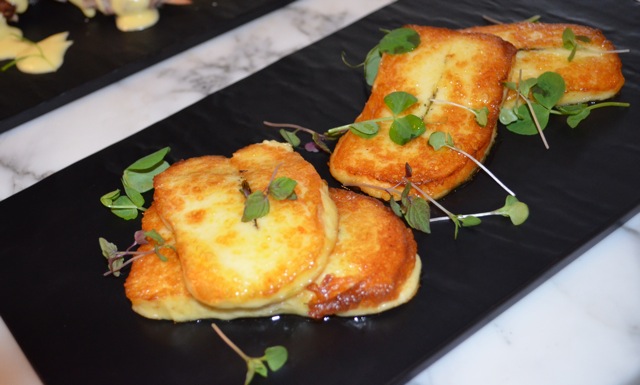 Chicken Brochettes with Hollandaise Sauce ($16) – basically a French way of saying kebabs. Personally this wasn't a favourite. I'm not a Hollandaise fan so that didn't help; but I thought the chicken tasted slightly odd. I thought it was poached or steamed but it had charcoal marks? Either way it just wasn't for me.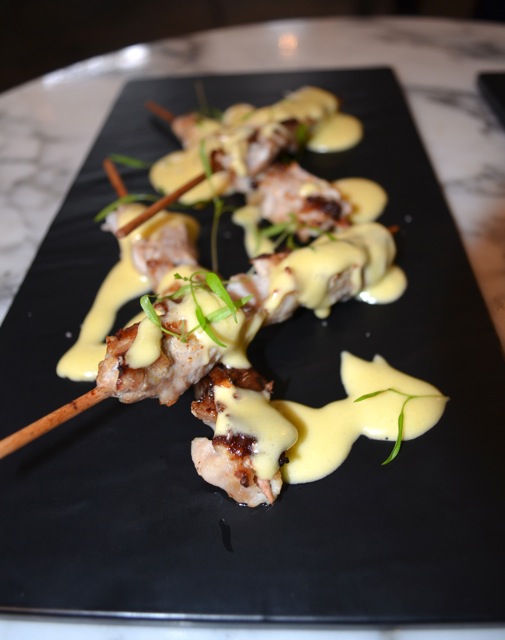 Their 'Fritto Misto' with Lemon Pepper Calamari and Prawns, Battered Flathead and Citrus Mayonnaise ($18) is the perfect selection for those wanting to soak up a little of the cocktail fun.

Emporium's Parmesan and Leek Croquettes with Roasted Pepper Jam ($12) was another favourite. The outer delicate crumb offered a comforting crunch to the soft warmed centered insides.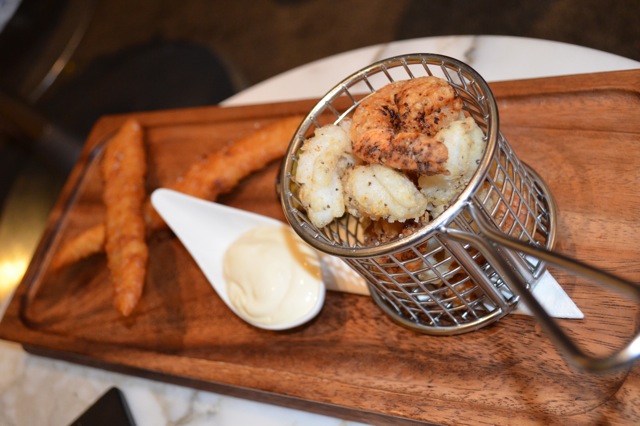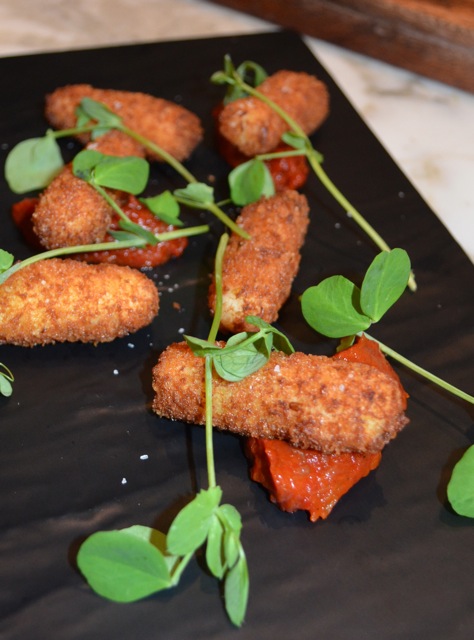 I looked up an old Instagram picture of my stay earlier this year and this was my luxurious hotel room, fit with champagne, chocolates, bathrobes and his and hers sinks. What I love about staying at the Emporium is the close proximity to great restaurants. Picture this Emporium 24 hour window – Check in. Go for a swim at the Emporium rooftop pool. Saunter back to your room and get dolled up whilst sipping bubbles and wearing a crisp white bath robe. Enjoy pre-dinner cocktails in the Emporium Cocktail bar. Walk 10 metres to a romantic dinner setting = perfect or what!? That's my luxury.
Emporium Hotel
1000 Ann Street, Fortitude Valley, Brisbane QLD
Miss Foodie dined as a guest of Emporium Hotel