Often degustation menus look fabulous on paper, but can fall-short in flavour and consistency; not so at the Foraging Quail. Head Chef, Minh Le will blow any tastebud out of the park!
Specialising in a unique degustation dining experience in the heart of New Farm, The Foraging Quail focuses on local and seasonal produce to ensure sustainability and seasonality; an admirable approach.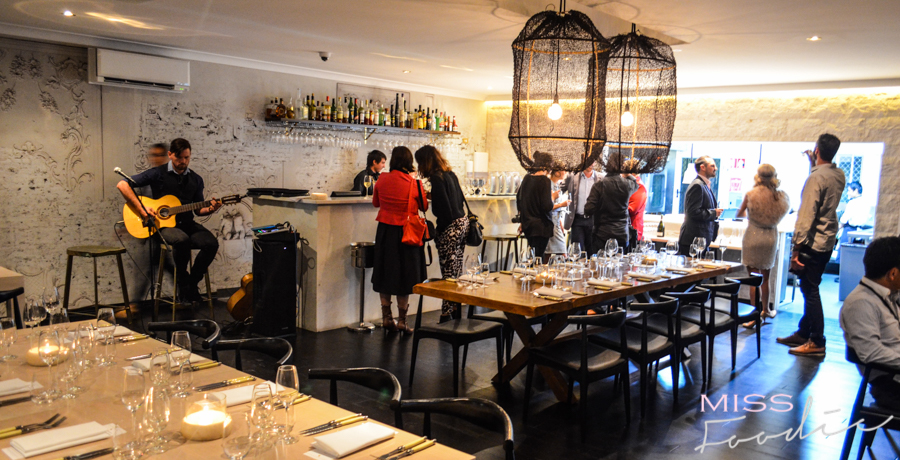 Recently commemorating their first birthday, I attended The Foraging Quail's celebratory event which was nothing short of a first-class dining experience.
While soft acoustics filled the room and Naomi Price sang like a bird, fellow guests and I mingled and conversed about our excitement attending such an evening. A couple of 2000 Jansz Tasmania Vintage Cuvée glasses later, it was time to sit down and savour the ride.
A beautifully presented plate of slow braised octopus kick-started our degustation, complemented by chilli jam, Thai peso, pickled leeks and capers. A joyously balanced, vibrant dish, it took pleasure in shifting our palates into gear.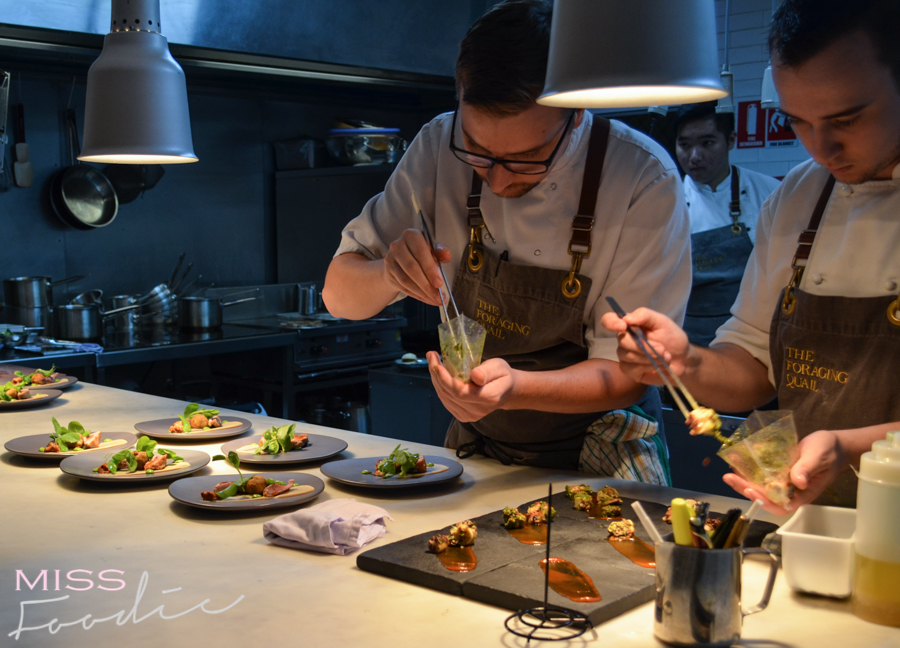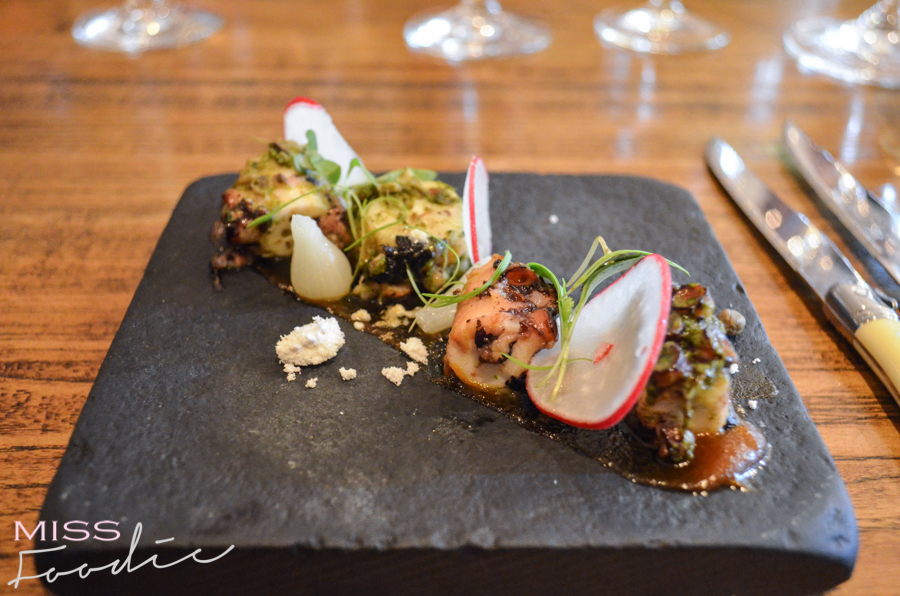 Next, a glass of 2013 Tasmanian Freycinet Riesling served alongside the most exquisite dish of the evening – correction, my life! Pork jowl (jawline), apple and celeriac, Morcilla (blood sausage), Brussels sprouts and baby corn.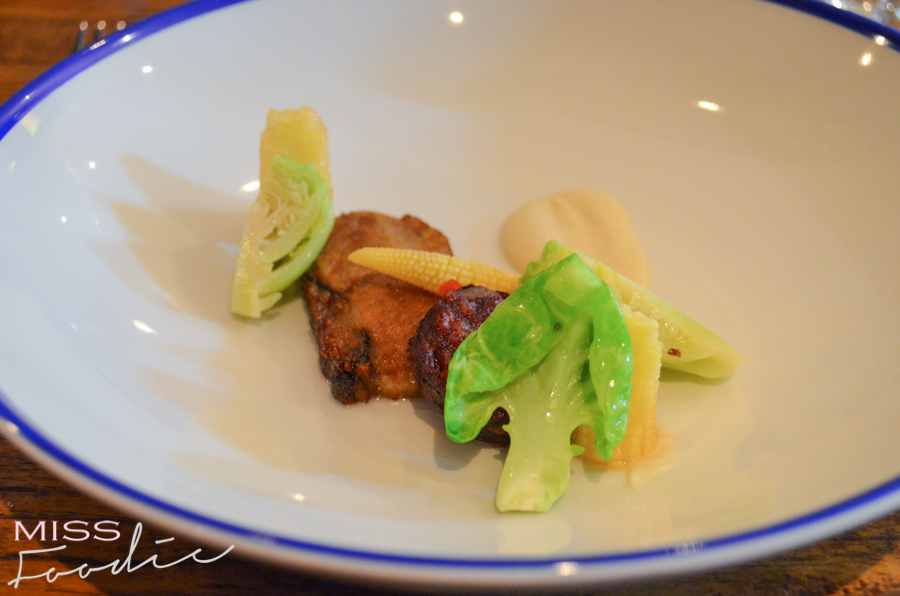 Outstanding food excellence on every level; I could literally die a happy woman having eaten this. I; who am I kidding, everyone was gob-smacked at the perfection of the pork. I've never experienced anything like it. It was altogether juicy, tender, fatty, crunchy, lean and sweet. The accompanying morsels didn't overtake either, but rather complemented humbly. Eating the Pork Jowl should be on every foodies bucket list.
Rabbit terrine, truffle mayonnaise, beetroot, apple gel and brioche was next on stage. Again the presentation executed with perfect finesse; the black plate like an abyss into enticing decadence.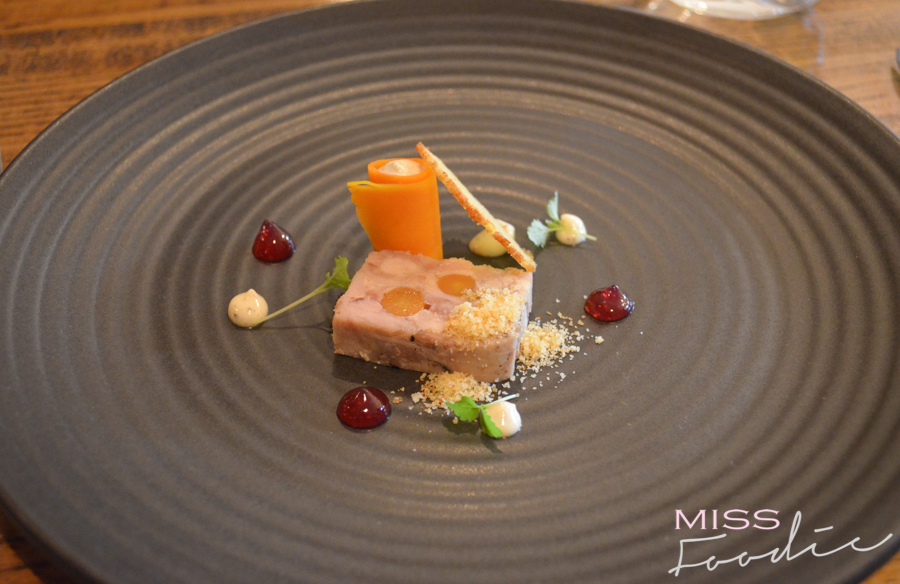 A glass of Yarra Valley 2012 Thousand Candles by William Downie accompanied our Foraging Quail; a somewhat controversial wine, their first release in 2011 brought with it a hefty price tag, unusual for a newcomer, without even a cellar door. Grown on the Syme's hillside vineyard in the Yarra Valley, the variety gives nothing away on the label but I'm told by wine professional friend, Leigh Woodrow is mostly pinot noir and shiraz with an unusual touch of sauvignon blanc. Andrea Frost, a stunning wine writer describes it best: "…the wine offers a kaleidoscope of aromas that mix and meld and go on forever – cherries, tar, spice, liquorice, violets, red fruits and spice again. It's like a wild romp through a damp forest with someone you don't quite know".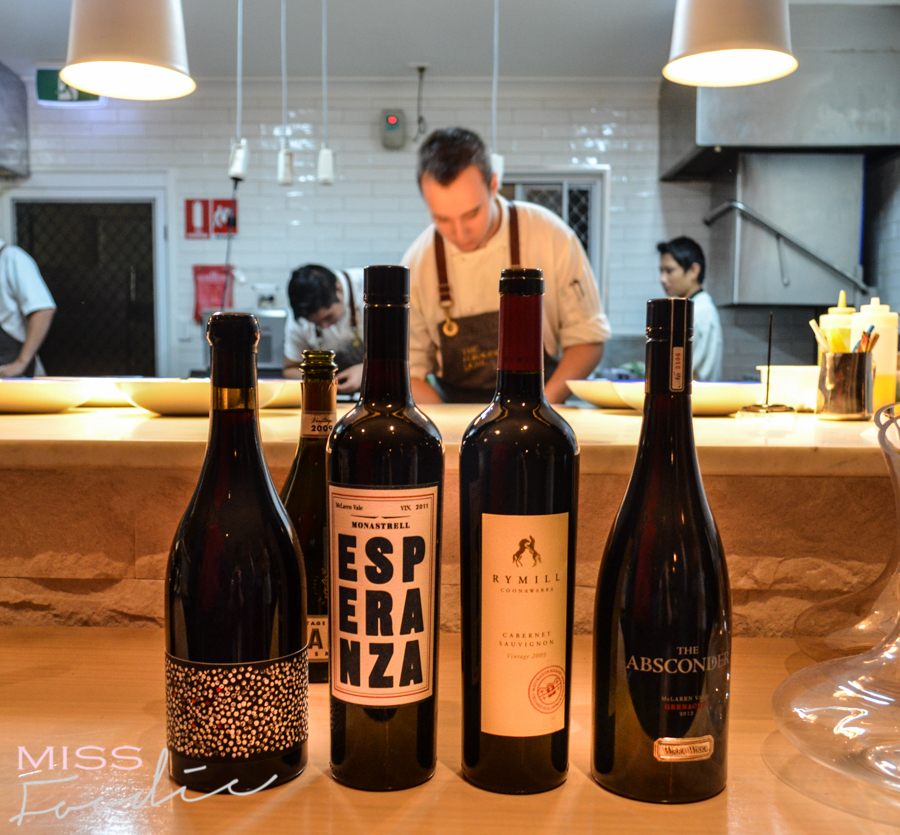 It was evident by this point, no faults would come of this evening; in presentation or flavour. So instead of trying to describe impeccability, I'll breeze through the remaining nine courses in our degustation.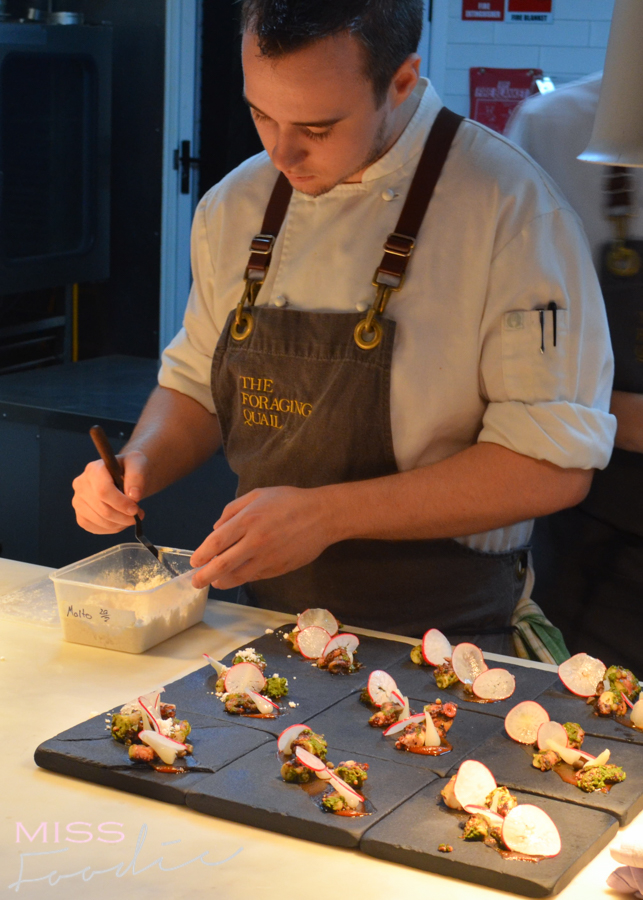 I will interrupt now to introduce our first dessert – Coconut Pana Cotta elegantly topped with basil seed, sago, marshmallow, meringue, freeze dried mandarin and honeycomb. The skill in putting a dessert like this together is nothing short of impressive. It was such a delicate experience savoring this sweet treat, every mouthful a more memorable experience than the last. I felt like a little girl eating dessert for the very first time.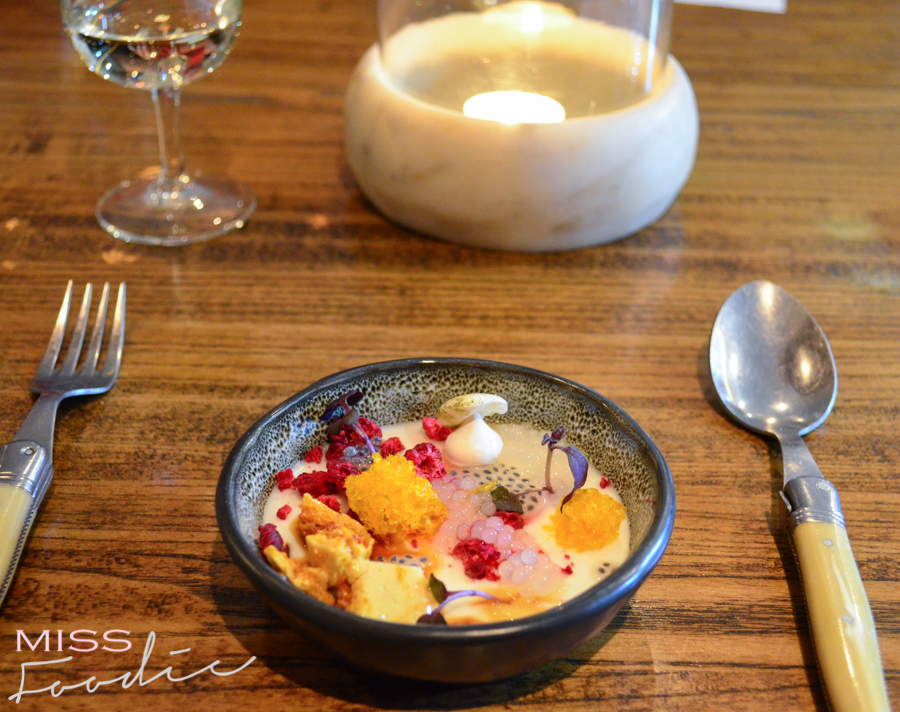 A second dessert if I may – Eight textures of chocolate, peanut butter log, moss and blood orange sorbet. Rich? Yes. Belly perhaps a little over consumed? Yes. Able to eat it? Yes, and with great pleasure.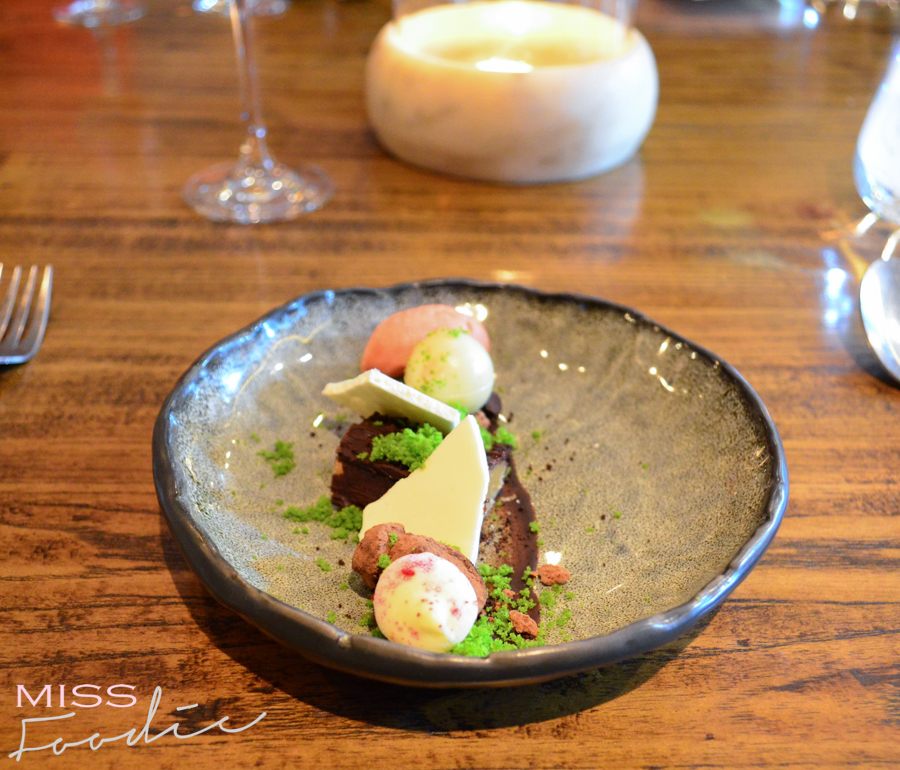 Sipping on our final drop the 2007 Chateau Filhot, Sauternes, we sat back and relished about our favourite moments of the night; our rollercoaster ride of food and fine wine.
Minh Le you should be so very proud of yourself, you've come along way. What I experienced was nothing short of impeccable brilliance; you are an artist in your own right.
The Foraging Quail offers Herbivore or Omnivore degustation's which are available in either six or nine courses; and that my friends are the menu options. This will not entertain everyone; but pleasing the entire market isn't necessarily a good thing, you have to take risks to be different. The degustation-only approach is an expression of a chef's creativity, and for someone like me who appreciates that, I think the dining experience at The Foraging Quail is special one.
Congratulations The Foraging Quail and a great big HAPPY BIRTHDAY cheers to you!