Last Friday I was fortunate enough to attend t-licious and May King Tsang's Friday Tea Club at Brisbane's Southbank.
Third in the Friday Tea Club series, Herbal Infusions/Tisanes if you please, was a great learning experience for me. I learnt the difference between 'tea' and 'herbal infusions' and also discovered some truths behind the myths of caffeine. We were very lucky to have special guest, Anke Bialas from Herbology there too, which was both informative and fun.
As I entered the quaint t-licious store, the smells hit me instantly; I certainly knew I was in the right place. Michael, owner of t-licous, introduced himself without delay; I then saw recent twitter friend and internationally recognised tea expert, May King.
Once all the guests had arrived we positioned ourselves around t-licious's large timber table. Surrounded by beautiful tea pots, tea, and freshly brewed herbal infusions, I was certainly in my element, I really do love all things tea, (and food of course too).
Friday Tea Club at t-licious
May King kicked off our tea party with an insightful lesson about the differences between herbal tea and herbal infusions. Did you know that though herbal tea looks like tea and is brewed like tea, it's not actually a tea at all? You see herbal teas don't come from the Camellia Sinensis bush (the plant in which all teas are made). Herbal teas are actually infusions, and are properly called tisanes. As most of you will know, herbal infusions contain no caffeine, which is why so many people are turning to herbals for greater well-being. Herbal infusions can be made up by a myriad of herbal ingredients or sometimes-just one or two, either way they're most, if not all, are intended to treat or cure or evoke a special mood.
Anke Bialas left and May King Tsang right
 t-licous store
t-licous store
Herbal Infusions keeping warm in t-licious tea pots
It was time to start sipping, thank goodness too, the delicious smells were tea-sing me. The first herbal infusion cup we enjoyed was the gorgeous and vibrantly coloured Ginger & Hibiscus Kiss.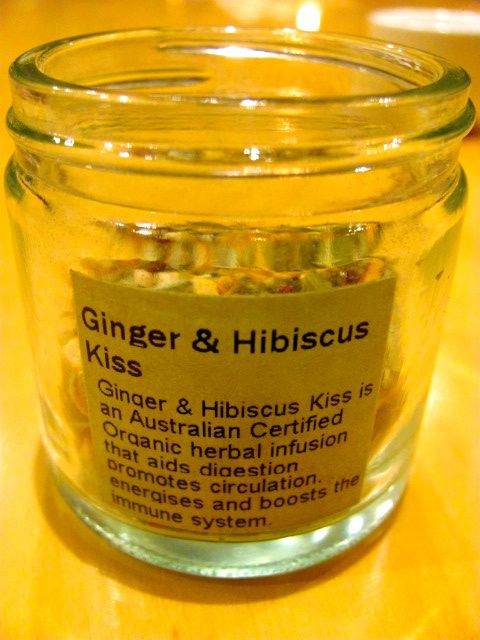 The beautiful hibiscus red colour and aroma was visually stunning. Herbal benefits from this blend were:  Ginger-excellent for improving digestion, nausea, lung congestion and arthritis. Hibiscus-rich in vitamin C, which assists your immune system.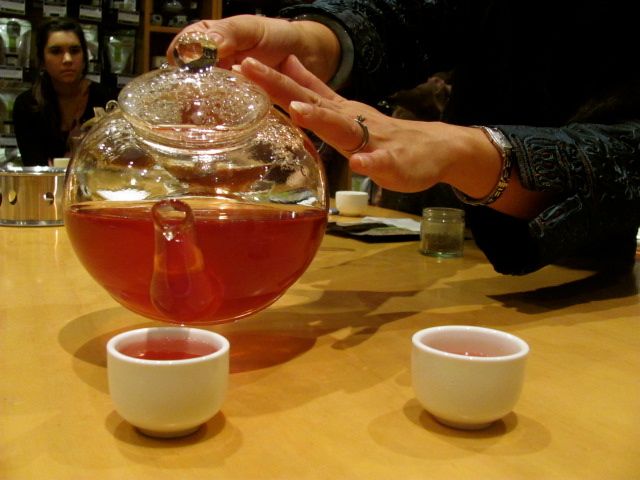 Our second herbal infusion was the delightful Calming Tea. This Australian certified organic herbal blend has the gift of relieving nervous tension. Calming Tea consisted of my favourtie nighttime hot beverage, chamomile. Chamomile is definitely a taste you either love, or hate; I'm a lover for sure. Lemon balm, peppermint and rosemary were in the mix too, it certainly was an enjoyable infusion to sip on.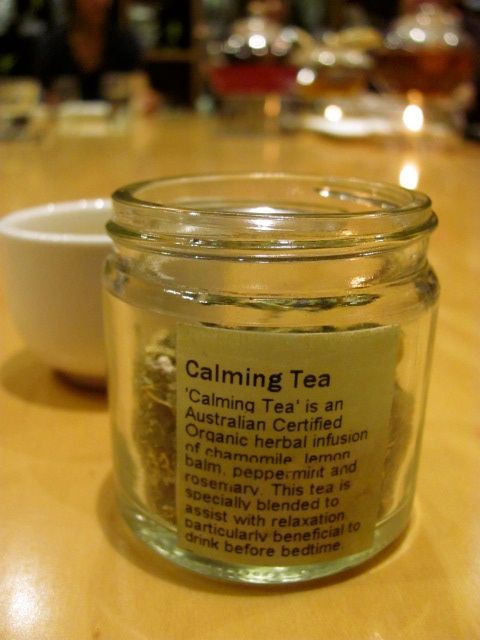 Organic Lemon Myrtle was our final tasting and mmm mmm what a treat, they certainly left a tasty one to finish off the evening. This pleasant herbal assists digestion, upset tummies and bowels and can even aid weight loss. It also relieves arthritis, headaches and sports injuries – wow what a miracle herb and it tastes tea-licious too!  Sipping on my Lemon Myrtle, I literally felt the benefits instantaneously! I felt a feeling of freshness and cleanliness, perhaps it was mind over matter, I don't care it felt great!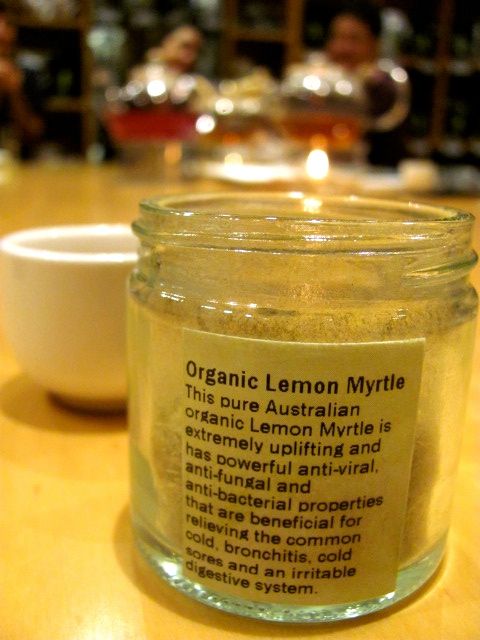 That wrapped up our tastings, which opened the remainder of the evening with question time. It was great to see so many around the table involved. Everyone had something equally interesting to bring to the table. I found out about Moon Tea and Sun Tea. Popular in America these teas are exactly as they sound. Sun tea is left out in the sun to brew and Moon tea is left to brew under the light of the full moon. I'm not too sure I'll be doing this a hurry, each to their own I suppose.
UK's very first Specialty Tea Institute graduate, May King brought to the table a few interesting facts about tea caffeine. Society has drilled into us that caffeine is a no no and we must steer away from it, but that's not actually the case with tea; May King describes it as a yin yang effect. Though there is caffeine in tea, it also contains an amino acid called L-theanine. This amino acid has a calming effect, and though the caffeine stimulates the mind, the L-theanine helps to keep your body calm and relaxed – Buddhist Monks have been sipping down green tea for centuries because of these exact benefits, it's how they stay awake when meditating for hours on end. Pretty interesting stuff hey!
Venturing to a Friday Tea Club is something I haven't done before, I confess, I'm usually sipping on a glass of vino by 6pm Friday nights, however it was a really nice change. May King did touch on tea cocktails; I'll be up for that one for sure! So will a lot of others I'm guessing. Seriously though,  I had a lovely night. I met some great people, I learnt not only what herbals are best used for, but also how to correctly brew them.
Thanks May King and Anke for your time, and thank you Michael for letting us take over your gorgeous t-licious shop, your place is wonderful and I'll be popping in again soon for sure.
Hope tea see you all soon. Tea you later 😉