If you've ever renovated a house before you will understand how one feels giving their beloved weekends up to sanding and painting *sigh*. The weather was magnificent at the weekend and although my Saturday was taken from me, I wasn't about to let painting take away my Sunday too!
Deciding on a bush walk, I thought I'd have a bit of fun transforming the traditional lunch box into a gourmet lunch box on the go.
I envisioned a gourmet baguette filled with luscious roasted vegetables, homemade chips and fruit kebabs with yoghurt.
My first step was organising a custom spelt baguette from my local bakery. What's spelt I hear you say? Spelt, although it contains gluten and isn't suitable for people with celiac disease, nonetheless can be tolerated by people with wheat allergies and intolerance's. I don't have celiac disease, but I do notice the effects when I eat normal wheat breads. Rarely finding a gluten free bread that doesn't taste like cardboard, I opt for spelt varieties where possible. Spelt tastes great and is similar in colour and consistency to light rye; it's perfect for toasting too!
Time for the filling, num num! I roasted sweet potato, butternut pumpkin, eggplant, zucchini, capsicum and garlic. I love roasting vegetables, it enhances their sweet flavours and brings the taste sensation to the next level. I purchased bocconcini, rocket and basil pesto from my local deli (normally I would make the basil pesto but I opted for convenience today). Finally I prepared a batch of my Preserved Lemon Aioli, introducing roasted garlic to my mix. All that was left was filling the baguette with all these divine flavours. Layer by layer the colours piled until eventually the baguette was complete, and what a beautiful sight it was.
Next were the fresh fruit kebabs with yoghurt. Fruit kebabs are a perfect alternative to serving fruit salad and dipping them into delicious, creamy yoghurt is just plain ol' fun. I highly, highly recommend purchasing a good quality yoghurt such as Gippsland Yoghurt, you need to spoil yourself with something nice and creamy.
A packet of chips would often be found inside a lunch box so I experimented and made my own. I shallow fried thinly sliced potato in peanut oil for my first batch. These crisped up; however they went a bit soft once I drained them on paper towel. I tried popping them on a wire rack in the oven afterwards but they didn't seem to crisp any further. My second batch worked a lot better. I brushed sunflower oil on thinly sliced potato and popped them on a wire rack in a 180 degree oven – much better! Before you pop them into the oven, sprinkle them with cracked sea salt and rosemary.
Transporting the lunch box items wasn't challenging in the least. I simply wrapped the baguette with baking paper and plastic wrapped it. The chips went into a container lined with paper towel. My fruit kebabs were neatly tucked away with a separate container for the yoghurt.
Prosciutto and Roasted Vegetable Baguette

Ingredients
Baguette, cut into chosen sizes
½ Sweet potato
½ Butternut pumpkin
½ Eggplant
1 Zucchini
1 Capsicum
4-6 garlic cloves
3 tblsp semi dried tomatoes, sliced
3-4 Bocconcini, sliced
Basil pesto
Preserved lemon aioli (recipe follows)
Few slices of Prosciutto, optional
Rocket and baby spinach mix
Salt and pepper, to season
Method
Preheat the oven to 180°C.
Thinly slice sweet potato, butternut pumpkin, eggplant, zucchini and capsicum into 1cm slices.
Sprinkle a generous amount of salt on your sliced eggplant and let it sit for about 15 minutes, blot with paper towel.
Next place vegetable slices and garlic on a baking tray and drizzle with olive oil. Season with freshly cracked salt and pepper. Cook for 30 minutes, or until cooked, then allow to cool.
Spread aioli on one side of your baguettes and pesto on the other. Layer the baguettes with roasted vegetables, bocconcini, semi dried tomatoes and prosciutto, finally topping with baby spinach, rocket and freshly cracked pepper.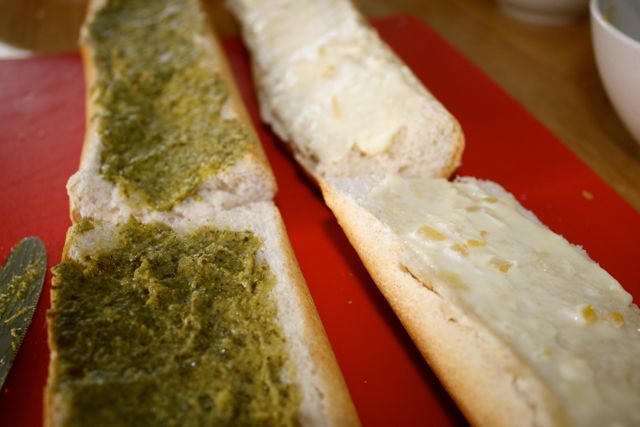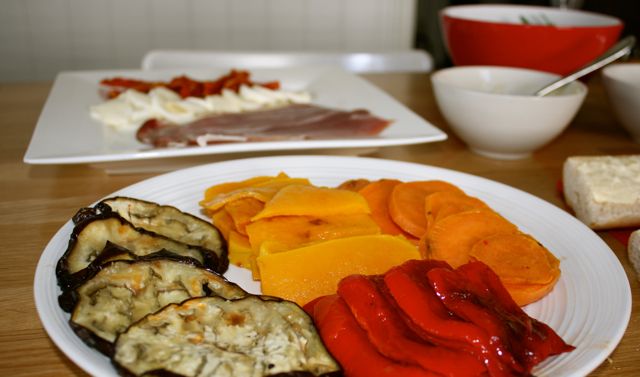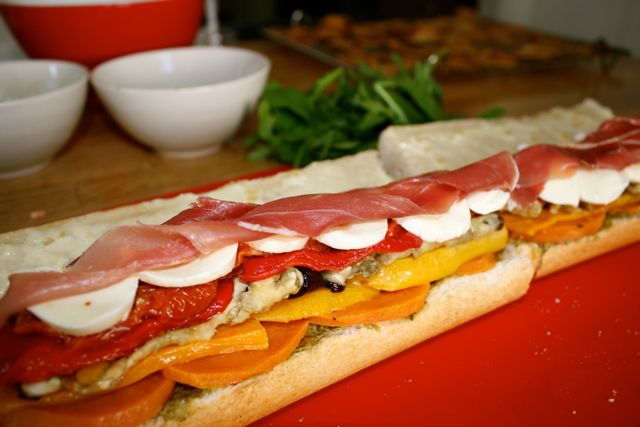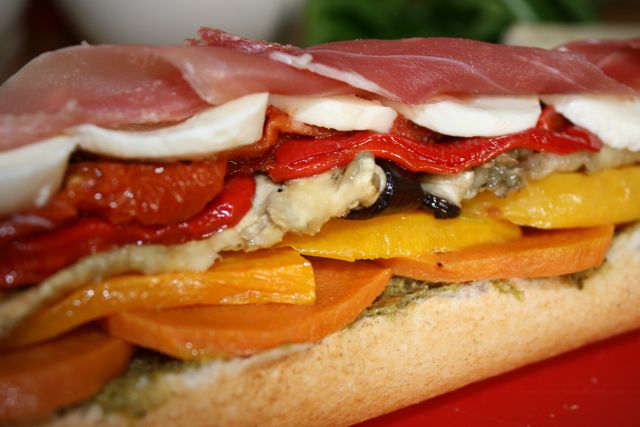 Miss Foodie's Preserved lemon aioli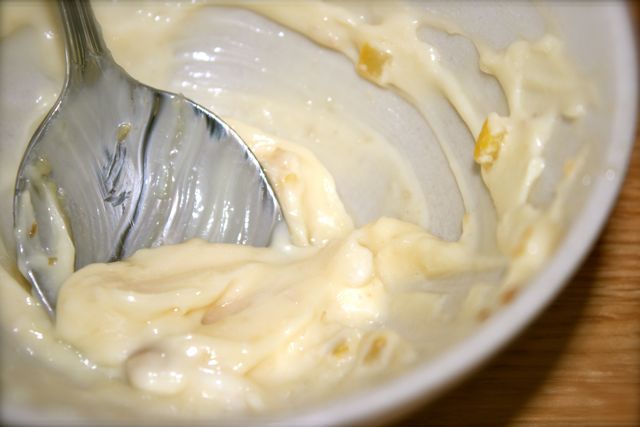 Ingredients
4-5 tblsp good quality whole egg mayonnaise
1/4 Preserved Lemon finely diced – flesh removed and skin rinsed under water
2 roasted garlic cloves, mashed
Method
Mix all ingredients together and transfer to a nice dipping bowl.
Homemade potato chips
Ingredients
1 potato per person
Sunflower oil
Salt and pepper
Fresh rosemary, chopped
Method
Preheat the oven to 180°C.
Thinly slice potato and press between paper towels, this will remove any moisture. Brush potato slices with sunflower oil and lay on a wire rack. Sprinkle with chopped rosemary and freshly cracked salt and pepper. Cook in preheated oven for approximately 20 minutes or until brown.
Remove from oven and allow to cool on wire rack.
Fresh Fruit Kebabs with Yoghurt dipping sauce
Cut up fruit of your choice.
Thread fruit in your preferred order onto bamboo skewers. Squeeze with lemon juice.
Gippsland Yoghurt for dipping
So there you have it – my gourmet lunch box.
What do you think? Keen to give it a go yourself?