Sadly I haven't had the privilege of visiting the beautiful country of Italy; if I had though, I bet my bottom dollar that their restaurants would be just like Paddington's authentic fine dining Italian restaurant Grappino.
Upon entering Grappino the stunning smells from the kitchen hit me instantly! The noisy chit chatter and laughter from the restaurant guests and staff was so inviting, everyone seemed to be having such a marvelous time; I felt that I'd walked into a true Italian home.
And what a true Italian home the Roduner family have made. The Roduner's family opened Grappino in 2004 after moving their family from Switzerland to Tasmania before finally settling in the fast growing town of Brisbane.
Grappino's white washed walls were lined with classic Italian mob film posters, GoodFellas, Untouchables and Sopranos,  charming black and white restaurant pictures were seen also. The tables and chairs were reminiscent of an old school diner and were dressed  very attractively which is always something I look out for.
Anyone would think that I'd sat down by this stage, well not yet. I was politely shown to our table by a lovely Italian woman who I presume is Mrs Roduner's, the owner. We had eight at our table which was a very tight squeeze; a slight downfall is the size of the establishment. All the tables are quite close together, I know some will find this unappealing, me not so much, it felt warm and cozy.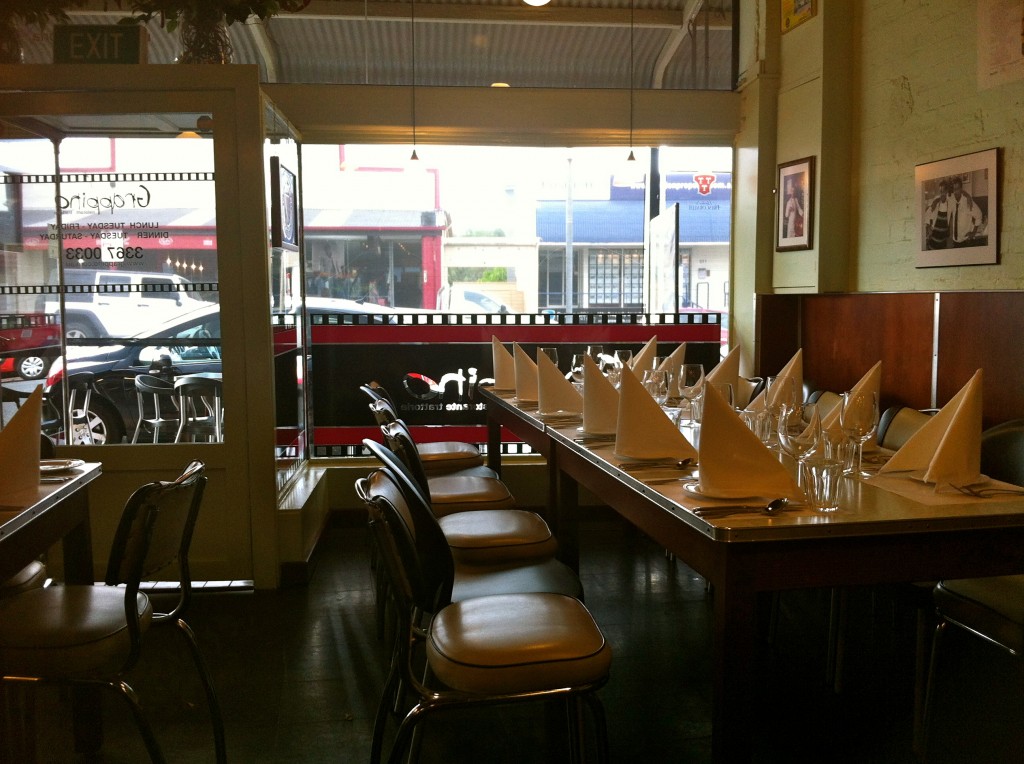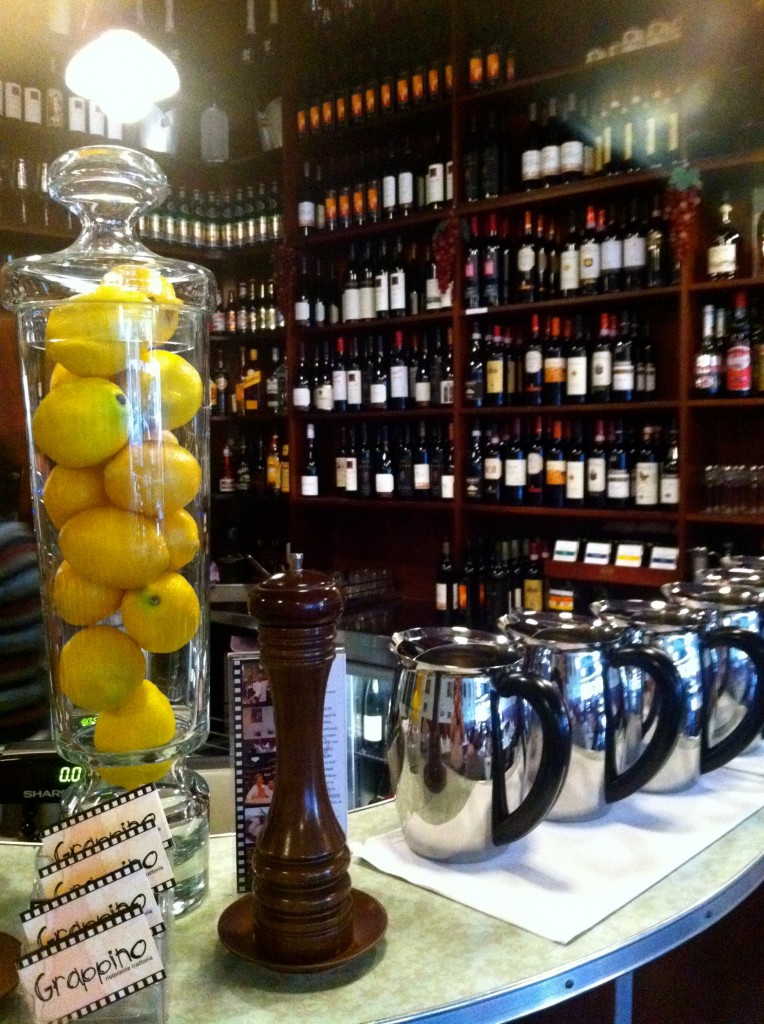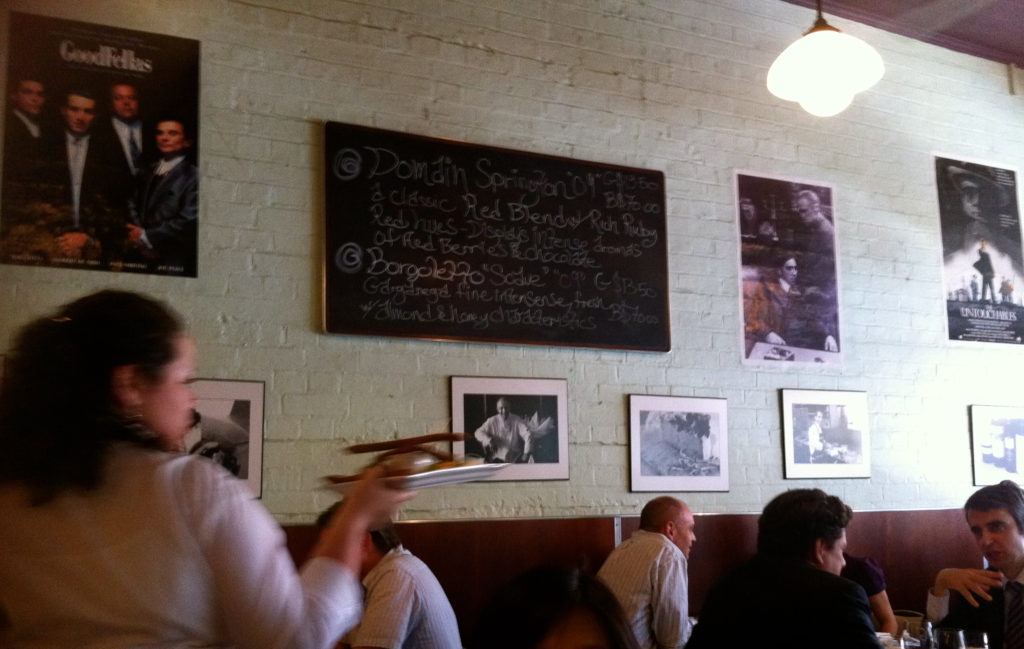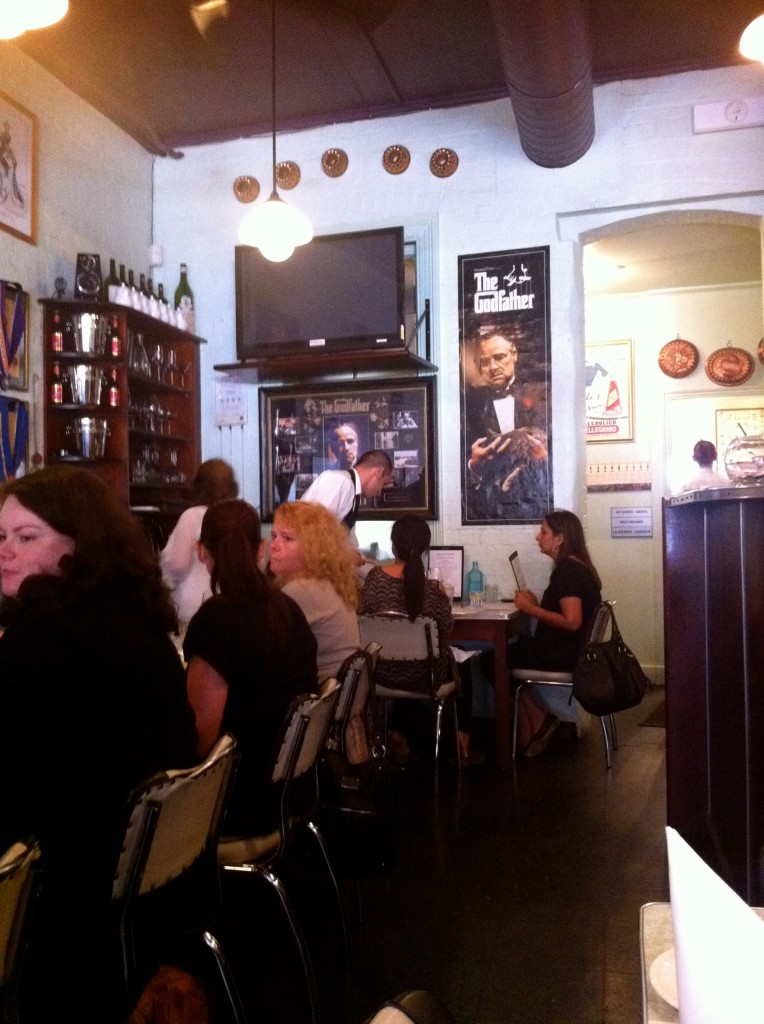 So first things first the wine menu, there was a great selection to choose from. On Grappino's website it explains that oldest son Bernhard hand picks the selection of wines both Australian and Italian so that it best suits the menu. A bottle of Zenato Valpolicella Classico Superiore 2008 was ordered; the wine was Italian and reminiscent of a pinot noir, though a slightly heavier version. It went really well with the veal I ordered, but more on that shortly.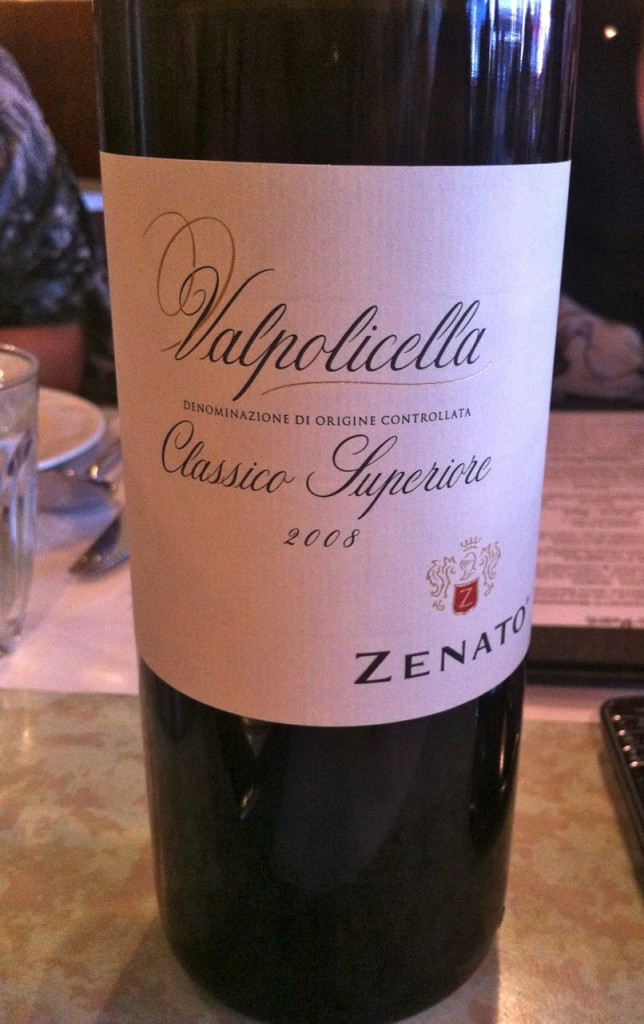 My first taste experience off the menu was something out of this world! It was a zuppa (Italian Cookery: a soup or chowder) blackboard special. Champagne and mushroom with truffle oil and parmigiano.  Oh my golly gosh, this has to be one of the tastiest things I have ever eaten, I'm not joking! The creaminess, the smell, the balance of flavour was all extravagant. I hope it stays on the menu long enough for my friends to try it themselves (and you for that matter).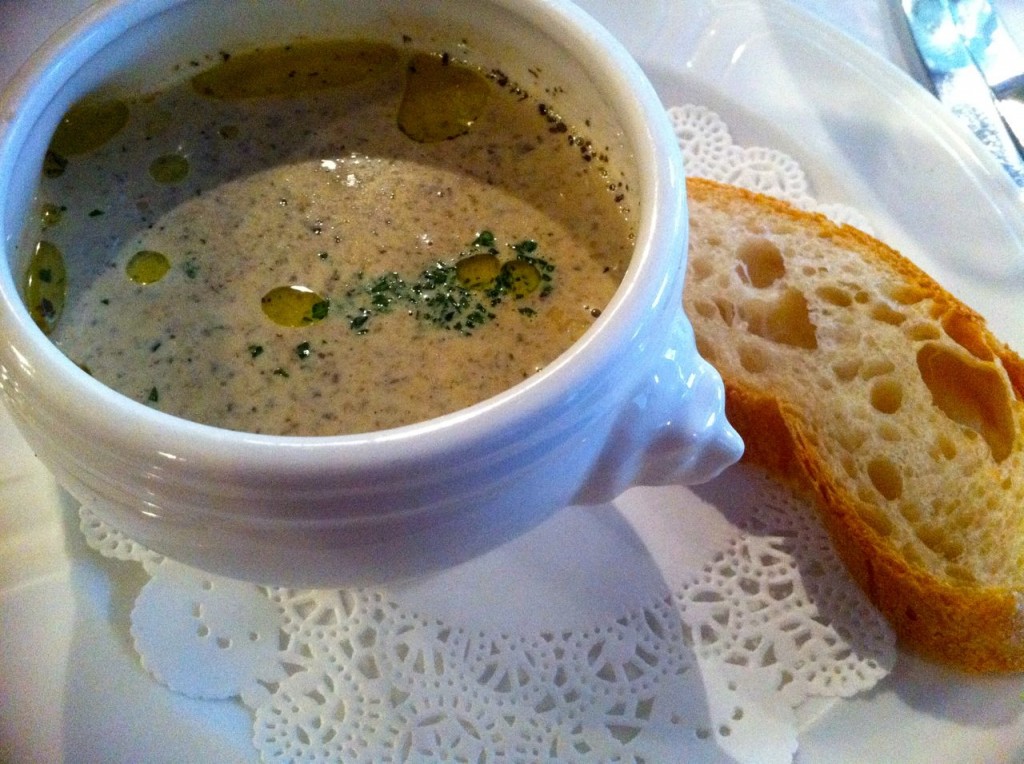 Next on my palate was the Vitello Saltimbocca Veal scallopine prepared with fresh sage and prosciutto then pan-fried to perfection and served in its own jus. Yes it was as lip-smackingly scrumptious as it sounds. It wasn't too creamy, it wasn't too salty, it wasn't too rich, it was just perfect. Veal Scallopine is Grappino's signature dish and is accompanied by your choice of either seasonal vegetables or Grappino's pasta.  There are a few other ways to enjoy the veal scallopine here, Scallopine al Limone Sicilian lemon (white wine sauce with a hint of veal jus) or Scallopine Marsala (Marsala wine and aged Shiraz with fresh ground black pepper) or Scallopine Funghi (seasonal mushrooms cooked with white wine and cream).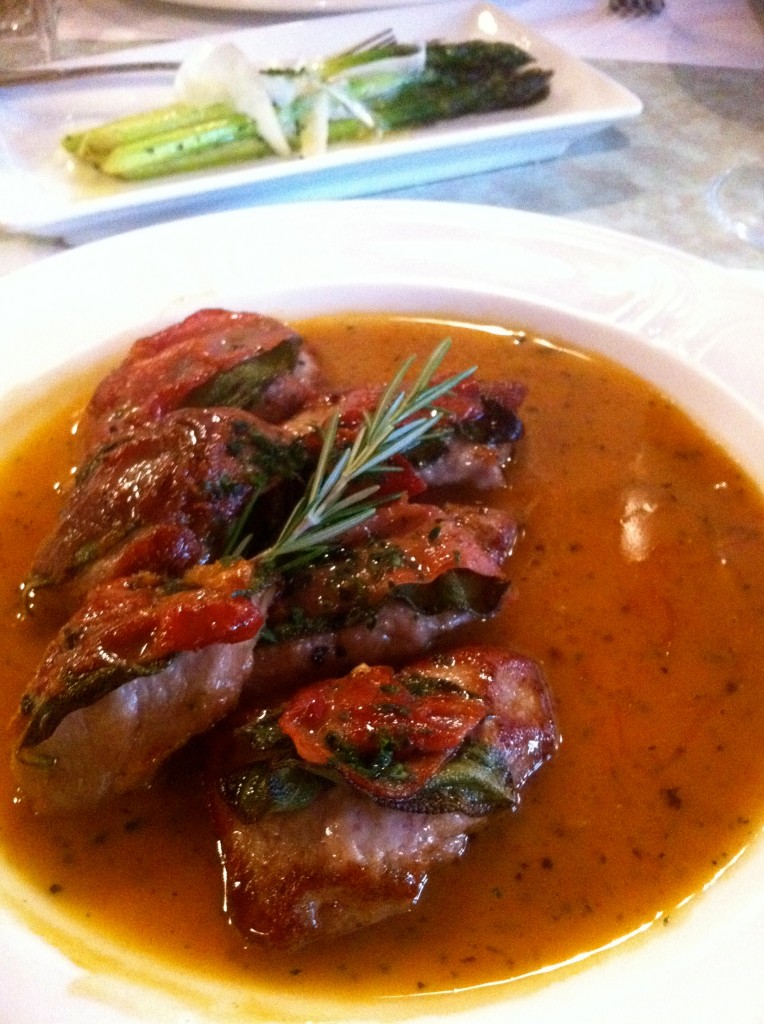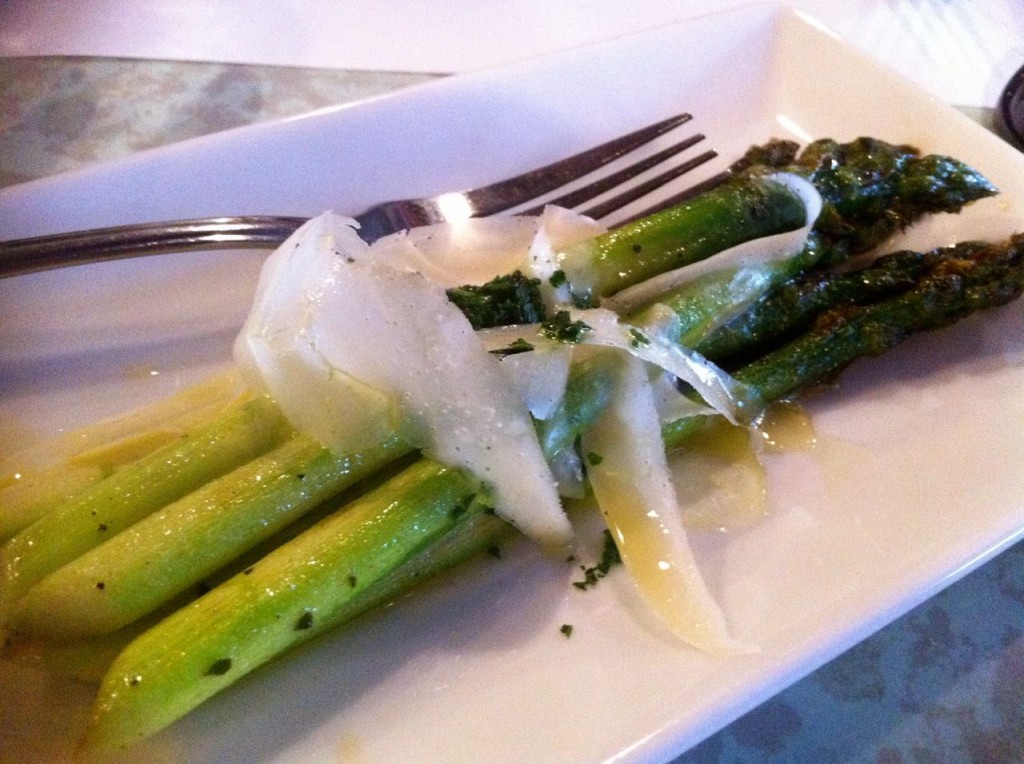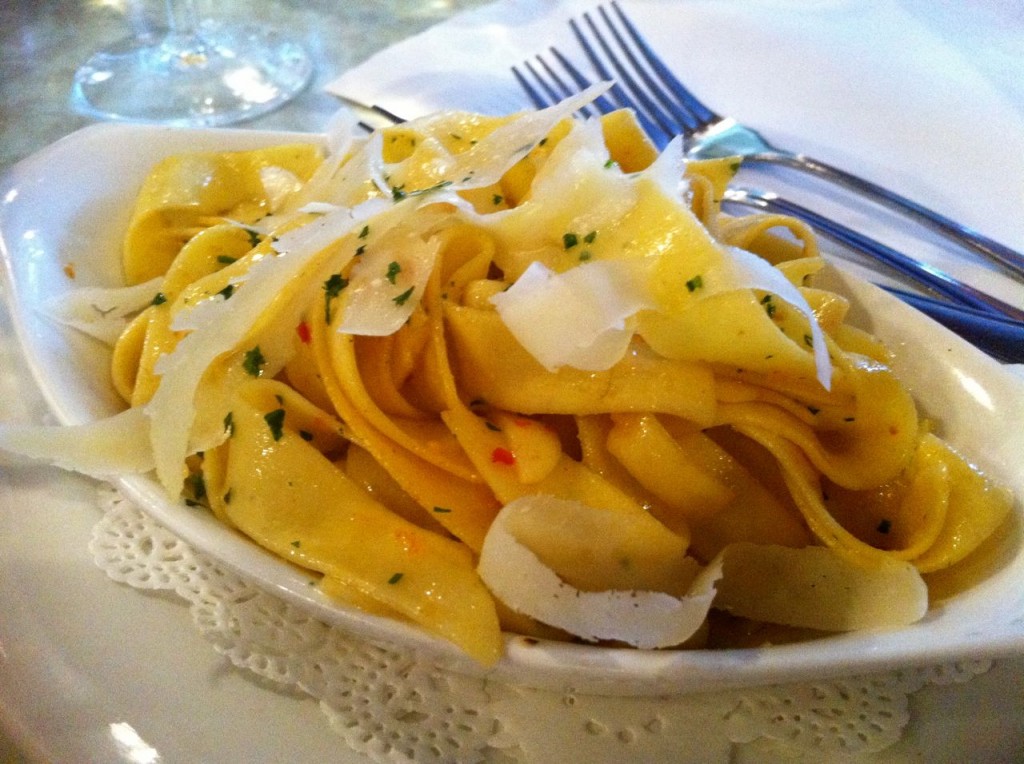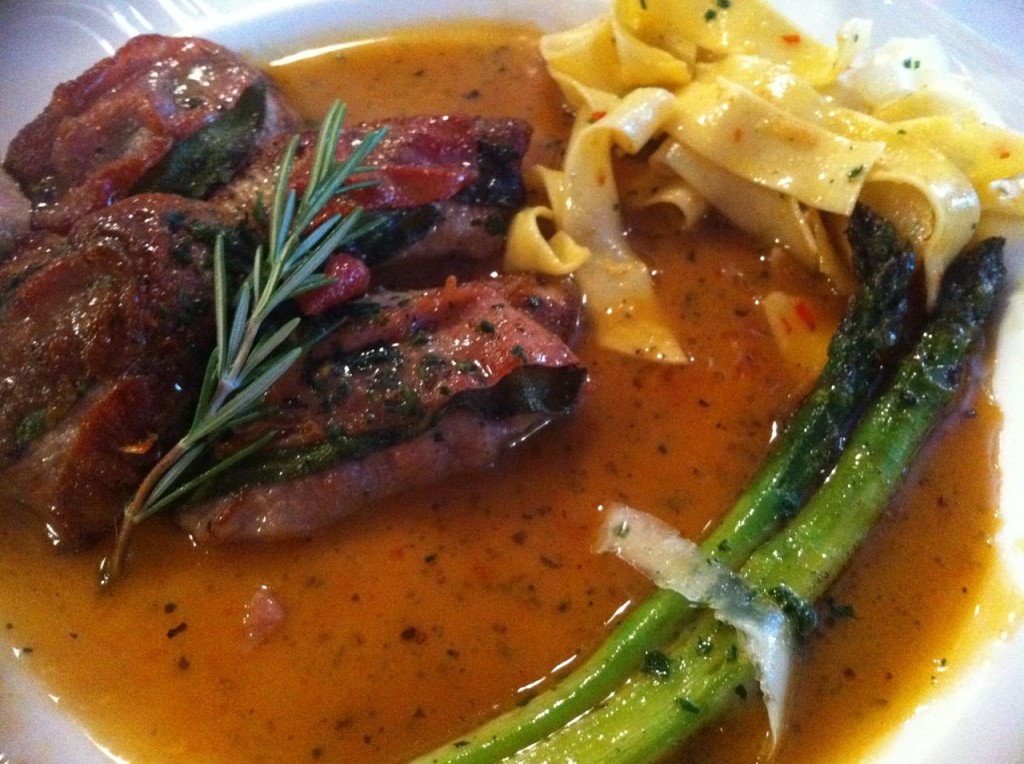 Friends at my table feasted on the Antipasti (minimum for two) which is Chef Alfredo's daily creation including prime seasonal shellfish Mediterraneanand Italian larder delicatessen. This by far has been the most spectacular Antipasto I have ever seen. Apologies I can't recall the exact names of the dishes but they include Scallops in a rich flavorsome tomato broth, Smoked salmon tart, 4 Cheese slice, meatballs and more. What I tasted off the plate was so full of flavour, something that is certainly not lacking at Grappino.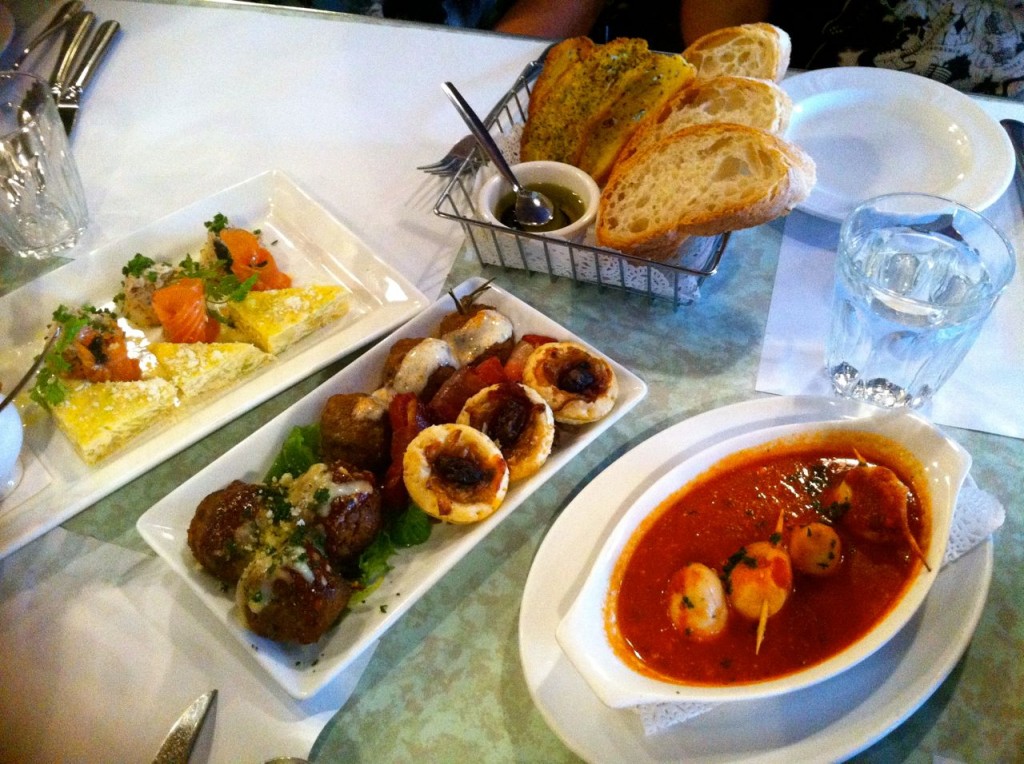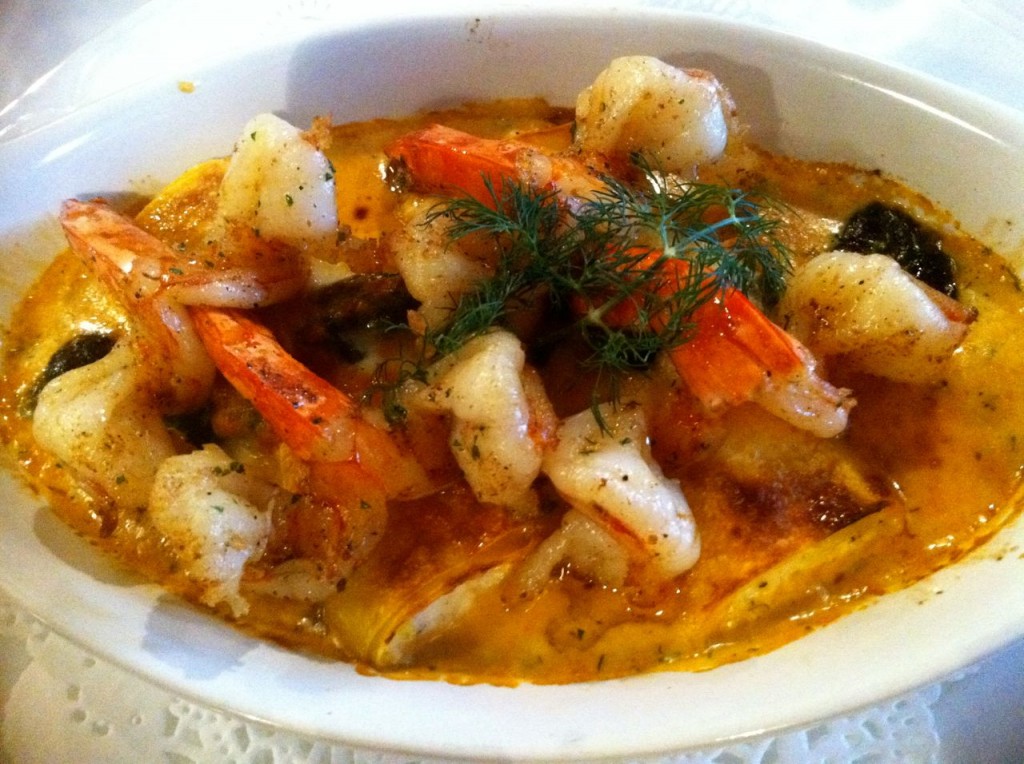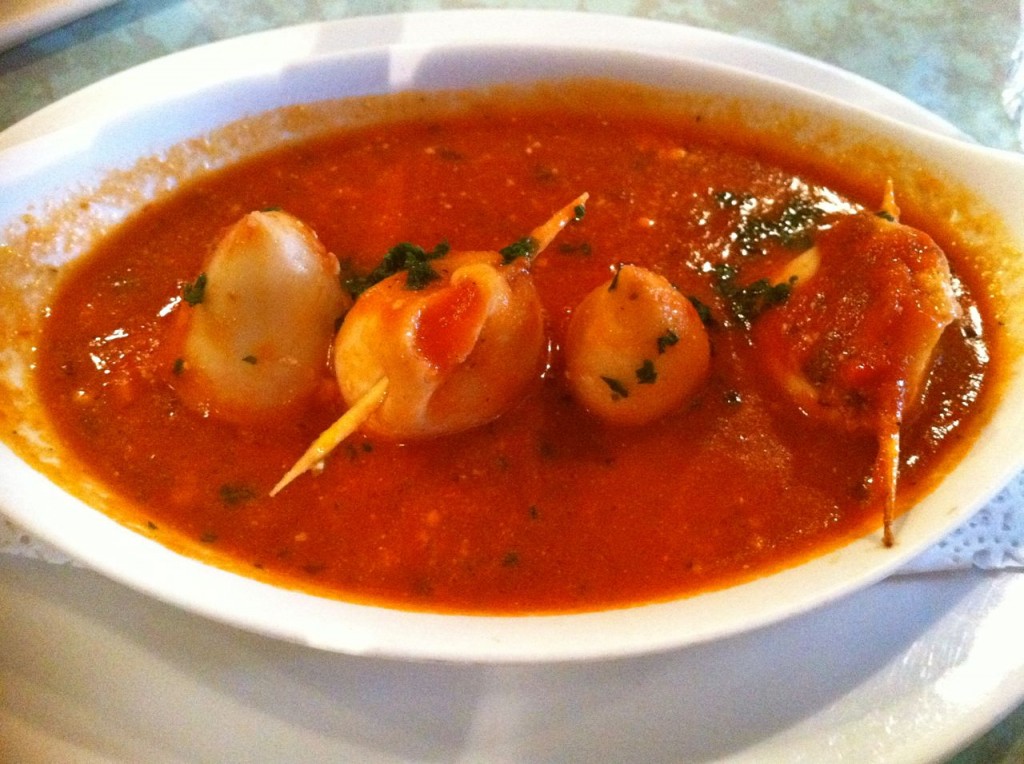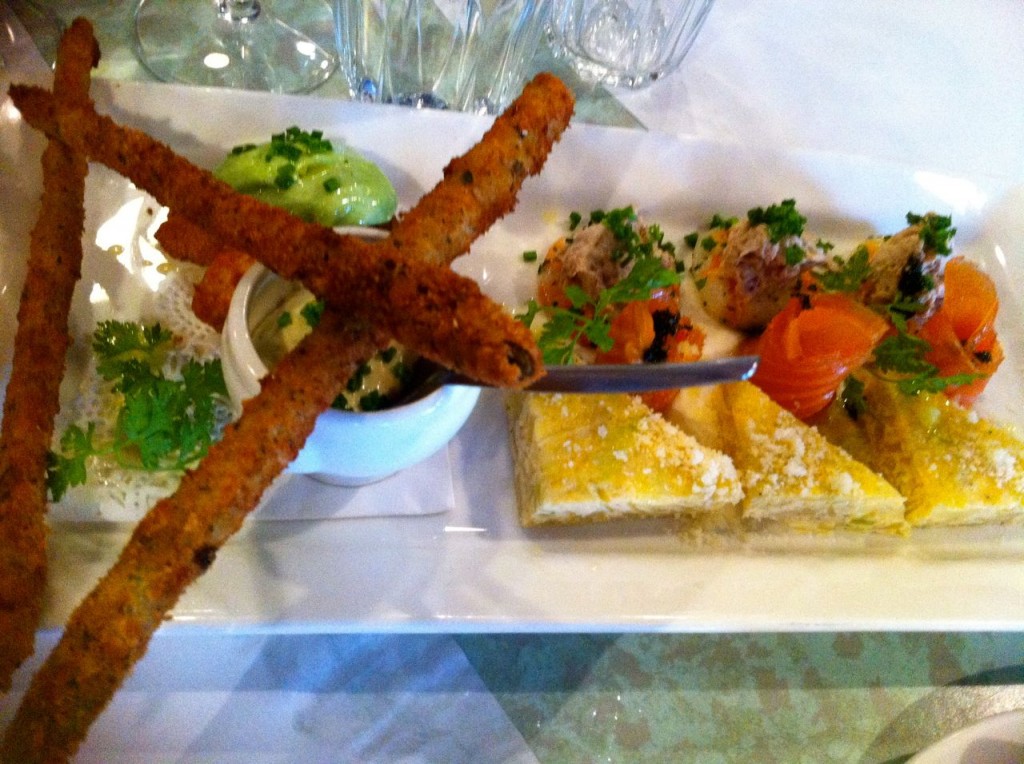 Other friends enjoyed dishes off the blackboard special, pan roasted king snapper with creamy mash and crumbed scallops and the grain-fed eye fillet. Being so full I didn't steal a taste of these two dishes as I was struggling to finish my own meal, but as you can see they certainly look appetizing and had rave reviews.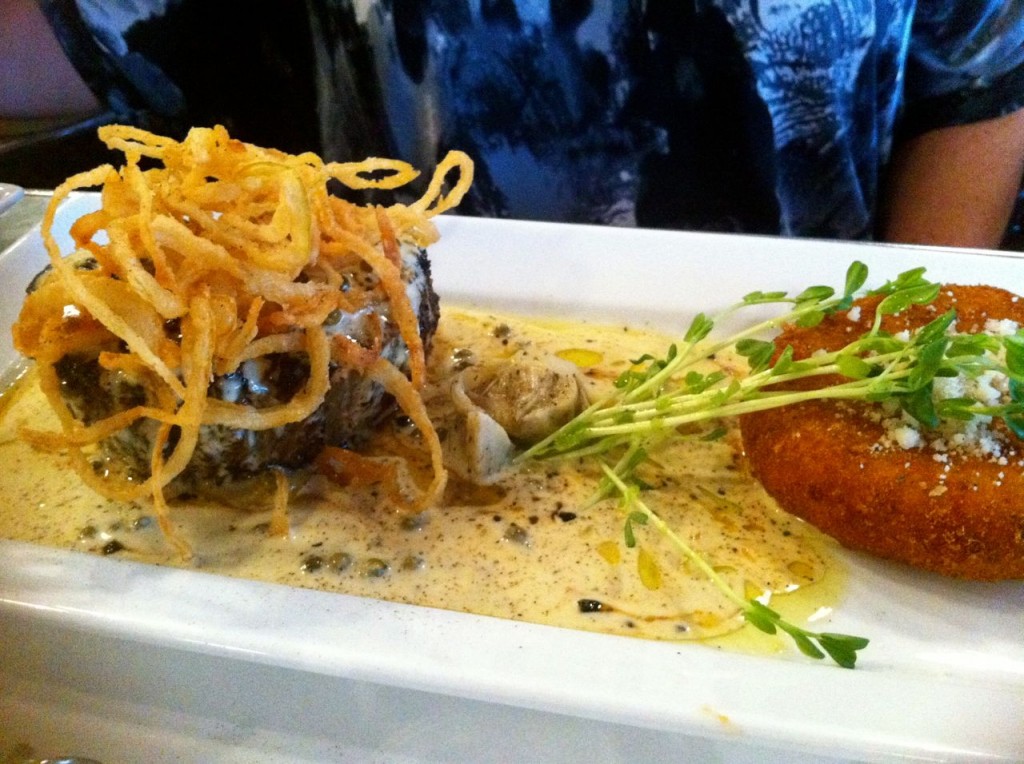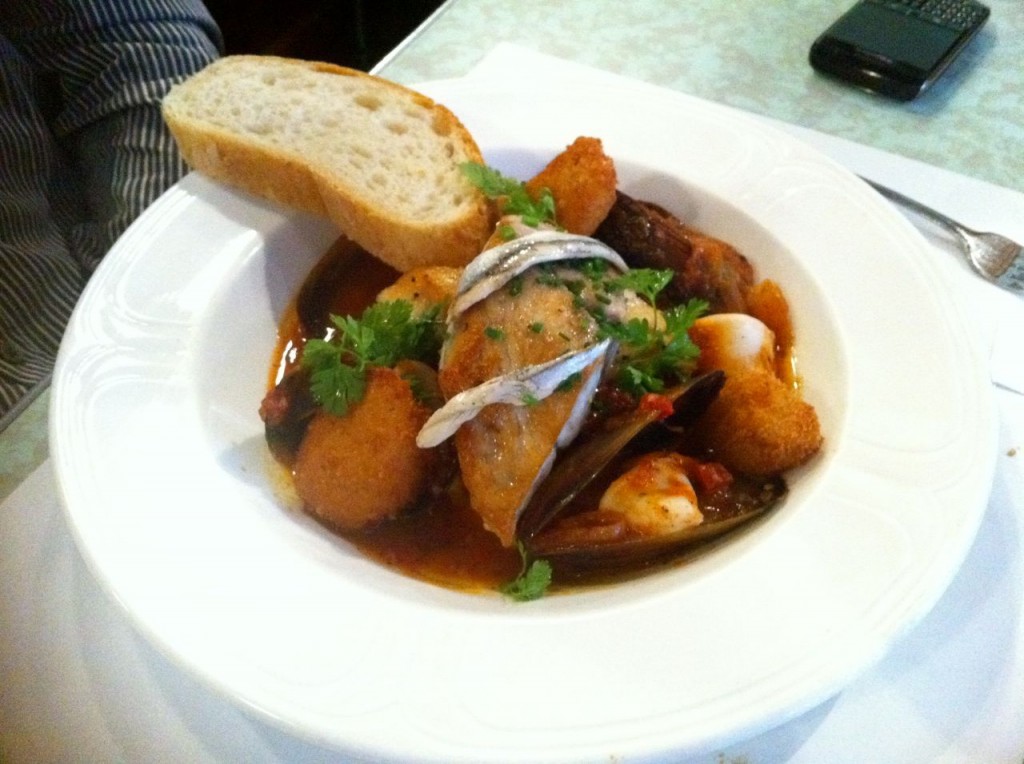 As full as I was I still ordered dessert, otherwise how else could I tell you about it. I was fortunate enough to pick the Vanilla Bean "Panna Cotta" served with seasonal fruit. I've enjoyed a few Panna Cotta's in my time and nothing compared to this! I have to say this was probably the yummiest dessert I have ever eaten. It was creamier than cream itself. The peaches were so sweet, nestled harmoniously in a puddle of more sweetness; this dessert ticked every box for me.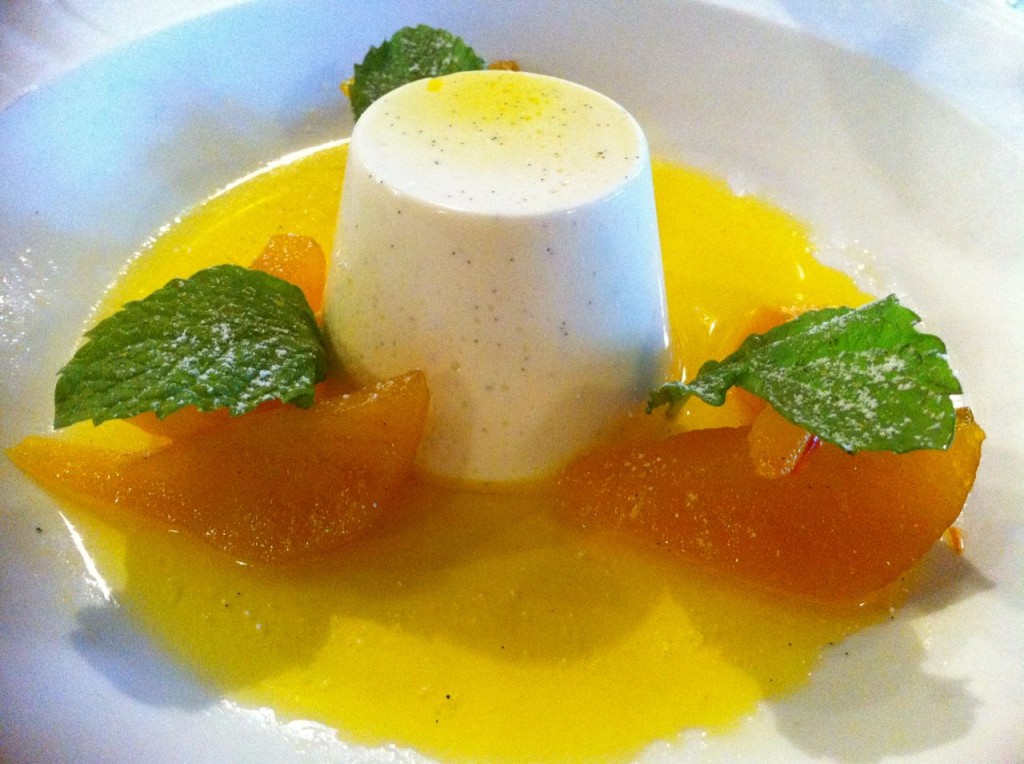 The Tiramisu was apparently very nice also.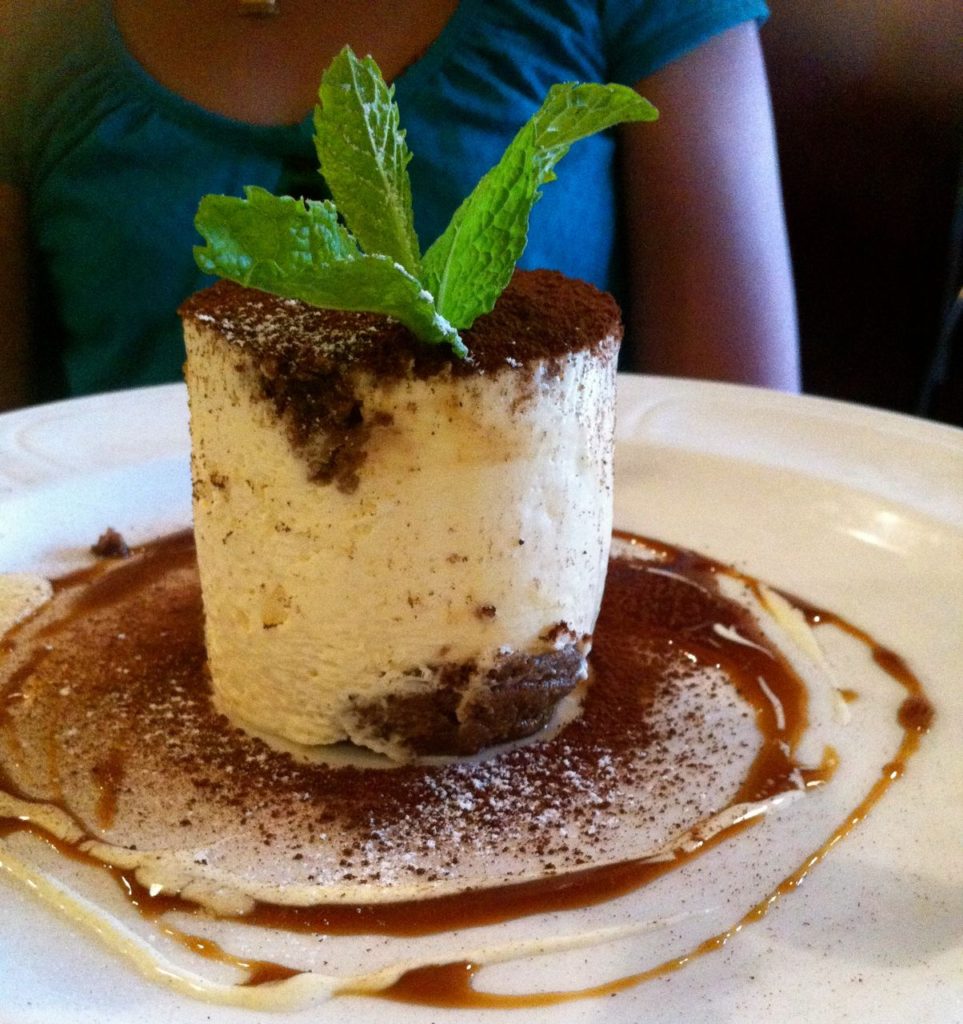 I have one word for Paddington's Italian Restaurant Grappino – Taste Sensation (well two words then). The flavours I experienced here were outstanding. Everyone at my table oohed and aahed on every mouthful. The staff were extremely helpful and wonderfully friendly. If you don't like small, noisy restaurants this may not be your place, but I assure you the food will come up trumps. Grappino's is a great place for friends and family to get together and enjoy authentic Italian food.  Be sure to get there soon to enjoy the current blackboard specials. I'll probably see you there! Ciao.