Cooking homemade pizza I would normally use wholemeal pita bread for the bases. This week however my Italian shone through and I had a go at making my pizza bases from scratch.
Having been to the James Street Food and Lifestyle Trail in Brisbane last week, I learnt of Pangkarra Foods premium stone milled wholegrain durum flour. The stone milled process allows the whole grain to retain all three components of the grain: the wheat germ, the endosperm and the bran. This means the essential vitamins and minerals have not been separated and removed in the milling process. Because of this high quality flour my pizza bases were not only good for me but the flavour had a beautiful nutty, grainy taste.
I admit it's a little messier making your own bases but the rewards of flavour and crunch certainly outweighed.
A favourite pizza of mine is ham, artichoke and mozzarella topped with lemon dressed rocket and Parmesan. I adore the salty sweetness of the artichoke and ham and the lemony dressed rocket which tops the pizza after it's cooked simply gets me excited to eat.
Another favourite of mine is the good old Italian classic Margherita Pizza. Mozzarella, tomato, garlic and fresh basil – does a pizza really need anymore than that? Westerners really overload their pizzas; don't get me wrong, I also love loading my pizza up with every Italian ingredient known to man. However these simple toppers are perfect for when you really want to enjoy the flavour of quality ingredients and premium wholegrain durum flour pizza bases.
Ham, Artichoke Pizza topped w/ Rocket and Parmesan Salad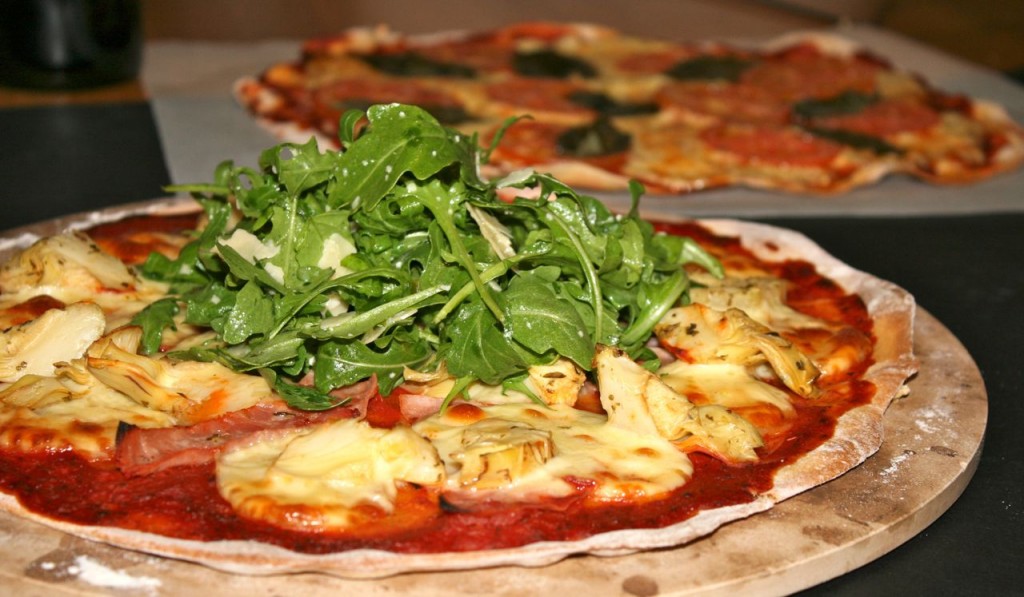 Ingredients
(makes 4 bases)
Pizza Base
500g wholegrain Durum flour
2 tsp yeast powder
2 cups warm water
1 tbsp butter
Pizza sauce
250g good quality pasta sauce or canned tomatoes
3 cloves garlic, crushed
1 tsp dried oregano
5 large basil leaves
Pepper and salt
Topping
Jar of good quality marinated artichokes, quartered
100g ham off the bone
200g organic style fresh mozzarella, sliced into rounds
100g baby rocket leaves
Squeeze of lemon
Extra virgin olive oil
Parmesan shavings
Method
Sift 500g of wholegrain durum flour into a bowl. Stir in 2 tsp yeast powder.
Pour 2 cups of warm water into bowl and stir. Add 1 tsp each of salt and butter and mix all together.
Knead dough until elastic. Set aside in a warm draught-free place for 20 minutes.
Meanwhile to make the pizza sauce, place garlic, dried oregano, basil leaves, salt and pepper in a mortar and pestle, pound to a paste. Transfer to a bowl then add your pasta sauce or canned tomatoes.
Roll your dough to 3-4 pizza bases.
Spread your pizza sauce evenly over your pizza bases and top with mozzarella slices, ham and artichokes.
Bake in preheated oven with toppings for 10 minutes or until golden and crisp.
Dress rocket in a bowl with a good squeeze of lemon and a drizzle of olive oil, toss together adding Parmesan towards the end.
Top salad in the centre of the pizza and serve immediately.