I think I'm turning Japanese I think I'm turning Japanese I really think so. Sorry couldn't resist.
Japanese food to me conjures up images of magnificent presentation, freshness, finesse – sashimi, rice, miso soup, sushi, green tea, gyoza, udon soups, and a recent discovery of mine, Agedashi tofu. The effort and skill that goes into creating fine quality Japanese food impresses me greatly. Customs and methods passed down from generation to generation a true wonder to me, and a respected one at that.
Good quality Japanese restaurants are a beautiful thing, today I'm going to enlighten you on a couple of restaurants I've ventured to around the Hamilton area.
SONO – PORTSIDE
Sono Japanese Restaurant in Portside opened in 2007 as the sister-restaurant to Sono Restaurant in Brisbane's Queen Street Mall. Situated on the top floor of the Portside Hamilton Complex, Sono has attractive views of the Brisbane River. When I first stepped into Sono some 2 years ago I instantly fell in love! The timber, bamboo, water features and furniture painted the perfect Japanese picture. To me Japanese imagery has a feeling of tranquility and elegance; dining at Sono Portside certainly invoked these same feelings.
Sono has beautiful Japanese style seating but they also have normal (to us Aussies anyway) style tables and chairs. There are private rooms on offer which you can book and Teppanyaki tables too. Ensure you book well in advance the if opting for a Teppanyaki tables as they are very popular, especially on weekends.
I've been to Sono half a dozen times for lunch and twice for dinner, one of those being in the private rooms, it was so much fun and so intimate. The staff at Sono are sincerely adorable and sweet in every way! Every time I've dined here I've walked away a very happy girl! Sono Portside is a very special place and calls for a very special evening or lunch.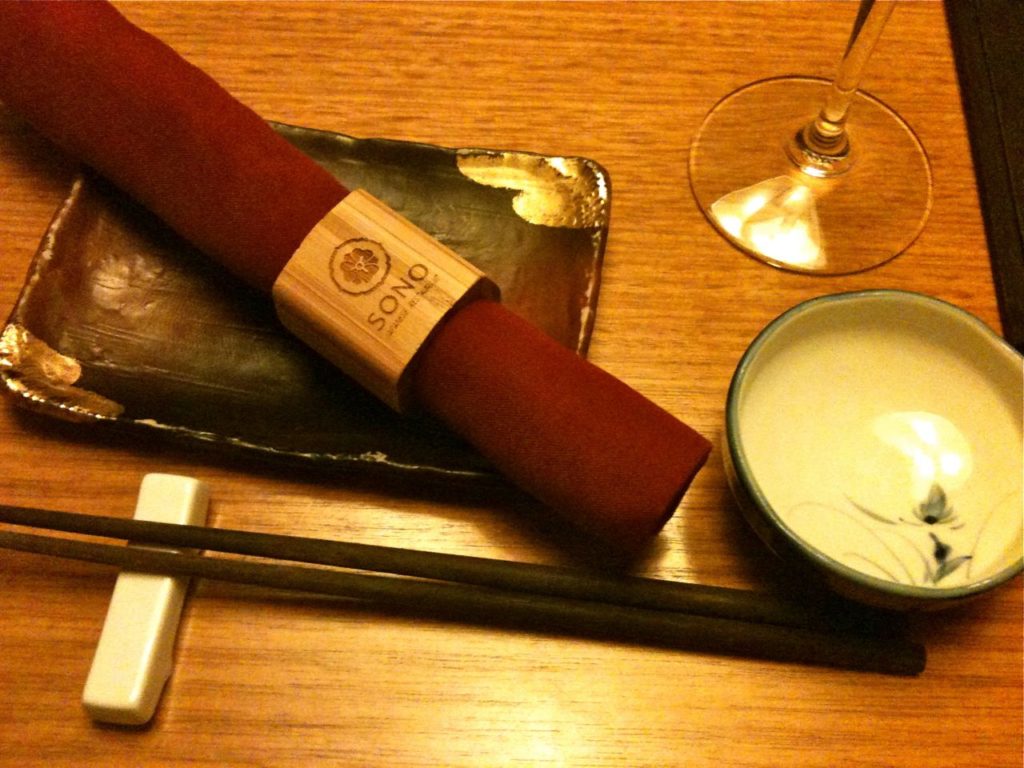 This is my favourite lunch special at Sono – Business Lunch Set. Included in this divine lunch special is a garden salad, miso soup and steamed rice. You then choose either sashimi or prawn avocado sushi (I always go with salmon sashimi). Then the piece de resistance your choice of mini wagyu sukiyaki, chicken teriyaki, pork katsu or assorted tempura. I tried mini wagyu sukiyaki first and haven't wanted to try the others, and I've had this 6 times! The wagyu sukiyaki is honestly to die for and I just can't say no!! Your supposed to put the raw egg in there but I just love it as is.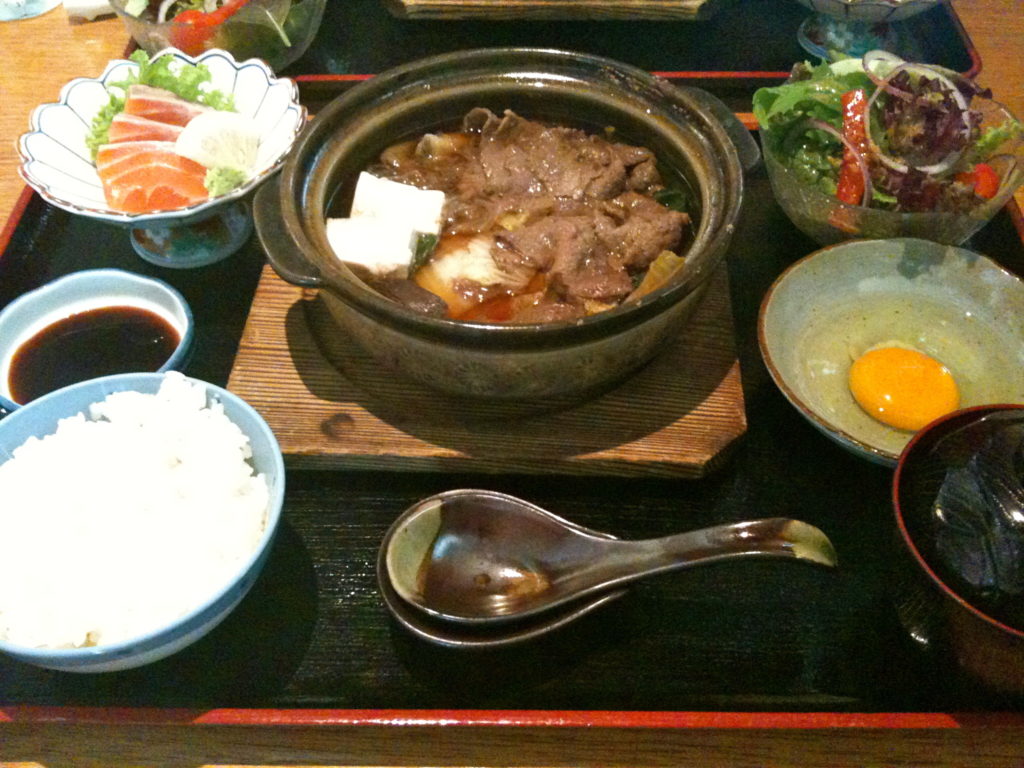 Hosokawa
Staying in the Hamilton precinct you will find the cute little Hosokawa Restaurant on Racecourse Road. This quaint little place certainly impressed me. I tried my first ever Agedashi tofu here and I've never looked back. Situated between a Subway and Galati shop, Hosokawa is 1/10 the size of Sono and though not as picturesque it is comfortable enough. Seating comprises of 6 outdoor tables and 5 indoor. In summer it's a little uncomfortable sitting outside so try and book inside if you can so you can enjoy the air-conditioned comfort. I love Hosokawa's dinner ware and table presentation, so clean and orderly – always apparent in Japanese restaurants, a reflection of their cooking finesse perhaps.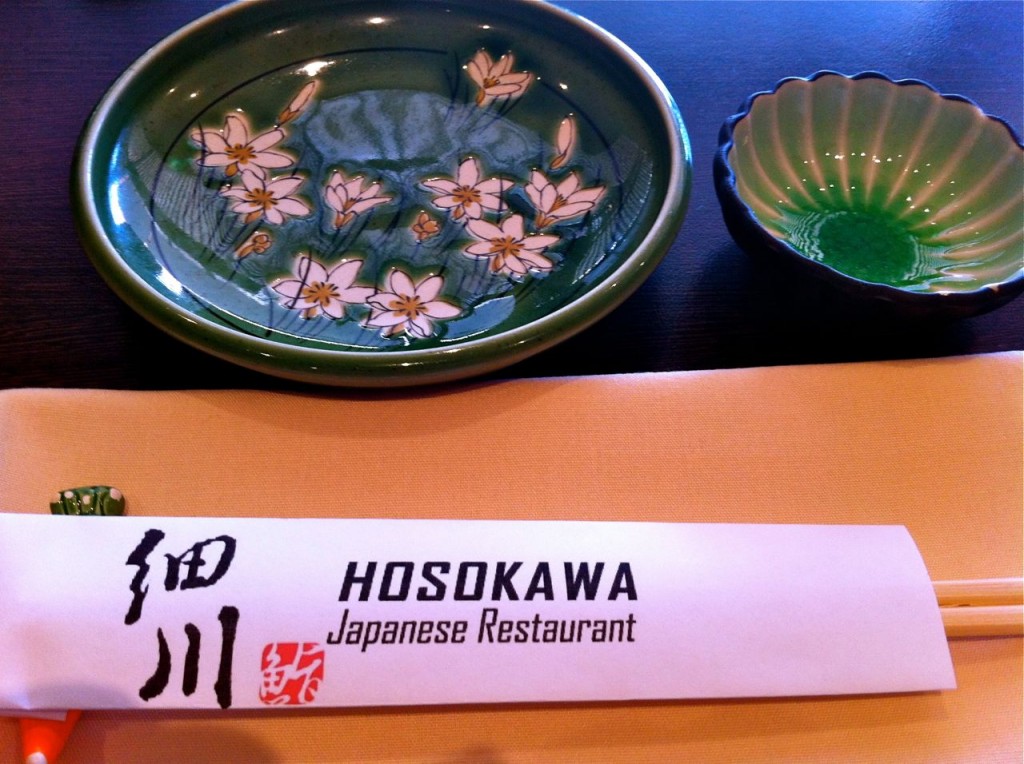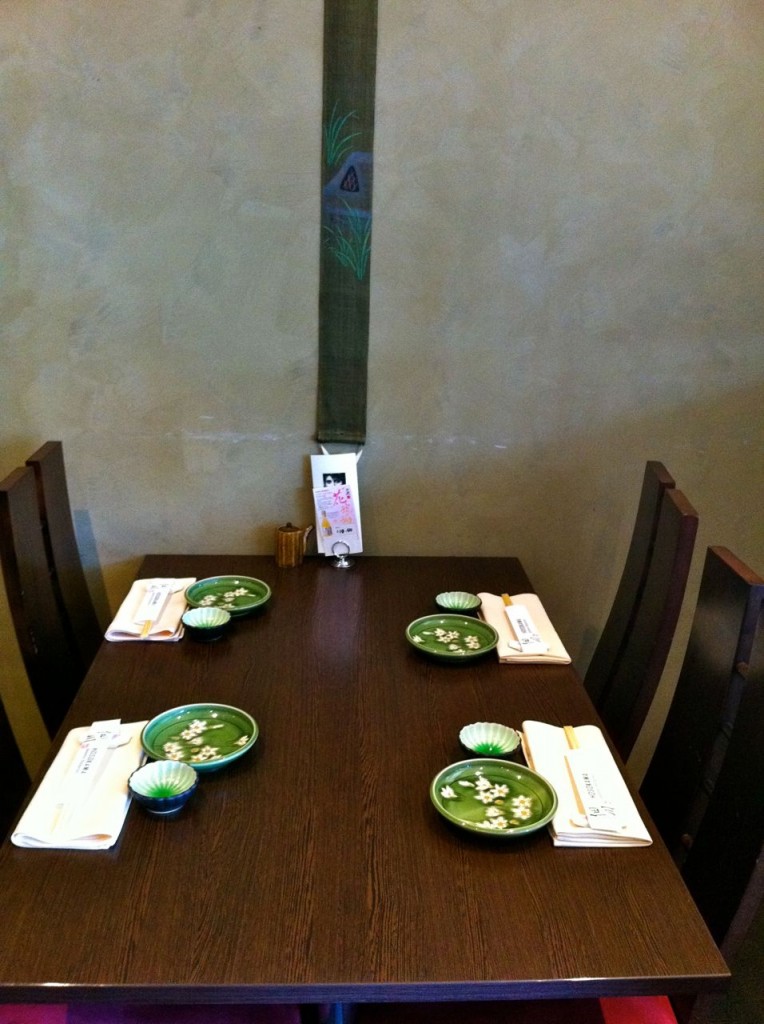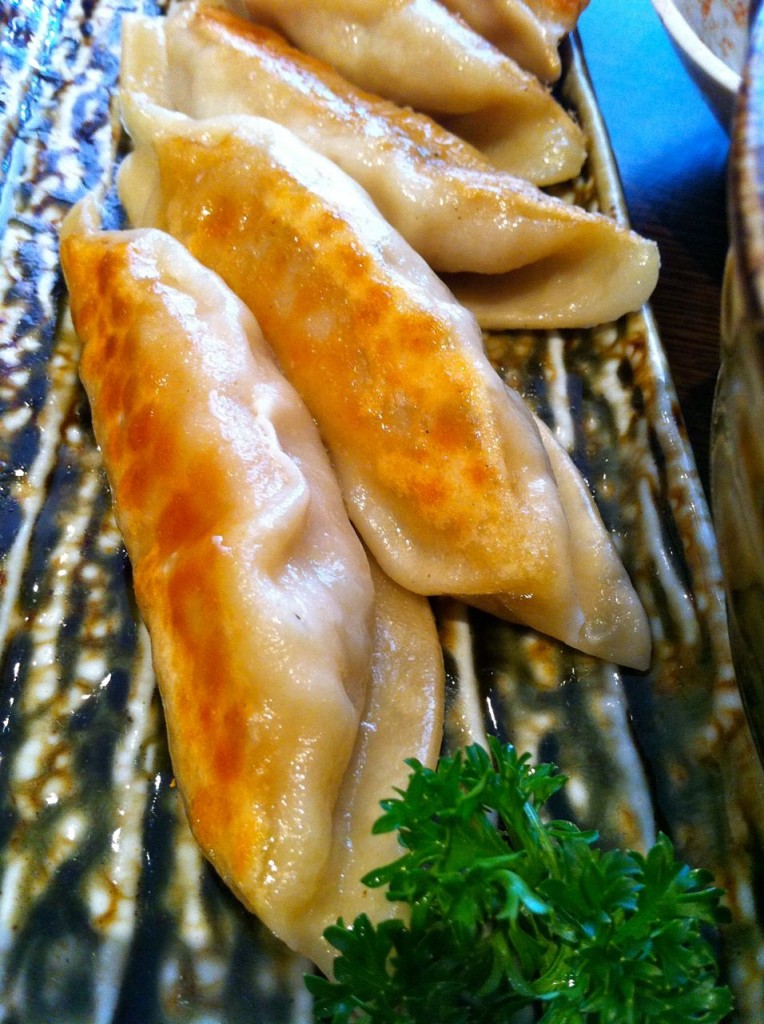 Having always enjoyed Salmon sashimi I thought I would give the Sashimi platter a try, it was a little too adventurous on my part. The raw squid, Makrel and other fishes were a bit too much for me, Miss Foodie envisioned it all swimming in my belly ha ha! The presentation was perfect just too much raw fish for me. Some say this might be because it wasn't fresh enough. The staff at Hosokawa assure me their fish is always fresh.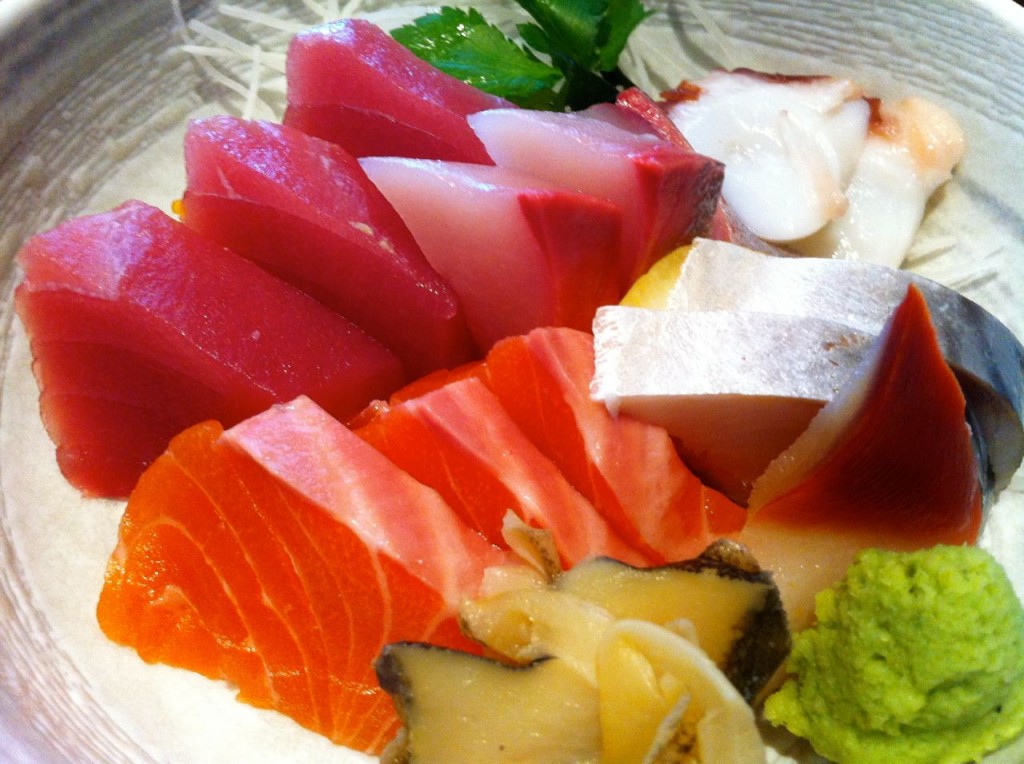 Getting to my new favourite dish – Agedashi Tofu. Me oh my it's so so yummy! Agedashi Tofu is silken tofu dusted in flour or cornflour I believe then deep fried. Its then served in a hot bowl of Tentsuyu which from a google search is three parts dashi (stock) , one part mirin (sweet rice wine with low alcohol content), and one part soy sauce. Sugar and sake can also be used. The mirin mix is said to depend on the seasons. These pungent flavours make smelling and spooning this broth heavenly, united with the silken tofu…. Droooooool!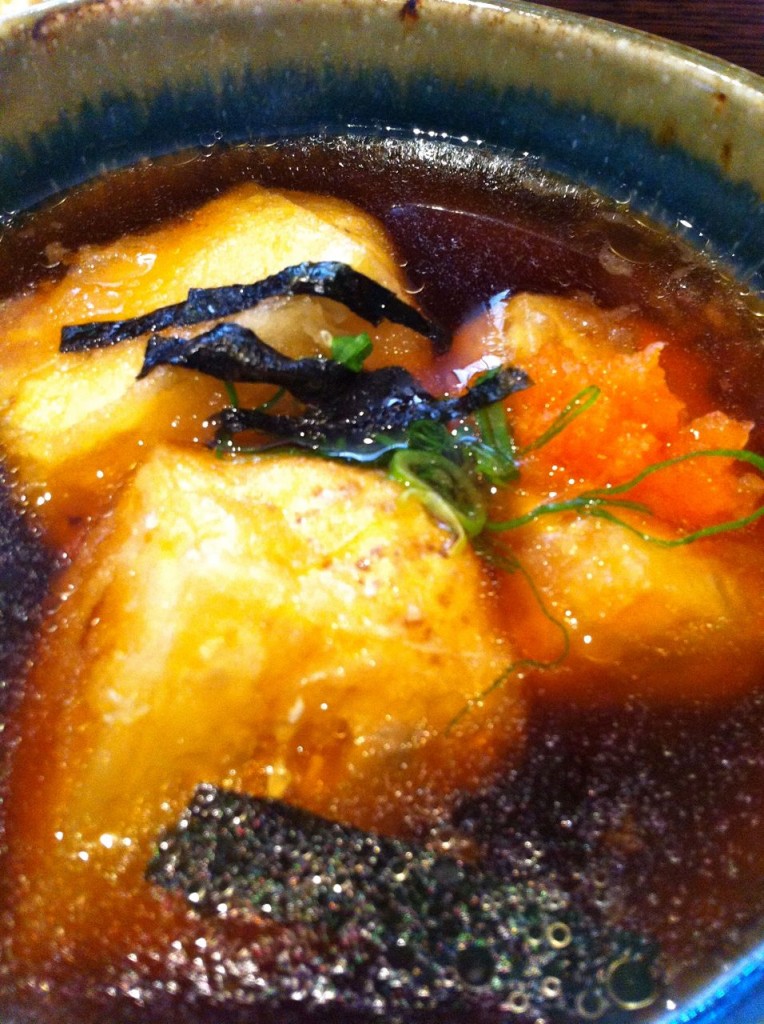 A friend of mine went with the Tempura Udon, I had a little taste of the broth and the flavour was nice. I'm not sure how fresh the udon was but it seemed ok, to be honest I don't know what to look for.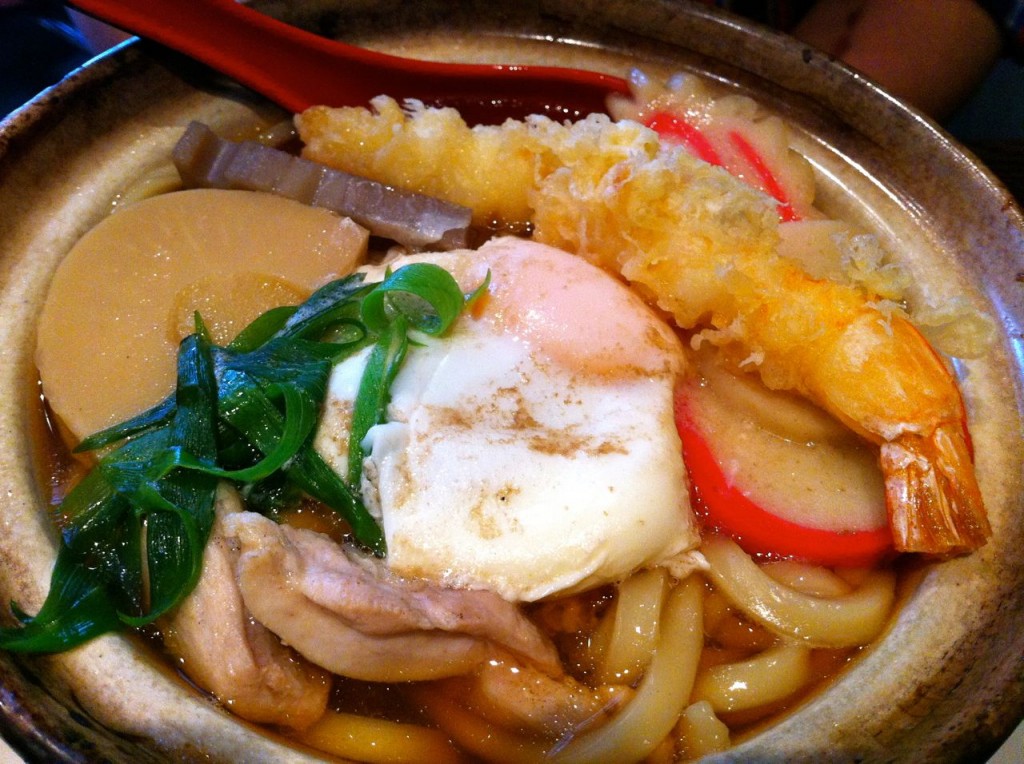 My other friend enjoyed the Beef Terriyaki. Presentation was spot on. The standard sides were served alongside ie pickled veggies, steamed rice and miso soup. I didn't taste this but was told it was really nice.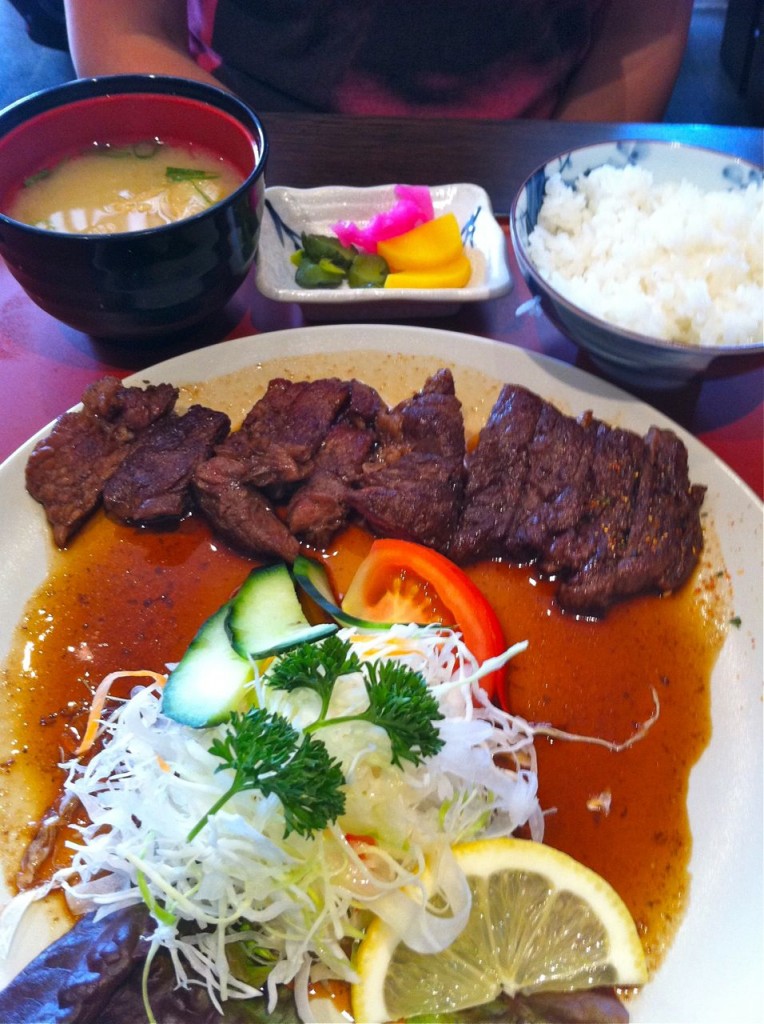 The only downfall I would say with this place is the service. I've been there and been treated well, other times they just seemed to hurry us out. I don't care though to be honest, it's a little restaurant tucked within fast food outlets. It's not a put your best dress on special dinner venue but rather a nice place to go and have a quick bite for lunch or casual dinner.
Sushi Kei
Keeping on Racecourse Road you will find Sushi Kei. I occasionally stop in to grab sushi on the run. I've had Tuna, Tempura Prawn, Terriyaki Chicken, California and Egg Sushi and have enjoyed all thouroughly. I had a quick lunch with my Mum a few months ago and enjoyed one of their lunch boxes. This comprised of miso soup, teriyaki chicken, pickled veg, salad (with that to die for miso dressing) and of course rice. I really enjoyed it and so too did Mum. We both agreed that some teriyaki's we've tried can be a way to salty but this was well balanced.
I work in the Hamilton precinct and it's certainly a great place for me, Japanese heaven for this Asian food lover. Where is your favourite place to enjoy Japanese? Perhaps it's in your own kitchen, do you have a favourite recipe? If so I would love to hear from you.