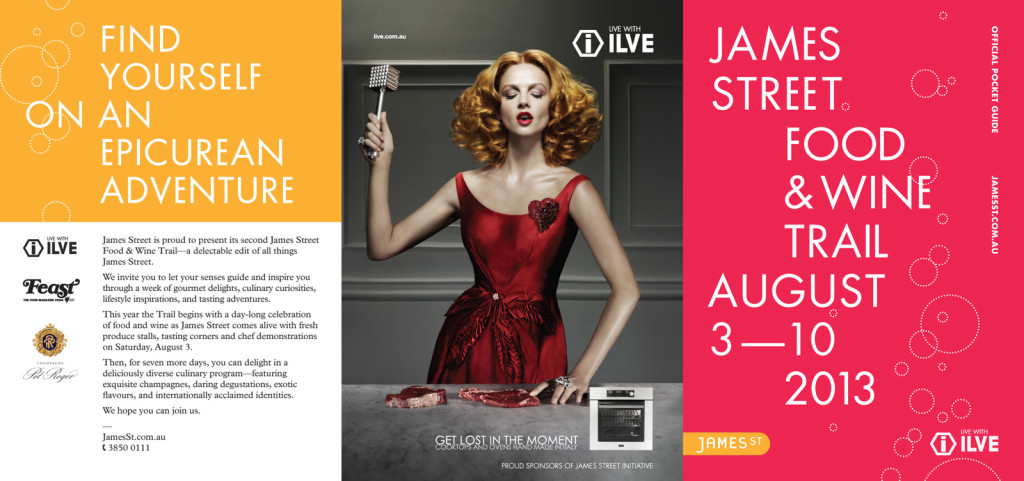 On Saturday August 3 2013, James Street will come alive with the 2nd ever James Street Food and Wine Trail. With a feast of food stalls, pop up restaurants and bars, cooking demonstrations and many more culinary attractions, it will indeed be the place to be
Featuring an extensive culinary market hosted by the Standard Market Company and unique cooking demonstrations with Bucci's Shaun Malone, Gerard Bistro's Ben Williamson and Harveys' PJ McMillan, the James Street Food and Wine Trail will be a week-long epicurean adventure to delight serious foodies and families alike.
I've put together some of the James Street Food and Wine Trail events below, to ensure you don't miss out on anything head to www.JamesSt.com.au for full details.
Saturday August 3rd
James Street Food and Wine Trail: ILVE Chefs in Action
For the first time ever James Street presents the opportunity to see their award winning chefs in action! If you have ever wanted to learn some of the secrets behind their signature dishes and hear what they have to say about all things food be sure to visit the ILVE Tent outside Harvey's Bistro.
10:00 Bucci Pronto
11:00 Jocelyn's Provisions
12:00 John Meredith (James Street Cooking School)
13:00 Shaun Malone (Bucci)
14:00 Ben Williamson (Gerard's Bistro)
15:00 PJ McMillan (Harvey's Bistro)
16:00 Rhett Willis (Standard Market Co)
James Street Food and Wine Trail: To Market
From prime cuts of meat to gourmet delicatessen lines, The Standard Market Co has been the benchmark for Brisbane's freshest produce for the past decade. From 10am, meet the makers behind some of the products that have tantalised your taste buds along the way. Expect to find interactive tasting stations, cheap eats on-the-go and some very delicious morsels from the following suppliers:
Melrose Lamb | Bangalow Sweet Pork | Caab Black Agus Beef | The Standard Market Co. Lasange and Dips | Bahbah Falafels | Black Pearl Epicure | Joseph Olive Oil | Maggie Beer | Meredith Dairy | Pepe Saya | Mount Zero | Bruny Island Cheese | Barambah Organics | Paesanella Cheese | Tomewin Farm | Segreti | San Pellegrino | Della Mano | Fromi Cheese | James Street Cooking School
Sunday August 3rd
Tea and Beer Pairing – with May King Tsang and Matt Kirkeegard – Scrumptious Reads 7pm $100 events@scrumptiousreads.com
Monday August 4th
Beer and BBQ Course – James Street Cooking School 6:30pm $135 #3252 8850
An Evening with Truffles – Join Amanda Reboul of The Truffle Man and Ben Williamson of Gerard's Bistro – Scrumptious Reads 7pm events@scrumptiousreads.com
Tuesday August 6th
The Urban List Dinner Series: Gerard's Bistro Degustation – Join head chef Ben Williamson and Torbreck Estate Wines for a 5 course degustation with matching wines – Gerards' Bistro 6:30pm $115 #3852 3822
Wednesday August 7th
Tapas around the World – Join Press and Taste Trekkers for an around the world odyssey – Press 6pm $120 #0409 104 636
The Urban List Dinner Series: Harvey's Bistro – Join Bernadette O'Shea for a Pol Roger tasting with matched menu designed by head chef PJ McMillan
Thursday August 8th
The Urban List Dinner Series: Bucci Brisbane – Join head chef Shaun Malone who is presenting an intimate dinner with each dish incorporating truffles by The Truffle Man – Bucci 7pm $130 #3252 7848
Friday August 9th
Alison Taafe Book launch – Join Brisbane chef and author Alison Taafe for the launch of her third cookbook: Eat for your Life – Taste 6pm Free
Saturday August 10th
James Street Food and Wine Trail – Frank Camorra
In conjunction with the Standard Market Co. and Fino Fine Foods, we welcome Frank Camorra, owner and executive chef of Melbourne institution Movida, to the Food and Wine Trail. Frank will be hosting interactive cooking demonstrations at the Standard Market Co from 11am where he will inspire you to create your own simple tapas dishes using a variety of delicious Spanish products.

James Street Food and Wine Trail – August 2013