Who needs to go to a Japanese restaurant when you can make a good-looking Japanese taste sensation like this at home? Not me! Well not today anyway. This recipe was inspired by a mix-up of recipes I found online and from my many Asian dining experiences.
What I love so much about this dish is the earthy, gorgeousness that is mushrooms! Gone are the days that the common white button mushroom lay solo on the supermarket shelf. Today we are blessed with everything from the mild fruity flavoured Enoki, to the rich, firm flavoured Portobello – and you can add a myriad more when you venture to your local Asian supermarket or China town. My recipe calls for Enoki and Shiitake and they are a match made in heaven here. It was most important that I used Enoki! Why? Because I've been craving them ever since I delved into a delicious plate back in Thailand this year, that's why. The very thought of them sauteed with garlic, ginger and soy brings back such tantalizing memories.
The simplicity of the dish starts with a straightforward marinating of chicken, then frying it. Sautéing Bok Choy, mushrooms, adding sauce, then finishes, well with plating and eating. Shiitake's brown to black umbrellas of flavour, mixed with the delicate flavours of enoke go so agreeably well with bok choy. This coupled with the Japanese marinated chicken sleeping on a bed of soba noodles will bring joy to any mouth. I am so full from dinner right now, but writing this is tempting me to go and eat leftovers! No Miss, it's your lunch tomorrow!
Japanese Chicken w/ Stir-fried Bok Choy,
Enoki & Shiitake Mushrooms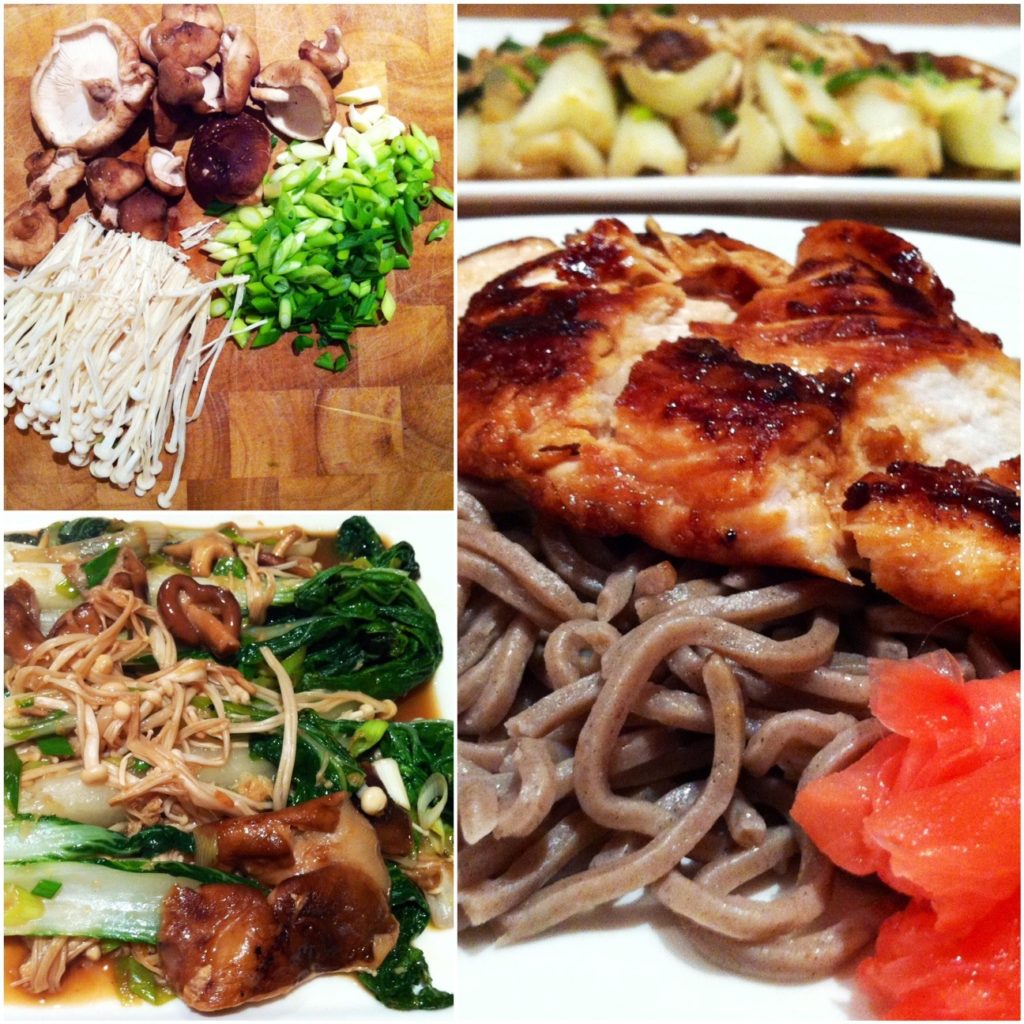 Japanese Chicken
Ingredients
2 tablespoons peanut oil
1/4 cup Tamari or Kecap Manis (Japanese sweet , soy sauce)
2 tbls salt-reduced soy sauce
2cm piece ginger, finely grated
3 garlic cloves, crushed
2 tsp Sesame Oil (1 tsp to dress soba noodles)
2 or 4 chicken breast fillets, trimmed (I like to cut mine into 2 pieces by butterflying, makes it easier to cook)
200-300g soba noodles
Pickled Ginger optional
Method
Mix oil, Tamari, soy sauce, ginger and garlic in a bowl. Place chicken in a shallow dish and drizzle 1/4 cup of the oil mixture. Set aside for a couple of hours to marinate. If you don't have the time go with what you can.
Cook your soba noodles following your packets directions. Rinse under cold water then set aside.
Preheat barbecue plate or chargrill over medium heat. Cook chicken for 5 to 6 minutes each side or until cooked through. Remove to a plate. Cover and rest for 5 minutes. Thinly slice.
Place the noodles on plates and top with your sticky, thinly sliced chicken pieces. Drizzle with remaining oil mixture and serve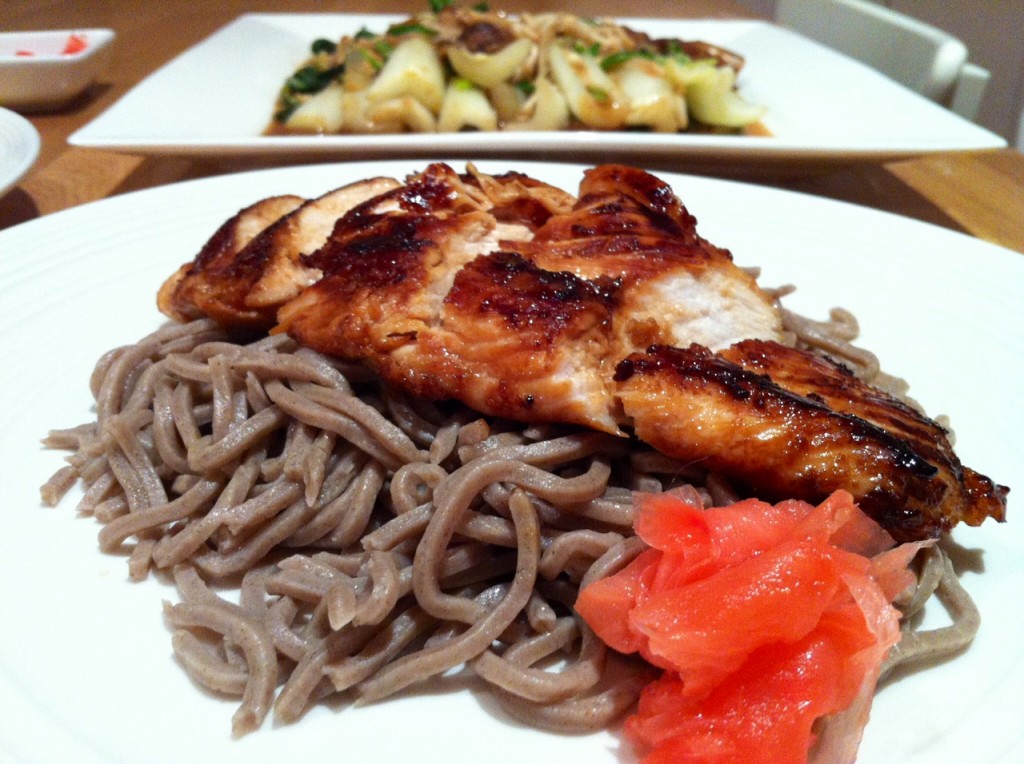 Stir-fried Bok Choy, Enoki & Shiitake Mushrooms
Ingredients
1 tablespoon peanut oil
200g fresh shiitake mushrooms
200g fresh enoke mushrooms
2 garlic cloves, finely chopped
2cm piece fresh ginger, peeled, grated
2 bunches baby bok choy, quartered
4 green onions roughly sliced
1/4 cup oyster sauce
1 teaspoon sesame oil
Method
Add peanut oil to a heated wok over high heat. Add shiitake mushroom and stir-fry for 2 to 3 minutes then add garlic and ginger. Stir-fry for a further 1 minute or until fragrant.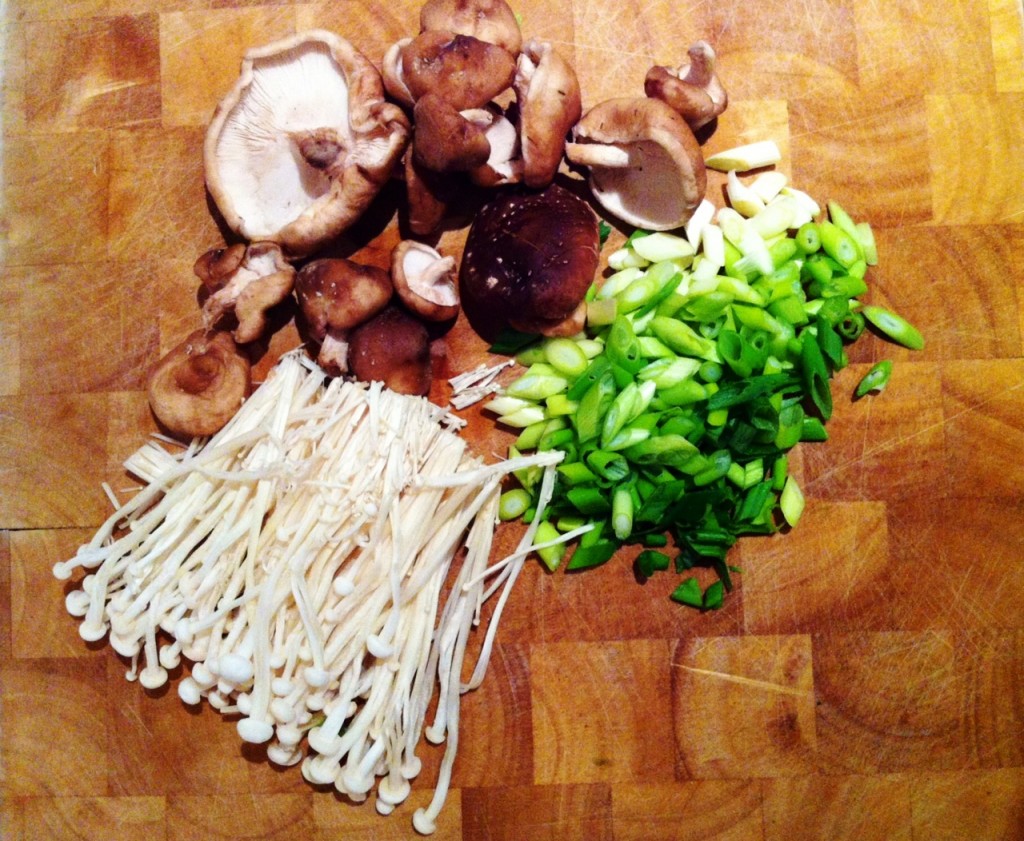 Now add your quartered bok choy and stir-fry for 2 to 3 minutes or until tender. Add onion, oyster sauce, enoke mushrooms and sesame oil. Stir-fry for 1 to 2 minutes or until heated through. Serve on a decorative plate alongside your plated Japanese Chicken with Stir-fried Bok Choy, Enoki and Shiitake Mushrooms.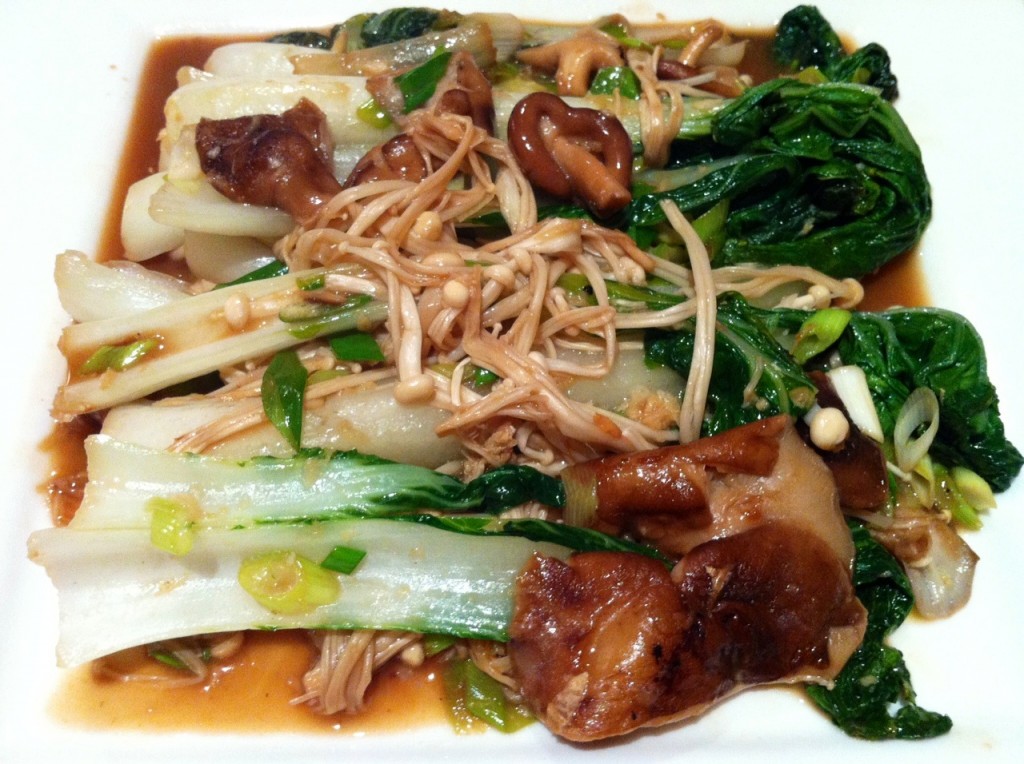 If you haven't got a jar of pickled ginger on hand, be sure to get some! It goes hand in hand with this meal!