Today I learnt about Skordalia. Skordalia is from Greek origin and is can be described as a thick sauce/puree. It's made with roasted crushed garlic (lots of it) and usually potato puree but not limited to as walnuts and almonds are sometimes used. Skordalia can be enjoyed as a tasty dip accompaniment or as Kate did, used as a topping to grilled mussels.  For main we were lucky enough to have another dish from the Spirit House Restaurant and Cooking School – Lemongrass Poached Red Snapper Salad with Chilli and Lime. The flavours here were so rich and devine and the chilli subtle. Kate simply poached the Red Snapper in her saucepan with baking paper so as not to stick, it worked perfectly.  Dessert tasted divine and looked divine. I had a lot of people from my Facebook page asking where the recipe was – so here it is folks.
Grilled Mussels with Skordalia Crust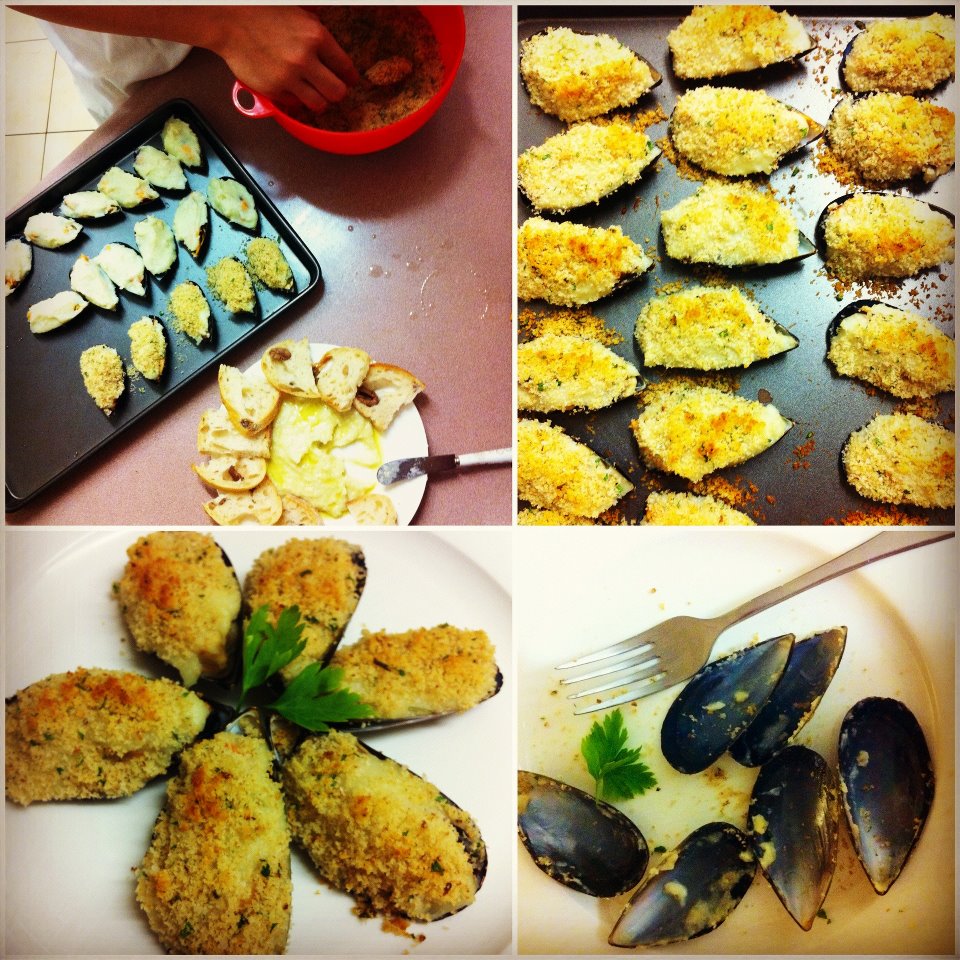 Ingredients
Serves 6 (starter)
3 dozen mussels, bearded and rinsed
100ml dry white wine
2 cloves garlic, thinly sliced
3 stems flat-leaf parsley
For the skordalia crust:
1/4 cup melted clarified butter *
2 cups fresh breadcrumbs
1 tbs finely chopped chives
3 tbs finely chopped flat-leaf parsley
Sea salt flakes and freshly ground white pepper
1/2 quantity skordalia
Method
Place wine, garlic and parsley in large saucepan, then top with mussels and cover with lid. Cook over medium-high heat until mussels open (about 3-5 mins), shaking pan occasionally. Remove from heat.
When mussels are cool enough to handle, prise open shells, breaking off and discarding top shells. Discard any unopened mussels. Separate mussels from shell with sharp knife. Replace mussels in their shells.
For skordalia crust, place breadcrumbs, butter, chives and parsley in bowl and mix well. Season to taste with salt and pepper.
Top each mussel with 1 tsp of skordalia. Spoon mixture over to cover well. Place mussels in a baking dish.
Preheat griller to medium heat. Grill mussels until golden (about 5 min). Alternatively, cook them in a pre-heated 220C fan-forced (240C conventional) oven for 4 min.
* To clarify butter, pop unsalted butter into a microwave-safe container and microwave on a medium setting for 90 seconds. Remove and allow milk solids and butter fat to separate. Skim off the butter fat and reserve, discarding milk solids.
Skordalia Ingredients
Makes 625ml
3 large sebago potatoes (about 750g)
400g rock salt
1 head garlic, cloves separated and peeled
1 cup milk
Sea salt, to taste
200ml extra virgin olive oil, plus extra for drizzling
1 tbs lemon juice
Method
Preheat the oven to 180C fan-forced (200C conventional). Bake the whole potatoes in a roasting pan on a bed of rock salt for 50 min or until tender when pierced with a skewer. When cool enough to handle, peel the potatoes and set aside.
Meanwhile, place the garlic cloves and milk in a small saucepan. Bring just to the boil over medium-high heat, then reduce the heat to low and simmer until the garlic is tender (12-15 min). Set aside.
Pound the cooked garlic cloves with 1 tsp salt in a large mortar and pestle to form a paste. Push the potatoes through a potato ricer or sieve into the mortar.
Add 60ml of the garlic-infused milk. Using the pestle, mash the potatoes until smooth. Gradually pour in the olive oil in a slow, steady stream, stirring constantly with the pestle until the mixture has the consistency of thick mayonnaise. Stir in lemon juice to taste.
Transfer the skordalia to a shallow bowl and drizzle with extra olive oil. Serve immediately with crusty bread, or store in an airtight container in the fridge for up to 2 days.
Lemongrass Poached Red Snapper Salad with Chili and Lime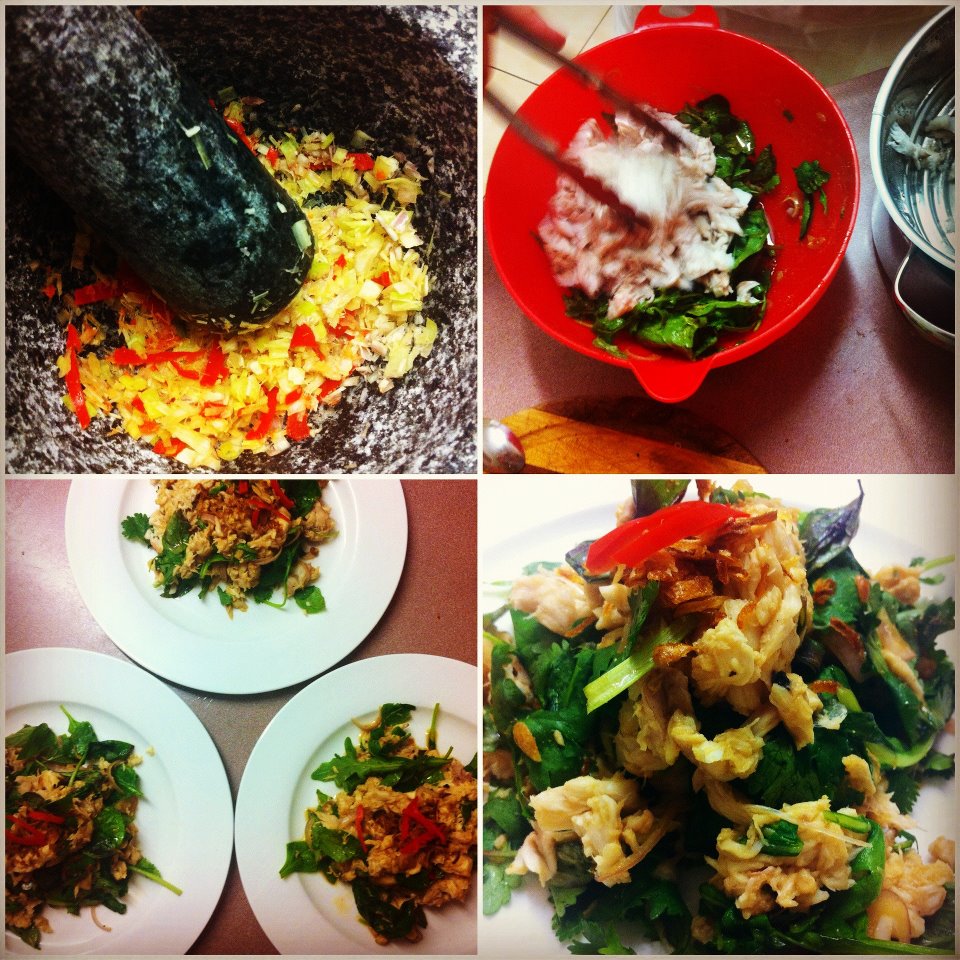 Ingredients
500 g snapper fillets
3 sticks lemon grass,
bruised & chopped
4 kaffir lime leaves, sliced
4 golden shallots, sliced fine
1 tblspn roasted rice powder
1 cup Thai basil leaves
1 cup coriander leaves
½ tspn roasted chilli powder
6 cloves garlic, sliced
2 large red chilli, sliced
5 tblspns lime juice
2 tblspns fish sauce
2 tspns palm sugar
Method
Wash fish fillets and season with salt and white pepper.
Steam fish until cooked then cool. Flake fish and set aside.
Fry garlic in vegetable oil until golden, but not brown. Drain on paper set aside.
Pound the chilli in a mortar and pestle then add sugar, lime juice and fish sauce to make a dressing.
Mix all together in a bowl adding the garlic last; and a little to garnish.
Passionfruit, Mango & Coconut Terrine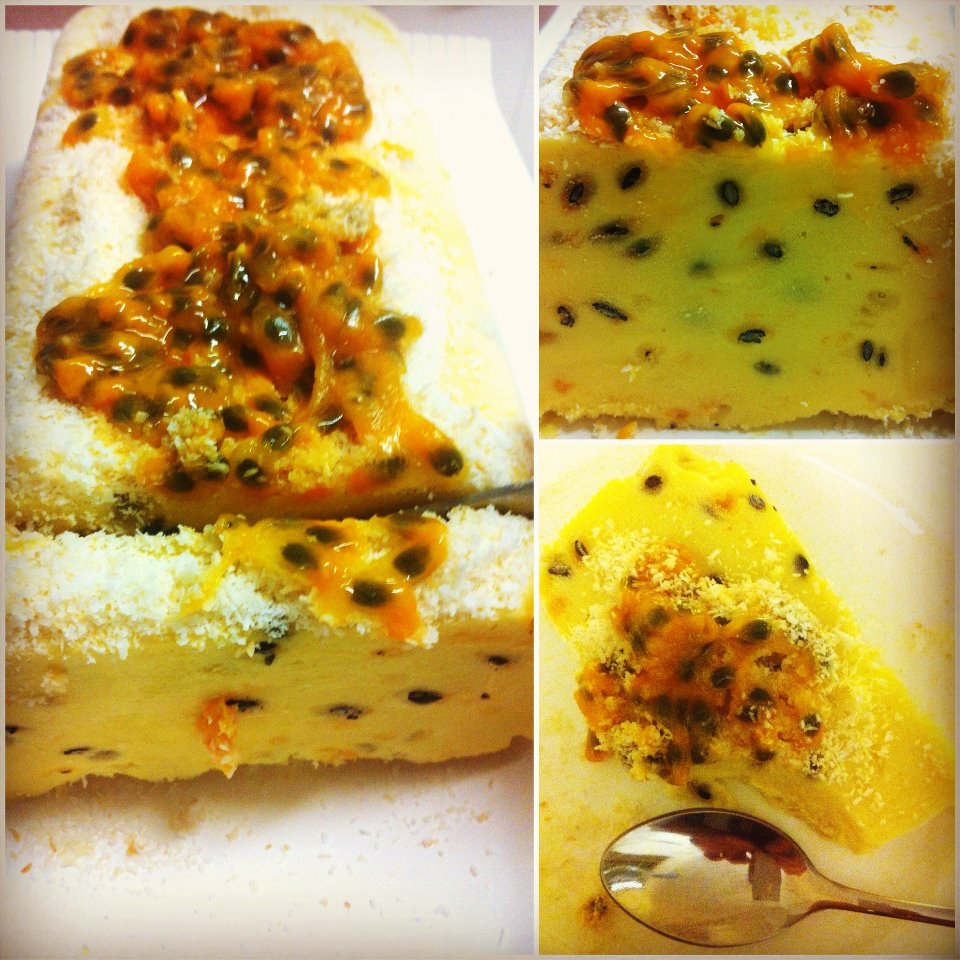 Ingredients
Serves 8
5 large passionfruits
1L Weis' Mango Sorbet, softened slightly
270ml can light coconut cream
40g pkt roasted coconut chips
Lime rind, to serve
Method
Line the base and sides of a 20 x 10cm (base measurement) loaf pan with non-stick baking paper, allowing the 2 long sides to overhang.
Combine sorbet, 4 of the passionfruis and coconut cream in a bowl. Transfer to prepared pan and smooth the surface. Cover with plastic wrap and freeze for 4 hours or overnight until firm.
Turn terrine onto a serving platter. Top with remaining passionfruit, coconut chips and lime rind.