A party of flavours with Kate's menu tonight! To start we enjoyed an entrée of Peppered Figs, a reciped adapted from George Calombaris' Hellenic Kitchen Cookbook. A visual feast to behold, the peppered figs with its honey, spices and balsamic glaze went perfectly with the grilled haloumi. The recipe called for dried baby figs which I admit Kate found somewhat challenging to find here in Brisbane. One of our Wednesday Girls Dinner originals Jenny came to the rescue though; she sourced some dried baby figs in a Middle Eastern Store in Brunswick, Melbourne and shipped them to her. Gotta love the foodie teamwork! They did advise Jenny that their Brisbane Warehouse stocks two sizes of dried figs to Country Fresh Butcher & Deli in Springwood market place. (07) 3423 3372. I'm sure Pennisi Distributors (17 Balaclava St, Woolloongabba) would stock them too, they pretty much have everything delicatessen you can think of.
For main we had the most succulent, fresh Seared Tuna Salad with soy-mirin dressing. The herbs used to marinate the fresh cut of tuna were brought to life when the Tuna was ever so lightly seared. Whatever you do people, do not overcook your tuna fillet, it needs to keep the freshness of the sea. I love, love soy-mirin dressings, it's combination of fresh, sweet and tart flavours make any Asian dish pop with flavour.
Kate went all out with dessert by creating a Dark Chocolate Tart with Cherry Port Jelly. This tart is any chocolate obsessed fan's dream. The dark chocolate ganache was made with high quality dark chocolate so it was somewhat savoury with the cocoa ratio being 70%. The accompanied vanilla bean icecream and strawberries were a match made in heaven.
Kate, I've enjoyed so many delicious meals from you but tonight was a sure fire stand out winner. I loved it all and I will certainly be trying these recipes myself. Thanks for your efforts, you did amazingly well tonight.
Peppered Figs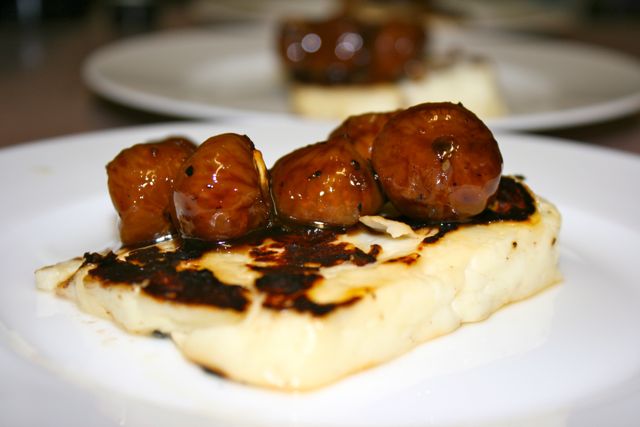 Peppered Figs adapted from George Calombaris's Hellenic Kitchen
Ingredients
125g dried baby figs
1 tablespoon Attiki honey
2tsp balsamic vinegar
2 tablespoons black pepper, cracked
1 cinnamon quill
1 small bay leaf
3 cloves
Water to cover
Method
Place figs, honey, balsamic vinegar, black pepper, cinnamon quill, bay leaf and cloves in a saucepan. Add water and bring to the boil.
Reduce to a simmer, cover and cook gently until tender. Serve on top of grilled haloumi.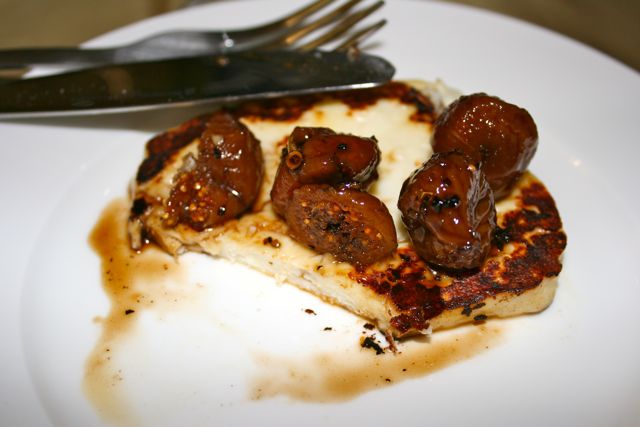 Seared Tuna Salad with Soy-Mirin Dressing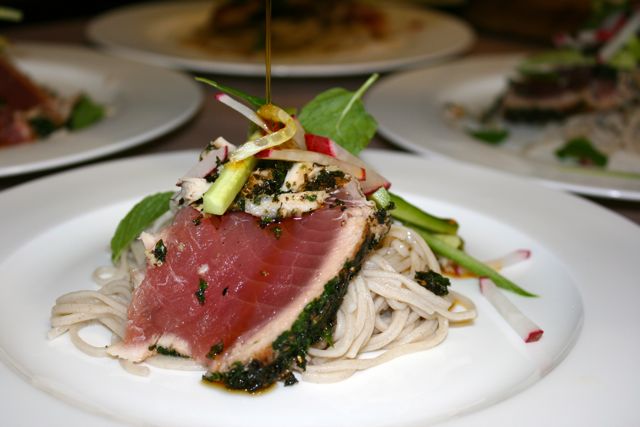 Seared Tuna Salad with Soy-Mirin Dressing from Bill Granger's bills Sydney Food.
Ingredients
2 Tbs Black Peppercorns,ground
1 Tbs Sea Salt
1/4 Cup Finely Chopped Coriander
1/4 Cup Finely Chopped Parsley
1/4 Cup Olive Oil
500g Sashimi Grade Tuna
1 packet Soba noodles.
To Serve:
1 Cup Shredded Daikon/Radish
1 Cup Shredded Cucumber
1/4 Cup Mint Leaves
1/4 Cup Coriander Leaves
1/2 Cup Soy-Mirin Dressing (below)
For the Dressing:
1/2 Cup Mirin
1/2 Cup good quality Soy Sauce
3 Tbs Seasoned Rice Wine Vinegar
Method
Combine ingredients in a bowl, and stir. Refrigerate until needed.
Cook Soba noodles according to instructions on packet. Place ground pepper, salt, coriander, parsley, and olive oil in a bowl and stir to combine. Place the tuna on a plate. Pour the oil and herb mixture over the tuna, pressing on to all sides.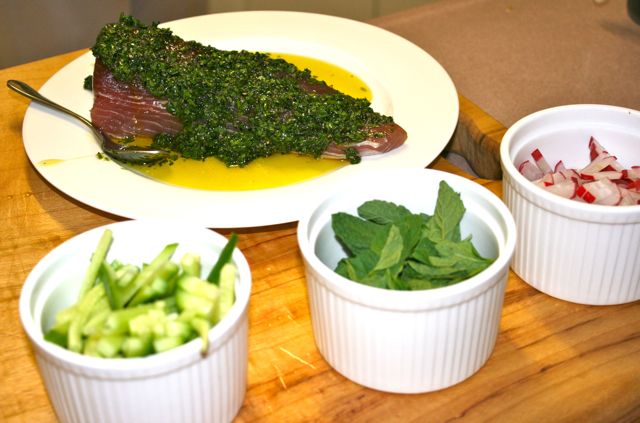 Heat a large non-stick frying pan over high heat, add tuna and cook for 20 seconds on each side. Remove tuna from pan and allow to rest for up to 10 min.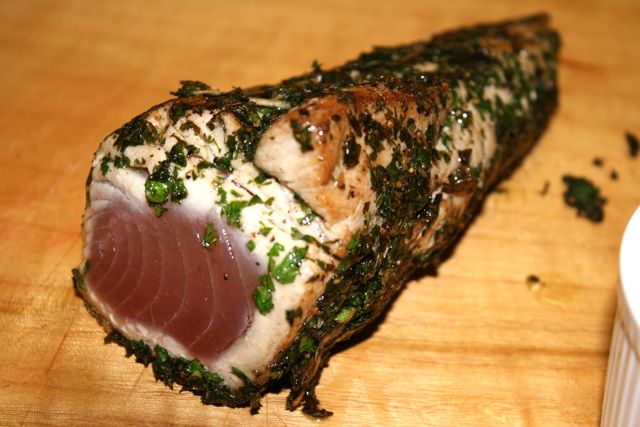 To serve, slice the tuna into 5mm slices, and arrange on individual plates. Top with daikon/radish, cucumber, mint and coriander leaves. Pour 3 Tbs of dressing over each serve on a bed of warm soba noodles.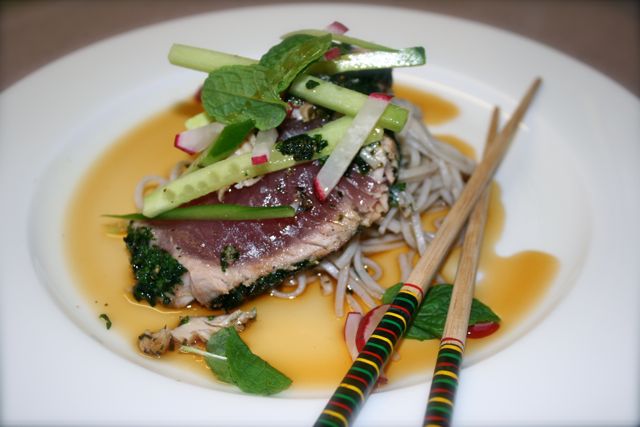 Dark Chocolate Tart with Cherry Port Jelly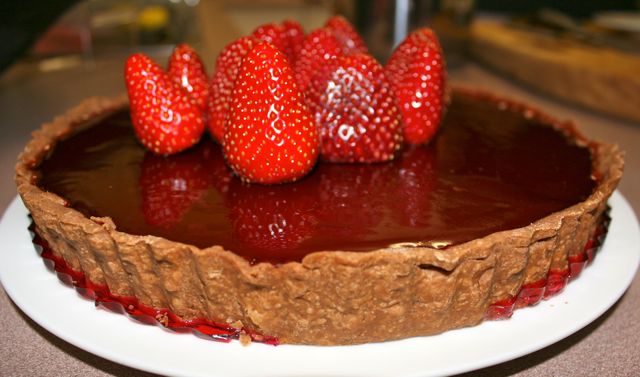 Dark Chocolate Tart with Cherry Port Jelly adapted from Audra (Masterchef 2012)
Pastry
225g plain flour
Pinch salt
2 tablespoons icing sugar
2 tablespoons cocoa powder
140g unsalted cold butter, chopped
2 tablespoons iced water
Ganache filling
500g dark chocolate, 70% cocoa solids
200g unsalted butter, chopped
Cherry port Jelly
Packet from Woolworths, make according to instructions minus the addition of 200ml cold water.
Method
1. Pre-heat oven to 200°C.
2. For pastry, place flour, salt, sugar and cocoa in a food processor and process for 15 seconds until combined. Add butter and process until butter is finely chopped. Add iced water slowly until it forms a dough that just comes together when pressed. Wrap in cling wrap and refrigerate for 20 minutes.
3. For ganache, chop chocolate in a food processor until finely chopped. Place butter in a large bowl over a saucepan with 3cm of just simmering water, tip chocolate onto butter. Turn off heat and stir occasionally until chocolate and butter have melted. Keep bowl on saucepan until ready to use.
4. For jelly, make according to packet, but do not add 200ml cold water. Keep warm until ready to use.
5. Roll pastry out between two sheets of baking paper to 3mm thick. Remove one sheet of baking paper and lay pastry over a 23cm round fluted tart tin with a removable base. Press into tin especially into sides. Remove baking paper and trim pastry. Refrigerate for 20 minutes. Blind bake for 13-15 minutes until sides are crisp. Remove baking paper and pastry beads and bake for a further 10 minutes until base is dry. Cool in fridge for 10 minutes.
6. Pour warm ganache into cooled tart tin, shake gently to level. Allow half a centimetre for the jelly layer. Refrigerate for 10 minutes to set the ganache. Pour warm jelly into a jug, bring over to fridge and pour a layer of jelly on top of the tart. Allow to set in the fridge for 10 minutes or until ready to serve.
7. Decorate tart with strawberries and served with vanilla bean ice cream.