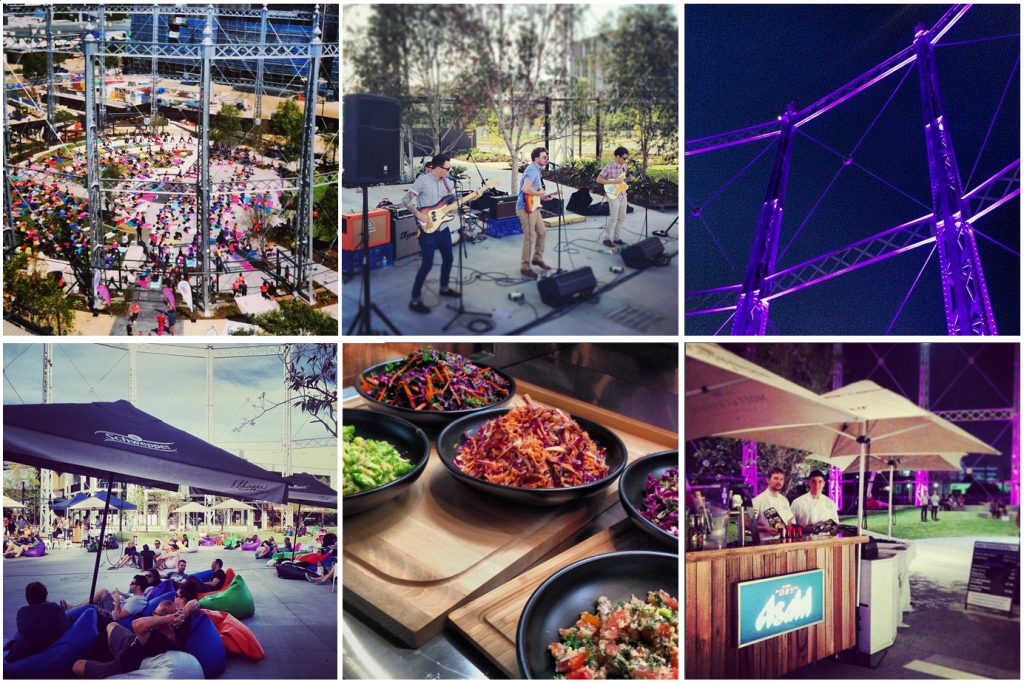 The spotlight will shine on Newstead Riverpark from October 10 to 14, when the revitalised precinct celebrates the 140th birthday of one of Brisbane's most iconic landmarks – the heritage listed 'Gasometer' frame.
Four days of events will switch on with a new light and sound extravaganza on Thursday, October 10, which will see the frame truly sparkle. Lord Major Graham Quirk will officially turn on the lights from 6.30pm, with over 1,000 bulbs across the frame's historic and intricate detailing to shine for the first time.
The celebrations will continue with live music taking centre stage in the frame on Friday, October 11, and Sunday, October 13, while food and fun will be the flavour of the day on Saturday, October 12, with the Taste of Gasworks festival, where popular Brisbane band Sheppard will make their last Australian appearance for the year.
THURSDAY, OCTOBER 10 – Launch Spectacular
Built in the 1800s, the Gasometer frame literally lit the way for Brisbane for more than 100 years. Restored as part of the redevelopment of Newstead Riverpark, it is set to once again help Brisbane shine with a new light and sound extravaganza. The show will launch in spectacular style from 6.30pm and will be held each weekend after.
FRIDAY, OCTOBER 11 – Live Music
Free live music by a range of artists, including The Vernons, will put the Gasometer frame centre stage from 5.30pm to 8.30pm.
SATURDAY, OCTOBER 12 – Taste of Gasworks
Take the opportunity to sample the array of new dining and fresh food options on offer in the precinct, with the Taste of Gasworks at Waterfront Park and Gasworks Plaza, kicking off at 11.00am.
Waterfront Park will be buzzing with market stalls, with about 20 retailers, including the array of fresh food operators at The Standard Market Company. Patrons can sit back and relax with their favourite foods, pull up a picnic rug or have a drink in the licenced area and listen jazz tunes by Sophie Catsoulis and Lee Brackenborough.
The festival will continue into the Gasometer, with food tastings and pop-up bars and live music from 4.00pm, headlined by renowned Brisbane band Sheppard who will take to the stage at 7.00pm. Supports acts include solo artist Jessiah Cocks, five-piece band Flinter, and Zaped.
SUNDAY, OCTOBER 13 – Giant Birthday Cake and Live Music
A giant birthday cake, music by artists including Brian Sexton and giveaways will wrap up the weekend of celebrations. The festivities kick off in the Gasometer frame from noon.