Hands-down one of Queensland's most remarkable dining views!
Meeshs
43 Goodwin Terrace, Burleigh Heads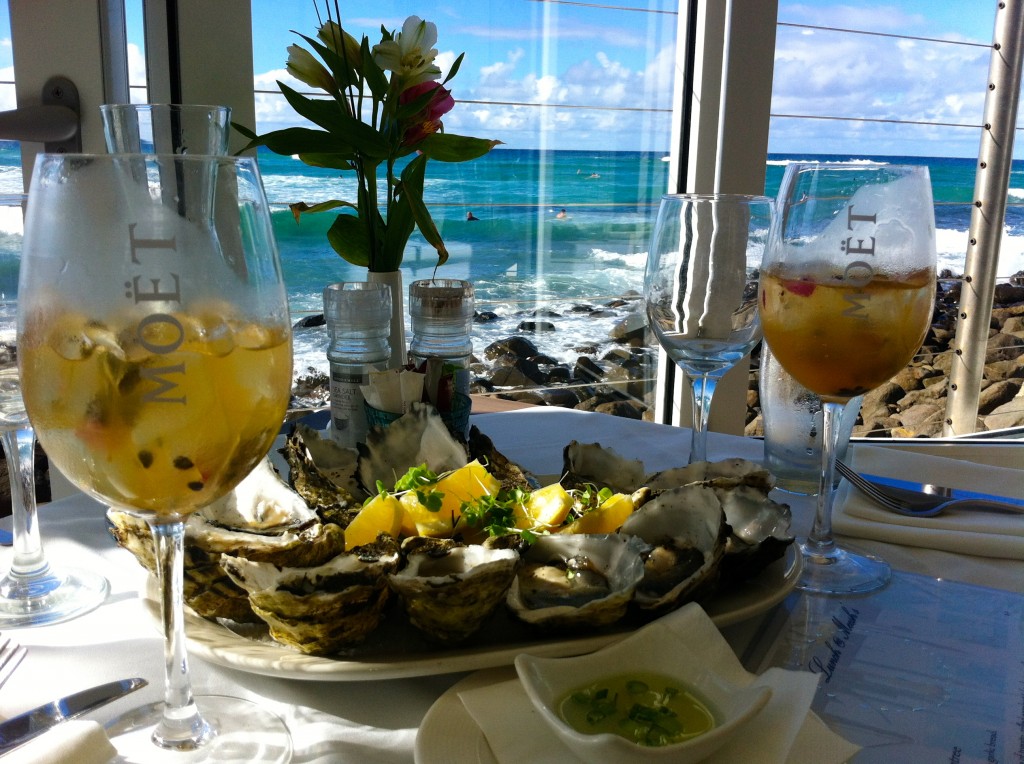 Honestly I am the luckiest foodie in the world! Look at that for a view! And check out the glorious blue sky and stunning ocean skyline – life honestly does not get any better than that for me, truly I think it is perfectly divine.
My darling, sweet, adoring Aunty spoilt me rotten for lunch today, we dined at Burleigh Heads scenic oceanfront restaurant Meeshs. I asked her what strings she pulled to get us the best seats in the house and she simply smiled and shrugged – cheeky isn't she. Well whatever she did or didn't do I was an extremely happy and appreciative young lady.
Meeshs with its remarkable sweeping views of Surfers Paradise, ocean, sand and surfers really isn't as costly as one might think, except perhaps if you choose the $25 Moet Imperial Ice – I said I was spoilt today. The meals at Meeshs are about the same price as any restaurant around Brisbane or the Gold Coast.
Situated on Burleigh Headland, Meeshs was once the iconic Mermaids Restaurant. Mermaids closed up shop about a year ago and the venue was given a much needed facelift, and we have Michele Hamilton, former Bahamas resident, to thank for that. Michele Hamilton has done a superb job with the place. I love the simple seaside decor interior; the ceiling fans actually look like palm fronds, the tables are set simply and elegantly and the large opened windows are perfect for framing the sweeping views.
Before I get into the yumminess of Meeshs I have to get this out there. I'm going to be honest here, and you may not like it (well my Gold Coast friends anyway) to me the Gold Coast doesn't conjure up great food, it's sad but true. Though I live in Brisbane I have a right to say this because I did live on the Gold Coast for 10 years, and I am a foodie, and I did eat out a lot. The thing is, the majority of restaurants simply don't care about consistency, the Gold Coast is a tourist mecca and they milk off the fact that most diners aren't coming back. In their mind if someone doesn't like their food, who cares, I'll have a full house tomorrow. There has been far too many disappointing dining experiences for me in the past and it's really annoyed me. On the other hand however, it has been 5 years since I lived on the Gold Coast and I do have to say, my last visit was wonderful. I noticed change, I noticed an increase in restaurants and beautiful looking ones I might add. But I guess the aesthetics of the Gold Coast has never been the issue, it's when the meal hits the taste buds that we get the true experience, to Miss Foodie anyway.
Meeshs however has given me hope, hope that others will follow in their footsteps, hope that they stay consistent and hope that they keep up their new, fresh, inspiring attitude. I'm hopeful in saying I think they might, I've heard Michele Hamilton loves where she is and truly respects what she has, and like anyone passionate about something that's theirs, they look after it.
Dining at Meeshs today really was beautiful. Needless to say I had gorgeous company, but on top of that the service was honest and friendly and I loved the food. My Aunty and I opted for 2 entrees each and we were very happy with our choices. Our oysters were fresh, cold, and well damn right delicious and went harmoniously with our Moet Ice's. I found out the Moet selects only a few restaurants to supply this special drink, so if you see one on the menu be sure to spoil yourself, you can't get them everywhere. My open ravioli of lobster was a real treat. I loved the delicateness of the meal, like satin sheets they went down. My Thai style baby octopus wontons were really enjoyable. I love baby octopus but sometimes I just can't stomach them. When I eat them I think too much about what they look like and it makes my tummy go funny. Having the baby octopus all chopped up and mixed with chilli, coriander and coconut made them go down much nicer and I was happy I could enjoy them again because I really do love their flavour. My Aunty enjoyed the garlic prawns with Lilliput capers, and from the wee little savor I had they were fresh and tasty. All the pictures are below for you to drool over, where would a Miss Foodie post be without luscious pictures.
Open ravioli of lobster with spinach, ginger & chive butter sauce. $19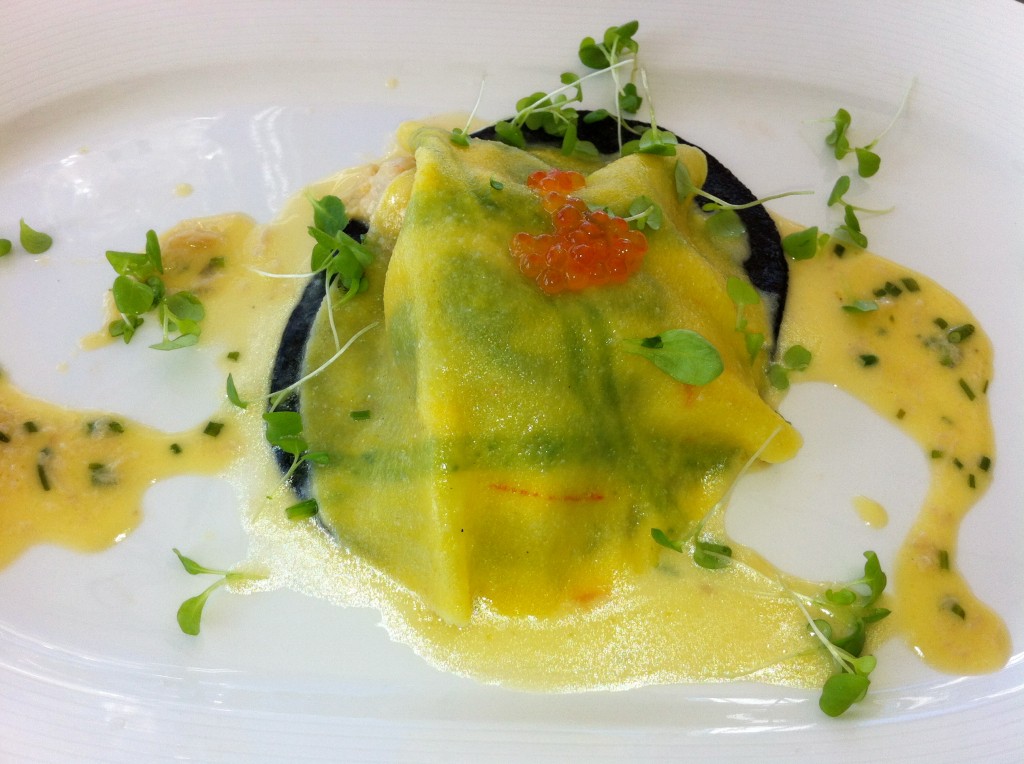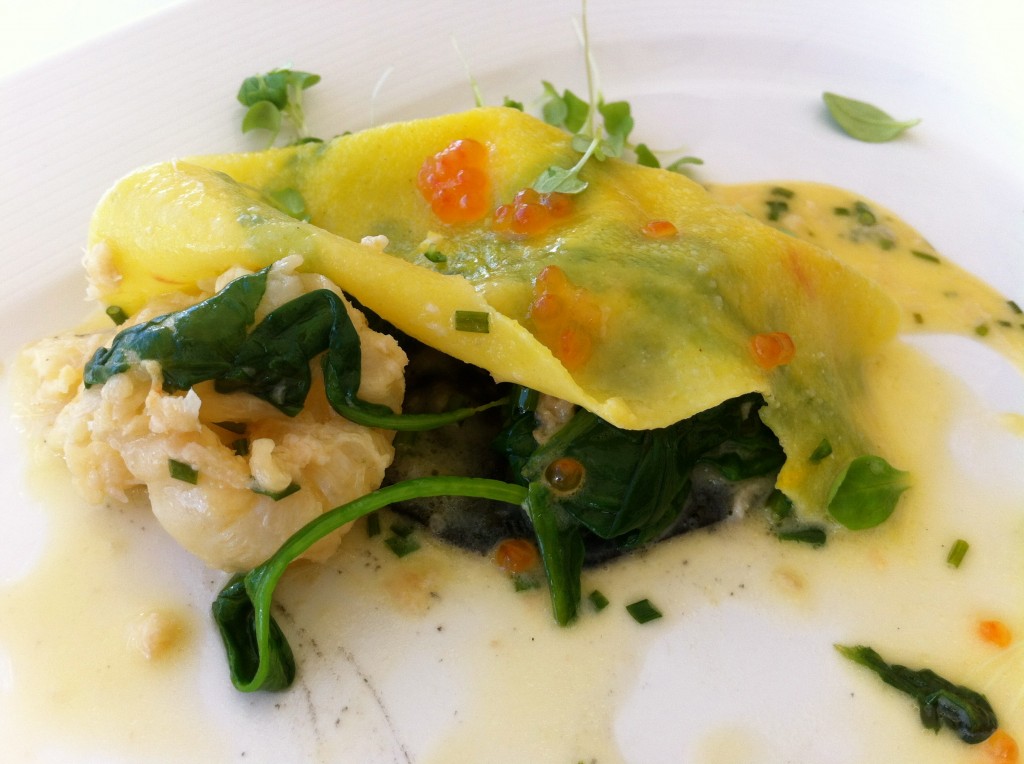 Thai style baby octopus wontons with fresh chilli, coriander & coconut. $20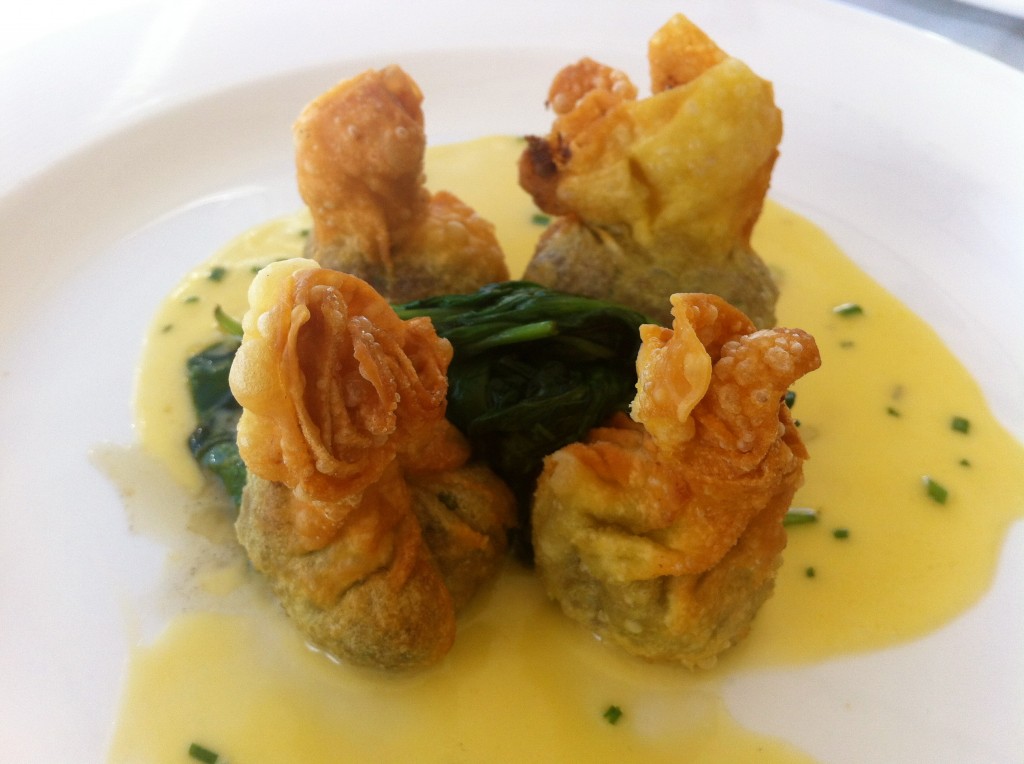 Garlic prawns with Lilliput capers, roasted garlic & asparagus. $19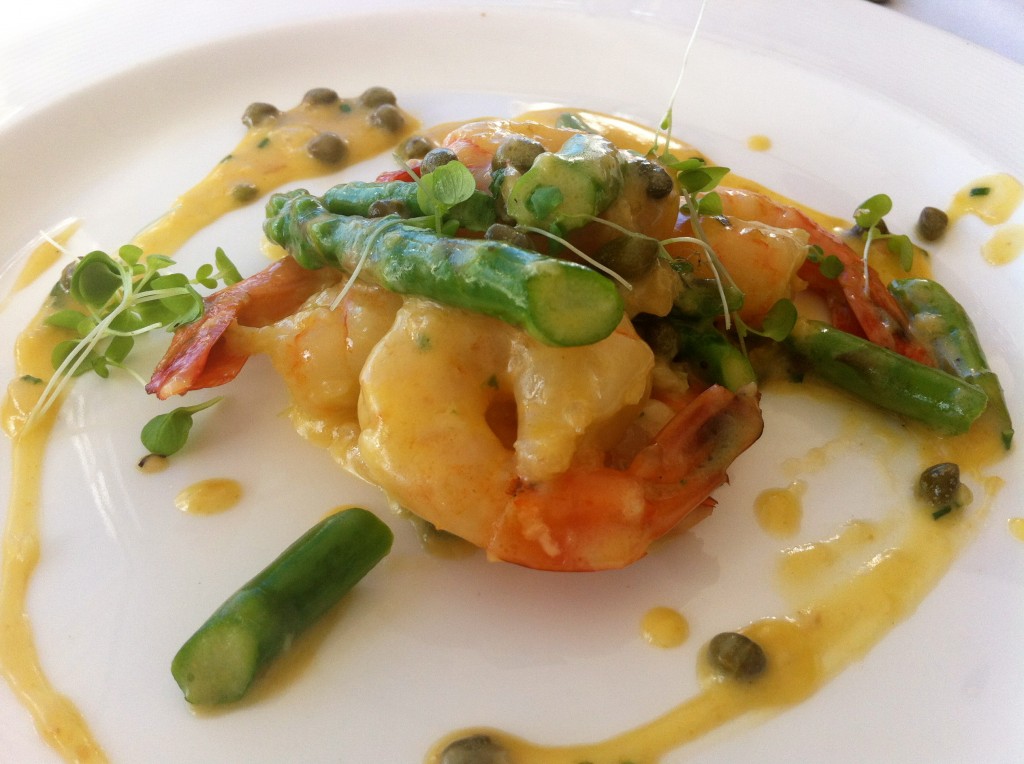 Folks if you're after a stunning dining experience then head to Meeshs. If you want to eat fish and chips by the beach then head to Meeshs. If you just want a cocktail and some tapas then head to Meeshs. If you want a coffee then, yeah you get my drift. To finish off I would like to thank Meeshs for giving me back faith in Gold Coast dining. We had a great time and I'm sure to see you again soon. Keep up the good work.