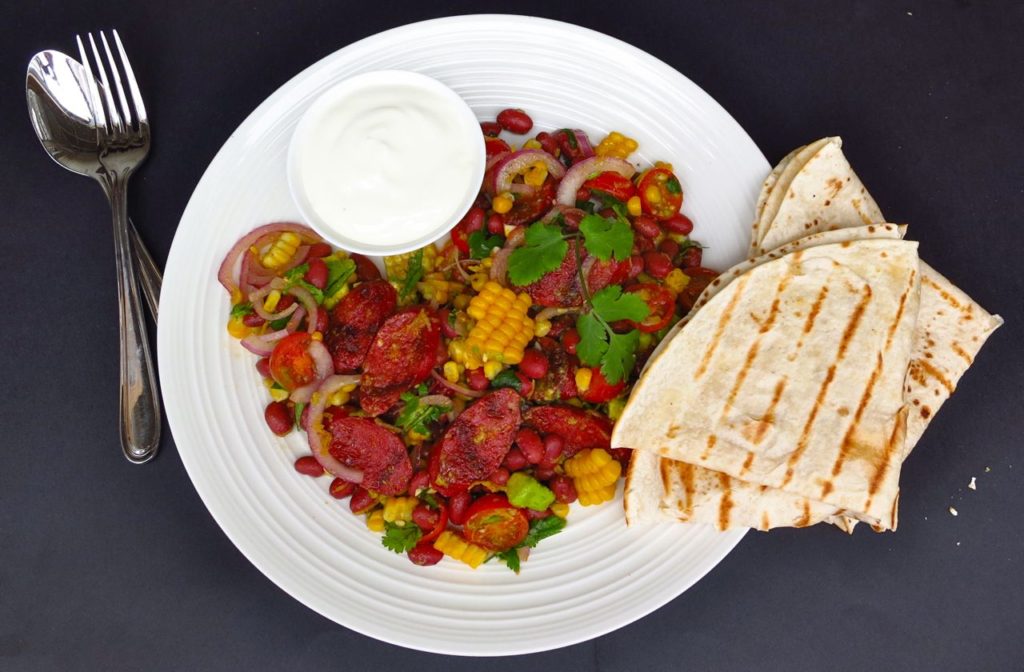 How good was it having a long weekend in September? I loved it! I ventured to a couple of football final parties at some local pubs. I cruised down to the Gold Coast for my God Sons 4th and 7th birthdays, finally catching up with best friends for a BBQ filled with laughs and vino.
A little tired from the weekend's festivities and realising I hadn't cooked a meal all weekend, come Monday I was keen for some home cooked goodness and fun in the kitchen.
With chorizo, avocado and lemons in my view I knew Mexican was indeed on! From one of my old Delicious magazines I recalled a favourite Mexican recipe I hadn't prepared in months – Mexican chorizo salad wraps.
The recipe is packed with flavour, freshness and Mexican yumminess! I love the chorizo combination with the fresh corn, avocado and beans, and the citrusy Mexican spiced dressing…. me oh my.
When I consider Mexican food or think about Mexican eating experiences my mind drifts to very stomach filling memories. Because of this I only occasionally dine out for Mexican; for once I eat it I feel that unhealthy afterwards that I'm good for another 6 months. I'm sure traditional Mexican food is a lot healthier than the American food chain restaurants we have here in Australia?
But alas you won't have this feeling with this little Mexican number. The citrusy freshness really lightens this meal and the fact that it's all fresh ingredients you feel a lot better after eating it then say a greasy enchilada or burrito. Please use only fresh corn off the cob for this one folks for it's the wholesome freshness that makes this meal. For the hot lovers out there you could also include a side of jalapenos. I promise you guys are really going to love this one!
Mexican Chorizo Salad Wraps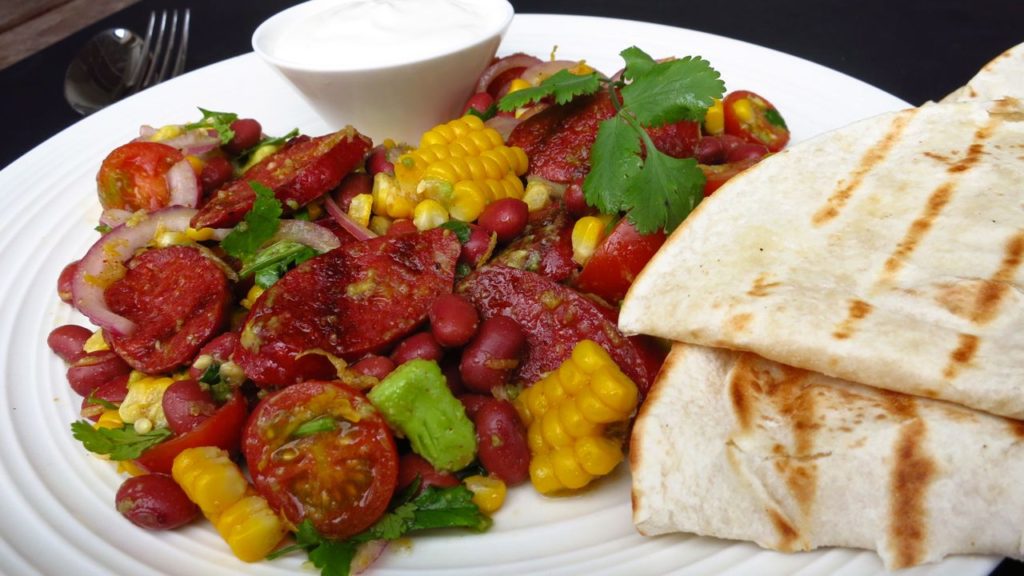 Ingredients
2 sweet corn cobs
420g can of kidney beans, drained and rinsed
1 avocado chopped and peeled
Punnet of cherry tomatoes
1 small red onion
1 ½ tsp ground cumin
1 tsp ground coriander
½ tsp of paprika
Grated zest and juice of 2 limes or 1 lemon
1 tblsp brown vinegar
¼ cup olive oil
3 tblsp fresh coriander, chopped
2 chorizo sausages or 4 small, sliced on an angle
6 wraps of your choice
Sour cream
Method
Cook corn by either steaming or microwaving until tender. Once cooled enough to handle, cut the corn off the cob and transfer to a bowl. Now add to it your beans, avocado, tomato and onion.
In another small bowl make the dressing my combining dried cumin, coriander, paprika, lemon or lime zest and juice, vinegar and oil. Season, then pour over salad and mix carefully. Add the avocado and very lightly mix again, being careful not to break it up too much.
Heat a chargrill, BBQ or pan over high heat and grill the chorizo slices for a couple of minutes on each side. Drain on paper towel.
Warm your wraps on either a chargrill or in microwave.
Toss chorizo and fresh coriander with the salad, then serve with sour cream and warmed wraps.
Watch it disappear…