I've been wanting to make the Philip Johnson Apple, Pecan and Pinenut Torte for 7 years now and as it was my turn for Wednesday Girls Dinner, I finally baked it. Wednesday Girls Dinner I hear you ask? For the last 7 years I have been involved with a girl's dinner group whereby we take turns in hosting an evening fit with an entrée, main and dessert. For my entrée I chose to do a couple of cold canapé's. As some of you will know I'm doing canapés at my first wedding function in November so I wanted to trial some out. I made feta, sundried tomato, olive and oregano stuffed cucumber wheels. I'm glad I tested these because I resorted to making cucumber slices with the mixture on top. The wheels were so difficult to toothpick together and they looked quite grim to be honest – they tasted absolutely great though! Main was fresh tuna meatballs with a homemade tomato and raisin sauce. I made a delightfully fresh salad of fennel, green apple and parmesan that complemented the flavour of my main dish perfectly. You can find the full recipe menu on my website.
Then to the show stopper of the evening – Apple, Pecan and Pinenut Torte. To be honest I hadn't even made a torte before so if you're wondering what one is, you're probably not alone. A torte is a multilayered sweet cake that is made with only a small amount of flour and lots of buttercream. The layers can be filled with anything from fruit, jams, nuts or mousse.
The Apple, Pecan and Pinenut Torte that I created came from my favourite cookbook E'cco 2 by Philip Johnson.
Layered with lemon soaked apples and ground roasted pecans and pinenuts, this cake is an absolute delight. A torte can only be truly appreciated once you slice it, for it's when the layers present themselves that you truly understand the labour of love that goes in.
I don't know why it took me so long to replicate this attractive dessert for it wasn't as difficult as I thought it would be. Besides the labour of slicing apples there really isn't any other hurdles here, the result however tells another story which is why this is such an impressive dessert to dish up.
To replicate this recipe in its entirety you would also have to make an apple gelato as well. Given my timeframe however this simply couldn't occur.
That is unless you have an awesomely wicked best friend who's new client is Philip Johnson!! Yes, my friend using her contacts for good had secretly communicated with Johnson that I couldn't find apple gelato anywhere. So the wonderful man and his team at E'cco made a personalised batch just for me. It wasn't until I was beginning to slice the torte that my girlfriend finally told me of the news and pulled it out of my freezer. How she snuck it in there without my knowing still surprises me, nevertheless I was so grateful, so much so that I shed a little tear.
Thank you to the chefs at E'cco and thank you Phillip Johnson for your very kind gesture, it certainly topped off our night wonderfully!
Apple, Pecan and Pinenut Torte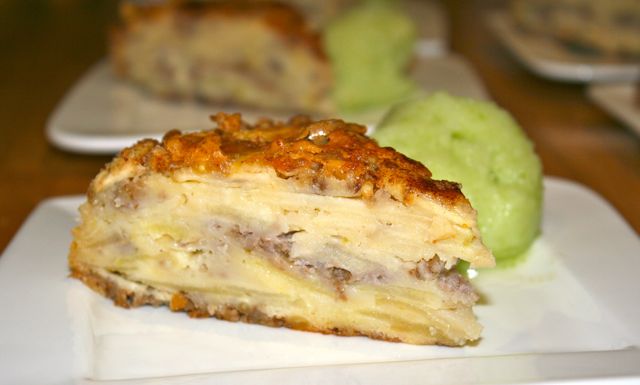 Ingredients
5 Granny Smith apples, peeled, cored, and finely sliced
Grated zest and juice of 1 lemon
3 large eggs
250g caster sugar
2 teaspoons of vanilla essence
100g unsalted butter, melted
100ml milk
150g plain flour, sifted
2 teaspoons baking powder
100g toasted pecans
120g sultanas chopped
100g pine nuts toasted
3 tablespoons (60g) caster sugar extra
1 teaspoon cinnamon
1/2 teaspoon nutmeg
Method
Preheat oven to 160 degrees (325F). Line the sides and base of a 26cm spring form tin with baking paper.
In a bowl toss sliced apple with zest and juice of lemon to prevent browning. (I used a mandolin to slice the apple.) Set aside.
Place eggs, sugar and vanilla in a clean bowl and whisk until pale and creamy. Add butter and milk to egg mixture, combining well. Fold in flour and baking powder.
Place one third of the pecans, sultanas, pine nuts and apple on the base of the spring form tin. Pour one third of the cake batter over the nuts and fruit. Repeat this process until all ingredients and cake batter have been used  (you may need to make a little more batter, I run out early).
Combine extra sugar cinnamon and nutmeg and sprinkle over top of the cake.
Bake for approximately 1 hour and 20 mins or until cooked when tested with a skewer.
Cool on a cake rack and serve with apple gelato or vanilla bean gelato.