I always come across new and delicious recipes that I think would be perfect for Wednesday Girls Dinner, so when my turn comes around you would presume I would have my menu sorted – nope, not the case, well not this week anyway.
With Miss Foodie slowly taking off and my house renovations in full swing, I'm not only very short on time but also short on money (aren't we all I hear you say). So with my turn for girl's dinner I had to think of something quick, simple and cost effective… and vegetarian.
As you may know I can't get enough of mushrooms lately, for a starter I thought I'd do a flavoursome stuffed mushroom dish accompanied by warm garlic olives. The filling for the stuffed mushrooms made up more than I needed, but that's not a problem, simply freeze the mixture for another time, or like me, purchase more mushrooms the following day and eat more! (Yes they're pretty yummo) My fridge is never without olives – all sorts, so warmed olives are always a breeze to whip up.
I came across a hearty tomato and porcini mushroom soup on the Gourmet Traveller website and tweaked it to suit. I didn't have dried porcini mushroom so I used dried shiitake mushroom instead. I also had some Shimeji mushrooms in the fridge so I popped them in towards the end. Not having made bread soup before I thought I would do a bit of research. Bread soup, or Panada as it's known, is common in northeastern Italy. The soup has its origin as an inexpensive meal prepared for elderly or ill people in the poor areas of the countryside. Being a relatively inexpensive meal certainly didn't mean flavour was sacrificed, the intensity from the shiitake mushroom and rosemary came through the rich tomato broth deliciously. To transform this vego soup into a carnivorous one, simply add diced beef. All you have to do is brown your beef first, then remove; return beef to soup when adding stock.
I called on my Aunty Kathy for a quick and easy dessert recipe (My Aunt if you haven't already read, is an amazing cook and she's always making to-die-for desserts at our family do's). She suggested caramel dumplings and later confessed they were the key to winning my uncle's heart – awww.
If you're planning a winter dinner party and you're hosting for close friends; close enough that you don't feel the need to astound them with your cooking prowess, then this menu is for you.
 Baked Spinach Mushrooms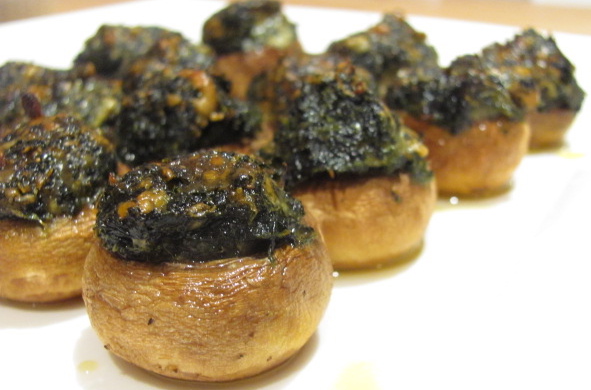 Ingredients
20 baby mushrooms or 10 large mushrooms
1 tbsp olive oil
2 tbsp unsalted butter
1 finely chopped onion
2 tbsp coarsely chopped walnuts
1 garlic clove, sliced
150g frozen chopped spinach, defrosted and squeezed dry
30g parmesan cheese
30g provolone cheese
Salt and pepper to taste
Method
Preheat oven to 190 degrees.
Heat olive oil and butter in a pan over medium to low heat. Add onions and cook until light brown – about 15 minutes.
Add walnuts and garlic to onion and cook for a further minute. Add spinach and continue to cook for another 5 minutes, stirring constantly.
Remove from heat and cool slightly. Add cheeses, salt and pepper.
Arrange mushrooms on a baking dish. Divide filling mixture evenly among them.
Bake for approximately 10-15 minutes or until filling is browned and mushrooms are thoroughly heated.
Serve immediately!
Warm Garlic Olives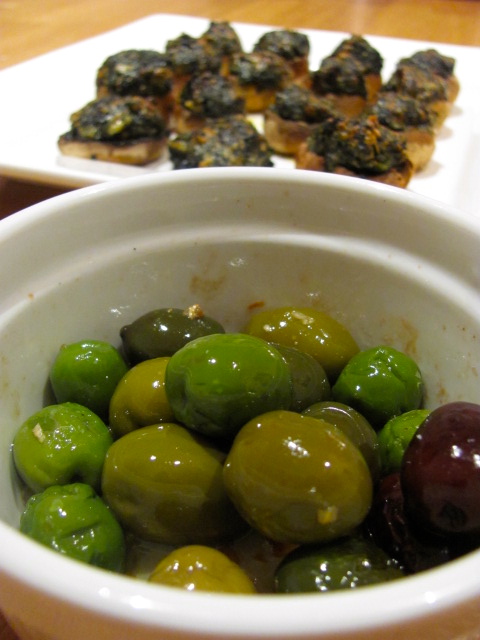 Method
Pop a selection of your favourite olives in a couple of ramekins, add sliced garlic & a good drizzle of olive oil (optional fresh chilli for those who like a bit of heat). Warm in the oven for approx 5 mins.
Shiitake, Tomato and Bread Soup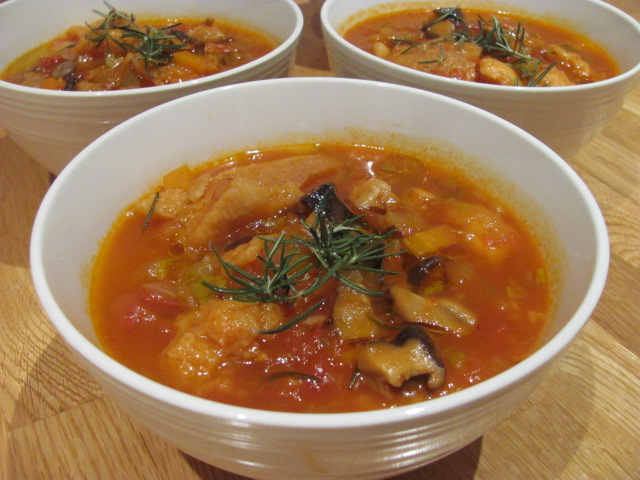 Ingredients
Serves 6
60g dried shiitake
50g Shimeji
90 ml extra-virgin olive oil, plus extra to serve
2 brown onions, finely chopped
5 inner celery stalks and leaves, finely chopped
3 carrots, finely chopped
2 rosemary sprig, plus extra to serve
2 garlic clove, thinly sliced
1200g canned whole peeled tomatoes
6 cups chicken stock (vegetable for full vegetarian option)
Stale ciabatta or crusty white bread (about 1 loaf), cut into large pieces
Method
Combine shiitake and 300ml hot water in a bowl, set aside until tender (30 minutes).
Heat olive oil in a large saucepan over medium heat, add onion and stir occasionally until very soft (5-8 minutes). Add celery, carrot, rosemary and garlic and stir occasionally until celery softens and turns pale golden (6-8 minutes). Add tomato, break up with a wooden spoon, then add stock, shiitake and soaking liquid, season to taste and simmer until shiitake are tender and soup is thick and rich (1 hour). Add Shimeji 15 mins before final cooking. Add bread, stand for 10 minutes, then serve drizzled with olive oil and a scattering of extra rosemary.
 Golden Syrup Dumplings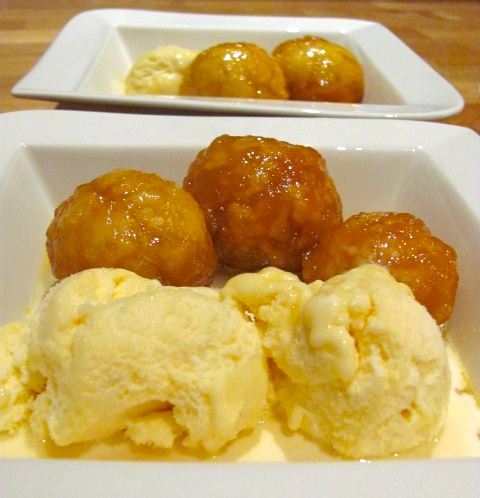 Ingredients
Sauce
2 cups water
3 tblsp golden syrup
2 tblsp butter
1 cup sugar
Dumplings
2 tblsp butter
1 1/2 cups self raising flour
1/4 tsp baking powder
1/2 tsp vanilla
Pinch salt
1 egg
4 tblsp milk
Method
In a large saucepan combine all sauce ingredients over a medium heat, cover and bring to a boil.
Meanwhile, add all other ingredients to a food processor (except the milk). Pulse to combine then add the milk a tablespoon at a time, pulsing between, until the mix forms a ball.
Using a tablespoon of mixture at a time, roll mixture into balls. You should get about 14 balls.
Drop the balls into the boiling liquid, cover with a lid and lower the heat. Simmer for 30 minutes. Do not lift the lid; the steam is needed to puff up the dumplings.
After 30 minutes, lift the lid and, using a spoon, carefully turn the dumplings over in their sauce. The liquid will still be quite watery. Turn up the heat and let the syrup thicken for about 5-10 minutes. Watch that the syrup doesn't burn.
Serve smothered in cream and ice cream!