As you may know, I'm catering my first wedding in November so I'm experimenting with a few cold canapes. I'll definitely be using this Smoked Salmon Butter Crostini as it is so deliciously tasting and is easy to make and transport. Whipping the butter makes such a difference to this smoked salmon canape. For the base I simply sliced ciabetta bread and popped into the toaster then cut into bite size morsels. You of course could fry them but I was after convenience here, plus frying would entail more fat and there's certainly enough in the topping… it's the only thing pretty much ha ha! Not healthy but very yummy!
Smoked Salmon Butter Crostini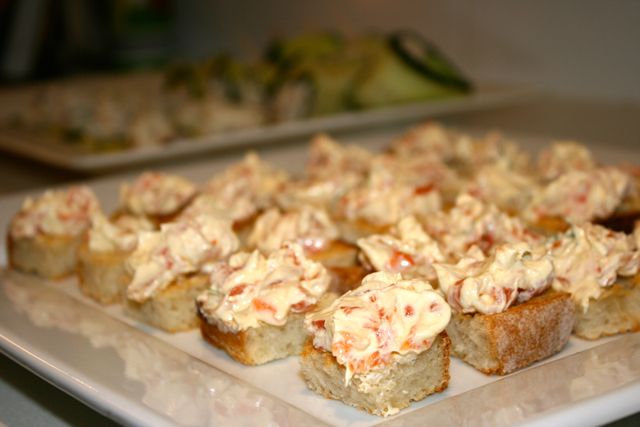 Ingredients
7 tblsp butter
100-120g Smoked salmon, cut into small pieces
Fennel fronds to taste (optional)
Ciabetta or sourdough
Method
Whip butter until fluffy and pale yellow in colour. Stir in smoked salmon and fennel fronds if using.
To make crostini simply toast or fry your bread then cut into crostini size morsels.
Top each ciabetta crostoni with smoked salmon butter. Serve nicely on platter.
Next I tried these Cucumber Wheels but hmmmm didn't work so well. As you can see there are attempted wheels in the background, they look a little scary don't they? Luckily my friend suggested slicing the cucumber and simply spooning the mixture on top – a far better process. I loved the taste of these cucumber feta canape's! The creaminess of the feta accompanied by the italian flavours of sundried tomato, olives and fresh oregano were enhanced by the freshness of the cucumber. The colours worked really nicely here and my friends said they also enjoyed these very much also.
Cucumber Feta Slices

Ingredients
2 Lebanese cucumbers
200g crumbled feta
3 tablespoons Greek yogurt
3 tblsp finely diced sundried tomatoes
8 – 12 pitted kalamata olives, roughly chopped
1 tblsp roughly chopped oregano
2 teaspoons lemon juice
pinch of pepper, or to taste
Directions
I didn't do this exactly but I learnt from my experience so next time I would…..
Peel cucumber and cut slices about 3cm thick. Lay the cucumbers on top of a paper towel lined cutting board while you prepare the filling.
Mix feta and yogurt in a bowl and mash with a fork until combined. Add the sun dried tomatoes, olives, oregano, lemon, and pepper to the bowl. Stir well to combine.
Place 1 – 2 teaspoons of mixture onto each cucumber slice. Repeat with remaining strips. If not serving immediately, chill until ready to serve.