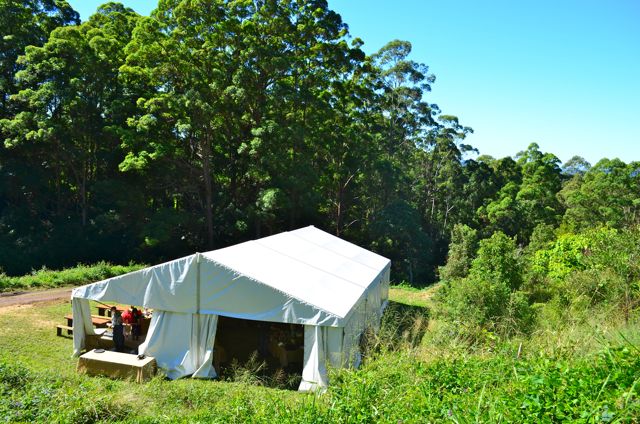 The premier food, wine and networking event for the culinary community, Noosa International Food and Wine Festival, have closed their doors for another year and what a triumphant year it was!
With mild autumn temperatures, the warm sun's friendly beam, and a stunning Queensland blue sky, you could say we had festival-weather perfection.
Working as a Social Media Volunteer at this year's Noosa International Food and Wine Festival was not only educational and exciting, but very character-building as well.
Celebrating their tenth anniversary this year, The Noosa International Food and Wine Festival runs over 4 days (Thursday through Sunday). Volunteering for the last 3 days, I thought I would share with you my adventure from the beginning….
It's Friday morning, the car is packed, my GPS is set and my sunglasses are on. My first stop, Martin Duncan's Freestyle Escape in the Blackall Range near Mapleton – I was covering the Noosa International Food and Wine Festival 's Food Trail event: Strings & Straw.
Arriving early and with no wrong turns to speak of, I waited patiently on the lush green grass for the 4WD which would convoy me to the special mini farmers market. With the other guests a little ways behind, I watched on as the local Sunshine Coast producers set up their produce-stands whilst the string quartet tuned their strings.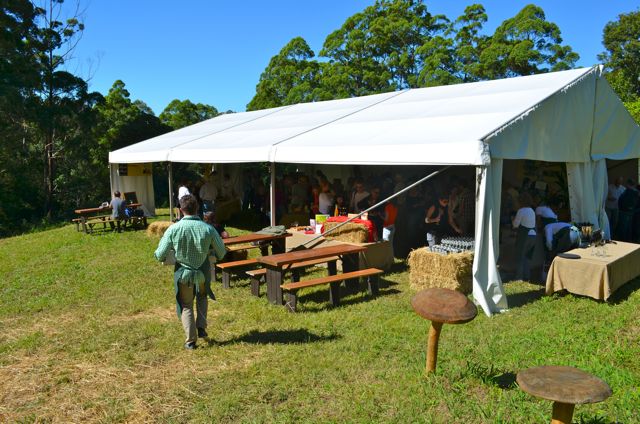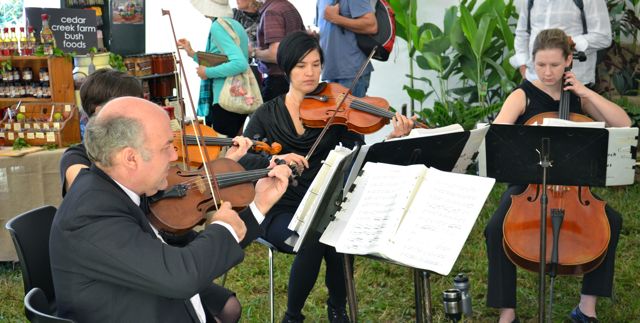 While it was quiet, I took the chance to say hello to some of the producers. It was Sally from Hinterland Feijoa that I spoke to first; I was eyeing off the unusual Feijoa fruit and her warm and friendly smile reeled me in. Admitting I knew nothing about Feijoas, Sally kindly informed me that they are a flowering plant which is part of the myrtle family. She was proud in telling me hinterland Feijoas are certified organic and I was just as proud to hear it! Hinterland Feijoa make everything from jams, chutneys, balsamic glazes (my favourite) to Feijoa gelato and chocolates.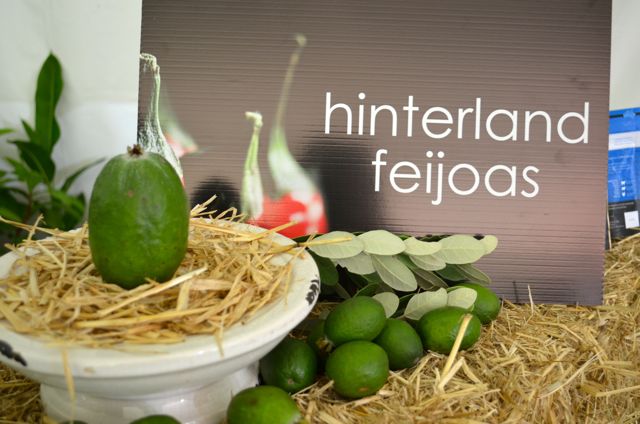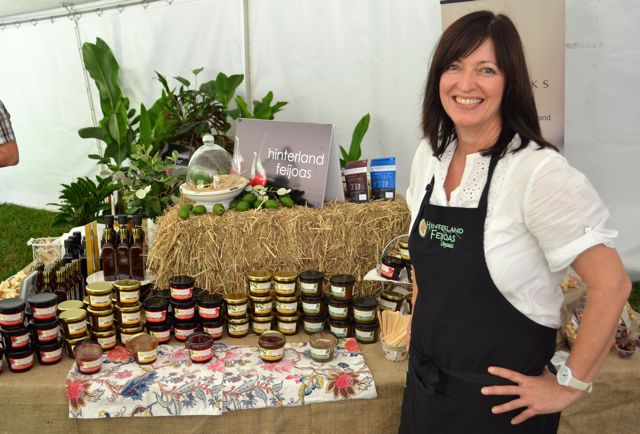 Like a bee to a flower I was a foodie to honey! Honey is a favourite of mine so it was no wonder that my eyes doubled in size when I saw jars of honey and containers of honeycomb on the Hello Honey stand. Judy from Hello Honey must have seen my crazy eyes because she was quick to put a tasting of cinnamon honey into my hand – now I don't normally like using acronyms but OMG! Judy's cinnamon honey is the best darn tasting honey treat I've ever tasted (no exaggeration). "What's in it what's in it?!" I said. "Ha ha, now that's the secret and I will not tell" she laughed. We got to chatting and I walked away thrilled that I had just discovered two producers creating sensational local products.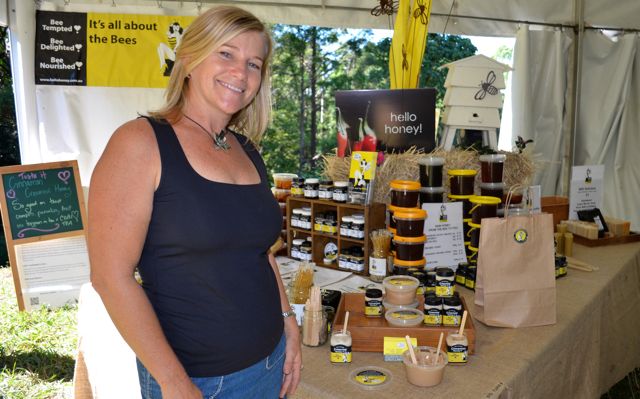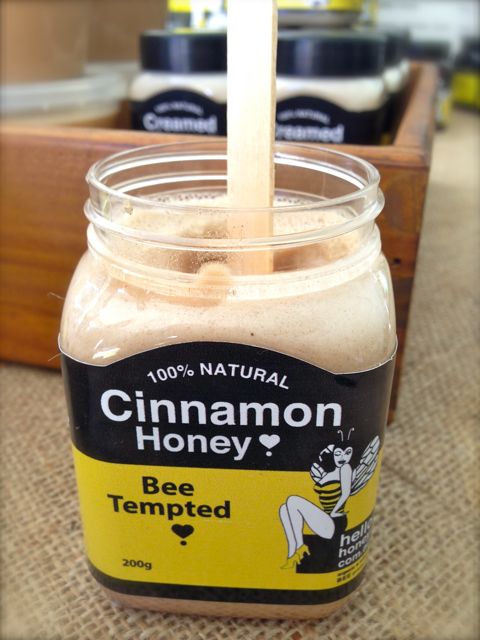 The Kin Kin Kids Kookaburra Kafe stand was filled with beautiful homemade goods made from the gardens of the Kin Kin State School. Kin Kin State School has a strong sustainable living program that ensures they are nurturing students for today and tomorrow – a lovely concept indeed.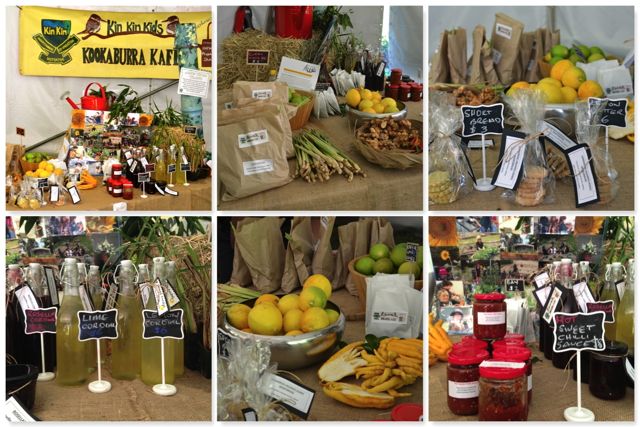 As I turned around, a huge jar of pickled ginger caught my eye over at the Cedar Creek Farm Bush Foods stand. Passionate Chef and owner of Cedar Creek Farm Bush Foods, Peter Wolfe, chatted to me about the culinary uses of his products and it wasn't long after that I purchased a tasty bottle of lemongrass macadamia oil. I can smell the prawns in the wok now. Here's a great write up on Peter Wolfe.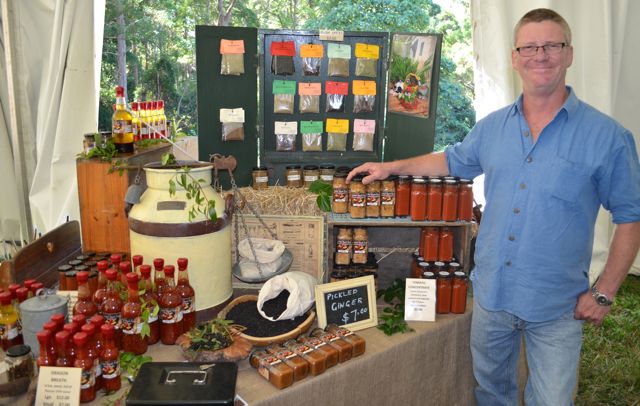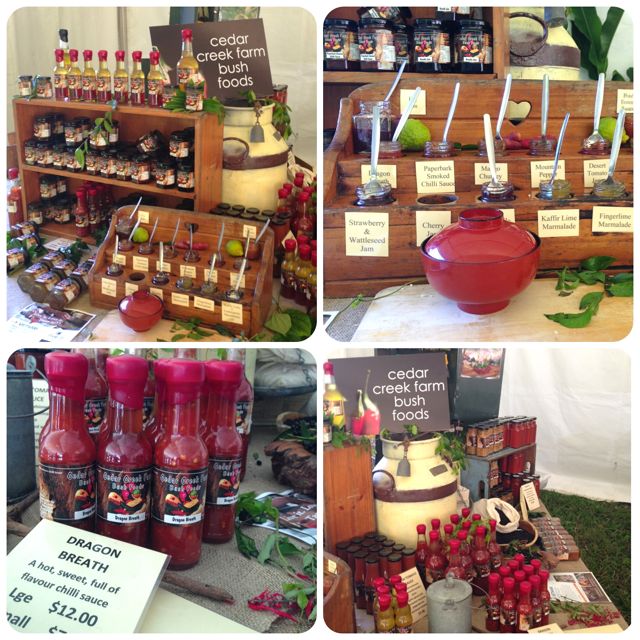 Also featuring at the farmers market were Seasons of the Sun, Maleny Dairies, Nutworks and Glasshouse Gourmet Snails; with T'gallant Wines quenching the guest's thirsts, it was clear that everyone was having a glorious time.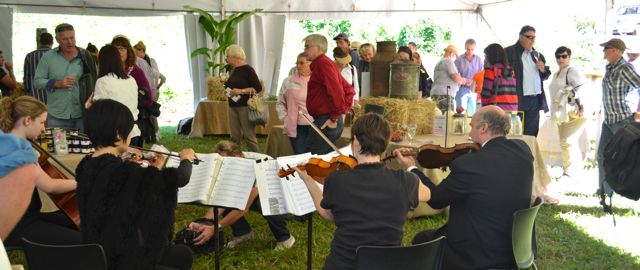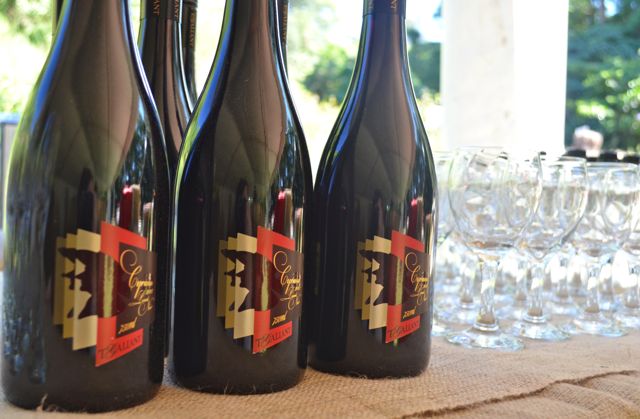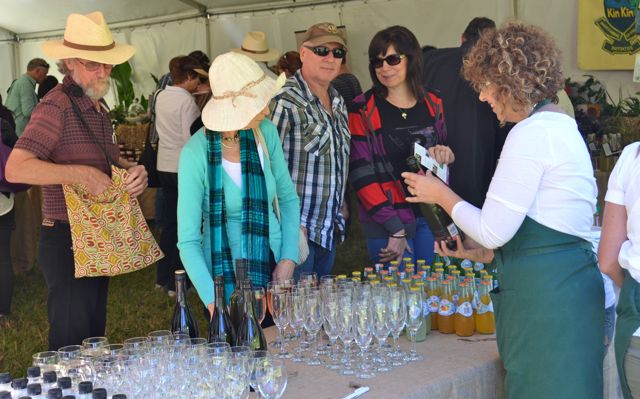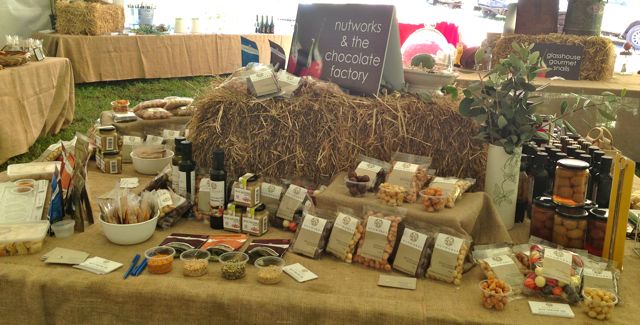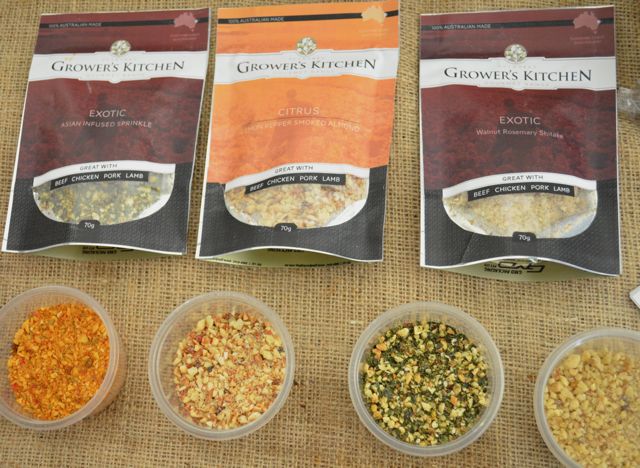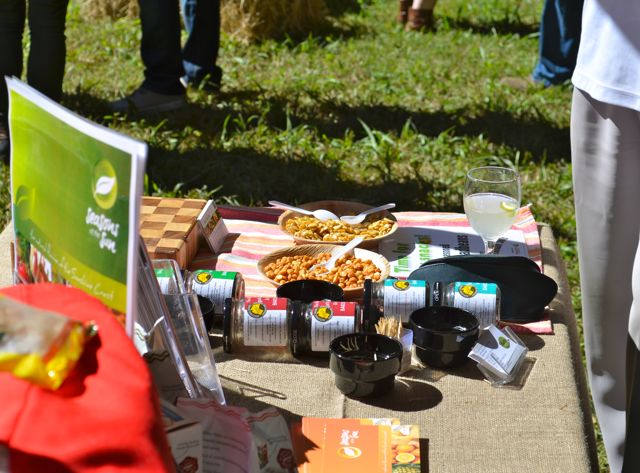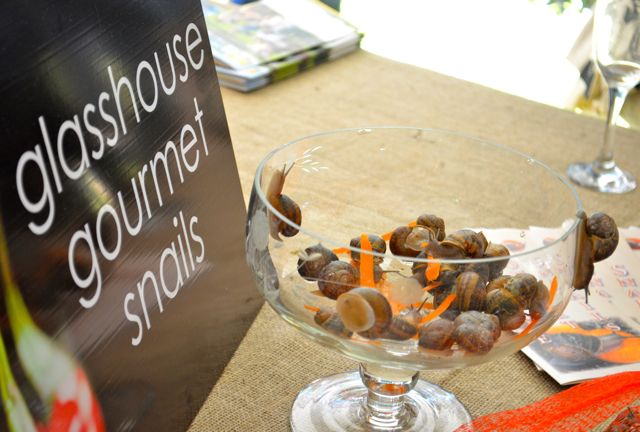 After tasting the freshest of produce and mingling with the producers, guests were guided up a short but steep hill to the covered dining area where lunch was to be prepared and served. A wood fired oven was off to the side and its smoke softly blanketed the sweeping hinterland views.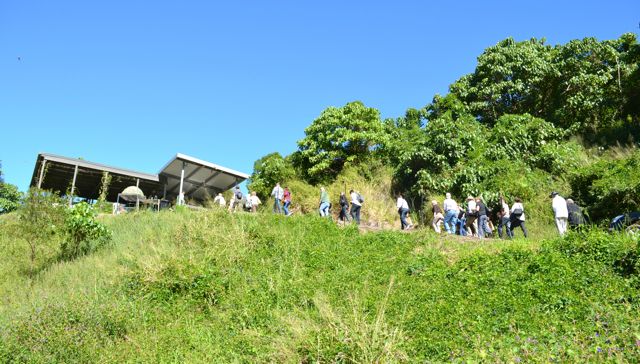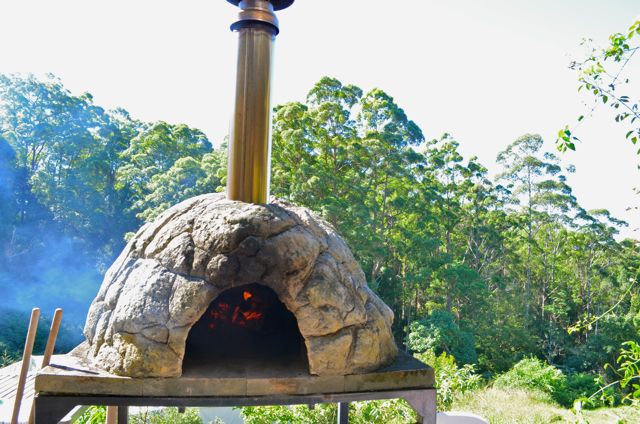 It was Chef Matt Wilkinson whom I saw first as he was pulling trays of haloumi from the wood fired oven. Then a glance to the outdoor kitchen revealed the rest of our chefs – Mark Jensen, Cameron Matthews and Martin Duncan. To be in a room with these talented chefs was quite special to say the least. They made everything look so easy! I got right up close and sussed out the preparation; the smell of the herbs, spices and other local produce was out of this world.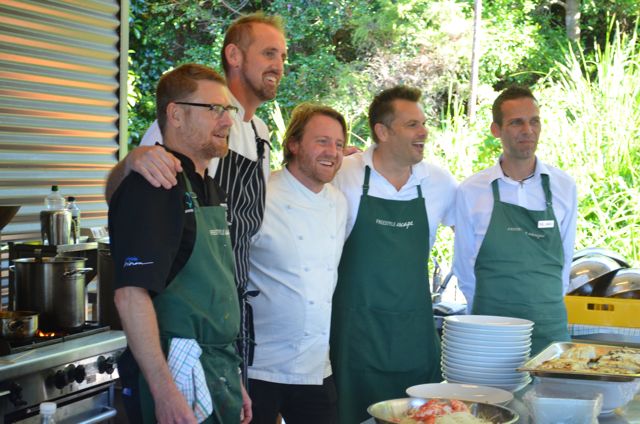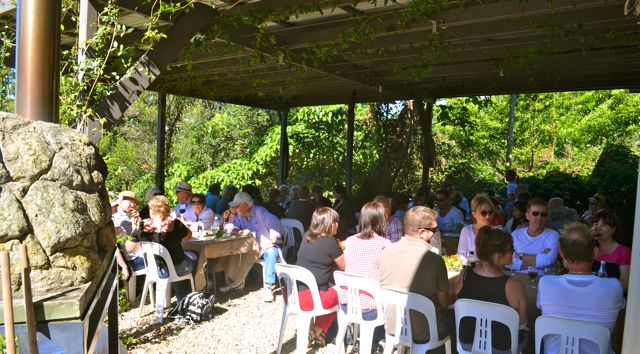 Martin Duncan stood before us and introduced us to everyone. Kevin McCarthy of T'Gallant wines was first to speak; this was actually one of the funniest moments of the day! I won't go into too much detail but let's just say Martin's wife got up and set the record straight on the true method behind the T'Gallant Moscato.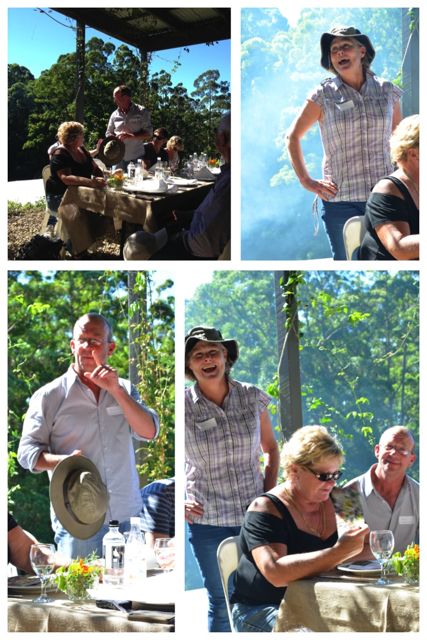 Below you will find the Noosa International Food and Wine Festival 's String and Straw menu. I'll let my photos tell the story – after all, a picture is worth a thousand words.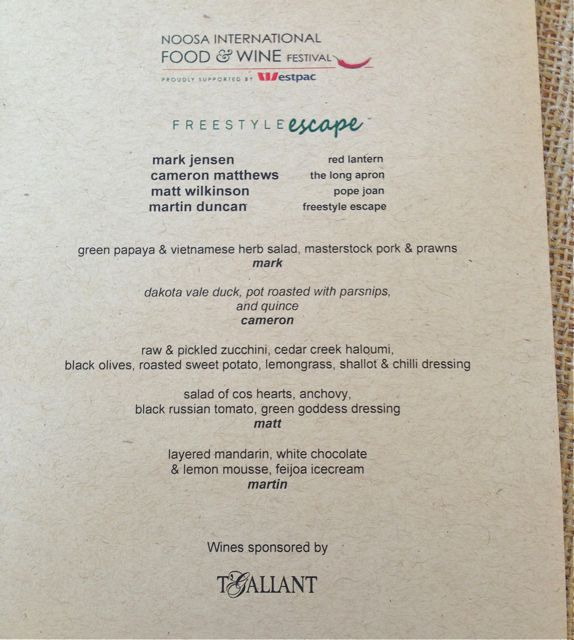 Mark Jensen's Green papaya and vietnamese herb salad, masterstock pork and prawns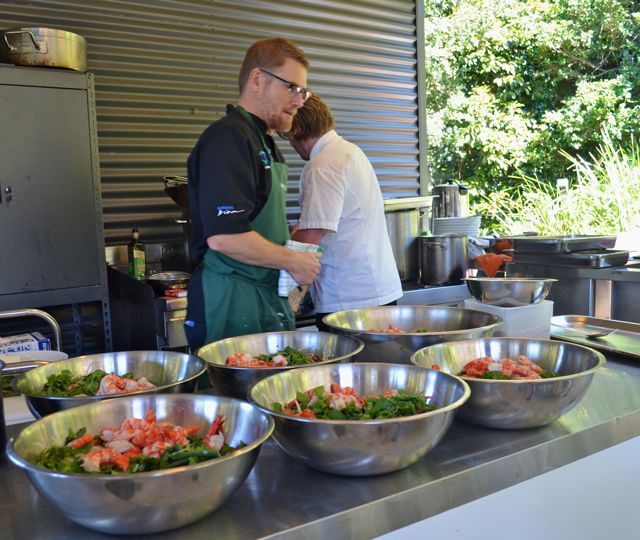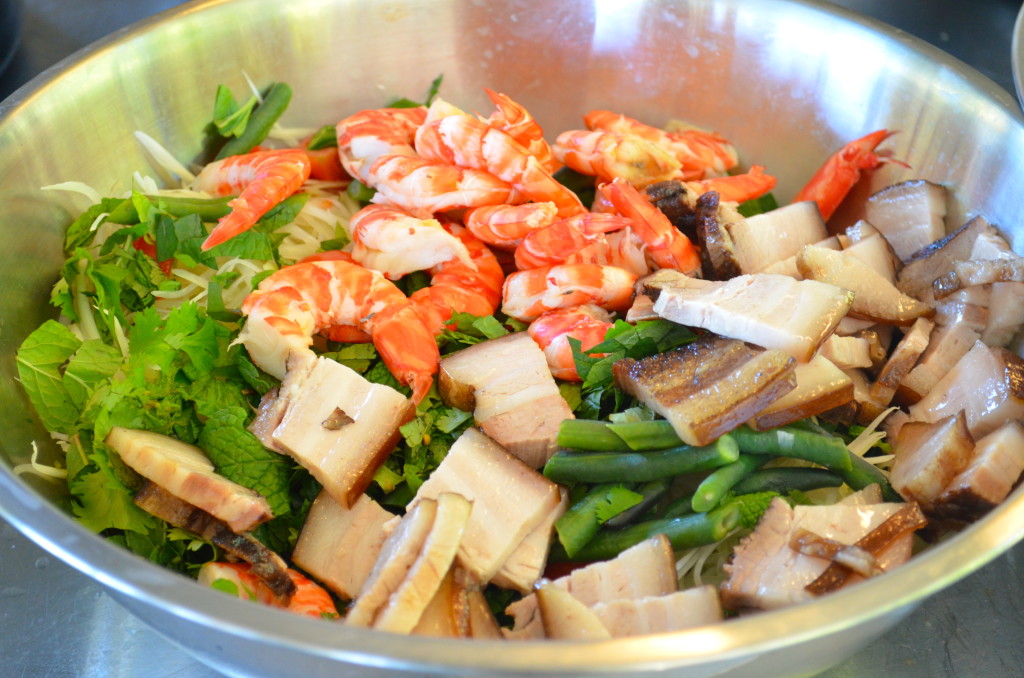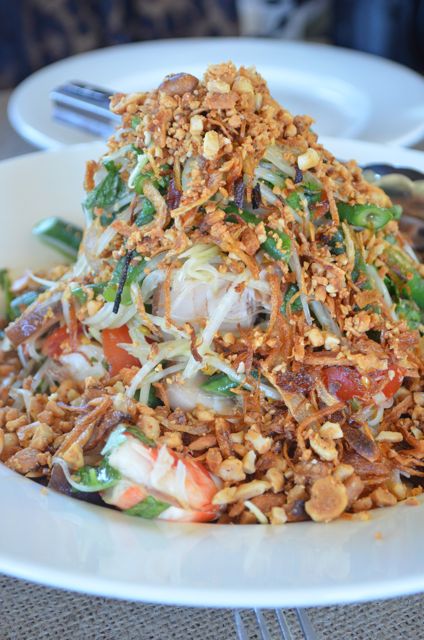 Raw and pickled zucchini, cedar creek haloumi, black olives, roasted sweet potato, lemongrass, shallot and chilli dressing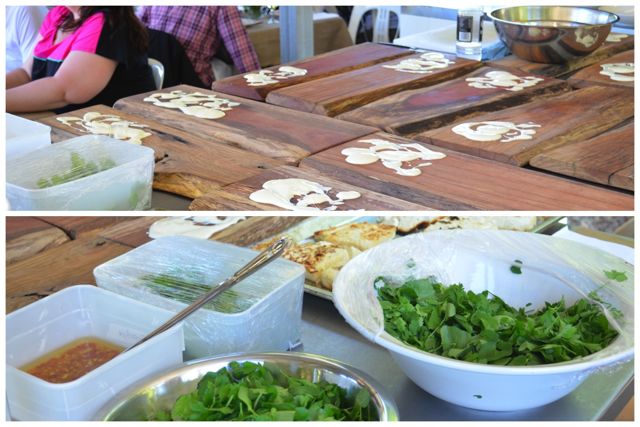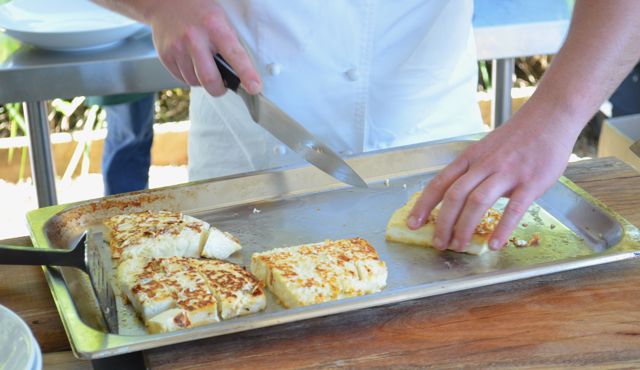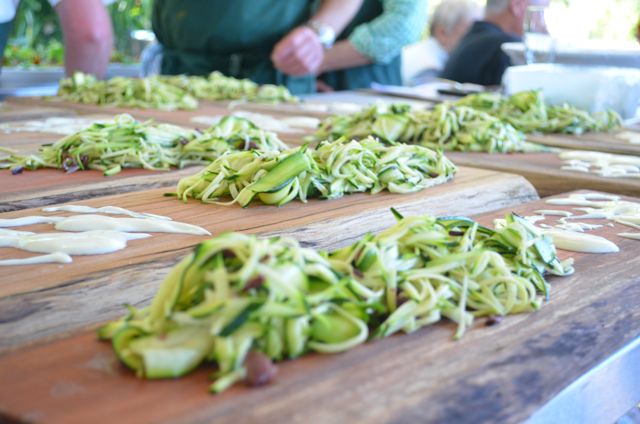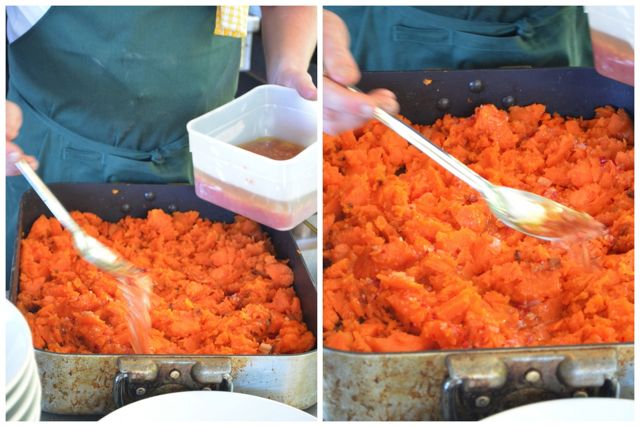 Impressive or what! What is it about serving food on pieces of timber?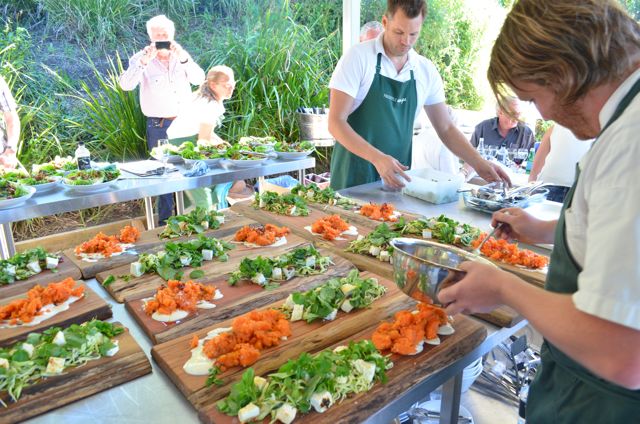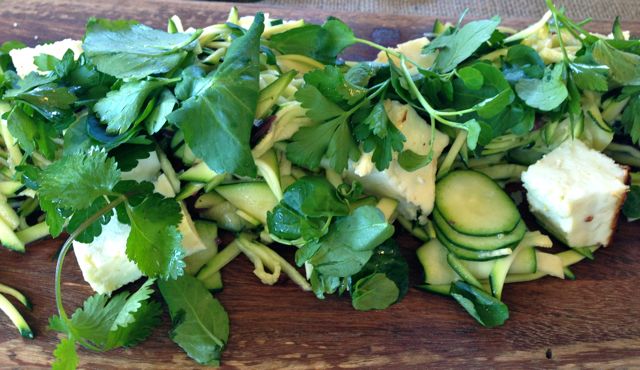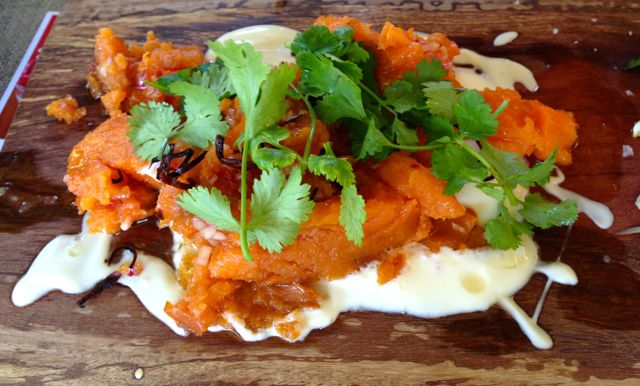 Dakota vale duck, pot roasted with parsnips and quince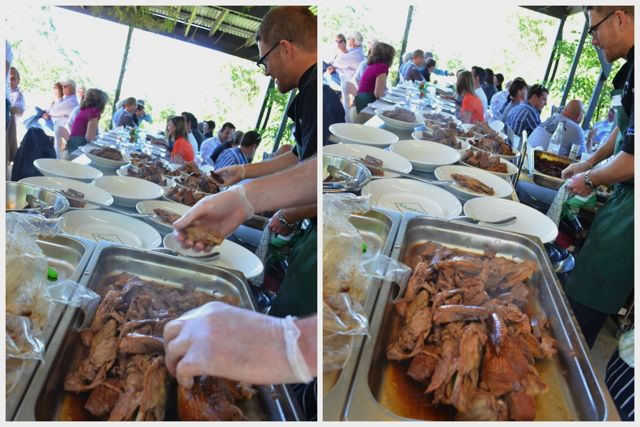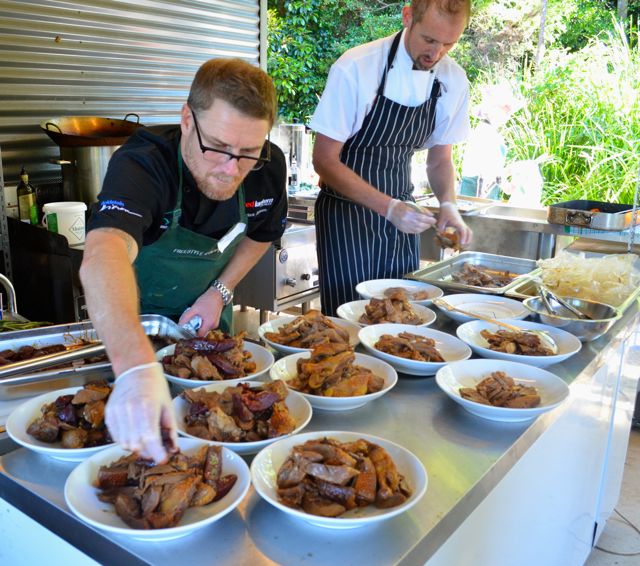 Salad of cos hearts, anchovy, black Russian tomato, green goddess dressing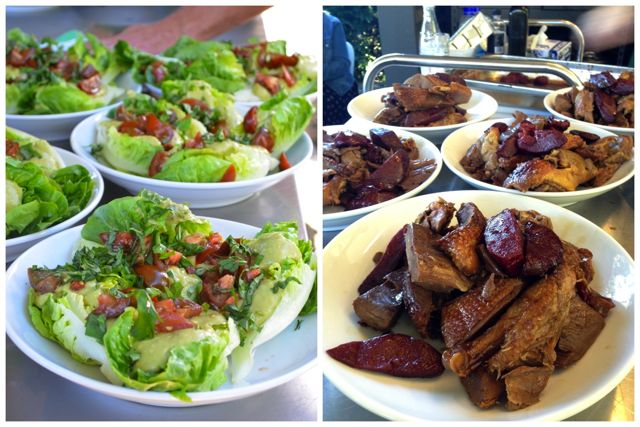 Layered mandarin, white chocolate and lemon mousse, feijoa icecream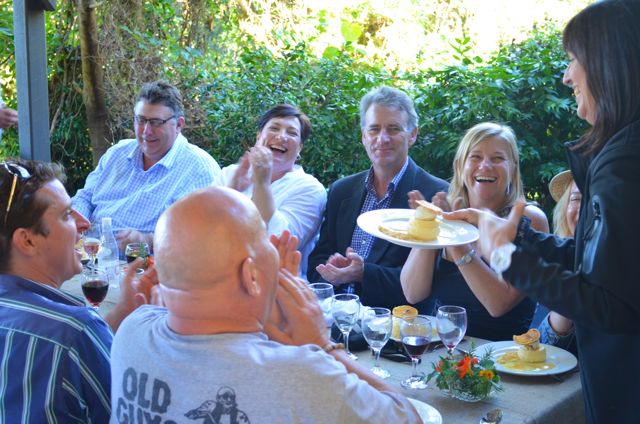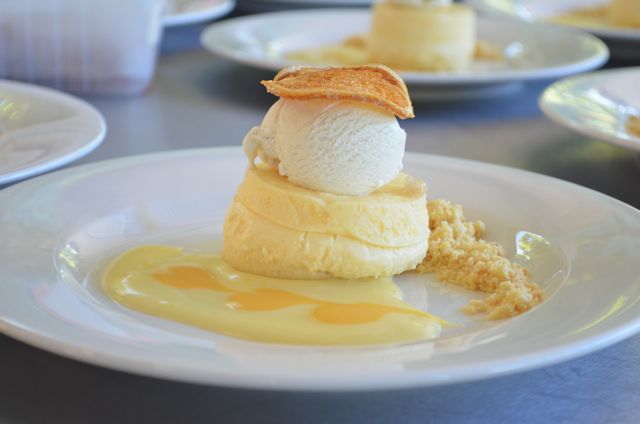 To walk off lunch, we headed up to visit Freestyle Escape's working farm. On the way we passed the outdoor bath. If you stay at Freestyle Escape you can organise to have a bath under the stars with a sensational view over the Sunshine Coast hinterland; a glass of bubbles and you're in heaven!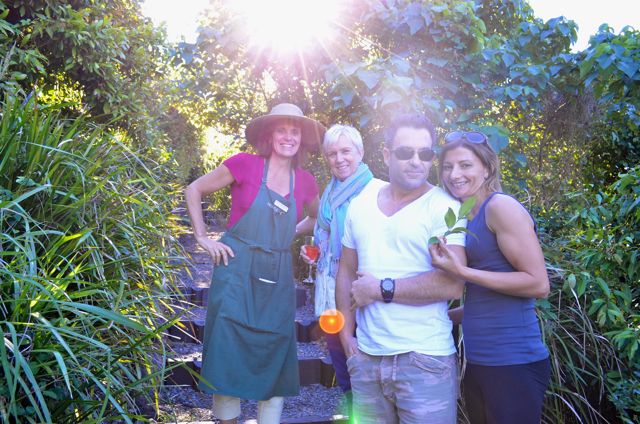 We tasted the fruit, we sampled the herbs and we played with the chooks, rather shooed the chooks (the huge chooks) out from the gardens. My favourite discovery was Stevia rebaudiana – it's a natural herb sweetener – I have to buy me some of that! Wasabi parsley was a fabulous discovery too.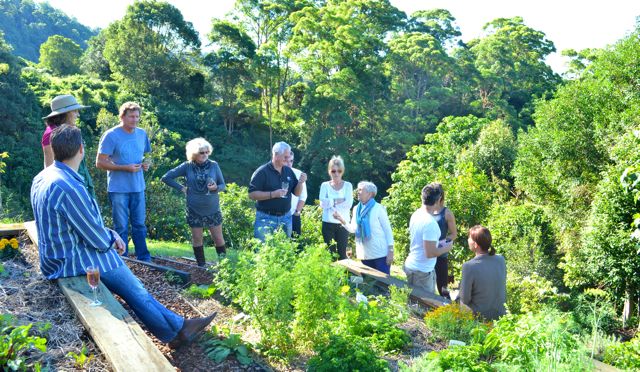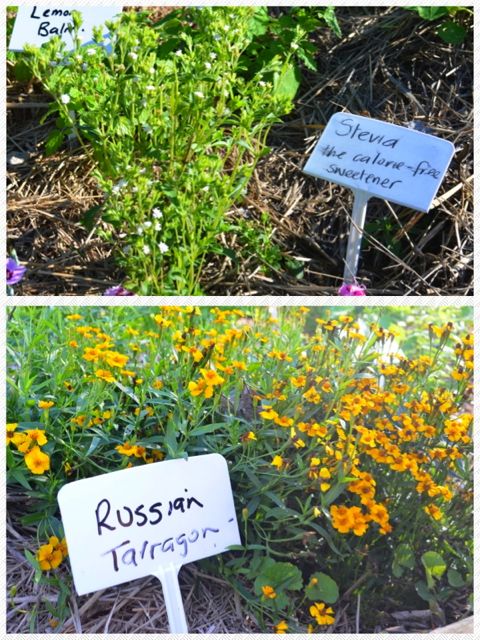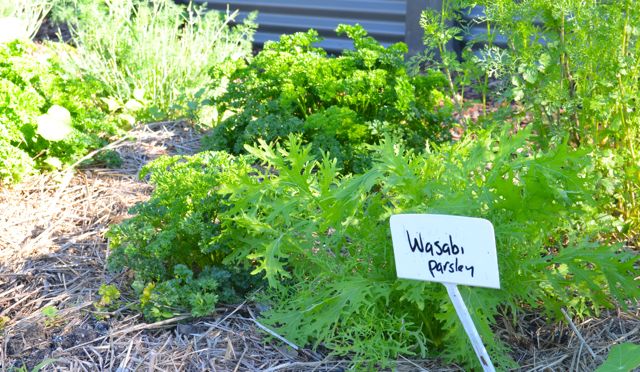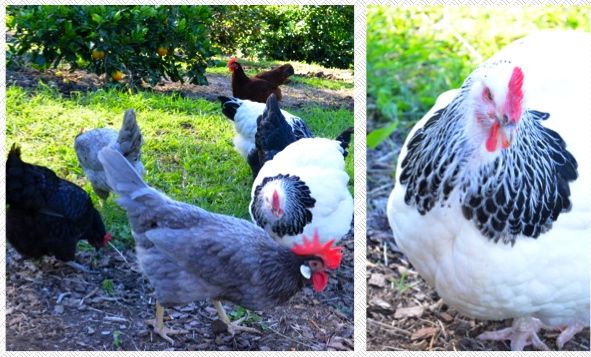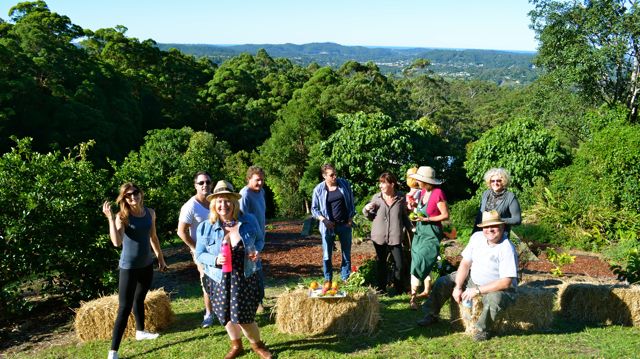 The day was drawing to an end and it was time to wind down and make our way back home. Everyone had a wonderful time and I have no doubt that there were lasting friendships made.
Saturday and Sunday saw me back at the Noosa International Food and Wine Festival grounds where there were cooking demonstrations galore and food and wine stalls a-plenty.
To be continued….