12 months ago my best friend advised she was going to be married to her true love in Cape Panwa, Phuket. Of course I couldn't/wouldn't miss it for the world so my tickets were booked without delay and all that was left was the eager wait!
Fast forwarding to today March 30th and I have just returned from the most incredible 10 day holiday ever! Phuket was just as good if not better than the first journey I had back in 1998.
My partner and I started our holiday off with a few quiet days together in Karon, Phuket. We stayed at Tripadvisor's #5 ranked hotel in Karon Beach – Sawasdee Village.
What I instantly loved about Sawasdee Village was its authentic Thai appeal, you really felt like you were tucked away in a Thailand paradise. My Mum in fact stayed a week before and had a garden room, she felt it was a little too dark and stuffy and suggested I request a poolside garden room. We were fortunate to get this and I was so pleased! Our room was in the most perfect position, our front door stepped out to the pool, check out the view from our front door.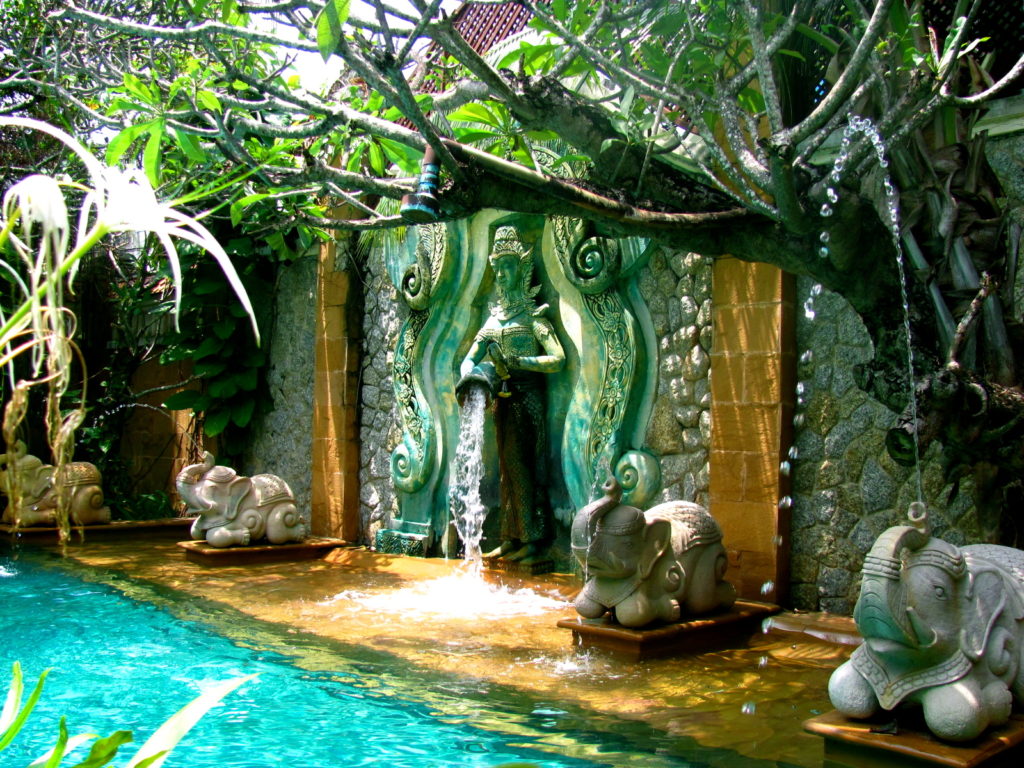 Those steps in the back left corner lead to our room. I'm sure you've noticed the pool bar, who doesn't love those, especially with daily happy hours from 4pm-6pm!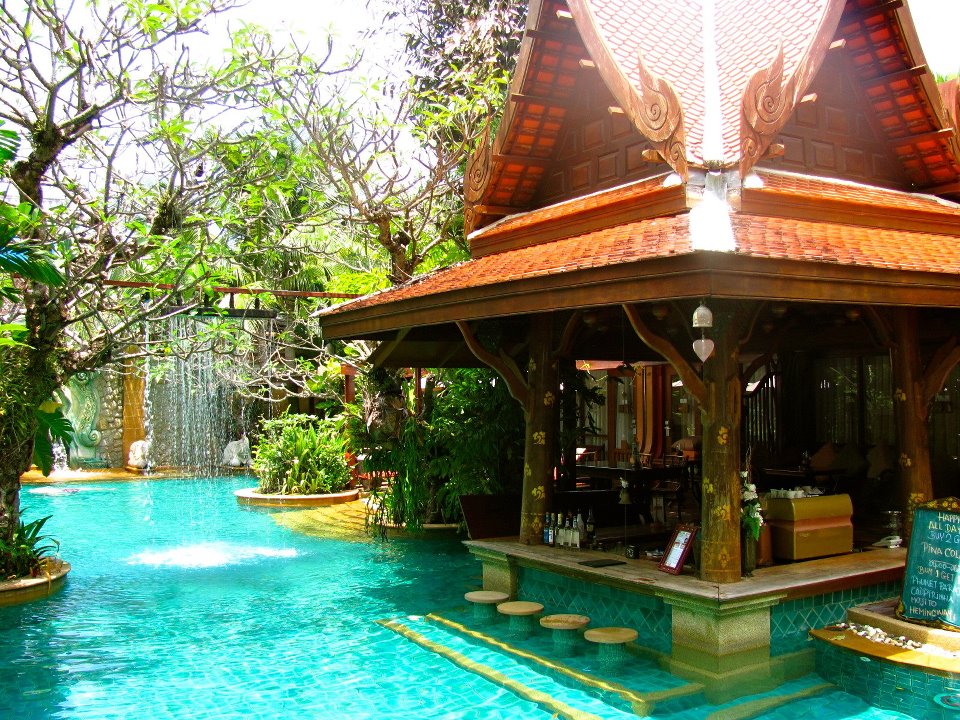 Inside our room was a very large super king bed with a beautifully draped lace netting to keep the bugs out. Some could say the room was small but to be honest it was all that we needed. They have WiFi too which was handy, there's also a TV in your room which switches to a computer monitor.
The restaurant at Sawasdee was the first place we dined (we had a free Thai Banquet with our 3 night stay). Our meals were very authentic and very delicious. I indulged in my first local Tom Ka Gai (coconut chicken soup) and I assure you there were many, many more of those to come. The Thai village setting at the restaurant was tranquil and elegant. This coupled with water fountain features, ponds filled with fish and soft Thai music playing in the background certainly made our first balmy night in Phuket idyllic.
Sawasdee Restaurant – Karon, Phuket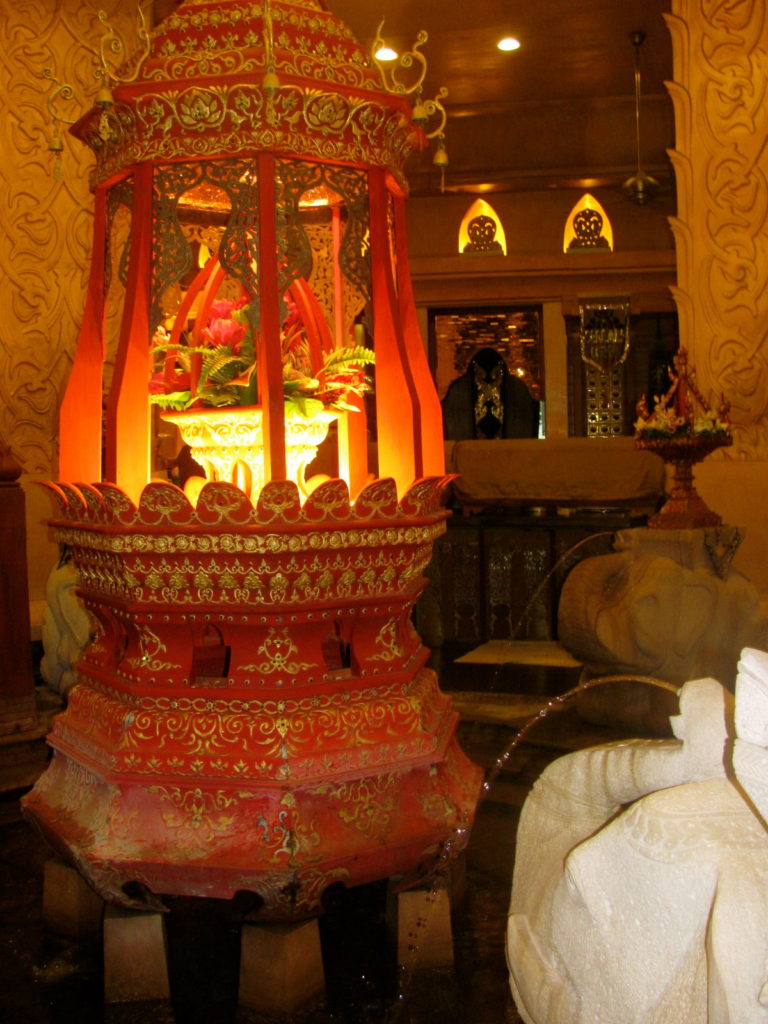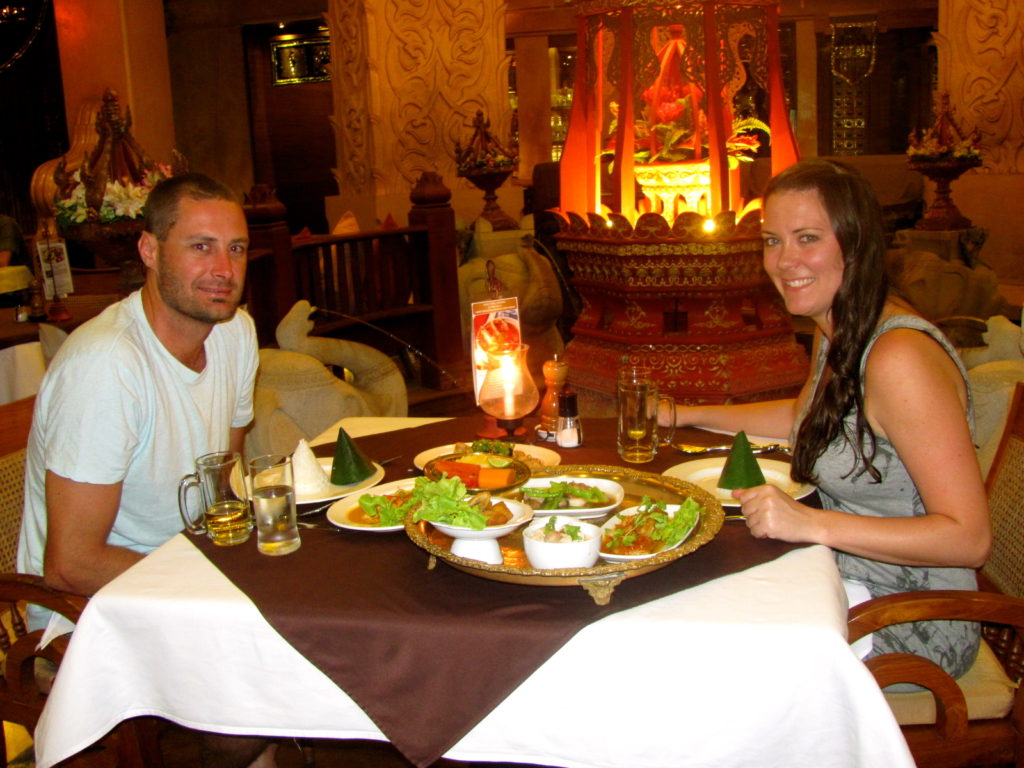 Phuket's Karon Beach was a well chosen place to stay, not as crazy as the northern beaches like Patong and certainly not as dirty. On our second day at the beach we were hit with a torrential downpour which thank goodness was the very last. It only lasted for about 1 hour and once cleared brought a beautiful freshness, and soon to follow steamy day.
Karon Beach, Phuket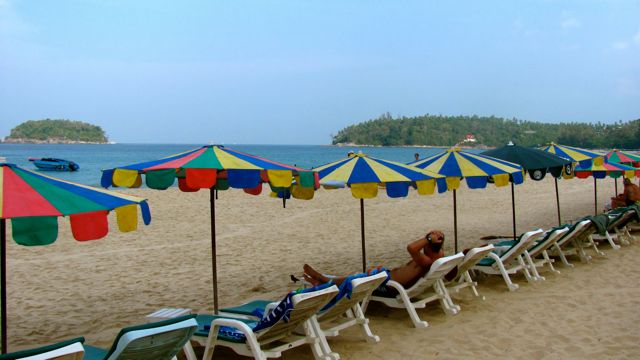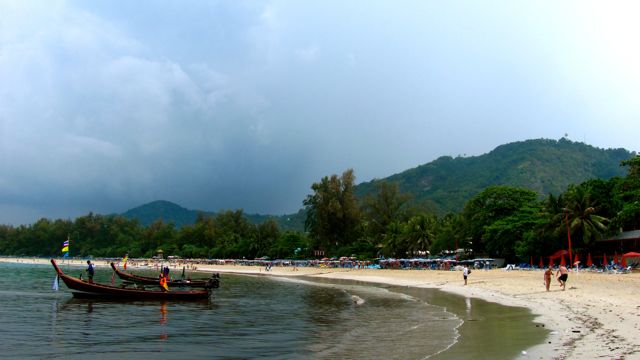 Walking around the headland you reach my favourite beach Kata Noi….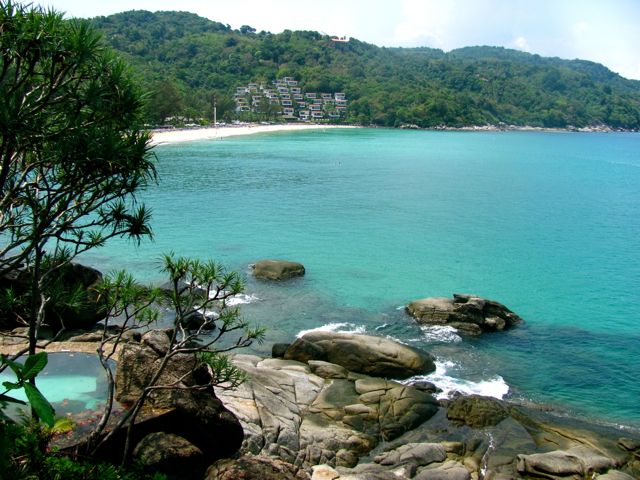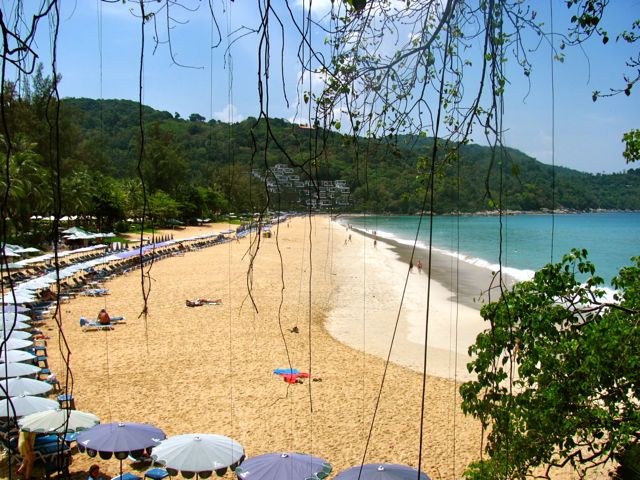 Mom Tri's Kitchen was a charming restaurant situated on the Kata Noi headland (you can see the headland in the image below) this was by far the most perfect spot to take-in the sweeping aqua views.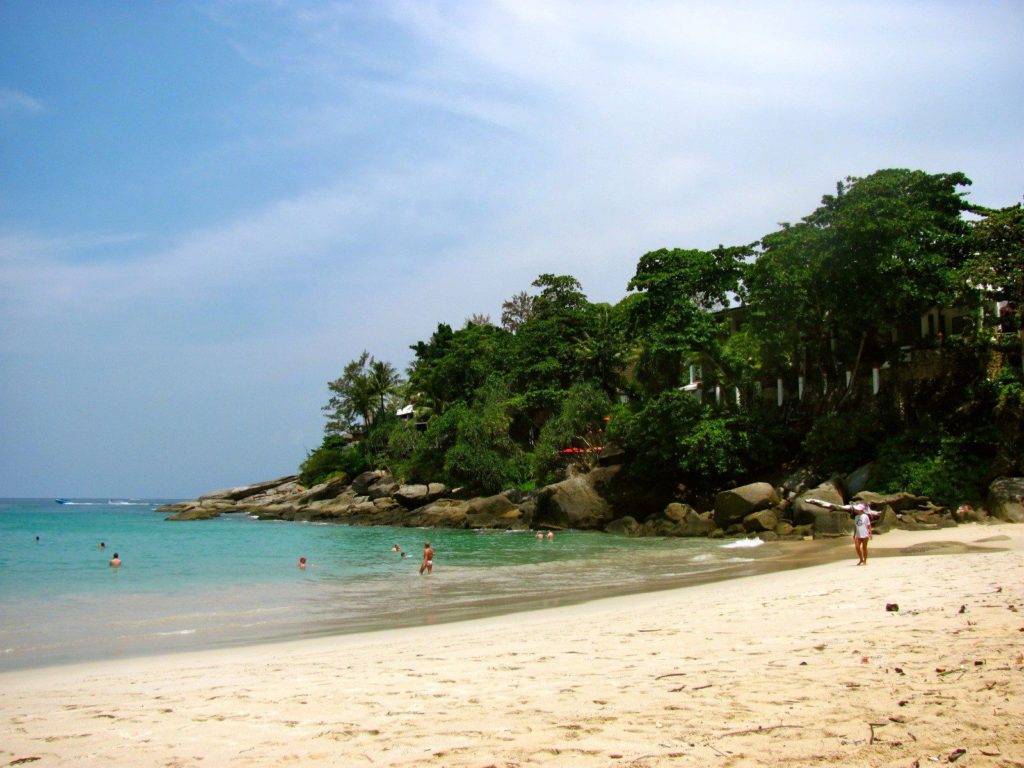 As recommended we booked a table for 6pm so we could admire the beautiful sunset span across the bay. It certainly was a very memorable dining experience and one that I will hold dear to my heart. How's this for a table…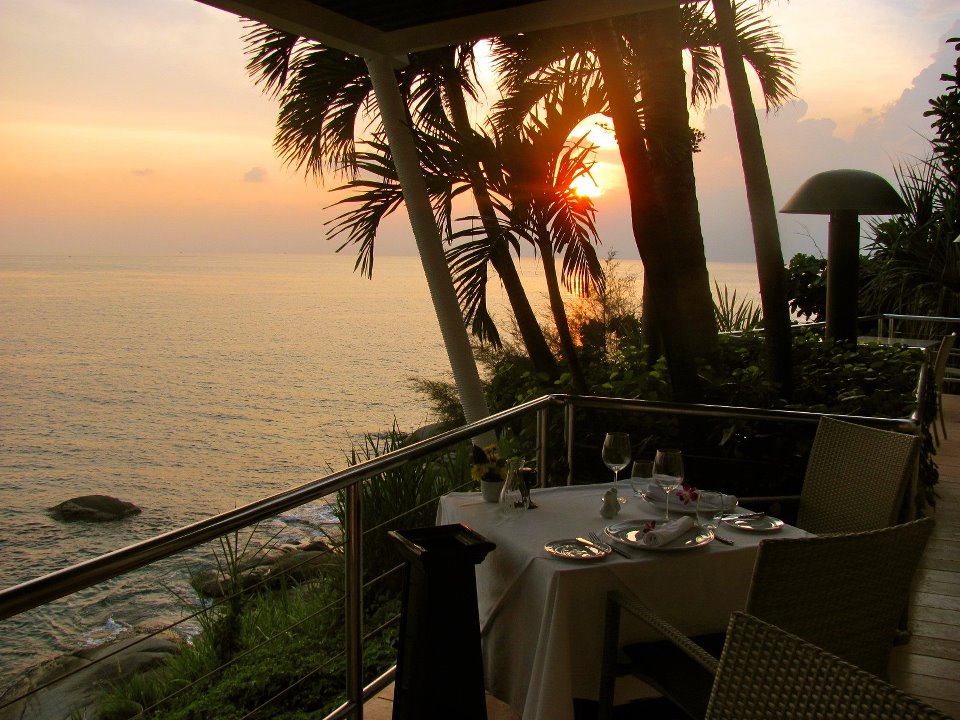 The food at Mom Tri's Kitchen undoubtedly enhanced our overall dining experience. For entrée I enjoyed the best crab dish I've ever had! My partner thoroughly enjoyed his too!
SOM TUM PU-NIM
Warm fried soft-shell crab with green papaya salad flavoured with Tabasco and coriander 290 baht ($9 AUS)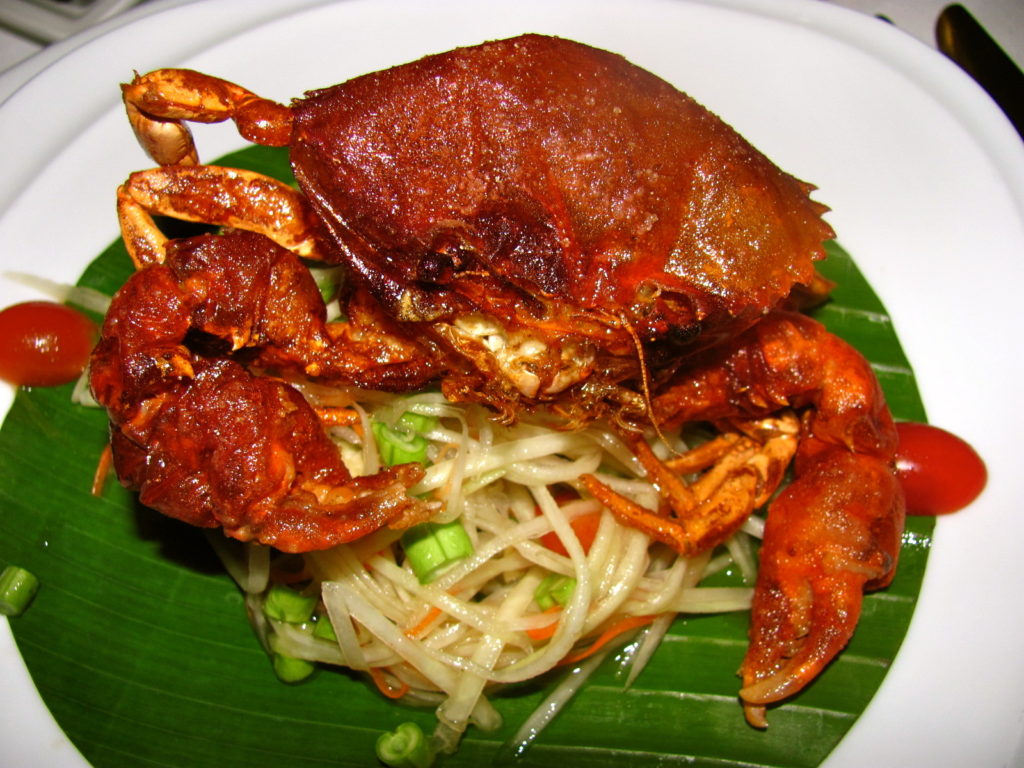 AUBERGINE ROLL
Baked aubergine rolls with toasted pine nuts and fresh apricot chutney, garnished with Greek feta cheese 280 baht ($8 AUS)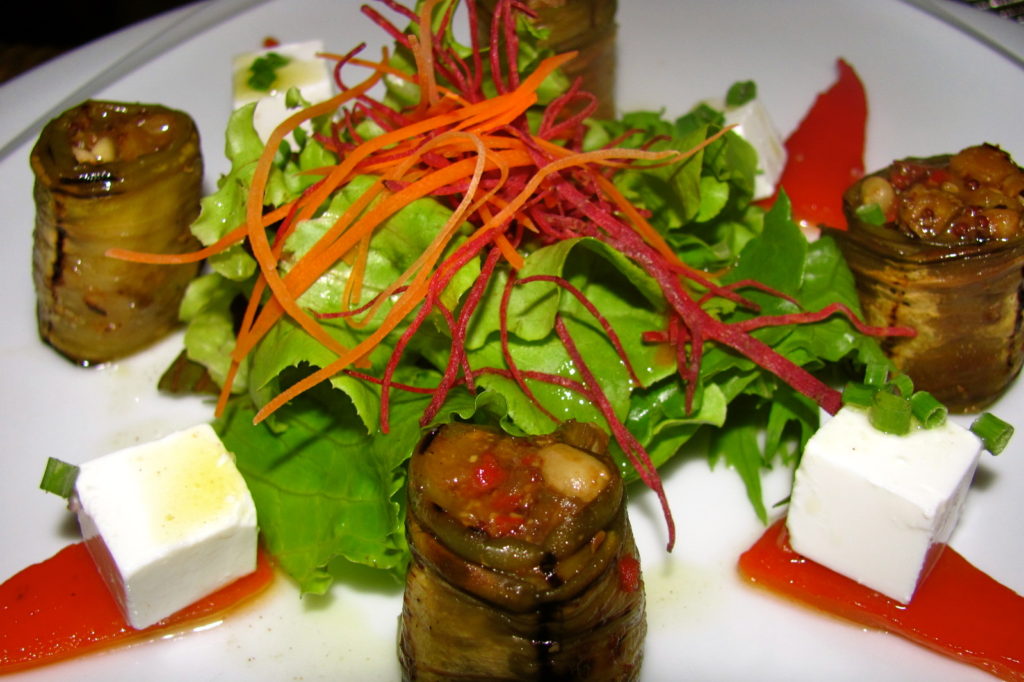 For mains we feasted on the…
RED SNAPPER FILLET
Risotto, sticky balsamic peppers & asparagus, tomato petals, charred pineapple salsa 670 baht ($20 AUS)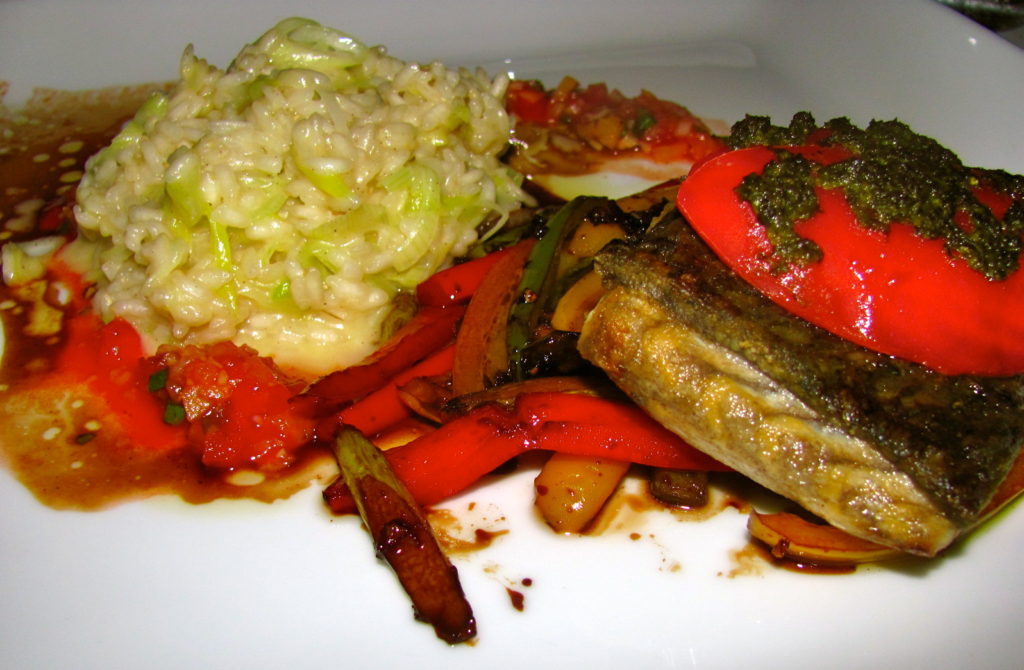 And for my partners main the lucky devil wrapped his lips around
PORK BELLY & SEA SCALLOP
Steamed bok choy, curried pumpkin puree, rhubarb & ginger chutney 890 baht ($27 AUS)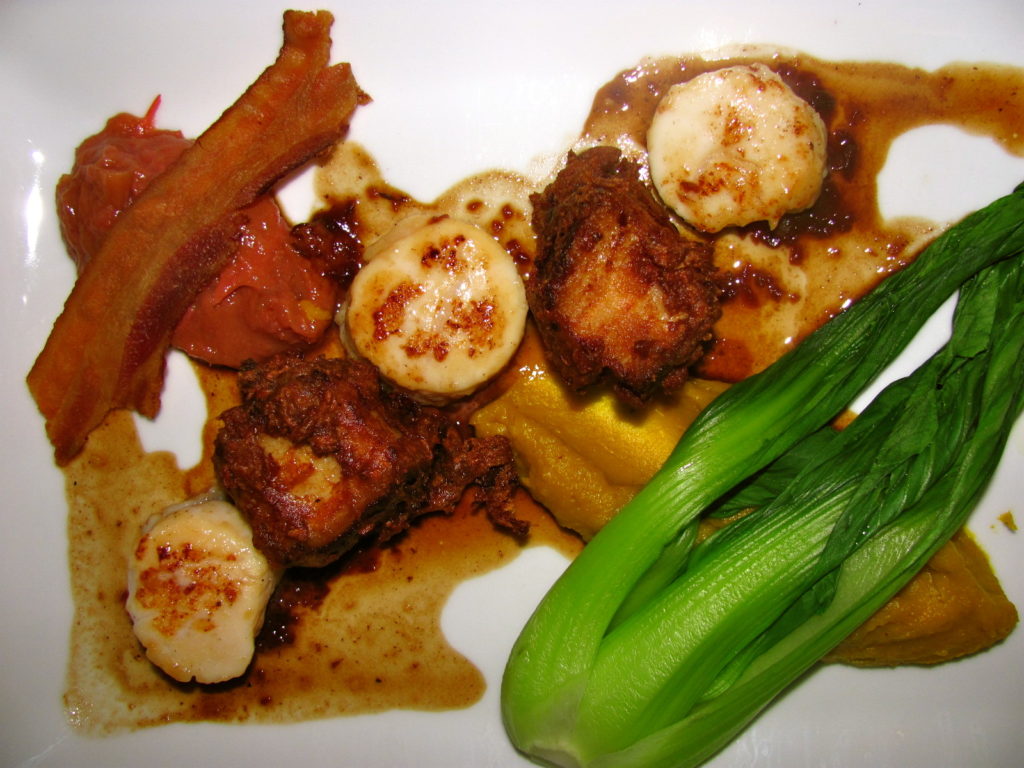 These prices are expensive for Thailand but as you can see still much cheaper than Australia, and the view – priceless! If you head to Phuket I 100% guarantee your dining experience at Mom Tri's Kitchen will be nothing less than awesome! Ooh nearly forgot, they have happy hour from 6pm-7pm up on the terrace.
We decided to do the tourist thing and take a day trip out to Phi Phi Island. Having visited before in 1998 I've experienced first-hand some of the tours on offer and sought TripAdvisor help to ensure a well packaged deal and fast boat. Ranked #1 of 9 tours in Rawai was Simba Sea Trips. Go Simba!! They are undoubtedly the best tour company on offer for sure!! Simba Sea Trips ensure an early departure to avoid the crowds, our day was modified to make sure we had a peaceful day away from the bigger tour companies. In a nutshell this is what we did in a day.
Phi Phi Island – Maya Bay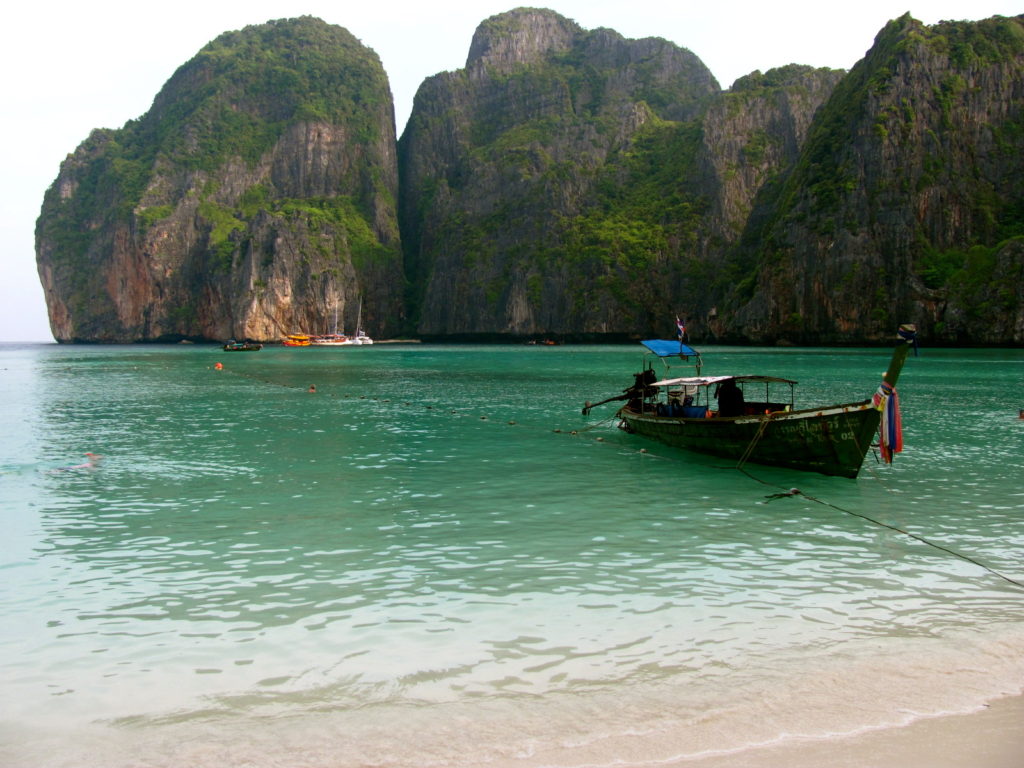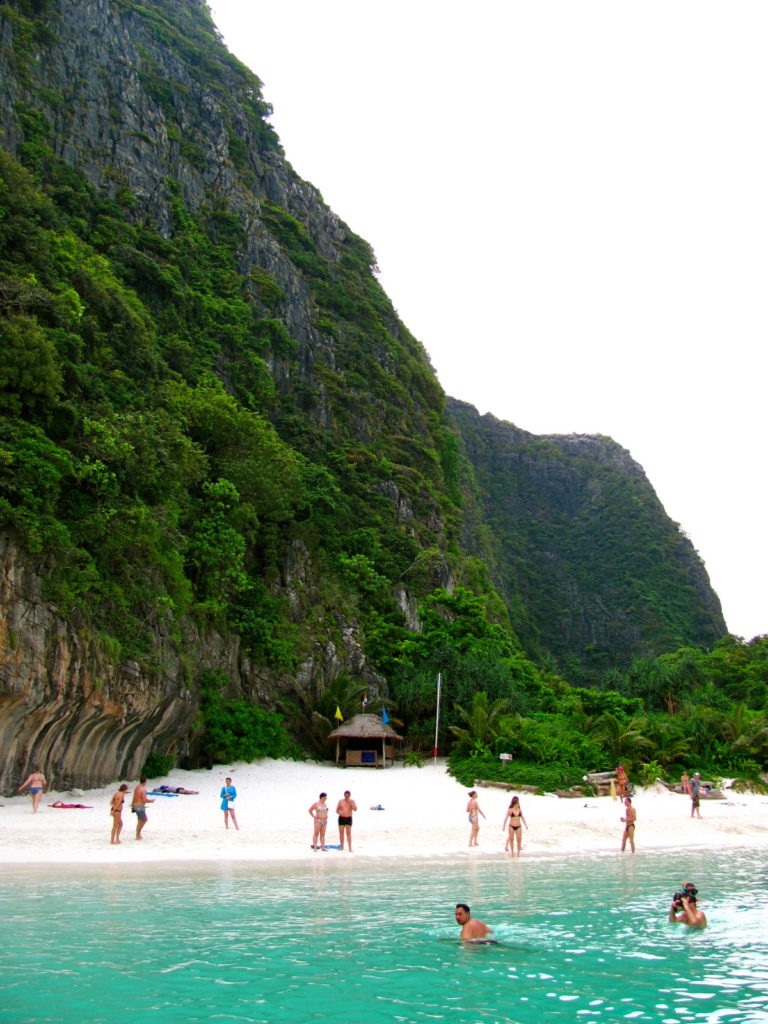 Phi Phi Island – Pileh Lagoon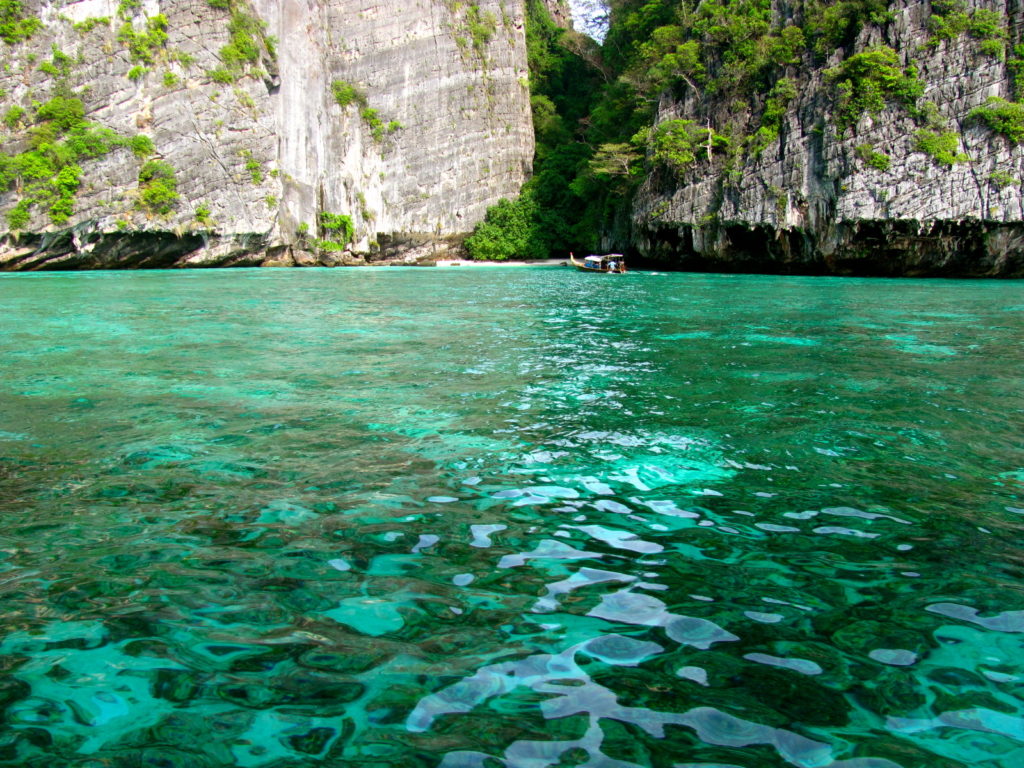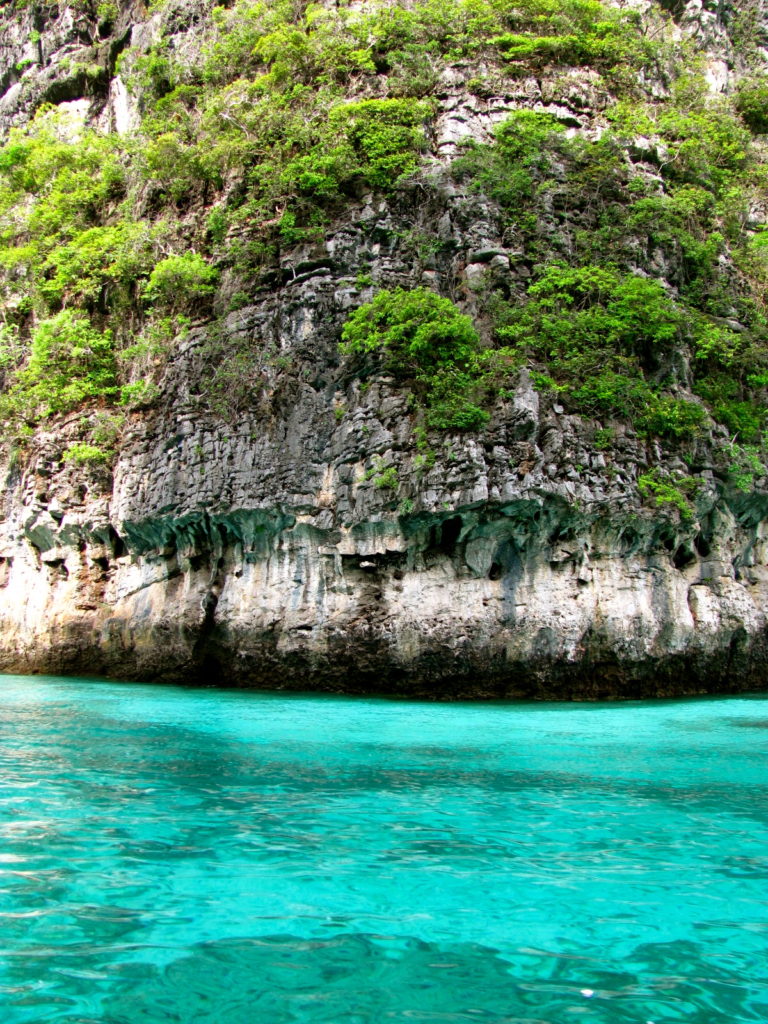 Phi Phi Island – Monkey Beach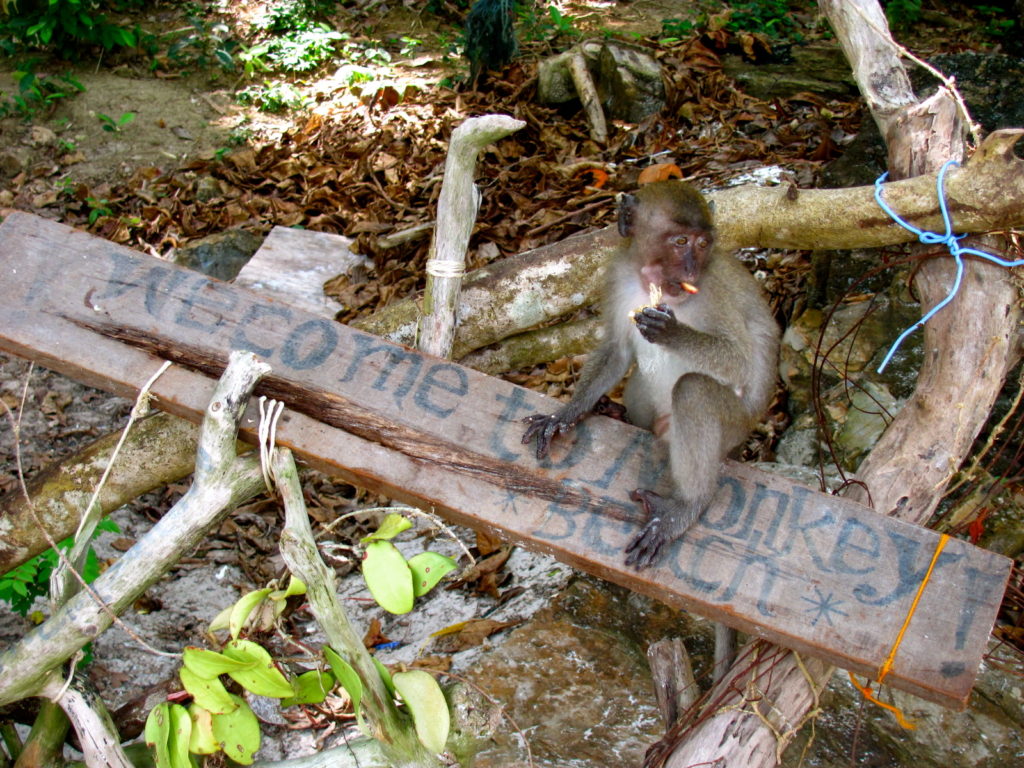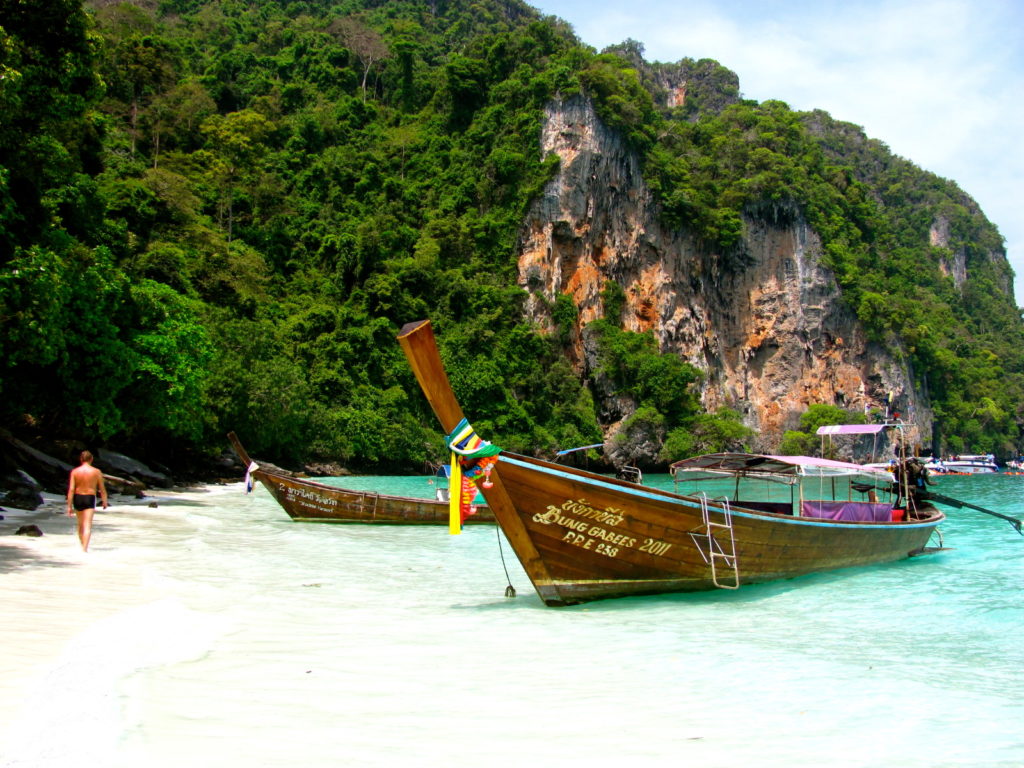 Camel Rock Nui Bay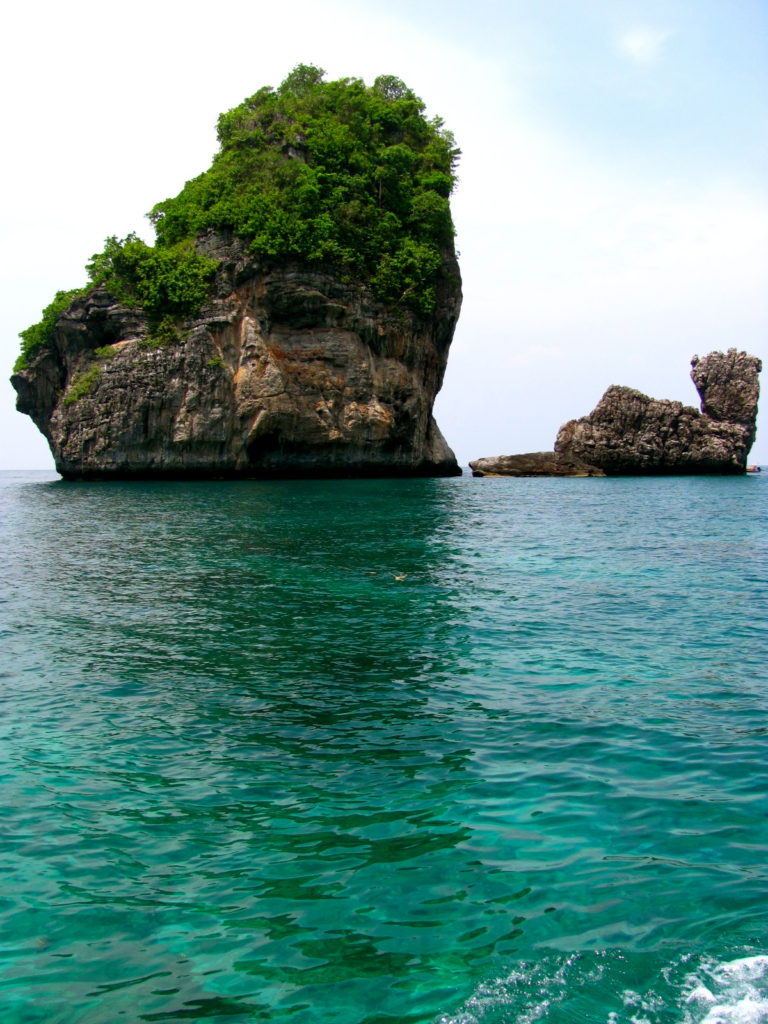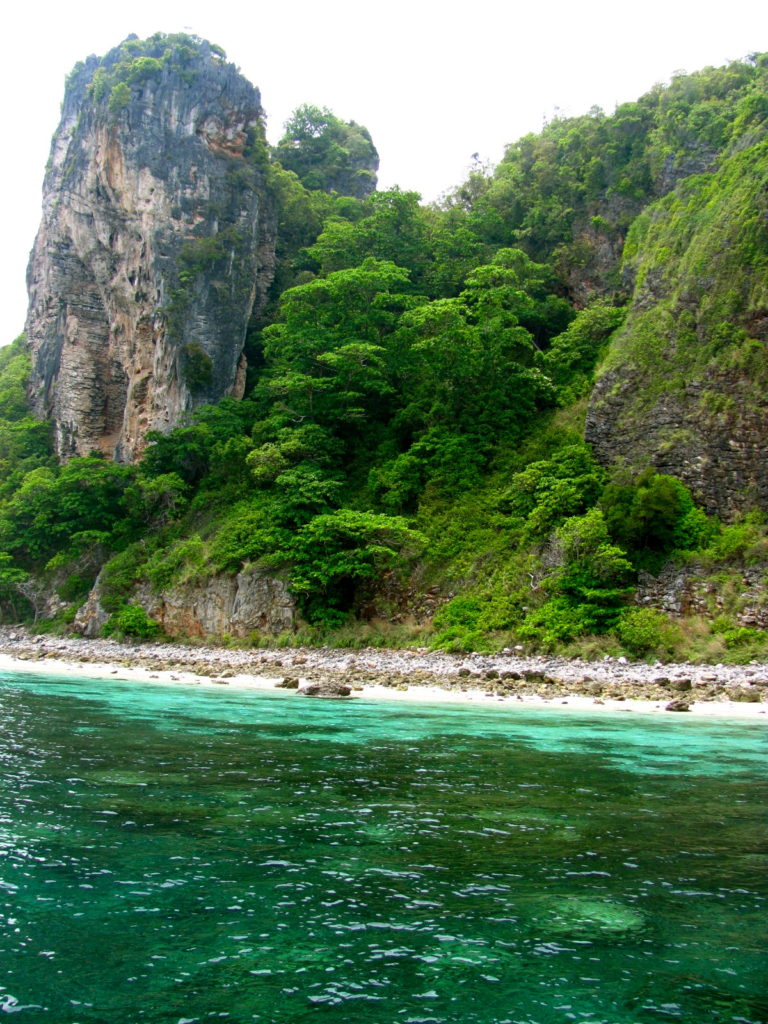 You have to book in advance (we didn't but we were very very lucky!) If you're going for a day trip do not book through another company Simba Sea Trips is definitely the go, it might be a little more expensive than other companies but it's well worth it. You have to book direct with them online too: http://www.simbaseatrips.com/index.htm
PHUKET DAY TRIP – Chalong to Rawai and back to Karong
Back in Karong, Phuket we were on our last day so we tried hiring a scooter for the half  day so we could take a scenic tour around the headland of Chalong, Rawai and back to Karong. Below is Chalong Bay this is the main departure point for day trips and transfers to surrounding islands. I'm drawn to photographing jetty's so I couldn't resist this taking this one.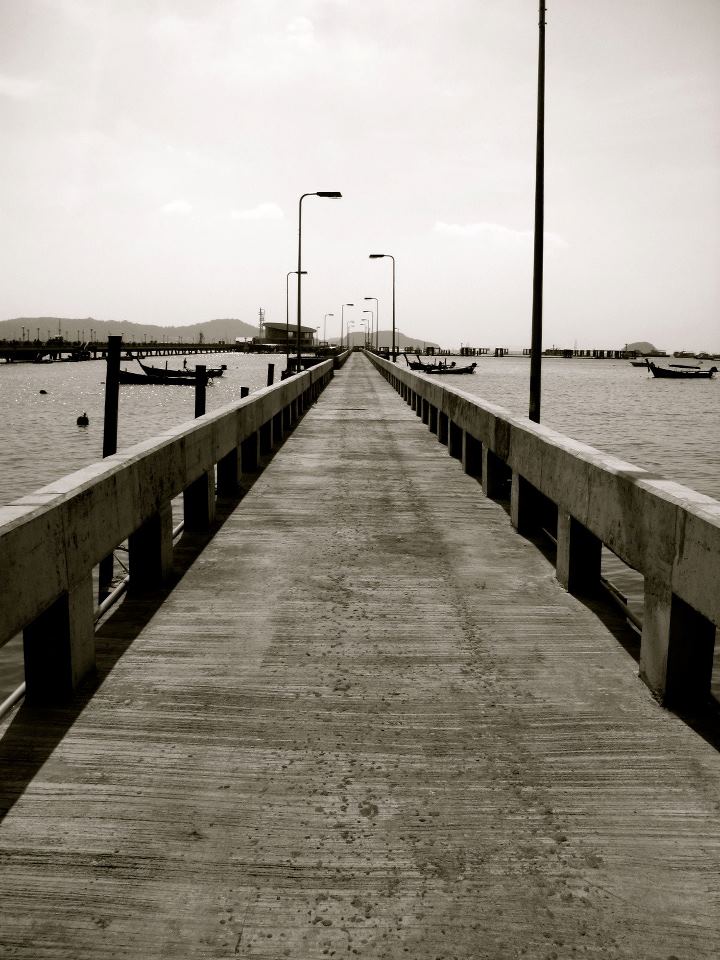 The Summit, Phuket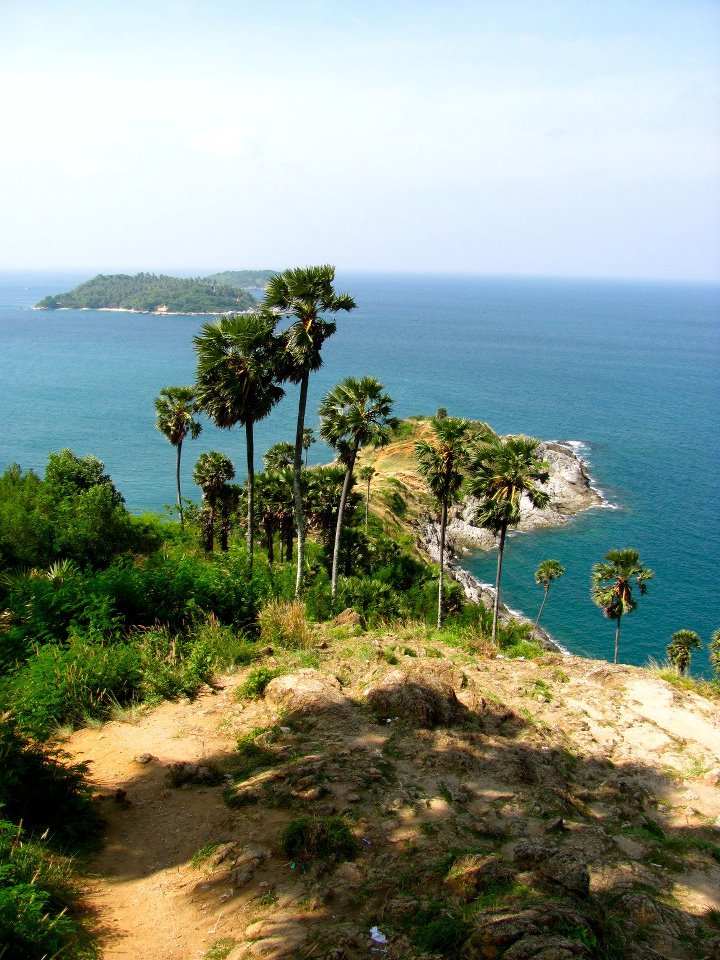 Yanui Beach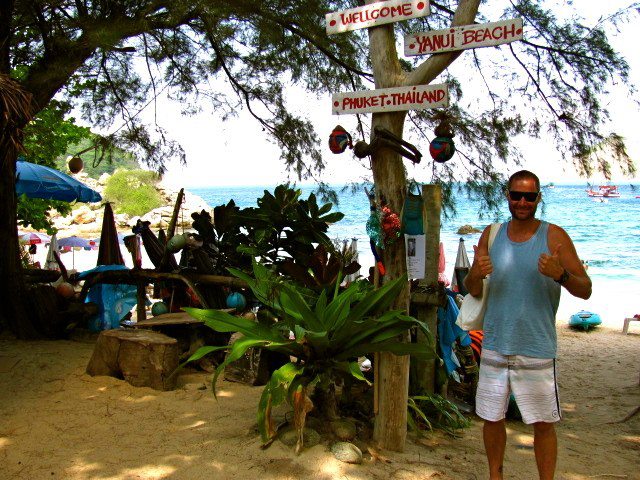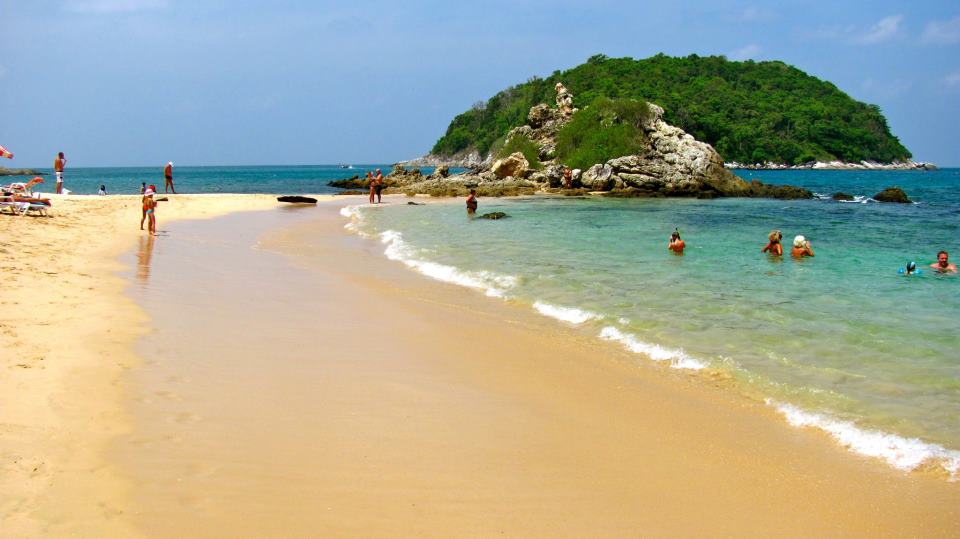 Promthep Cape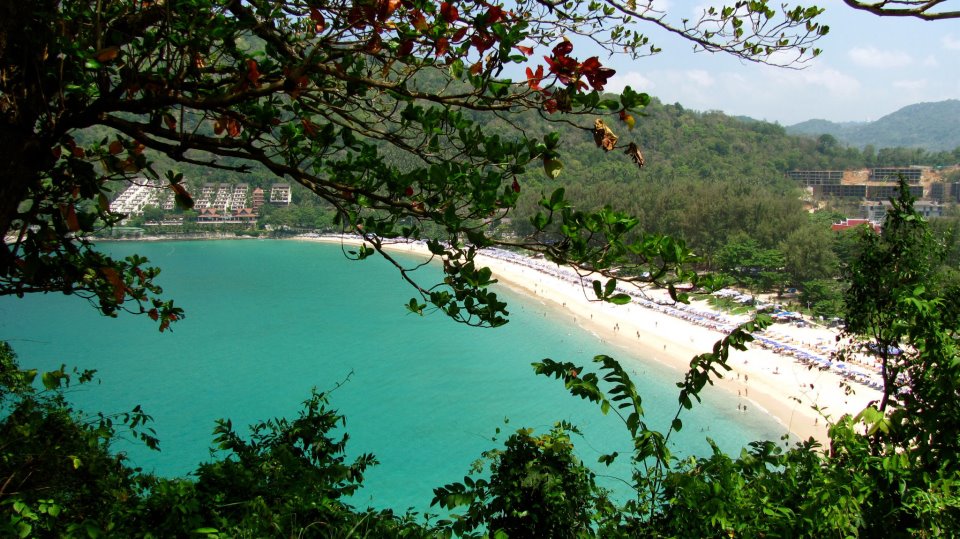 Sunset View Point – Promthep Cape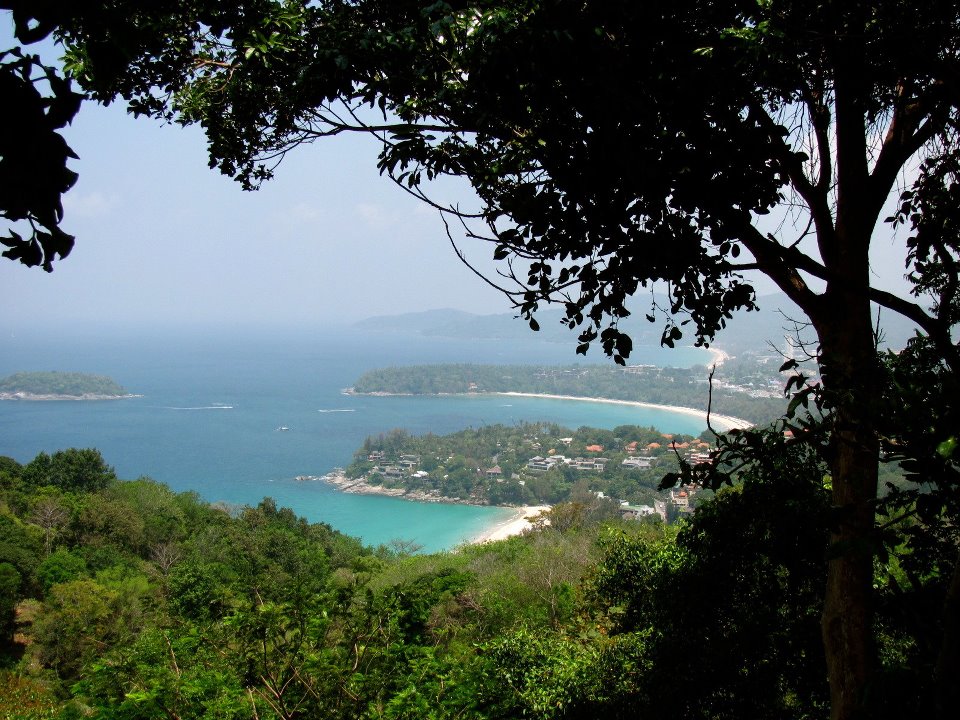 After 4 days of swimming, eating and massages we made the 90 minute drive to Cape Panwa, Phuket. It was here that my friends (whom were getting married) and their family and friends awaited. Upon check in at our hotel Kantary Bay (which is the sister hotel to Cape Panwa Hotel i.e. wedding venue) we discovered that we were given a free upgrade to a self contained apartment – bonus! The view was fantastic. Check out some of the sunsets we viewed from our hotel.
Cape Panwa Sunsets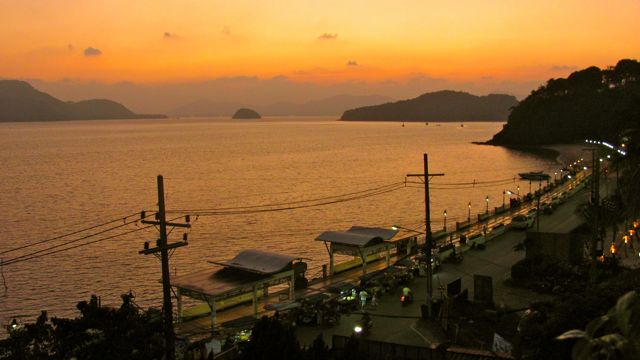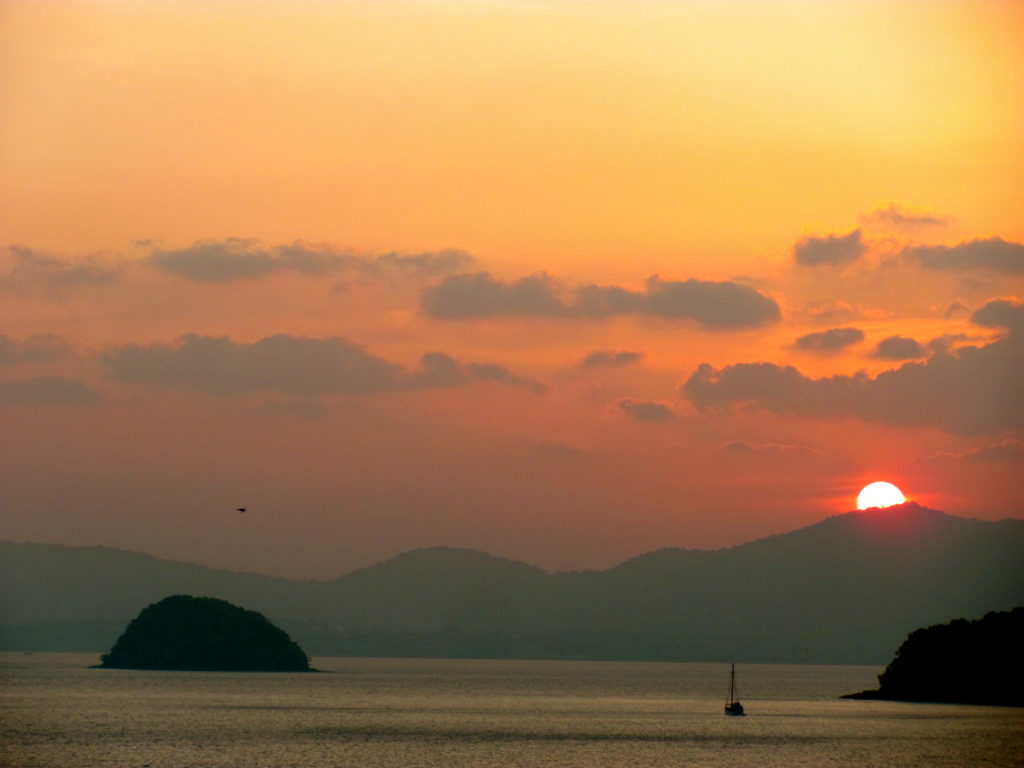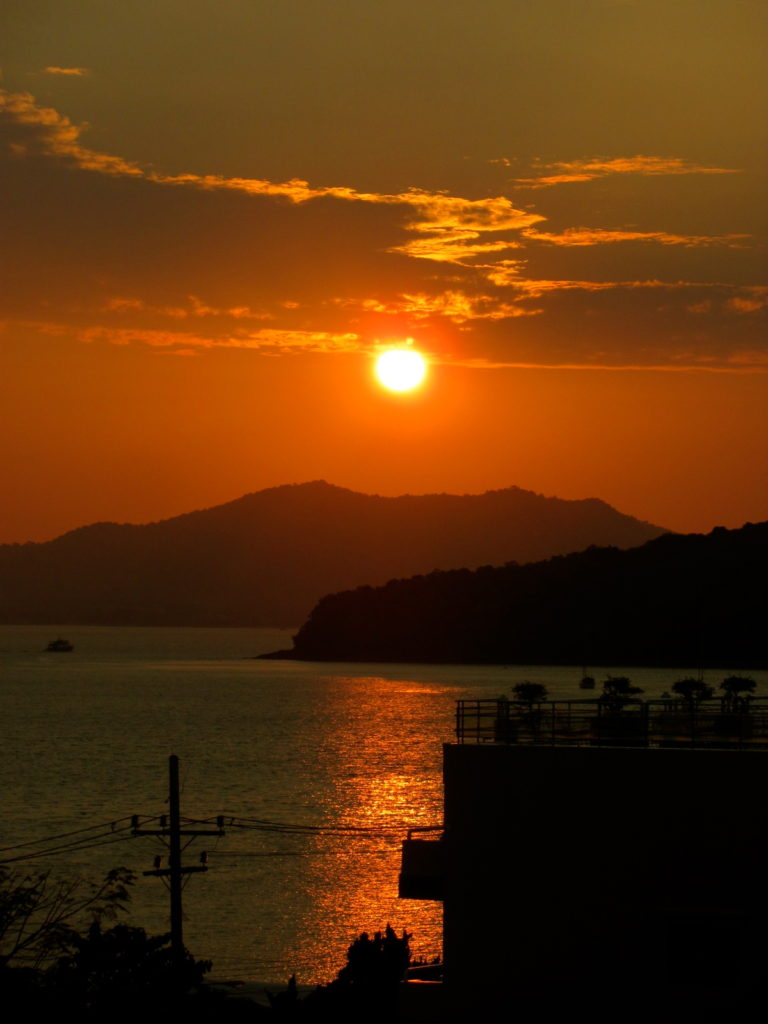 A free shuttle bus operated every 10 minutes which was awesome! It drove you to and from the Kantary Bay and Cape Panwa Hotels. Regardless of which hotel we were at all meals and drinks could be charged back to our room which was fantastic.
Cape Panwa is an ideal place to stay to get away from the hustle and bustle. You won't find people hackling you around these parts, except maybe for a few transport and suit selling folk. There were a number of restaurants to choose from in the area and all that I dined at were delicious! No funny tummies either. I can't go into all of them but I'll show you a few of the dishes I got to enjoy.
Cape Panwa Seafood Buffet night was quite impressive. You picked the fresh seafood and it was then cooked right in front of your very eyes with loads of garlic, butter and fresh lime.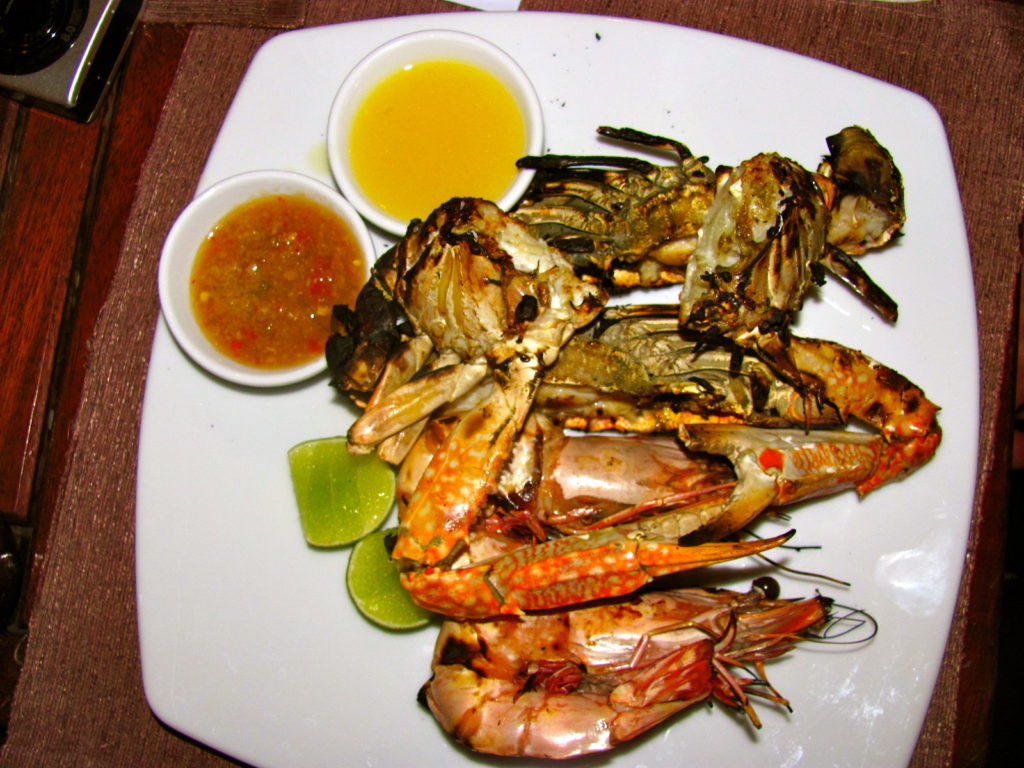 My beachside Cape Panwa + Pad Thai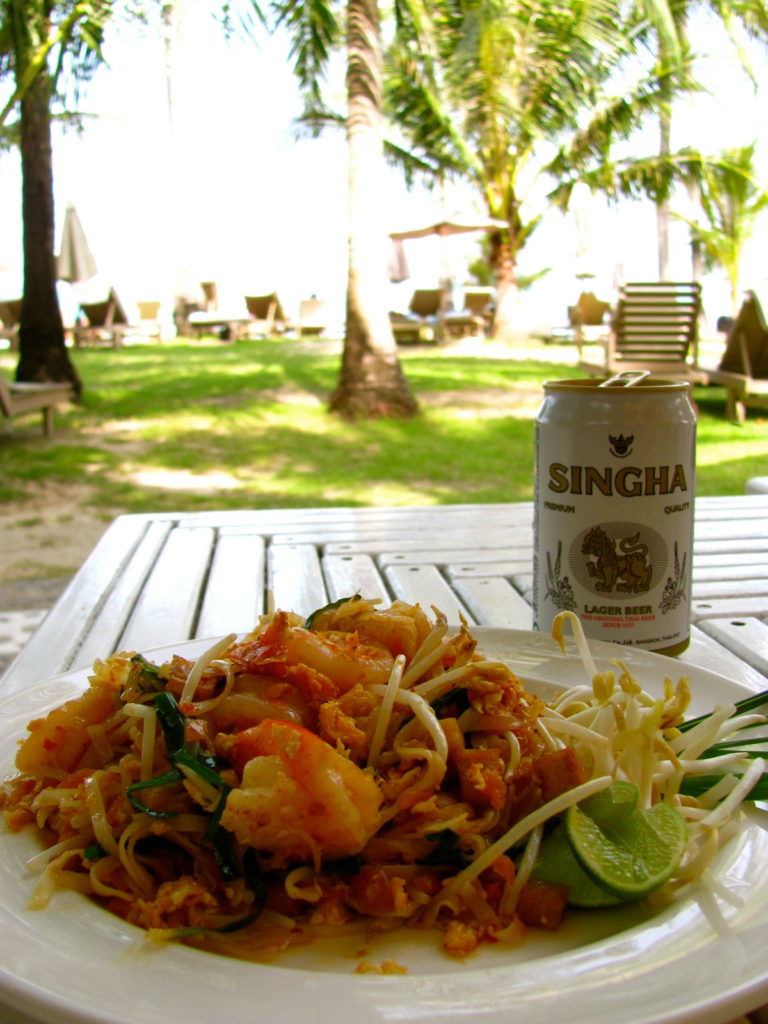 What better place to enjoy my Pad Thai than right here!!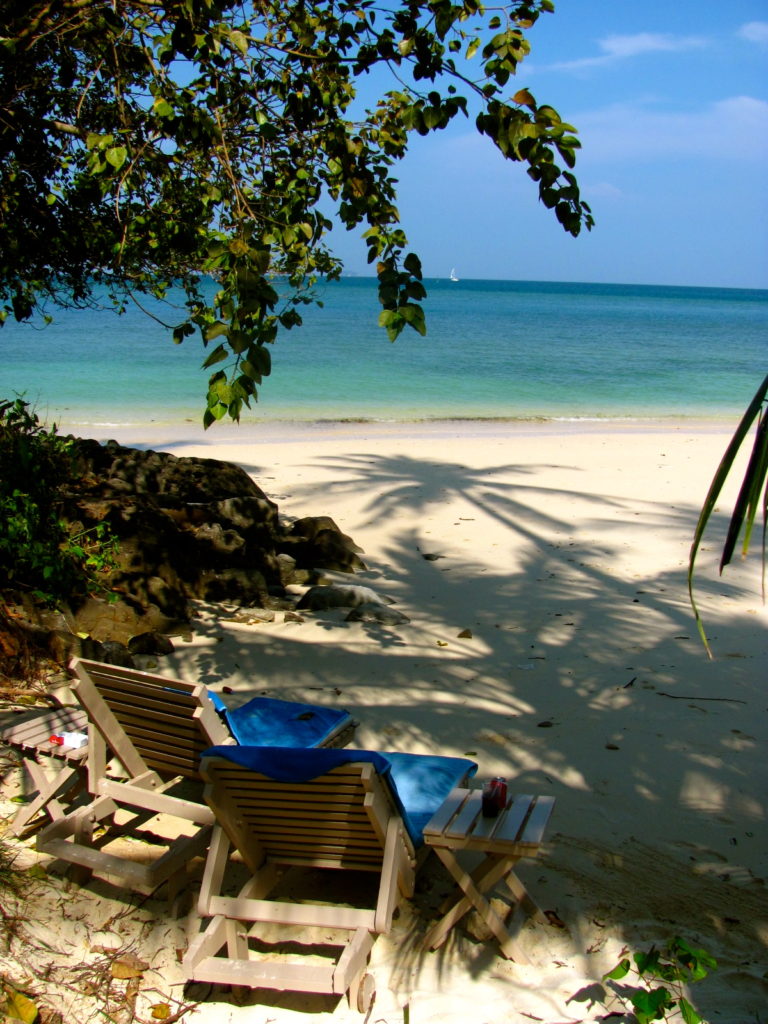 Hill Top – Chicken Sate and yes another Pad Thai 😉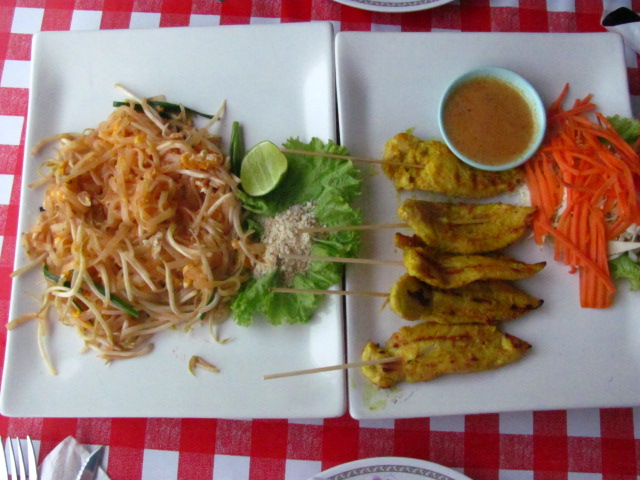 Hilltop Bar & Grill – Spicy Corn Cakes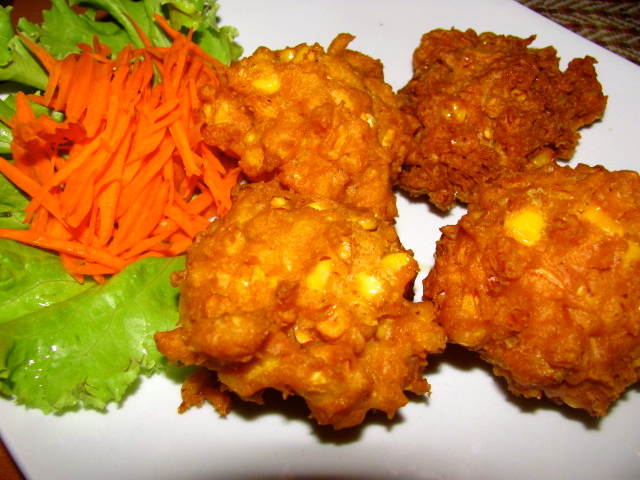 Hilltop Bar & Grill – Prawn & Green Mango Salad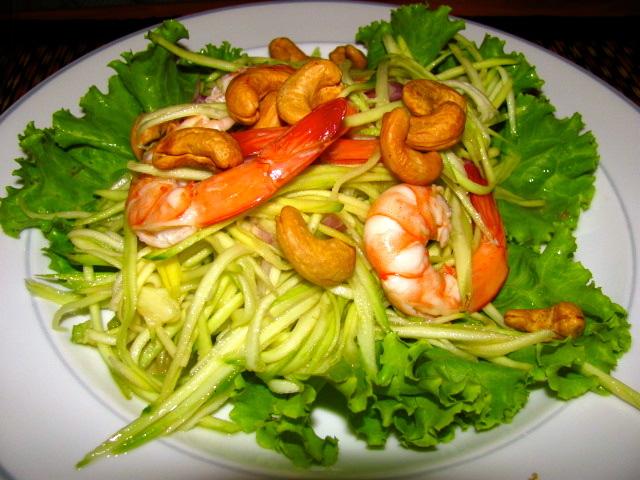 Hilltop Bar & Grill – Thai Chicken Noodle Salad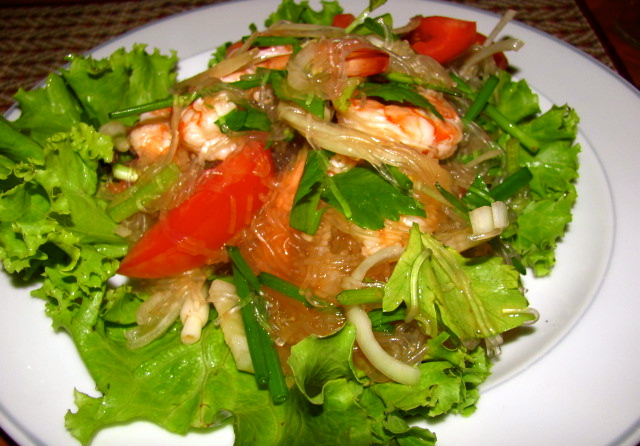 Hilltop Bar & Grill – Tom Ka Gai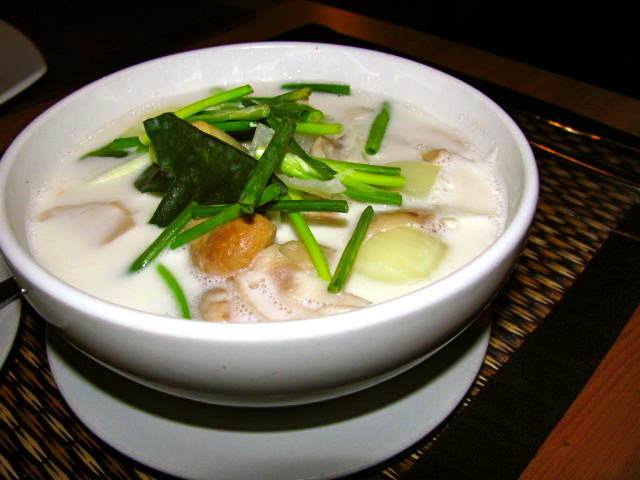 Hilltop Bar & Grill – Thai Chicken & Mushroom Soup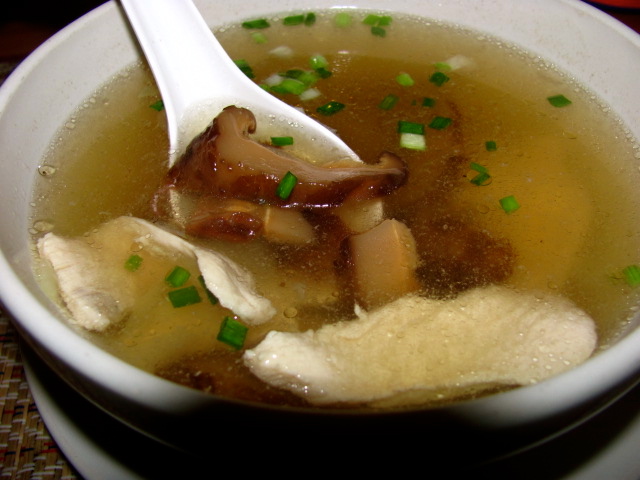 We ventured into Patong for a day of shopping. I loved all the street food.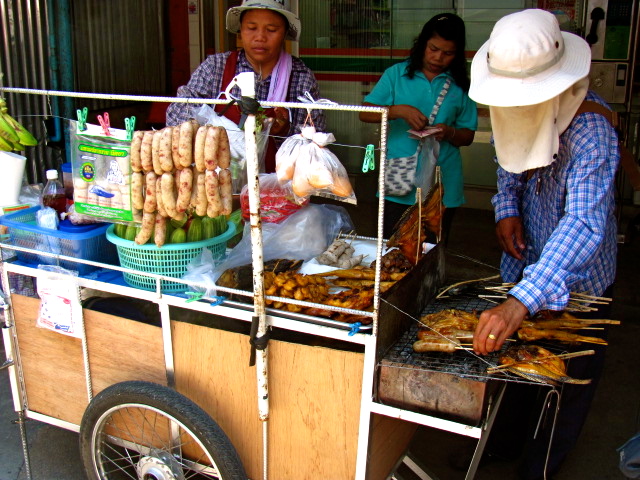 Did you know that Thailand's native animal is the Chicken?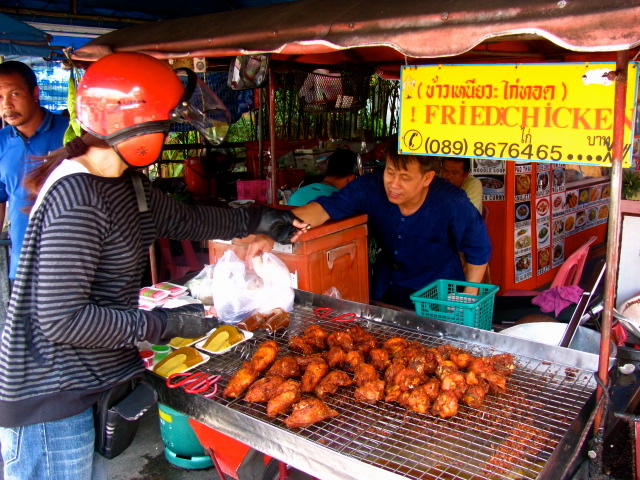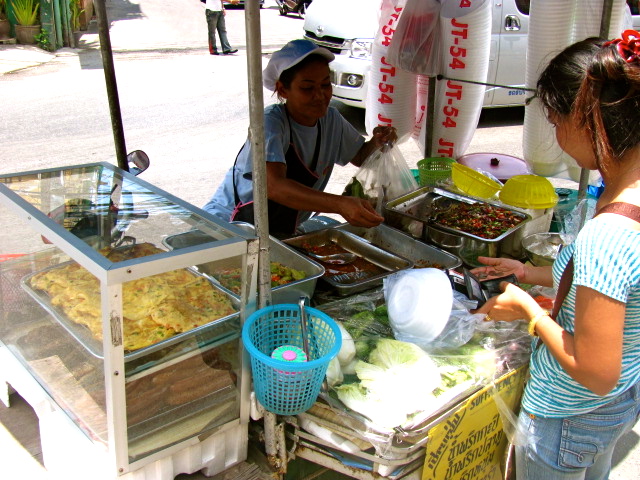 Couldn't resist this one…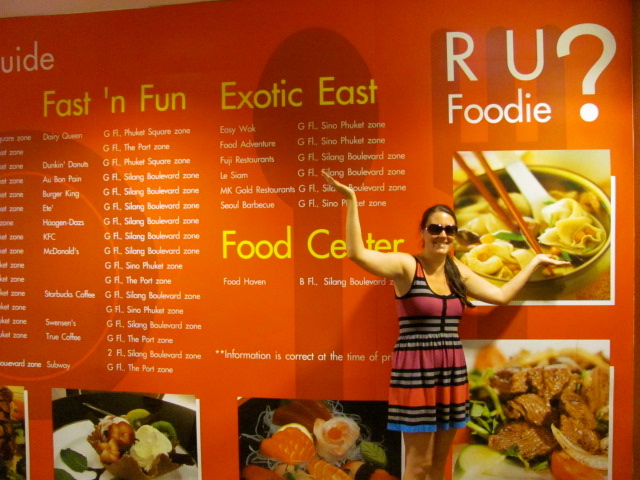 My favourite cocktail Dee Chai – Only $6 for 2 at Kantary Bay Hotel Happy Hour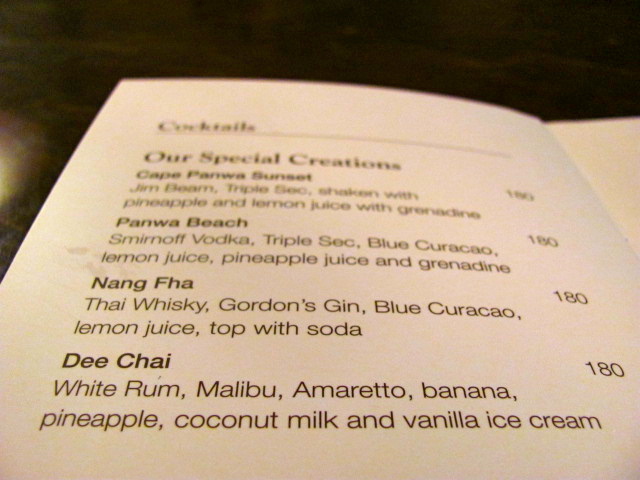 With only a few days left, the all important wedding of my dearest friends had arrived, and what a picture perfect day it was.
This is front view of Cape Panwa Hotel – the front of the white house was the wedding venue.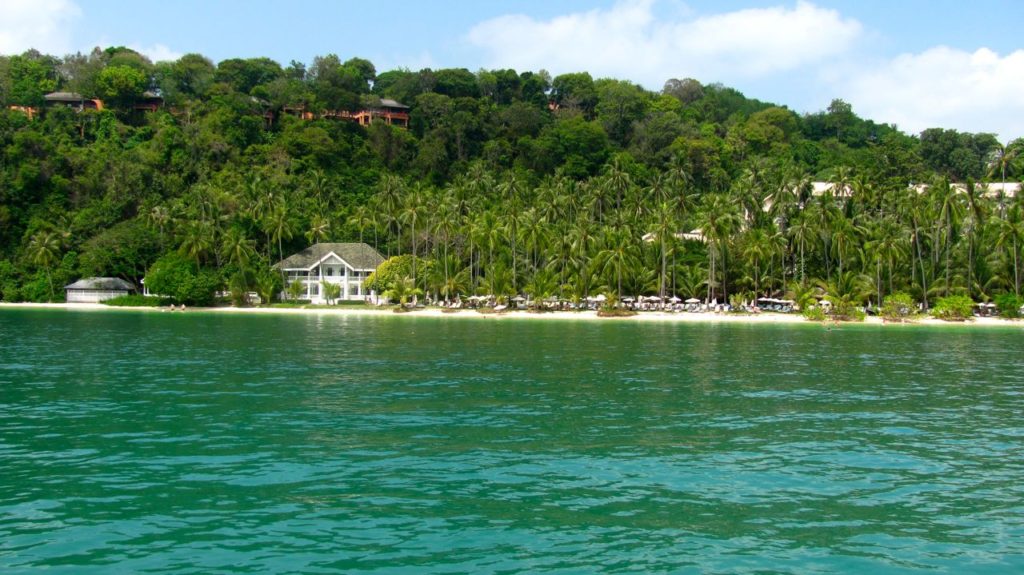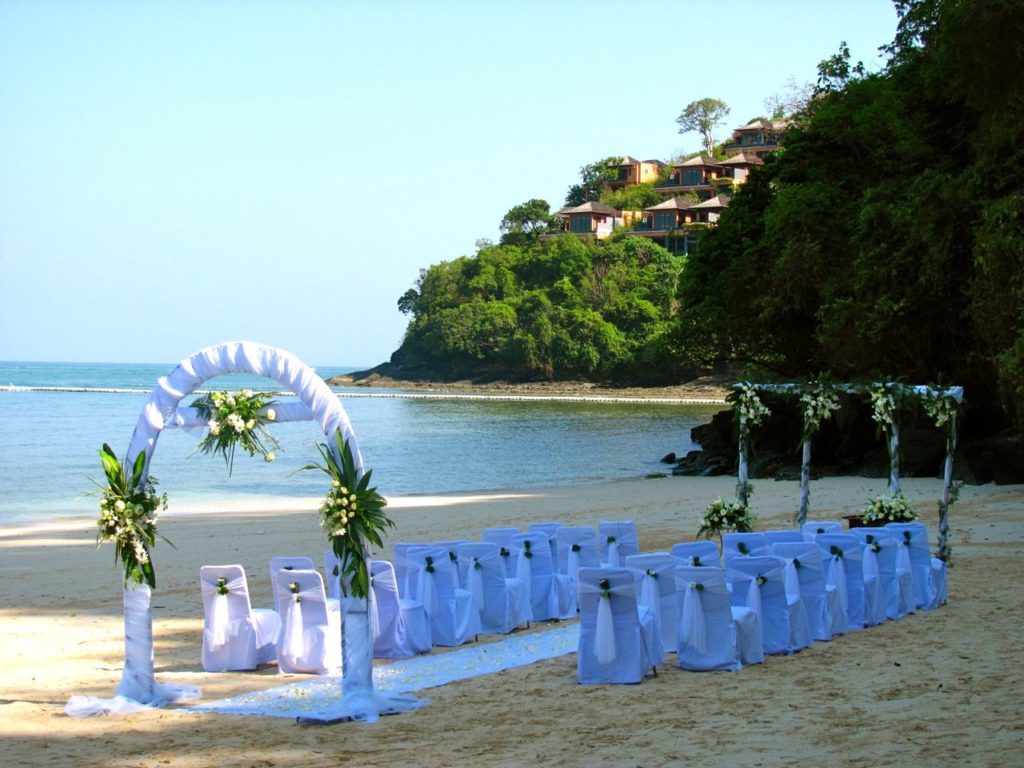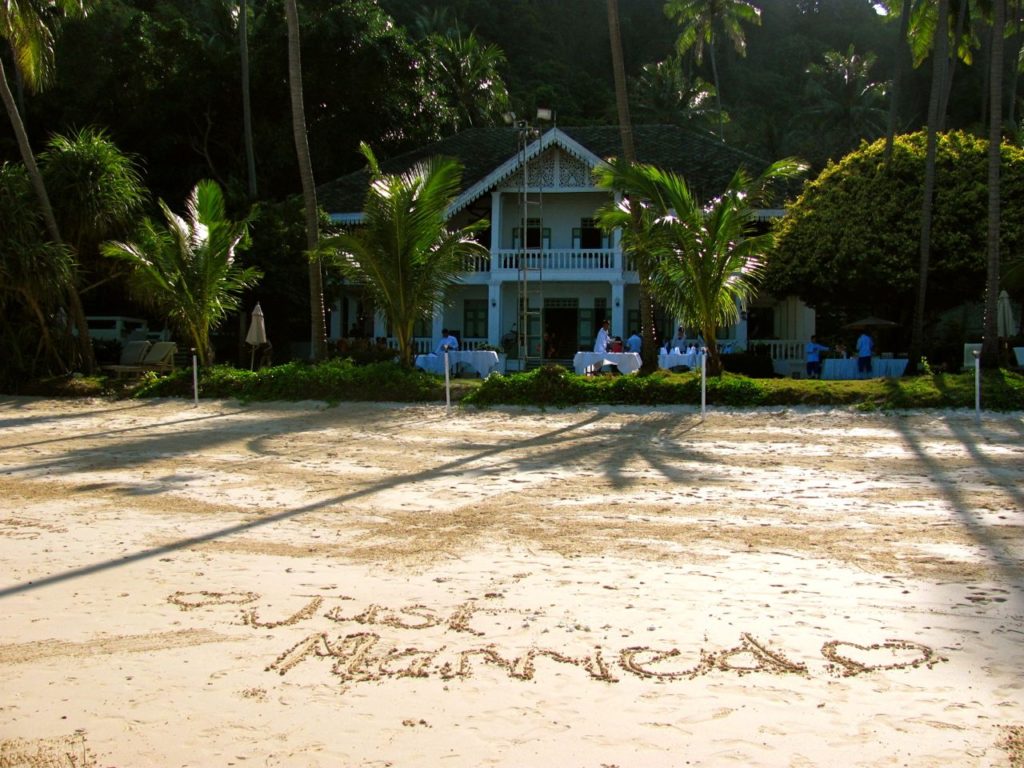 I do!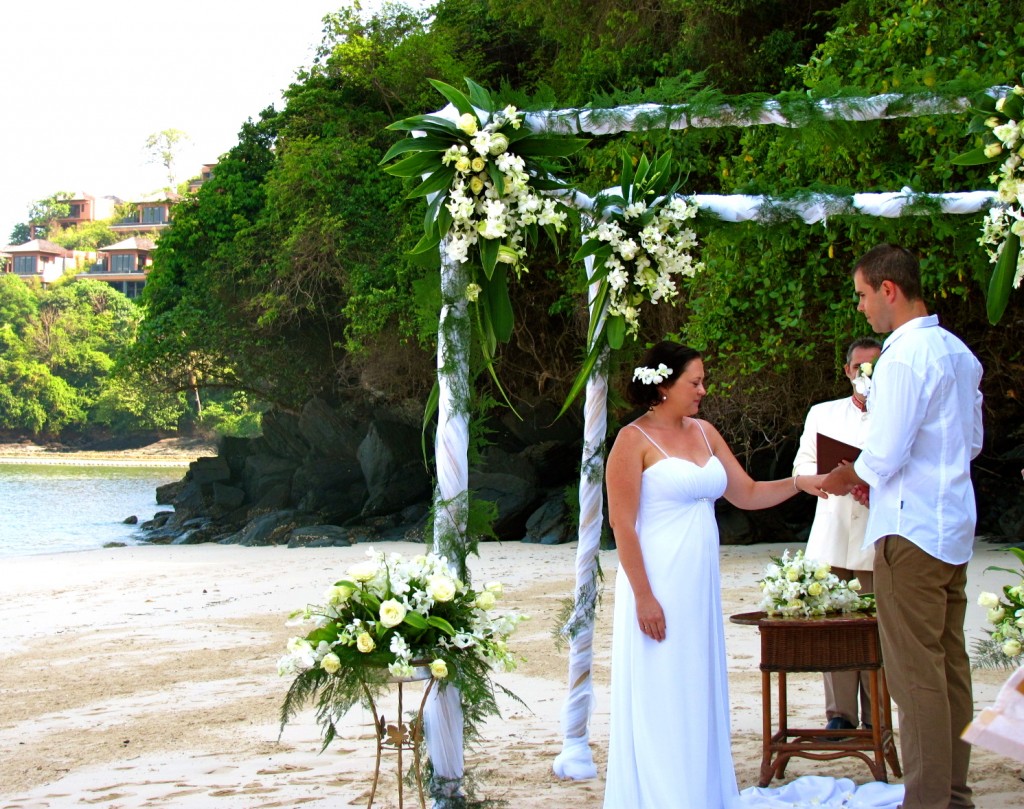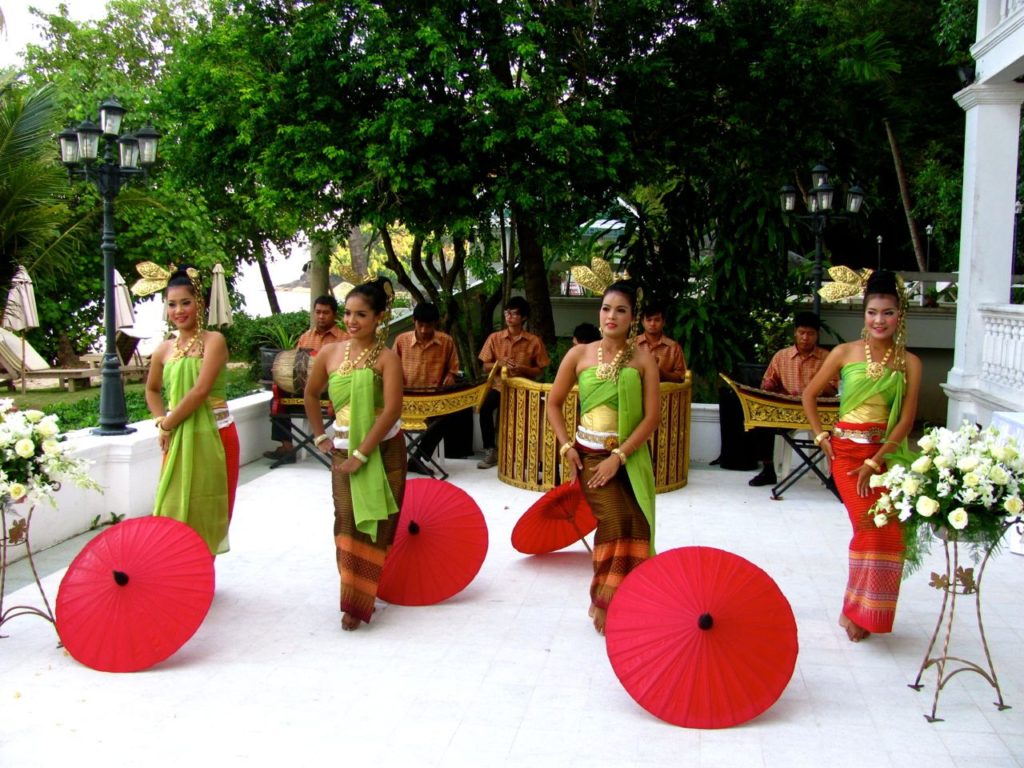 My Phuket holiday is up there with one of the best holidays I've ever had! It was relaxing. The days were clear, hot and full of laughter. The food divine. I met wonderful new friends and enriched old ones, the love for my partner grew ever stronger. My appreciation for the world we live in and my hunger to see more enriched and my memories simply perfect.  Phuket is a lovely place to visit and I can't wait to go back again real soon.
Sawasdee Ka