I love Asian food as you know and I especially like Vietnamese and Singapore Hotpot dishes! I love there sticky yummy gooeness, coupled with pungent, salty, sweet flavours, hotpot dishes are always a heavenly mouthful. I've made this dish twice now, once with fresh garlic and ginger and then with Gourmet Garden Ginger and Gourmet Garden Chunky Garlic. I found the Gourmet Garden tubes very handy and I was pleasantly surprised of the very minimal taste difference.
Sometimes it's simply too difficult to have fresh herbs available to cook with everyday. I try too but to be honest sometimes it's just too expensive. Think about it – you buy 3 different herb varieties for a dish, that can cost you anywhere from $6-$8 – that's crazy! And yes before you say it, I have tried growing them myself! I live inner-city so pots is the only option f0r me and they just don't last (for me anyway)  As soon as I go away for a long weekend it's bye bye herbs, they always seem to die and can't be revived, well enough for me to use them anyway.  So thanks Gourmet Garden  for allowing me to make this dish today!
Pork Dumpling, Eggplant & Salt-fish Hotpot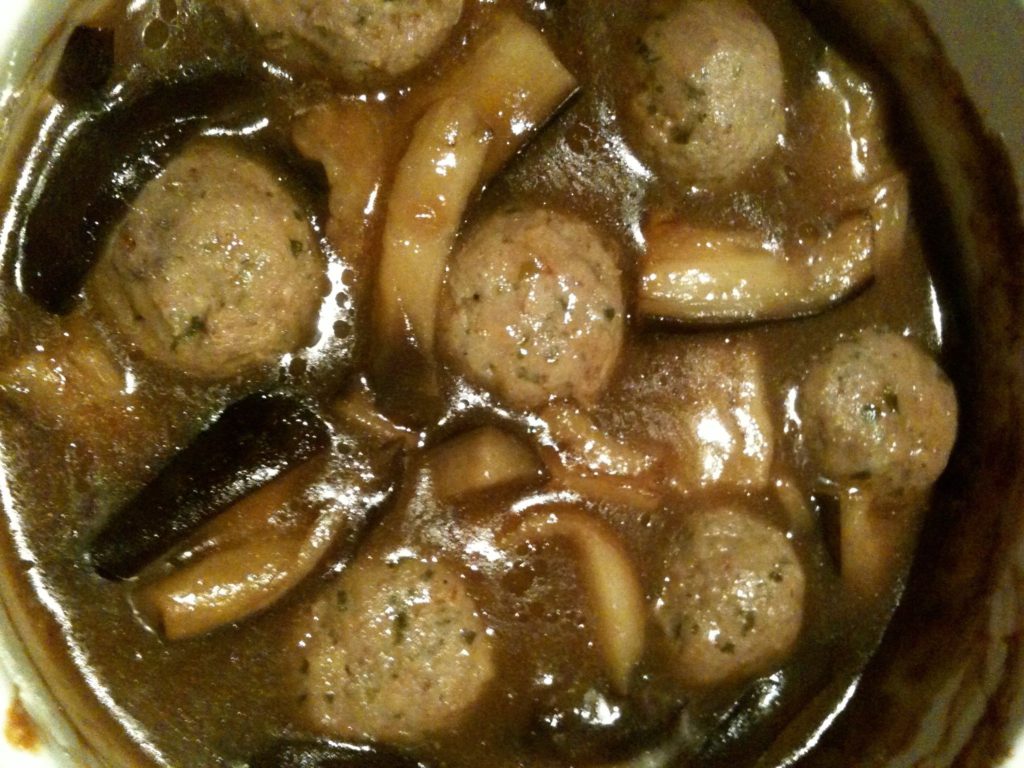 Ingredients
5 tsp Gourmet Garden Ginger
2 tbsp canned bamboo shoots, drained
5 large spring onions, halved, green severed from white
250g cooked peeled prawns
3 tbsp soy sauce
2 tbsp chinese rice wine
3 tbsp cornflour
salt and pepper
250g fatty pork mince
1 eggplant
vegetable oil and sesame oil
5 tsp Gourmet Garden Chunky Garlic
2 tbsp Rice Vinigar
2 tbsp oyster sauce
2 salted anchovies fried until crisp
Method
Put the Gourmet Garden Ginger, bamboo shoots and 2 spring onions, roughly chopped, into a processor and blast until finely chopped. Add the prawns, 1 tbsp each of soy sauce and rice wine, 1 level tbsp cornflour, 1 tsp salt and some pepper and blast again until roughly minced, then tip this over the pork mince and mix well. Form into uneven walnut sized balls, cover, then chill until firmed.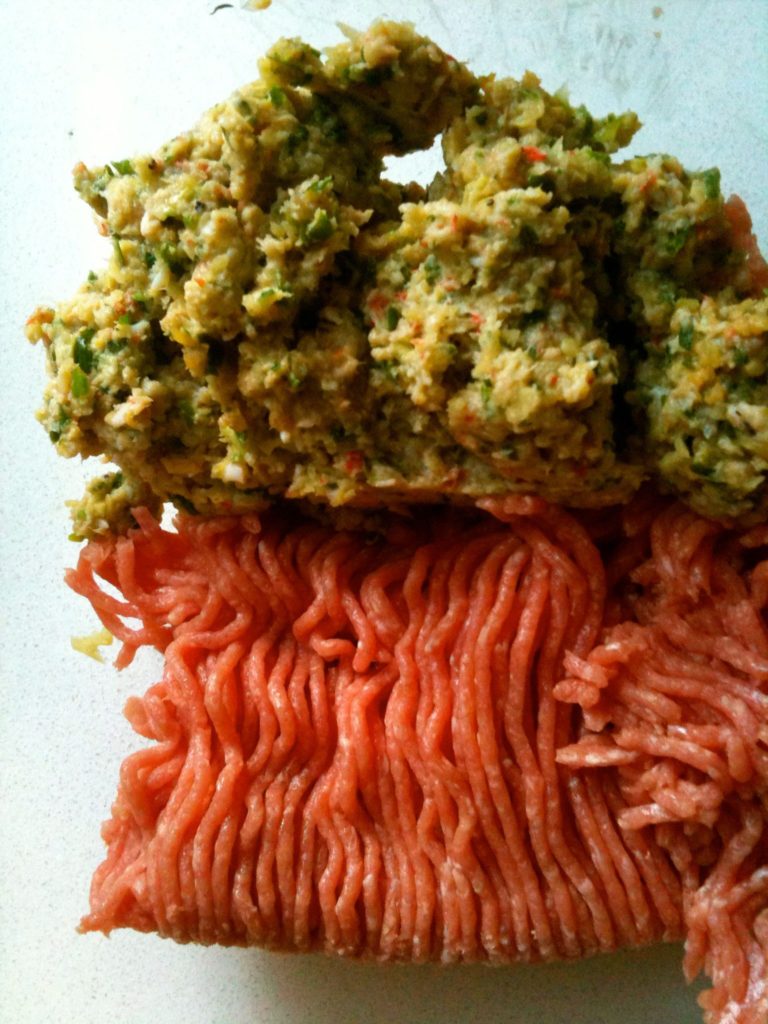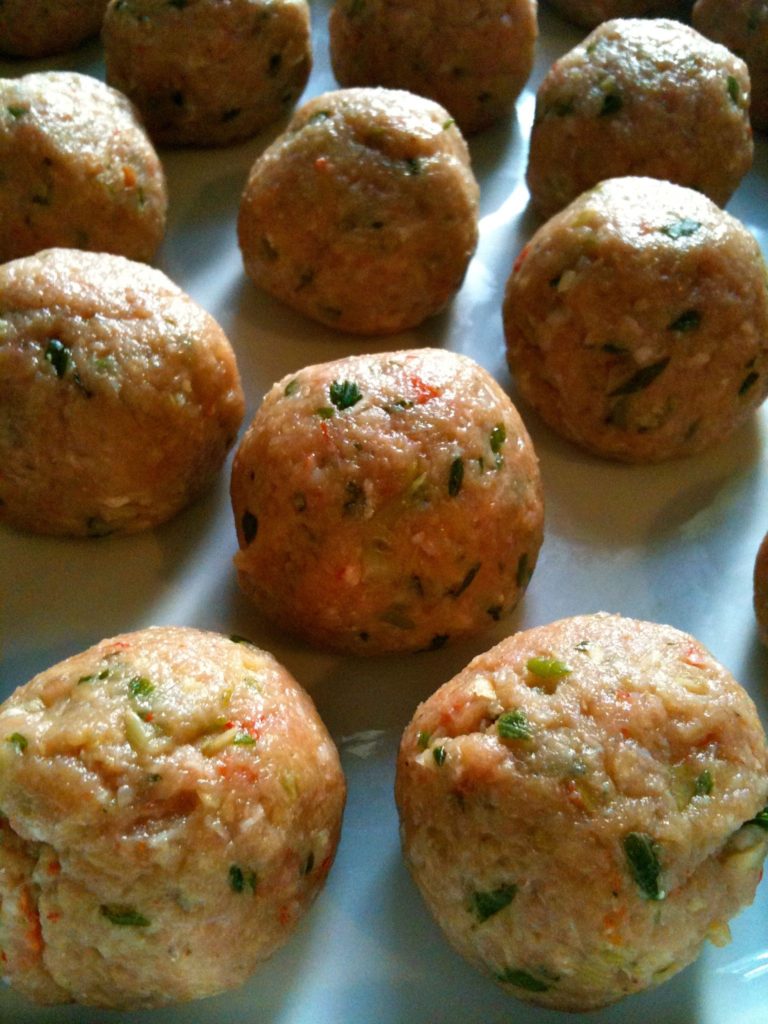 Mix the remaining cornflour with 3 tbsp water and set aside.
Cut the eggplant into long shaped chunks, then fry it in a pool of vegetable oil on all sides until it begins to turn gold, then shift the eggplant onto paper towel.
Drain off all but 1 tbsp oil, then fry the garlic without browning. Stir in the white parts of the spring onins, the remaining rice wine and soy sauce, the vinegar and oyster sauce, 350ml water and the cornflour mix, and bubble up for a minute, while stirring.
Arrange the dumplings, eggplant, and sauce in a small casserole pan or Chines sandpot, crumbing in the anchovies as you go.Bring to a bubble, then cover and cook on  a lowish heat or in a 190°C oven for 45 minutes. Serve with rice noodles or rice and lavishes of  shredded spring onion tops .